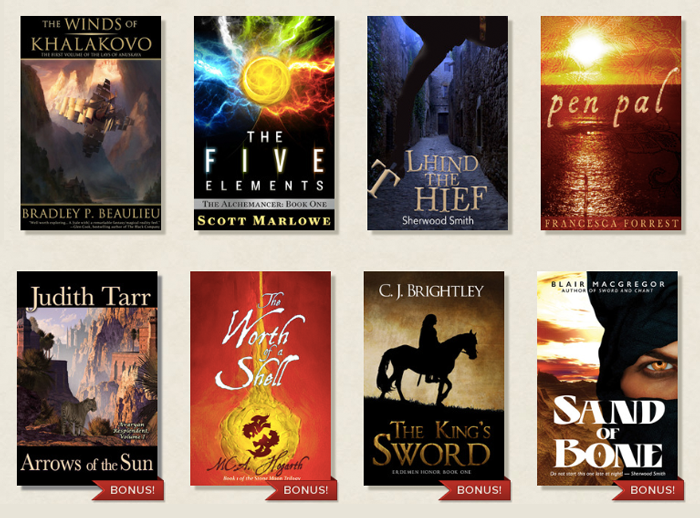 StoryBundle has an indie fantasy fiction bundle right now.
Books are:
Bradley P. Beaulieu's The Winds of Khalakovo.
Scott Marlowe's The Five Elements.
Sherwood Smith's Lhind the Thief.
Francesca Forrest's Pen Pal.
Judith Tarr's Arrows of the Sun.
M. C. A. Hogarth's The Worth of a Shell.
C. J. Brightley's The King's Sword.
Blair MacGregor's Sand of Bone.
I've only read one of these: Francesca Forrest's book, and Pen Pal is exactly my kind of crack.
Pen Pal starts with a message in a bottle and ends with revolution.
Em, a child from a floating community off the Gulf Coast, drops a message into the sea. It ends up in the hands of Kaya, an activist on the other side of the world, imprisoned above the molten lava of the Ruby Lake. Em and Kaya are both living precarious lives, at the mercy of societal, natural, and perhaps supernatural forces beyond their control. Kaya's letters inspire Em, and Em's comfort Kaya—but soon their correspondence becomes more than personal. Individual lives, communities, and the fate of an entire nation will be changed by this exchange of letters.
Pen Pal is a story of friendship and bravery across age, distance, and culture, at the intersection of the natural and supernatural world.
It's a fantastic book, and I'm looking forward to reading the rest of the bundle. I've read books by Sherwood Smith and Judith Tarr before, but not the other writers.
Which Titles Are 2014 Award Eligible
For those of you who are reading for award consideration purposes, only two of these were published in 2014: The Worth of a Shell and Sand of Bone. For that reason, I'll be reading these two first.
Want to Blog About this Indie Fantasy Fiction Bundle?
If you want to blog about this bundle, feel free to grab this composite image I made.
---