I've been asked a number of times why I travel the way I do, and why I make a point of going to so many different places.
Do I have favorite places to go back to? Of course. Hawaii, Ireland, London (and the UK generally), Venice, Istanbul — those are among my favorite places.
In general, though, I'd rather go somewhere new. By new, I mean a country I haven't been to. I have a list of countries sorted by minimum time it'd take to get there.
Why?
Because I discovered that I was sticking to countries that felt too safe, too secure.
At some point, I found out about the Traveler's Century Club: to join, you have to visit 100, but their list is quite liberal. For the last 10 years, I've kept track of my progress, and I discovered that I really needed to get outside of my comfort zone if I wanted to visit 100 countries.
What I've discovered is that the world is not as intimidating a place as I'd thought. Somewhere between 50 and 75 countries (I'm now at 88), I lost a lot of fear about travel. I'm no longer quite as uncomfortable walking around in a country where I can't read the script system and I only know a few phrases in the local language.
Some countries I've visited completely cold: I didn't research El Salvador before visiting, except for the obligatory bits (checking to see what the safe kinds of local foods are and booking a place to stay). Imagine my surprise when I realized that the country's currency was the US Dollar.
Some I've overprepared for: I actually planned a trip to Australia over a period of months. When it fell through, it took me years to actually want to go to Australia again because I felt like I'd already been there.
Every new place brings its challenges, but what I really love are the unexpected moments that challenge your assumptions about the world: making the faux-pas in another English-speaking country because the language usage is different; having a broken conversation because neither of you understand each other very well, leading to some great comedy; seeing some amazing treasures of art and architecture that you can't see where you're from; seeing how other people's cultures differ.
Everyone has their own way of getting outside their comfort zone. Some people like it, some don't. I think it's an essential practice. Otherwise, over time, your comfort zone tends to get smaller and smaller.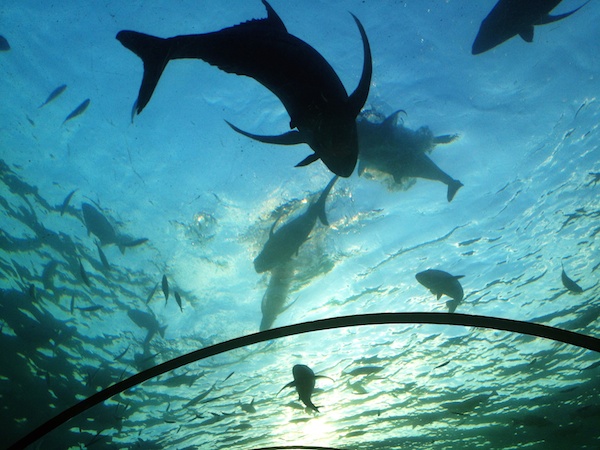 Outside my comfort zone is dining underwater. I love the ocean, but there's always a fear because large bodies of water can also be lethal. The photo above was taken at Ithaa restaurant (the world's first underwater restaurant) in the Maldives.
A few of the things I've done in the last two years:
Visited Þingvellir and seen the divide between the North American and Eurasian tectonic plates
Walked some of the broad promenade in Douglas, Isle of Man
Visited the ruins of Nan Madol, one of the more fascinating prehistoric sites
Landed on Kwajalein, where tourism is pretty tightly controlled because of the US military
Been quizzed by a suspicious Bermudian immigration officer about the purpose of my short trip. He let me in when I showed him my Steve Jobs autographed iPad
Suspicious Canadian immigration officer wondered why I was having dinner in Vancouver and not staying longer. I pointed out that I'd had lunch in Indonesia the month before (it's a ferry ride from Singapore), and showed him my passport entry. He rolled his eyes and let me in
Trip with friends up the tallest building in the world
Weekend trips to four Central American countries, so I've now had at least a cursory visit to all seven
Spent Christmas Day in the exclusion zone of an active volcano
Flew on the last departure ever for Continental Airlines with friends
Nearly missed a flight out of Tokyo's Narita airport
Had green tangerines in Kosrae. Apparently, oranges and tangerines never develop their eponymous colors in that part of the world
Got the deal of a lifetime on a ticket home from Myanmar (fka Burma). Side effect: took trip to Myanmar.
Visited a friend I hadn't seen in far too long in her home town of Cape Town, South Africa
Being delayed getting out of Russia because the bureaucrats wanted more bribes from the cruise line (and they'd already had quite enough…)
Saw an octopus while I was snorkeling
Fell for Sri Lanka, the Maldives, Thailand, South African Airways (and, to a lesser extent, Cape Town), Micronesia, and New Zealand (again)
Flew around the world. Twice
---