On February 7th, @pubnt faxed a letter to the judge in the Ellora's Cave vs. Dear Author case. Courtney Milan has a long blog post about it, so I thought I'd take a different tack on the issue.
Ellora's Cave Thanked STGRB
On October 4, 2014, Tina Engler, writing as Jaid Black, posted a blog entry titled _To the Silenced Victims_, about how Ellora's Cave's authors and supporters were purportedly afraid to speak up.
On October 8, Ellora's Cave tweeted a thank you to STGRB: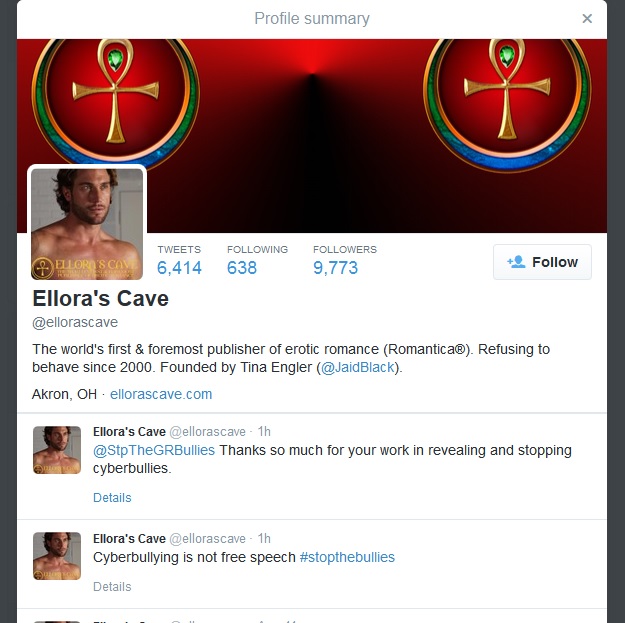 (Thank you to azteclady, and several others, for screencaps.)
Before those two tweets, Ellora's Cave hadn't tweeted at all since August 11—nearly two months—not even promotional tweets for its new titles. I called out Jaid Black/Tina Engler on this:
@jaidblack @ReeCroteau Some of the concerns have been: 1) No promotion on @ellorascave for authors since 8/11 & 2) promoting STGRB instead.

— Deirdre Saoirse Moen (@deirdresm) October 9, 2014
For those who don't know, the short version of StGRB is that it is not an anti-bullying group, but is a group of authors who bullied reviewers because of reviews the authors didn't like. In other words, it's ironically named.
Giving a one-star review to a book you genuinely didn't like isn't bullying.
I stated that the biggest problem with Ellora's Cave's tweets wasn't so much the STGRB mention as failing to promote EC's authors and books. I mean, it's a Twitter account for a publisher that had new books published during those two months of radio silence. EC fixed that promotional shortcoming, and has remained focused on prompt tweeting of new releases, pretty much (I noticed a short blip, but didn't record when, and I'm not interested in looking it up).
Oh, and also, Ellora's Cave deleted one of those two tweets, the one that invoked STGRB. Why bother with this digression? Please hold….
@pubnt Invokes STGRB
What's interesting about @pubnt's tweets from the October 4th creation of the account until February 1 is that there are zero tweets for: "STGRB", "goodreads", "bully", or "bullies".
And yet, in her letter to the court, @pubnt relies heavily on STGRB rhetoric. Also, STGRB are in fact the only links in @pubnt's letter.
What amuses me the most of all about @pubnt's letter is the assertion that @pubnt is presenting evidence. STGRB isn't evidence, it's hearsay. Of course, if that's how strongly TE feels about STGRB, she could have seen to it that the principal STGRBers were on EC's witness list. But Ellora's Cave didn't choose to add said writers to their initial disclosures.
As a general rule, anything said by anyone outside the list of people who make formal statements admitted into evidence or who are witnesses in the case—that's hearsay as far as the case is concerned.
Remember the pocket universe episode of Star Trek: The Next Generation? Legal cases are kind of like that. Apart from the witnesses and people giving testimony (and the law including case law, of course), the world outside is invisible. Or, more accurately, hearsay, with some notable exceptions.
Invoking some random blog, even this one, is neither evidence nor proof.
Things @pubnt Says About #notchilled Regulars and My Statement About Who I Am
I'd like to refute the generalizations @pubnt makes about #notchilled regulars, at least as they pertain to me.
I have never met Jane Litte. I have followed the Dear Author twitter accounts because Jane Litte and others recommend books I'd like to read. I often disagree with JL's ratings. As a specific example, one of my favorite books last year was Laurelin Paige's Fixed Trilogy. JL gave the first book a C- rating. I agree that the first is the weakest of the three, but the plot twists in volumes two and three made it one of my favorites, and book one was strong enough for me to continue reading. Apparently not for JL, and that is her choice.
I make a horrible minion. I will only do what I think is right, and, even then, I don't have time (or energy) to do all of that. In Gretchen Rubin's four tendencies, I'm a rebel with questioner tendencies, so I'm perfectly fine with not fitting in and not going along with a crowd.
I have made far more money from being traditionally published than being self published. I have books published by Que, Sams, Baen, and BenBella, plus others under pseudonyms. (If you follow the purchase/sale trail of the first three, you'll see that means I've been Big5 published by two different routes: Sams and Que became part of Simon & Schuster, and some of the work I did for Macmillan Computer Publishing meant I've been published by Holtzbrinck.) I've never been published in the romance genre, and I've only been rejected once in that genre—more than twenty years ago. Frankly, it was a horrible proposal for a category book, but I was still too green to know that. I am working on a romance novel, and I have an agent who's already been promised first look.
That said, of course I've been rejected, too. It's a part of being an author. Though sometimes rejections sting (and I do whine about those privately), I also get over them. As a friend of mine says, the right attitude to take to these if they're getting to you: "That's one more time an editor tried to stop me and failed." (Neither of us believe this viewpoint, btw, it's just that it's one that happens to work for both of us to help get us back to the salt mines of writing new stuff.) I don't dislike anyone who's rejected my work—except perhaps MZB, but that's for reasons unrelated to her authorial or editorial work, at least as it relates to me.
I am not "jealous" of any successful writers, nor am I envious of them. I also understand the difference between these two words.
I don't accept advertising on deirdre.net, and never have. That said, I make a small amount of money every now and then from Amazon's Associate program. How small? I haven't received anything since 2011, and they've owed me $16.28 since 2005. Which I didn't know until I logged in for this screencap.

Essentially, I removed all the Amazon links I had after LGBT fail and have never really managed to build up the associate income stream I used to have, small though it was.
That said, I have been considering what kinds of banner ads I might have, but generally those would not be paid ads. Like: I'd make a banner ad for my own new book, which makes sense, right? But how about if a close friend releases one that I liked? How about if my writing group did one? Should I promote Clarion (a workshop I did) via ad? If so, what are my guidelines about where I'd put those vs. where/why I wouldn't? I don't have those answers yet. Until I do: only inline contextual links.
I have a few other kinds of promotional links here and there, but none are specifically targeting indie authors unless it happens to be a book I've enjoyed.
One of the reasons I don't generally review books is that I would feel compelled to be honest about books I didn't like, and I feel that's a problem as an author. Sometimes my reasons for disliking books have to do with various artistic goals I've got as a writer. For example, I stopped reading Neal Stephenson because his endings didn't satisfy me. As a plot structure person, that's a killer for a book for me. Clearly, many readers don't share this perspective, and I'm glad he writes books they can enjoy.
The guideline I've decided to follow is that I'll promote books I genuinely love. Period.
Ellora's Cave Author Exodus Support Thread
The Ellora's Cave Author Exodus Support Thread is located here. Many EC authors have books out from other publishers. The purpose of the support thread is to help give those authors willing to speak out some visibility.
Note:
An earlier version of this post was supposed to be published over the weekend. Apparently several posts I thought I'd scheduled didn't post. Oops.
---