I cleared the pipes on my airline miles accounts Thursday and Friday, booking an around-the-world ticket mostly in business class. Except, you know, the single longest flight, which happens to be fourteen hours. Ugh.
Normal coach airfares for round-the-world trips are pretty hideous, far more so than doing the same mileage as a round-trip. They typically cost somewhere between $4200 and $4700 for the lower-end fares. Business class is another matter entirely; on OneWorld, it's around $11,400 (which is actually less than I expected). I am too cheap for either kind of fare.
I don't fly often enough (or on high enough fares or with enough status or spend enough on credit cards) to really gather lots of points, nor have I really tried to game the system. So I've carefully spent several months pooling my miles into two large heaps: British Airways and United (well, okay, most of the pooling was done on Continental, some via points.com trades, but there's currently no fee to transfer between Continental and United). Some of the latter were Continental (and Eastern Airlines) miles I earned in the 80s.
I told a friend what I'd done and how many miles it had cost me (about 200,000 miles and about $400 in taxes) and she just was gobsmacked at the amount of miles. Upon reflection, she realized that she'd been using 50,000 a year for a trip to the midwest and had 80,000 in her account, so we just used our points differently over the last few years.
That's fine, of course, but if you do fly frequently, ask yourself the question: is this the trip I want to spend all these on? If not, save them until it is, and read blogs like The Points Guy to improve your strategy in getting what you really want. Of course, coach domestic redemptions are fine if that's what floats your boat, but they aren't the best bang for the buck one can make.
Many coach redemptions are on the order of 1 cent/mile. Experienced travelers look for redemptions that are up to 10 cents/mile. Mine worked out to 6 cents/mile, so I feel I got a really good value out of my points.
After five years of benign neglect (and a British Airways credit card), I was pretty convinced I had a useless amount of points, but TPG gave me some ideas. Weirdly, it was looking up award travel to Dubai [1] that put the thought in my head, as BA suggested themselves inbound and Cathay Pacific (via Hong Kong) on the return. I didn't like going eastbound, but it did put the round-the-world idea in my head. Unfortunately, the itinerary I was looking at ran something like 280,000 miles, which wasn't going to happen.
I started looking at alternatives while my miles were still coalescing, and once they hit 100,000 on United, I knew I had enough to make the trip work. British Airways is part of One World, and United's part of Star Alliance, but there are no Star Alliance flights from Southeast Asia to Dubai on Star Alliance. Thus, for my plan to work, I had to go westbound on OneWorld.
Beyond that, since the dates I wanted to be in Dubai were set in wet cement, that meant that I had to work around award availability. Since BA's Avios pricing is segment-based, I booked each segment separately. Then I waited a day to figure out the return. My return was far more open: there were lots of Star Alliance carriers who could take me from Dubai westward (and I could still wrangle something else if that didn't work out), but the bigger problem was winding up in a city where it was useful to fly back home from, so I thought I should sleep on it.
TPG posted the next morning about Swiss opening up award availability. Sure enough, I was able to book a saver business award back home and a business award from Dubai, and I still had over 20k United miles left over when all was said and done.
So I'm taking a ten-day trip to Hong Kong, Dubai, and Zurich.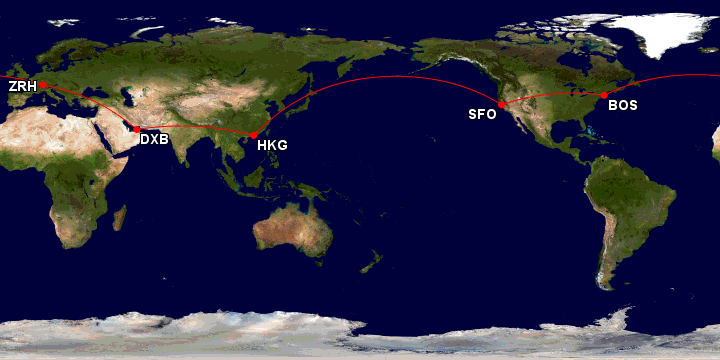 ---