I was talking with Crystal Huff about getting to Helsinki, and I volunteered to put together a list of how to get to Finland for the Helsinki in 2017 Worldcon bid.
After I sat down and got started, I thought it would be interesting to put the list together in a non-US-centric way, so I started on the Wikipedia List of Countries by Population. And, as I scrolled down the list, I realized that, without specifically planning going to Finland, I already knew most of the answers about how to get there from wherever.
I scrolled to the bottom of the list, and laughed.
242. Pitcairn
As it happens, I've been there, so I've studied up on how to get there. Pitcairn, which consists of four islands—only one of which is inhabited—is one of the remotest and most difficult places to get to on the planet. It's the last British Overseas Territory in the Pacific.
So here's my draft of that answer. Note: it's this difficult to get from Pitcairn to anywhere, which is one reason that residents often spend several months away at a time.
Pitcairn: If you're one of the few dozen people from Pitcairn, it will take you longer to get to Helsinki than for the average person, but you already know that. You know all about the cruise ship schedule, and you're no doubt hoping that something comes later than the Costa Luminosa so you'll be able to stay on Pitcairn past February 23rd, way too early to leave for Worldcon. Eventually, the Claymore II supply ship schedule for 2017 will be posted, and you'll probably sail for Mangareva around June. From there, you'll fly Air Tahiti (not to be confused with Air Tahiti Nui) to Papeete. From there, you've got one of three possible routes: Air France/Finnair via Los Angeles and Paris (17,615 km), LAN/KLM via Easter Island, Santiago Chile, and Amsterdam (21,521 km), or Air New Zealand via some route like Auckland, Tokyo, Helsinki on Air New Zealand and Finnair, which is shorter (20750 km) than the same route through Hong Kong (21070 km). So, sure, you'd have to leave in June and you might be able to make the September supply ship back, but think of the interesting places you could stop over along the way.
A Funny Aside
When I was entering the UK, the immigration officer looked at my passport. As often happens, initially a bored immigration agent is looking for a place to stamp, then they become interested in the unusual places I have in my passport.
"Where's Pitcairn?" he asked.
I boggled. After all, it is a British Overseas Territory, but I was actually having to resist answering, "the ass end of nowhere." I stumbled over the explanation, then Rick piped up to explain.
"Where the 'Mutiny on the Bounty' happened" is generally the simplest explanation, though not quite correct as that's where the mutineers wound up, not where the mutiny occurred.
You can get to Helsinki even from Pitcairn. It'll just take a while.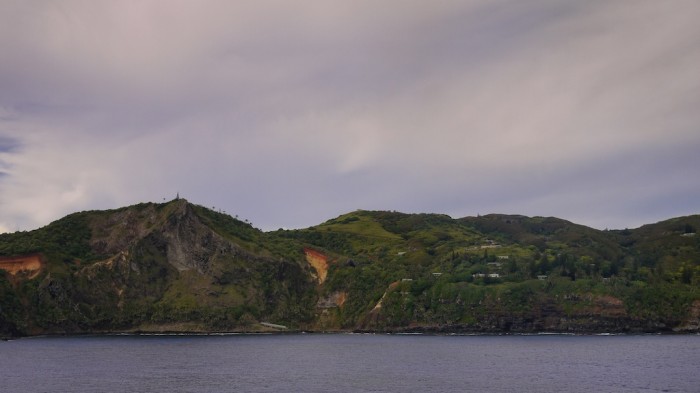 ---