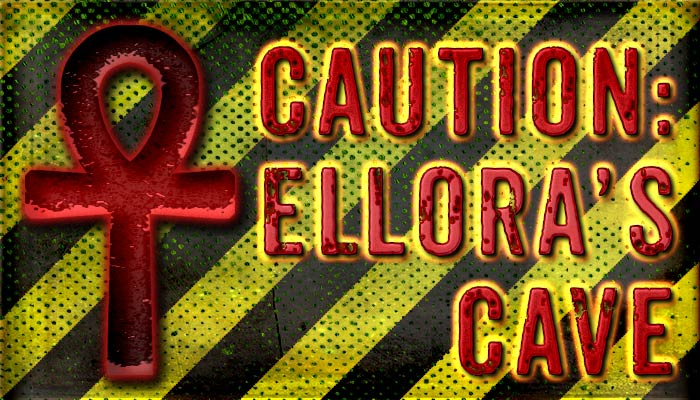 Part of EC's problem is, and has been, distribution.
I've done some spot checks on EC authors and found that they aren't consistently in all possible stores. For many authors, there are enough titles that it can be difficult to demonstrate the issue, but in this case, I've picked very small cases that are easier to see.
When talking on twitter about Axl and Taylor, I happened to search the iBooks store instead of my library. My recollection was that I'd bought one of Taylor's books back when I was taking notes and writing research questions for an ex-stripper character I wanted to write. I'd never read the book (as I'm working on a different book right now), so I was trying to find it in amongst the other billion books I've bought.
I found one book by Taylor in the store. My recollection was that he'd written two. I was wrong; he's written three. Well, co-authored three. I filed that away, then thought I'd use his case as symptomatic of a larger problem that EC has with its book distribution.
|   | Take It Off! | Take It Off! (Again) | Top Guns |
| --- | --- | --- | --- |
| Ellora's Cave site | $5.20 | $5.20 | $5.95 |
| All Romance Ebooks | — | $6.50 | $7.50 1 |
| Amazon | $5.39 | $5.39 | $5.78 |
| Apple iBooks | $5.99 | — | $7.99 2 |
| B&N Nook | $5.99 | $5.99 | $6.99 |
| Kobo | $5.39 | $5.39 | $6.19 |
Huh.
What's really interesting about this is that Apple reports that the seller for Taylor's book on iBooks is All Romance Ebooks, which does not list that title.
EC's Own Site
Two of these are paperbacks. Three e-books.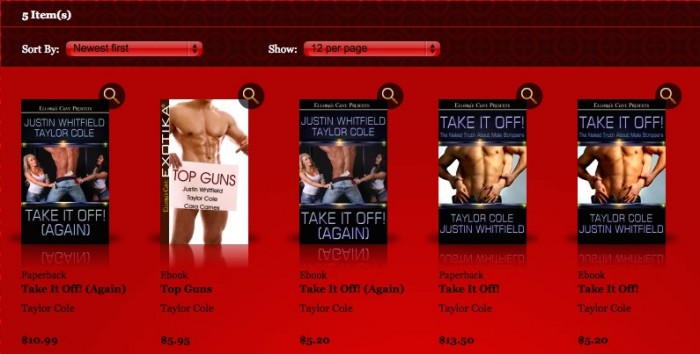 All Romance Ebooks
Amazon
Note that one can cleverly add the publisher in the search.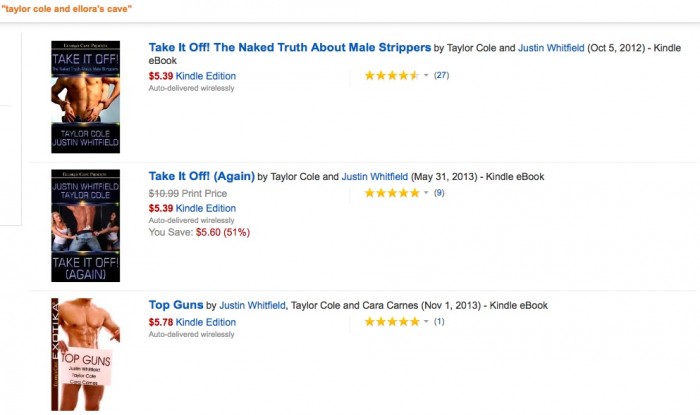 Apple iBooks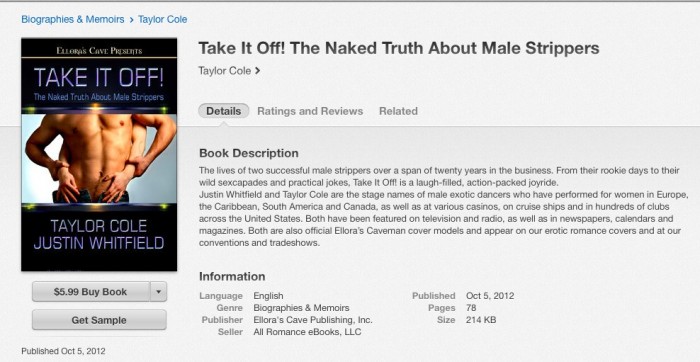 B&N Nook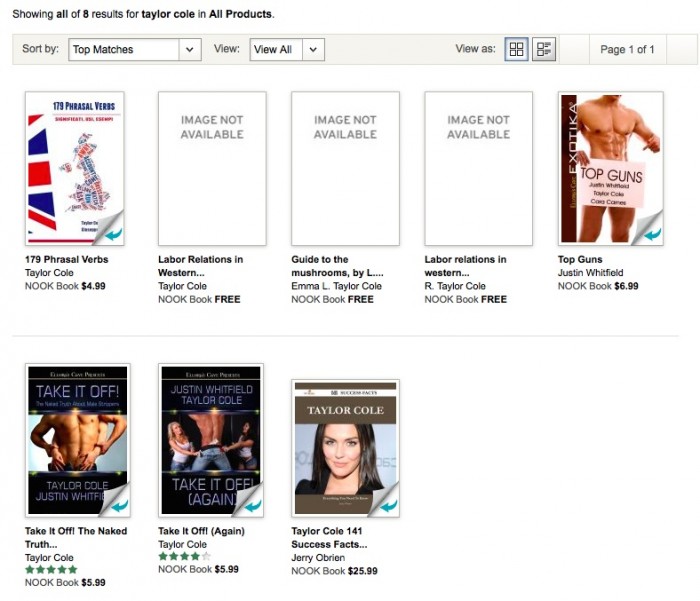 Kobo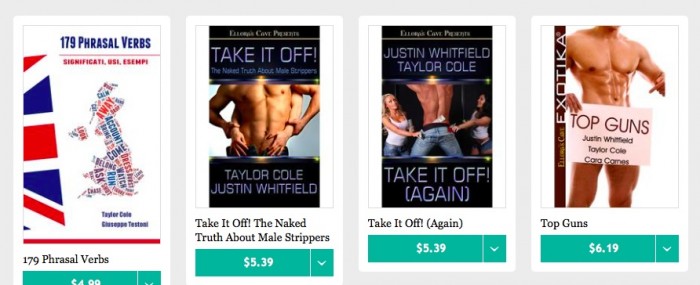 Let's Look at Cat Grant's Titles
You may recall that Cat Grant is trying to buy back her rights from Ellora's Cave to the three titles she has with them (The First Real Thing, Appearing Nightly, and A Fool for You).
EC's site: all three
Amazon: all three (but only two show up with Ellora's Cave in the search)
Apple: no Appearing Nightly
ARe: all three
B&N Nook: all three
Kobo: all three, ranked dead last when sorted by "bestsellers"
Then There Are Books Getting Filtered
Like this tale from Lissa Matthews:
I have one book filtered at Amazon and I don't even have a year's worth of sales numbers on it, but I can tell you it definitely meets the 'sells less than 100 copies in a calendar year'… No one even knows the book exists unless I tell them. And it's filtered because I didn't specify No Nudity for the cover. Okay, I took blame for that, but how was I supposed to know I had to tell Ellora's Cave what their distributors would and wouldn't allow on covers in order for them to be found by readers and not stashed so deep into the abyss? I had never had to specify that before and believe you me, I learned that lesson. Because the next and final book that I submitted specified on the cover art form NO NUDITY!
The cover in question features a nude woman facing away, held by a man in jeans. I think it may be the side boob more than the nudity, though.
I've had rights reverted on an EC book since Dec, but it's still for sale on @iBooks. *sigh* On hold w/iBooks now. #notchilled

— Shoshanna Evers (@ShoshannaEvers) October 24, 2014
@hmweinerman @deirdresm I'm not even looking for any money from EC. I just want my last book back from them. They've put it on sale for 99c.

— Shoshanna Evers (@ShoshannaEvers) October 24, 2014
So—EC's still selling a book they haven't had the rights to since December 2013.
Moral of the Story
You can't just "set and forget" books. Database issues occur. There are nuances of data structures that mean not every vendor will represent titles in the same way.
It's got to be someone's job to comb through and make sure that every single book is at every single vendor. And re-check it periodically.
Paul Krugman wrote this piece about Amazon, which is worth it just to comment only on this one bit:
Book sales depend crucially on buzz and word of mouth (which is why authors are often sent on grueling book tours); you buy a book because you've heard about it, because other people are reading it, because it's a topic of conversation, because it's made the best-seller list. And what Amazon possesses is the power to kill the buzz. It's definitely possible, with some extra effort, to buy a book you've heard about even if Amazon doesn't carry it — but if Amazon doesn't carry that book, you're much less likely to hear about it in the first place.
Well, that's true so far as it goes. Personally, I only look at Amazon if my first-source vendors don't have it. When I worked at an indie bookstore, I wound up making a habit of knowing what books were featured on NPR, as those were the titles more people asked about than any other.
For me, I'm usually searching on a web site for books, so if that search doesn't find the books in question, that's what kills the buzz.
1 The book is listed only under Justin Whitfield even though there are three named authors on the cover. I don't know if this is generally a problem with multi-author titles at ARe as I don't shop there much.
2 Listed only under Justin Whitfield in iBooks, too, but ARe as a vendor may explain that.
---