Some time in the past, I was sad that no one from Greenland had ever visited my blog. I am no longer sad.
Here's how much of the world visited so far in 2014 (very light grey means no visits):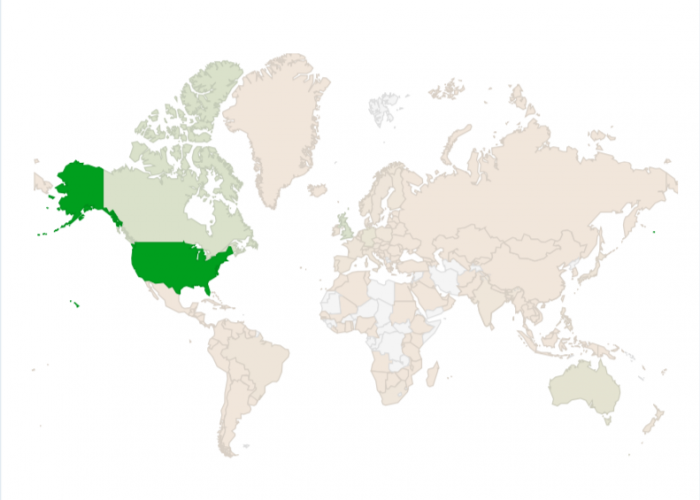 Not only did I get a single visit from Greenland, I got two from Cuba. Here are some others at the end of the long tail: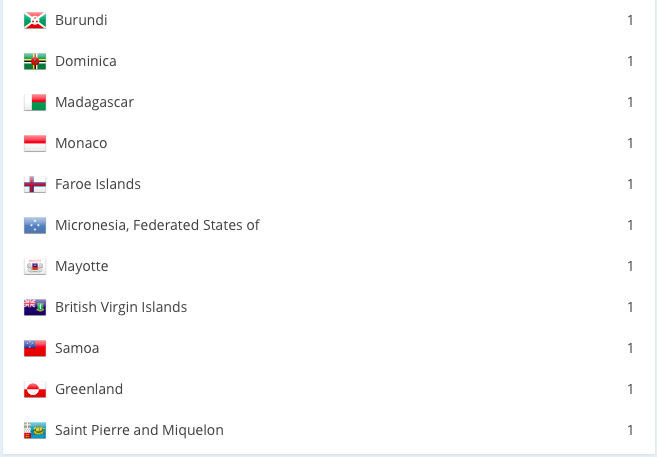 North America: everyone visited!
Central America: everyone visited!
South America: everyone but French Guiana.
Europe: missing a few Balkan states.
Middle East: Most countries, though I'm kind of disappointed about missing Yemen. I have Yemeni coffee every morning.
Africa: I count 24 countries (on the map, which means I may have missed smaller countries). Far from all of them, but that's far more than I expected. Helloooooo, Africa!
Asia: Missing Iran, Turkmenistan, and North Korea. Two of those were a given.
Here's the full list of the 178 (by ISO country code count) visiting countries and territories. Italics means I haven't been there yet.
Afghanistan, Åland Islands, Albania, Algeria, Angola, Argentina, Armenia, Aruba, Australia, Austria, Azerbaijan, Bahamas, Bahrain, Bangladesh, Barbados, Belarus, Belgium, Belize, Bermuda, Bhutan, Bolivia, Bosnia and Herzegovina, Botswana, Brazil, Brunei Darussalam, Bulgaria, Burundi, Cambodia, Cameroon, Canada, Cape Verde, Cayman Islands, Chile, China, Colombia, Costa Rica, Croatia, Cuba, Cyprus, Czech Republic, Côte d'Ivoire, Denmark, Dominica, Dominican Republic, Ecuador, Egypt, El Salvador, Estonia, Ethiopia, Falkland Islands (Malvinas), Faroe Islands, Fiji, Finland, France, French Polynesia, Georgia, Germany, Ghana, Gibraltar, Greece, Greenland, Grenada, Guam, Guatemala, Guernsey, Guyana, Haiti, Honduras, Hong Kong, Hungary, Iceland, India, Indonesia, Iraq, Ireland, Isle of Man, Israel, Italy, Jamaica, Japan, Jersey, Jordan, Kazakhstan, Kenya, Kuwait, Kyrgyszstan, Laos, Latvia, Lebanon, Liberia, Liechtenstein, Lithuania, Luxembourg, Macao, Macedonia, Madagascar, Malawi, Malaysia, Maldives, Mali, Malta, Marshall Islands, Mauritius, Mayotte, Mexico, Micronesia, Moldova, Monaco, Mongolia, Montenegro, Morocco, Mozambique, Myanmar, Namibia, Nepal, Netherlands, New Zealand, Nicaragua, Nigeria, Norway, Oman, Pakistan, Palau, Palestine, Panama, Papua New Guinea, Paraguay, Peru, Philippines, Poland, Portugal, Puerto Rico, Qatar, Romania, Russian Federation, Rwanda, Réunion, Saint Kitts and Nevis, Saint Lucia, Saint Pierre and Miquelon, Saint Vincent and the Grenadines, Samoa, Saudi Arabia, Senegal, Serbia, Singapore, Slovakia, Slovenia, South Africa, South Korea, Spain, Sri Lanka, Sudan, Suriname, Sweden, Switzerland, Taiwan, Tanzania, Thailand, Togo, Trinidad and Tobago, Tunisia, Turkey, Turks and Caicos, Uganda, Ukraine, United Arab Emirates, United Kingdom, United States, Uruguay, Uzbekistan, Vanuatu, Vatican City, Venezuela, Viet Nam, Virgin Islands, British, Virgin Islands, US, Zimbabwe
Folks: I'm floored. Gobsmacked.
Thank you so much for visiting. I've been to 101 countries and territories by the Travelers Century Club list, which translates to 85 ISO countries/territories and 66 UN member nations (plus the Vatican).
I never dreamed that so many more countries than that would visit my humble little corner of the internet.
Thank you. Every one of you.
---