I've been trying to be smarter about marketing, and part of that means understanding who finds your pages and how they find them.
Hence I've delved into the dark art of SEO, specifically landing pages: when people search and find/visit my site, what pages do they land on?
And…I was surprised! Who knew that 1,000 (~2%) people would visit my spork page?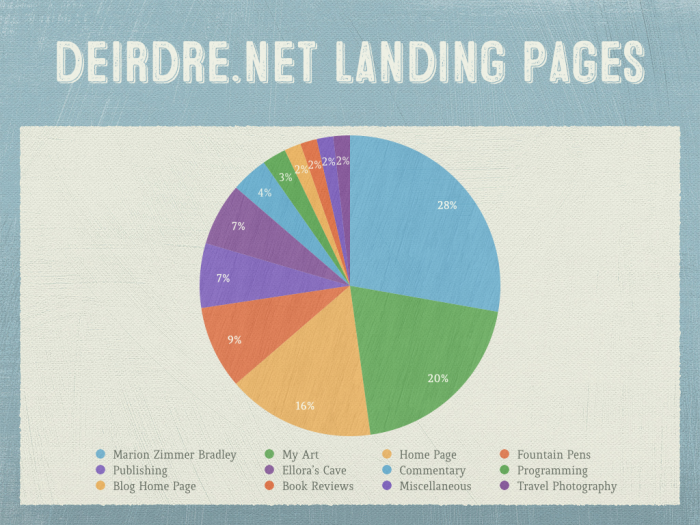 What Surprised Me
I only looked at the top 25 landing pages. Here's what surprised me from those results.
I'm unsurprised that Marion Zimmer Bradley brought in the largest chunk of hits, especially given that one post was linked to from The Guardian. What I am surprised is that, SEO-wise, it's a smaller number than I expected. Then again, she's been dead over fifteen years, so maybe I shouldn't be surprised.
Similarly, I get a lot of hits on Ellora's Cave posts, but it's only 7% of my incoming search traffic despite having a high Google ranking for the search term Ellora's Cave. Which…should say something about EC: relatively obscure.
20% of my incoming search traffic leads to my various art projects, mostly t-shirts. Given that I've been posting them for less than a year, this is very interesting to me. I was in the middle of a quandary: given that I want desamo.graphics to focus mostly on graphic elements for sale, is it more off-brand to put those projects on deirdre.net or on desamo.graphics? The results say to me that I should keep these on deirdre.net.
Also a surprise was that this was my most-frequently-found art-related post.
9% of my incoming search traffic leads to two posts about fountain pens. I should do more of these. Did you know there are relatively recent patents about cool fountain pen technologies? It's true!
Finding Your Own Landing Pages
You can find your top pages by doing the following in Google Analytics:
Log into google.com/analytics. If you haven't set up tracking on your site, now's a good time to do so.
Click on Reporting.
Click on Acquisition.
Click on Search Engine Optimization.
Click on Landing Pages.
You can see more about how to do that in this moz.com blog post.
---