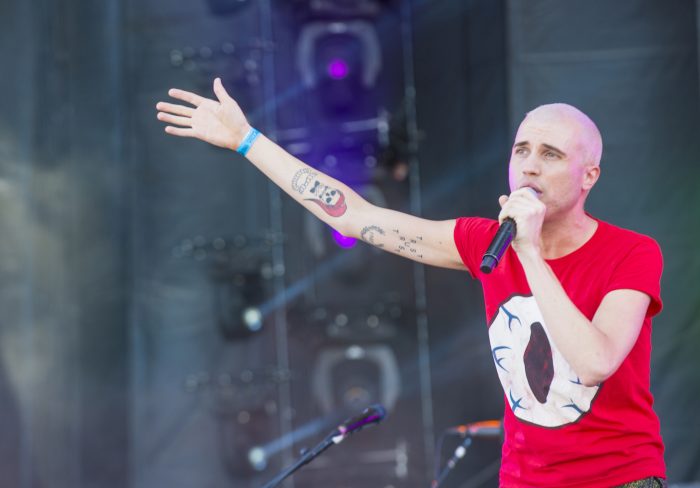 ](/images/2016/04/tyler-glenn-neon-trees-kobbydagan.jpg)Tyler Glenn of Neon Trees performs on stage at the 2014 iHeartRadio Music Festival Village on September 20 in Las Vegas. Photo © 2014 by kobbydagan and used under license.
Tyler Glenn just released a new song and video, "Trash." Tyler's a gay Mormon who had a faith crisis after the LGBT policy change last November. One of the things that most fascinates me is why people leave faiths, and the process people go through, as it's usually a difficult change that upends a significant part of their lives.
An excerpt from the Rolling Stone piece by Brittany Spanos about his new song and recent life:
At the time Glenn came out in 2014, he was still a believer in the Mormon church, having been raised in the faith, gone on a mission and continued to be a member of the community in Salt Lake City, where he remains. "I always tried to make being gay and being Mormon work," he says. Glenn had hoped he'd become an ambassador to his church on behalf of more progressive views, until the church confirmed that they would excommunicate members who participated in same-sex relationships. Now, he sees himself as a different kind of ambassador.
"The big problem here is that they claim it's the only truth," he says. "There have been over 40 suicides within the church as a result of this policy. These aren't just grown men and women. Many are children. It's backwards. It's not of God. I needed to make this statement to artfully show the pain of a faith crisis and the darkness of doubt, but also that there's ways to reclaim what is yours."
One commenter said, "I haven't witnessed this much righteous anger and passion in a song since Hozier's 'Take Me To Church.'"
Part of Tyler's situation is that several months ago, a fifth definition of apostasy was added to the LDS Handbook of Instructions, section 6.7.3. Note that it's numbered item 4 even though it was added fifth: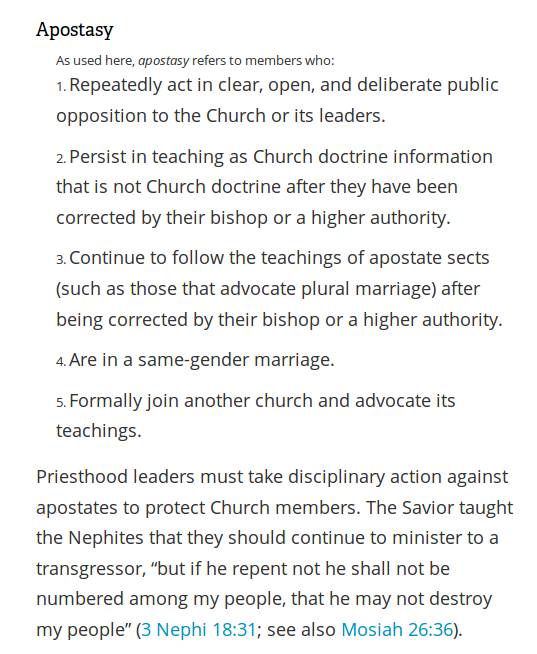 > …\[A\]postasy refers to members who:  
>  \[…\]  
>  4) Are in a same-gender marriage.  
>  \[…\]  
>  Priesthood leaders must take disciplinary action against apostates to protect Church members. \[…\]

Tyler hasn't resigned, and he's likely to be excommunicated for a combination of his song and his recent Mormon Stories podcast (linked below). As an example of recent LDS church actions, Bruce Holt was reportedly excommunicated for this single FB post. (more context here)
Tyler said in this interview:
"No, and I won't resign," he said. "I think it's important if they decide to excommunicate me, that they do it in the proper way… I want to see change. I don't hate the Mormon church, I'm really upset with the system and the idea that they claim it's from God."
Trash Video
Video's here in the Rolling Stone Interview.
For those of you who are LDS and who may be offended by the above video, you may also watch David A. Bednar's "Choose Not To Be Offended talk on LDS.org.
Purchase/Streaming Links
Tyler Glenn's Mormon Stories Podcast Episodes
John Dehlin, founder of the Mormon Stories podcast, did a several hour episode (in three parts) with Tyler Glenn recently.
It's one of the few episodes I've listened to in full, and it really talks about what it's like to be fully in and then have the door slammed in your face like Tyler did last November.
My Interest in Tyler's Story
As a Californian, one of the things that's angered me since 2008 is the participation from Mormons in Utah (and the LDS church itself) in passing Prop 8. Back then, Rick wrote an essay on why—even if you agreed that gays shouldn't marry—it was so difficult to clearly define "male" and "female." Sex biology is far more complex than most people realize.
Those of us who are LGBT/QUILTBAG or allies are quite horrified about some of the stories coming out about LGBT Mormons and the struggles they face. Earlier this month, 22-year-old Lincoln Parkin took his life. I was heartened to discover people like Virginia, a commenter on the above story:
We are mormons too and I have two gay children who are one of the most wonderful people I know. I thank God everyday for giving them to me. We are 100% behind them for support and love. They are God's children too. I hope that people can give unconditional love like Jesus did.
If you know LGBT Mormons, or Mormons who have LGBT family, it's a good time to help ensure that those in faith crises know there are people there who care. People growing up, especially in the Morridor where Mormons are a high percentage of the population and therefore, given LDS values about LGBT people, may not have adequate support systems in place.
Other LGBT Mormon Stories Episodes
Other Mormon Stories podcast episodes featuring other LGBT Mormons and their stories. Note: some of these have some truly dark times in them, and several discuss suicide ideation or attempts.)
There is also the Gay Mormon Stories podcast.
---