Single-publisher conventions are fairly rare, but not unheard of. Ellora's cave has had one, EC Romanticon, for several years. How many? According to this 2011 scrape of the ecromanticon.com site by archive.org, the 2011 convention was the third annual convention, so 2009 would have been the first. (The earlier conventions may not have been on a separate domain; the scrape I linked to is the first scrape by archive.org.)
What is Romanticon, you ask?
Well, I have a 2013 promo video for you. Ready?
So, there you go. The video very much focuses on the Ellora's Cavemen, and a bit on the convention goers, but not at all on Ellora's Cave writers. ## Let's Talk a Bit About Convention Funding
I've got a lot of experience with fan-run science fiction and fantasy conventions, mostly with conventions significantly larger than Romanticon.
Romanticon runs a single track of programming. I've seen small conventions run this way, but I've also seen large ones (World Domination Summit is single track and around 3,000 people). It's my understanding that Romanticon brings in around 400 300 (source: Glamour) people. Their venue's grand ballroom seats a maximum of 500 people in banquet layout.
Registration ran $325; authors got a $25 discount. For sf/f con fans, that seems impossibly high (as most sf/f conventions are < $100), but it's less than RT ($489)…on several levels. It's more $ than most other romance conventions that aren't writer-focused, though. (Writer-focused conventions will typically fly in agents and editors, and that adds up.)
Friday and Saturday night there are dinners, so that's a good chunk of the registration cost.
For sf/f cons, the only people typically paid in any way are the guests of honor, where memberships are typically comped and hotel rooms are covered. Memberships for speakers may or may not be covered, or if covered they may be at a discount rate. For most GoHs, there aren't any honoraria payments.
Functionally, the Cavemen are the guests of honor. One of the weekend events is picking the Alpha Caveman for the year, so Cavemen have a slot where they feature what they're known for.
The Events
Let's look at the events list:
Events for Non-Writer Attendees
Bad Girls of Romance Karaoke Party
Line Dancing with Taylor
TwerkShop (Cleveland Exotic Dance)
Fantasy Cavemen Cover Shoot (pose with a caveman as though you were on a cover) Note: this event's open to the public
Jaided Ladies Erotica Lounge (author readings, 2 sessions)
Women's Path to Pleasure
Bling Your Badge
Genius Geeks versus Bad Boys
Screaming Orgasm—More Than Just a Drink
Hoedown/Throwdown Party
Kickin' It with Caveman Kimo
Lap Dance Lessons
Dirty Quotes by the Dirty Dozen
Beyond Vampires & Werewolves: Madlibs
Beefcake Bonanza
Golden Ankh Awards Party
Bookfair and SEXpo Note: this event's open to the public
Pizza, Pajama & Bingo Party
Events for Writers (other than the panelists)
Pow Wow with Patty—which was scheduled for Thursday afternoon (!).
#1k1hr Writing Sprint (2 sessions)
Jaided Ladies Erotica Lounge (author readings, 2 sessions)
Publisher's Parlor (2 sessions)
Writer Organization and Optimization
Sexy Writing 101
Dirty Quotes by the Dirty Dozen
How to Use Scrivener
Writing Situations
How to Research Erotic Romance, with or without the Flogging
Golden Ankh Awards Party
Bookfair and SEXpo (if published with EC)
Not on the events list: Pitch sessions
As someone who's scheduled speakers for numerous conventions: I note that Laurann Dohner is an attending author, but she is on exactly zero of the other events. A few years ago, Laurann signed a 75-book deal with EC, and she's apparently EC's best-selling author.
All I've got to say is: there's a story there. I don't know what it is. Last year, she was on a presentation:
Love to Love You, Baby: Sexy Songs and Steamy Scenes (Samantha Kane, Mari Freeman, Kristin Daniels, Mari Carr, Cait Miller, Laurann Dohner, JK Coi, Jayne Rylon, Desiree Holt): Which songs inspire all those super steamy love scenes in your favorite books? Time to find out. Match the song to the author, then match the scene to the book, and walk away with a prize! And maybe a new appreciation for heavy bass, driving drumbeats and sensual horn sections. 😉
(Added note: the reason is explained in comments, and don't I feel like a heel for lampshading it. I wish you the best, Laurann.)
How Many Authors Came?
| Year | # Authors Coming |
| --- | --- |
| 2011 | (not listed) |
| 2012 | (not listed, but I've been told it was 88) |
| 2013 | 84 (list) |
| 2014 | 37 (Aug 11 archive) |
| 2014 | 38 (live site, not archive) |
So, it doesn't appear that Ellora's Cave's claim in its lawsuit that authors were scared off by Dear Author's post is defensible. Instead of numbers going down between August 11 and the convention in October, the number of authors actually increased. The August 11 capture a week before the announcement of changes at Ellora's Cave, so any changes in author loyalty would have been after then.
If anyone has names or numbers of authors for 2011 or 2012, I'd love a comment or email. Thank you!
About that Pow-Wow with Patty
Do any EC authors know what happened at the afternoon "Pow Wow with Patty" at #RCon14? I can't find a peep. #notchilled

— Karen Booth (@karenbbooth) October 10, 2014
@karenbbooth I wonder if they had to sign non disclosure agreements. No video, audio etc.

— Mermaid Sharon (@Mojitana) October 10, 2014
Most probably didn't know about it, since they moved it from Saturday to today during registration, when many weren't there… @karenbbooth

— Carrie (@carriejeditor) October 10, 2014
http://t.co/GjKkj8g6k0: originally scheduled on Sat. from 3-3:50, NOT Thurs during registration. @karenbbooth #notchilled

— Carrie (@carriejeditor) October 10, 2014
So seriously, there's no news being reported from Romanticon at all? Nada? There must be something….

— Karen Stivali (@karenstivali) October 10, 2014
@karenstivali The news is that there is no news. #RCon14 tag is a ghost town. Patty Marks talk was hastily rescheduled to today. *shrug*

— Mermaid Sharon (@Mojitana) October 10, 2014
I got nothing.
This Post Is Useless Without Pics
Well. Since you asked….
Linedancing. Looks like a snooze-fest numbers-wise. Feel sad for the Caveman on duty.
Cait Miller tweeted a pic with lots of Cavemen:
Anna Alexander tweeted a pic of the banquet table prior to the Hoedown/Throwdown. Here's a color corrected version: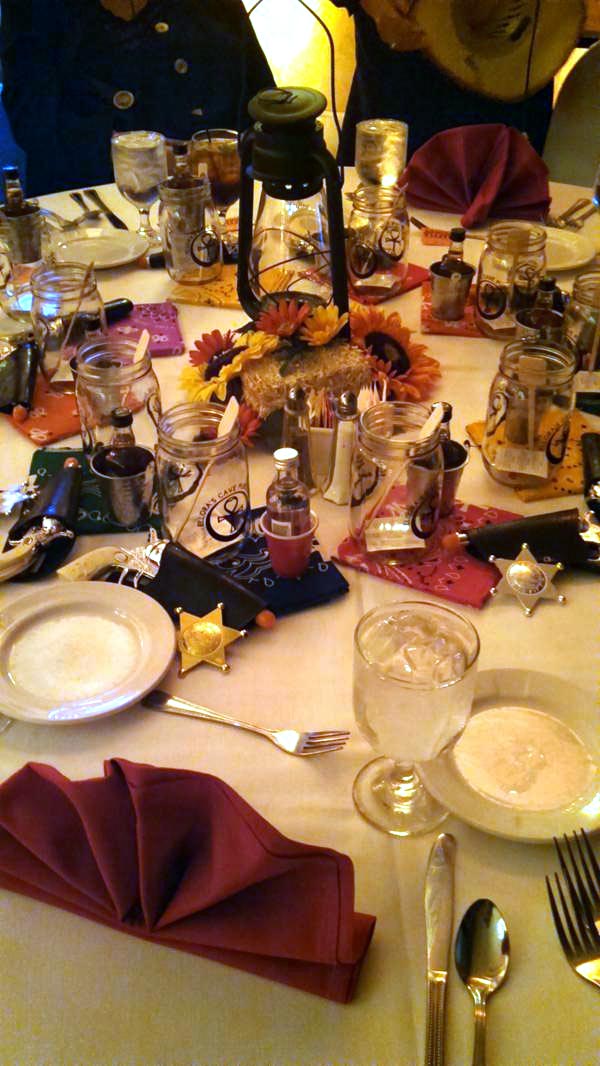 Kathy Kulig tweets a nice pic of herself with Caveman DeAngelo (the reigning Alpha Caveman):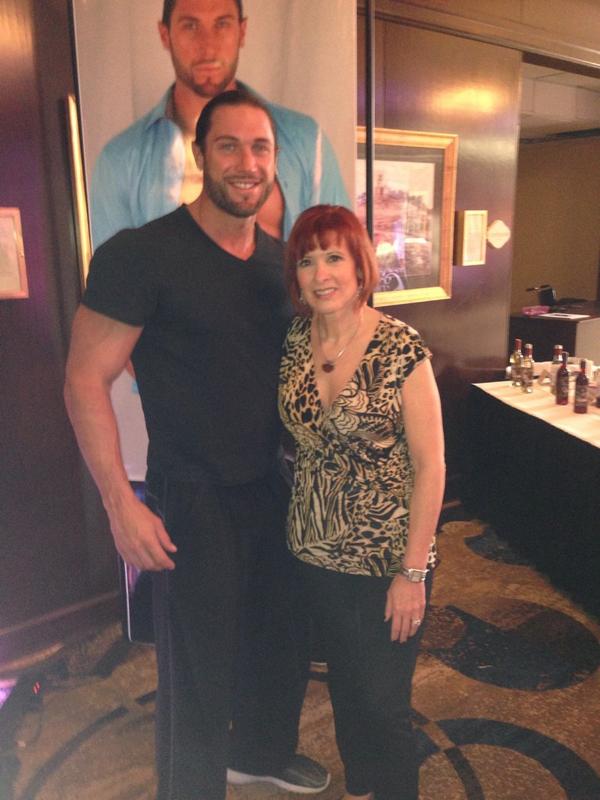 The Lap Dance class was more popular, as Kathy Kulig tweets. No laps were present, apparently.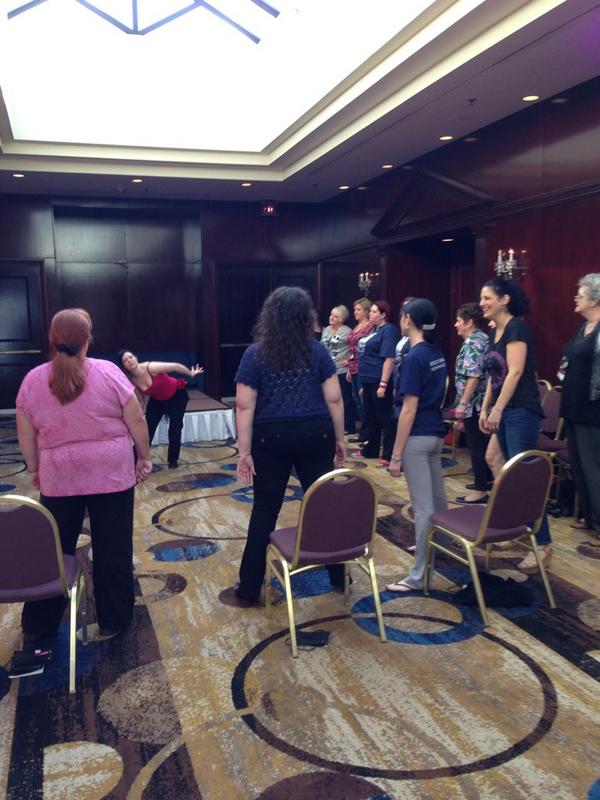 Kathy also tweets a pic of formal (Saturday) night. Guess dress code is different for the men.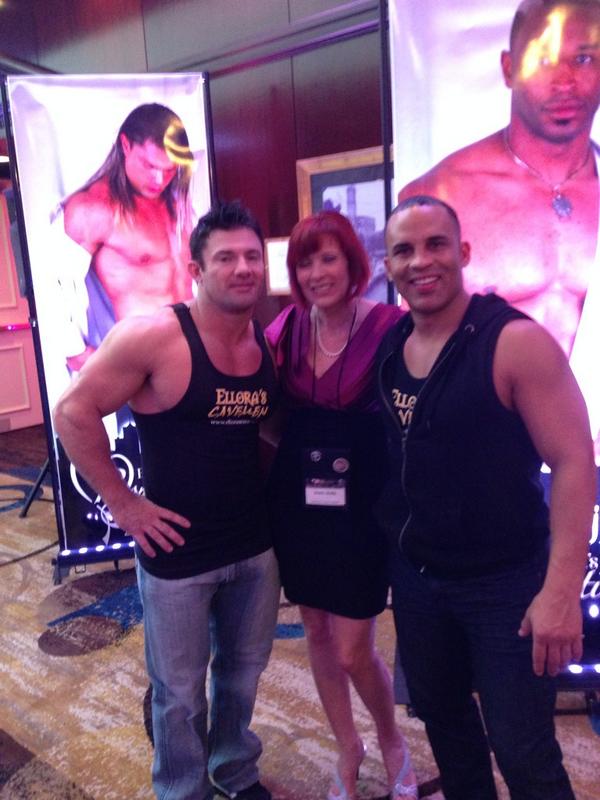 Anna points out that yes, the dress code is really different….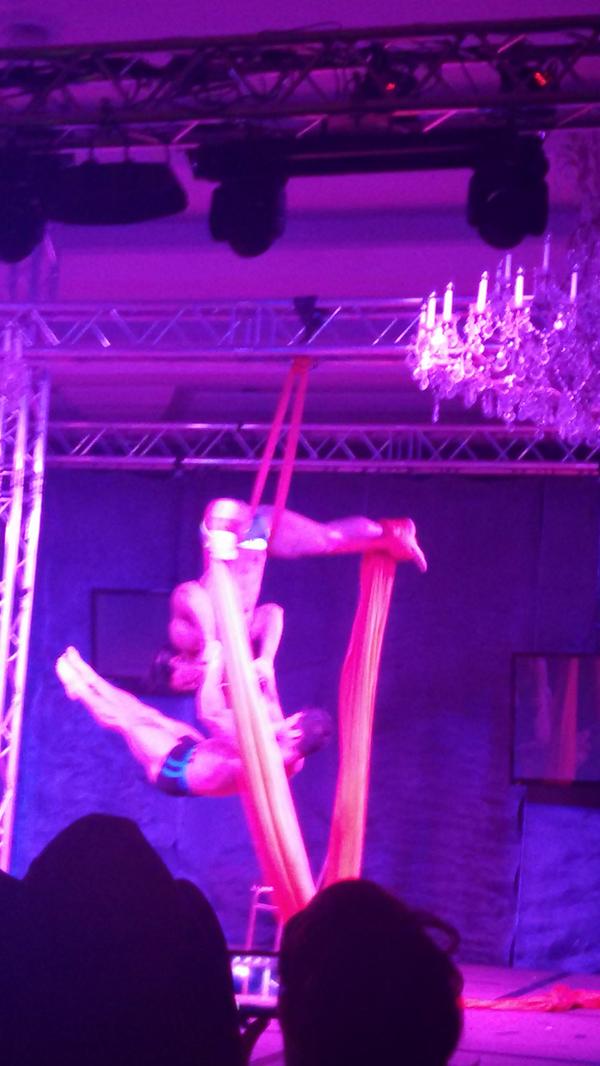 Better pic from Jocelyn Dex: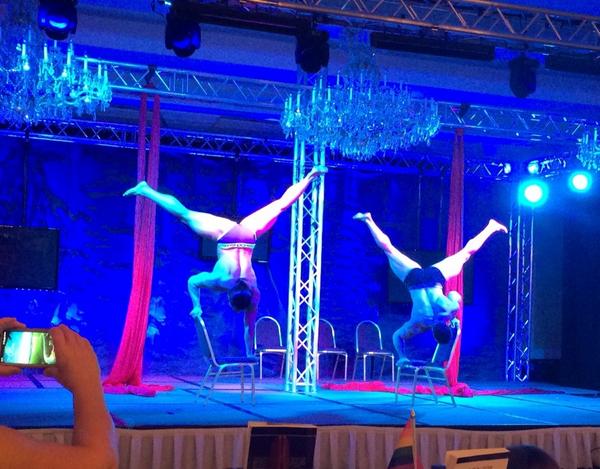 Awards were given out: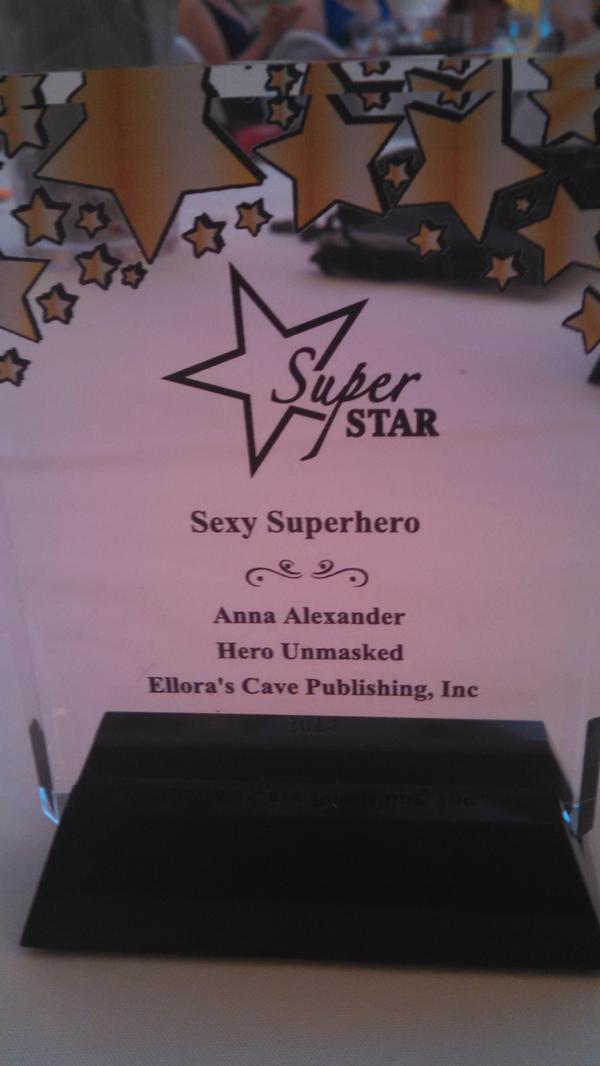 Three ladies managed to get stuck in an elevator with Caveman Sinjyn: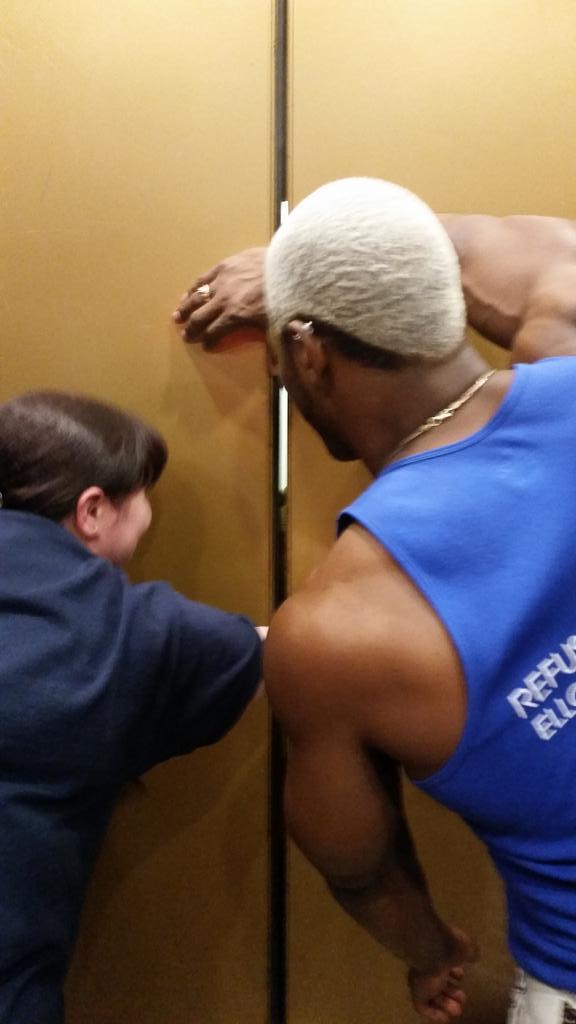 A short written review by Diana Hunter.
Saved the best for last: Caveman Cisco instagrammed a photo from a photo shoot he did while in Akron:
So…About Next Year
I'll just leave this tweet right here.
#RCon14 nearly over. I can't wait to do it again next year!

— Mr Laurann (@MrLaurann) October 13, 2014
Then I'm going to invoke Courtney Milan's piece, "Why is Tina Engler economically irrational? #notchilled" and talk about the convention thing for a minute.
There's an old economics saying: a business's primary economizing problem is money; a person's primary economizing problem is time. (You may argue with me on the second one, but this is the opinion of people with money, so there's that.)
Both money (given Amazon downturn in sales and recent staff layoffs mentioned in their August letter) and time (smaller staff, thus less time to give) are in shorter supply at Ellora's Cave of late by their own reports.
First, if there are multi-year agreements to run the convention, it may cost more to cancel them than to hold them. This is something that needs to be closely looked at to see if it's viable. One thing's for sure, though: canceling earlier rather than later is typically less expensive. That offers the hotel more time to sell the space, and that's often something that reduces cancelation costs.
Second, there are book sales, and outside of larger conventions like RT, it's the single largest gathering of EC authors. Also, there's a high author-to-member ratio.
Third, it's a really different kind of convention, and there's no close substitute for it. That's not a reason to keep running it despite everything, but it can be a make-or-break factor if all else is neutral.
Yet, it's hard to tell. If Romanticon actually turns a profit, even a slight one, for Ellora's Cave, it may still be worth running the convention despite the time suck. There's no cut-and-dried answer, though, and it's not something an outsider can readily determine.
Post-Convention Update
Jaid Black posted a notice about potential exposure to ebola. Dallas nurse Amber Vinson, who now is confirmed to have ebola, was in Akron during the same time period that Romanticon was held.
According to news reports, the infected woman, a healthcare worker who treated "Patient Zero," was in Akron visiting family. She did not show signs of infection until already in Akron. The CDC has confirmed that she was definitely symptomatic while traveling from Cleveland to Dallas on October 13 so if you know anyone else on that flight please have them contact the CDC IMMEDIATELY.
Romanticon attendees (other than those on flight 1143) have nothing to worry about… according to the CDC. As they haven't exactly been forthcoming with information, and we have no idea where in Akron this woman was, I am asking EC employees and Romanticon attendees in general, to self-monitor their health for the next 3 weeks. A list of symptoms can be found here: http://www.cdc.gov/vhf/ebola/symptoms/
Further, two of the Cavemen, Axl and Taylor (who are also both EC authors), were on the same flight as Vinson. After consulting with the CDC, they are both in self-imposed quarantine for 21 days.
Here's Axl's story.
Axl and Taylor appear briefly on this GMA segment speaking about their self-quarantine.
My hope is that everyone will be fine, but I'm sure thoughts and prayers are welcome. Axl gives his contact information in his facebook post if you wish to reach out to him.
---