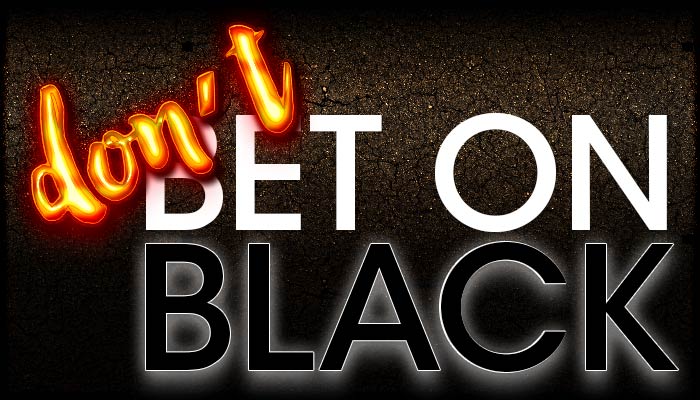 Every single time I'm convinced the Ellora's Cave situation can't take another weird turn (I mean, c'mon, Ebola strippers? What are the freakin' odds?)—well, let's just say that I'm rarely disappointed because there's always something new and strange.
I found out about this side project of Jaid Black's two days ago, and I can't help but shake my head repeatedly over it. On the bright side, at least I'm getting my neck exercises in.
Here's a screenshot of the latest project, Bet on Black Books, which has a header link proudly titled "Self Publish With Us."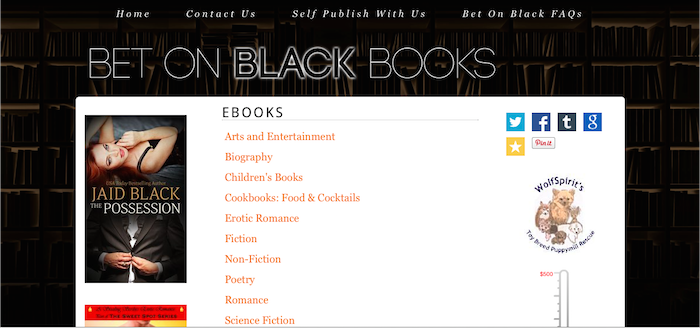 So. Tone. Deaf.
Does Jaid Black have any idea how tone deaf this comes across?
Why would anyone need to "bet on" anything?
If this were a portal for, say, books about gambling strategy—it would be a great site name. As something that's ostensibly otherwise, though, it's like you're supposed to bet on her reputation. Which, when it comes to women's reputations and betting, it's just skeevy to me.
Furthermore, expecting customers to bet on Jaid Black's reputation just seems incredibly strange.
Also, the timing of this is interesting. If you look at the domain screencap further down, the domain was registered a couple of days before the mass layoffs at Ellora's Cave last August. And this is supposed to inspire confidence to "bet on" Jaid Black?
And yet, at the same time, it's less appropriative a name than Ellora's Cave, which also appropriates a second culture of color with its logo. So, um, better? Differently wrong?
I don't even.
Wait, What, Self Publish?
Basically, it's an electronic store for books. You know, like Amazon. Except this one's newly-built with outdated technology on a free website builder with a cart service several of us (who have spent more than our fair share of time with shopping cart services) have never heard of.
Yeah, you also have to sign a contract when you submit.
There are a lot of interesting nuances in the FAQ that are not in the contract.
Things like:
When you buy a book from Bet On Black Books, you own it permanently.
Unlike, say, every single other ebook agreement, possibly making new case law in doctrine of first sale as it applies to ebooks.
Courtney Milan had a few comments as well:
@AlishaRai What. Someone created a storefront for just self-published books and they think they can offer worse terms?@suleikhasnyder

— Courtney Milan (@courtneymilan) April 10, 2015
@AlishaRai Also, you make more on a lower priced book… I guess transaction costs don't matter? @suleikhasnyder

— Courtney Milan (@courtneymilan) April 10, 2015
@AlishaRai It looks like she just copied her publishing contract without thinking. There's stuff in that that makes no sense otherwise.

— Courtney Milan (@courtneymilan) April 10, 2015
This one is particularly important as it involves a significant downside risk:
@AlishaRai I mean, she's claiming the right to prosecute a suit for infringement where she had no exclusive rights. Why.

— Courtney Milan (@courtneymilan) April 10, 2015
@AlishaRai Also. Just don't do business with a self-publishing portal that can't afford to have a lawyer look at its boilerplate.

— Courtney Milan (@courtneymilan) April 10, 2015
As a general rule, I suggest avoiding self-publishing portals that don't use competent lawyers to look over their boilerplate. #notchilled

— Courtney Milan (@courtneymilan) April 10, 2015
(Standard disclaimer : last tweet on behalf of myself and not anyone else etc etc)

— Courtney Milan (@courtneymilan) April 10, 2015
There Are Illegitimate Sites Selling Books Out There
Modest though my own sales are, I've found my own books on sites selling them for $—sites that never had any intention of paying me any royalties. These sites are often based on the same kind of free site builders and payment gateways.
Note that I don't believe Black's intentions are untoward here, it's just that, were I a potential customer who didn't know who she was but happened across the site, I wouldn't assume it's legitimate. I admit that the gambling metaphor would be my first red flag.
But there are times when I was buying things in market sectors I knew less well than publishing, desperately wanted something, but didn't buy it because it just didn't feel entirely above board.
If You're an Author, Should You Sell Here?
I'm going to say it: I believe it's a bad idea to sell your books through this site.
If you want to sell your books off of a web site other than Amazon, you can sell them off your own site, get the money more quickly, not have to contract with another company, and make more money. Oh, and note that the Bet on Black contract does not specify when or how frequently you will be paid.
Let's say you have a book you'd like to sell for $1.99, and you sell it today (April 12th, as I write this)
| Sales Outlet | You'd Receive | When | |---|---|---| | Bet on Black Books | $1.49 | Undefined | | Amazon | $0.70 | end of June | | B&N Nook | $0.80 | end of June | | iBooks | $1.39 | mid-June | | Kobo | $1.39 | (monthly or semi-annually) | | Smashwords | $1.69 | mid-July | | Your Own Site | $1.63 | *Today* |
And let's look at the $2.99 level, too:
| Sales Outlet | You'd Receive | When | |---|---|---| | Bet on Black Books | $2.09 | Undefined | | Amazon | $2.09 | end of June | | B&N Nook | $1.94 | end of June | | iBooks | $2.09 | mid-June | | Kobo | $2.09 | (monthly or semi-annually) | | Smashwords | $2.54 | mid-July | | Your Own Site | $2.60 | *Today* |
(Note: Google's also a book vendor, but their terms of royalty amount are unclear, so I've omitted them. I believe they're in the 52-55% range.)
The whole thing: freebie website builder, cheesy cart system, unexceptional royalties, no defined payment schedule, peculiar legal terms—add up to nope.
So How Hard Is it to Set Up an E-Commerce Store?
This answer assumes that you want to sell directly to readers, in addition to other outlets such as Amazon and iBooks.
If you want to accept PayPal (typical transaction fees of 2.9% + 0.30 for premier and business accounts), then here's one way to get what you need:
A self-hosted WordPress account (varies widely, but I'd be looking in the $12-20/month range)
A domain name for said account ($15/yr)
A theme that is compatible with your storefront of choice.
Because PayPal handles the payment information, you do not need an SSL certificate. The beauty of it: once you set up the site, when someone buys a book from you, you get your money right away.
For very little cash (~$27 initial outlay, same as a WordPress self-hosted site with no e-commerce), you can sell your digital goods, and you can have your own shop. Plus, you can add other things to your little store, too. Like maybe you want to recommend books, and get affiliate commissions on those. Maybe you're part of a writing group and you want to exchange ad space on each others' sites.
Without having done it before in WordPress, I found that it took me about 30 minutes to set up either Easy Digital Downloads or Woocommerce for the first time. (Granted, I'm very technical.)
Examples: deirdre.net currently has Easy Digital Downloads on its front page (that will change in a couple of weeks). desamo.graphics uses WooCommerce. (deirdre.net is changing simply because WooCommerce is something I'm also using on other sites, and I'd rather have one ecosystem to maintain.)
Okay, Maybe I Don't Want to Go That Far
Let's say you don't want to fuss with WordPress. You want your own domain, you want a lovely pre-rolled solution.
I'd recommend Squarespace. Fees start at $8/month; with that plan you could sell one product. The next plan is $16/month, which allows up to 20 products.
For two examples of Squarespace author sites, Tiffany Reisz and her husband Andrew Shaffer's site.(Note that they don't sell directly off their sites, but they do have different-looking sites from each other.)
Is This Independent? Ellora's Cave? WTF BBQ?
The domain registration says the registrant organization is Ellora's Cave, and uses the exact same street address that EC does, even though the bottom of the web page says "Jaid Black Productions."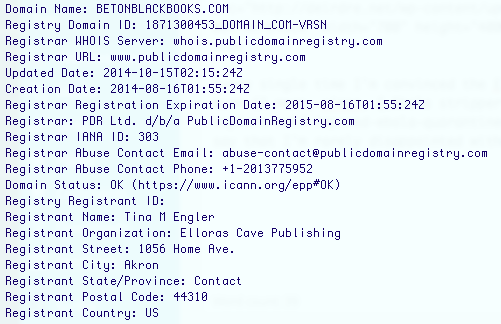 Jaid Black Productions is indeed an LLC in Ohio, but I didn't find a DBA for Bet on Black books. (I have had issues figuring out where the UI is for that, so this may be my fault. It's been a few months.)
So: I don't know? Maybe Ellora's Cave just owns the domain?
One Hilarious Thing
One thing I do find hilarious, though: she's using the classic 70s typeface Avant Garde for the header.
This is the same typeface that Marc Randazza—you know, opposing counsel in the Ellora's Cave v. Dear Author case—famously uses for his pleadings.
@deirdresm flattering

— Marc J. Randazza (@marcorandazza) April 10, 2015
Was there no better choice of typeface? Personally, it's not one I warm to very much, which is why I don't have the same thinner weights that either Black or Randazza use.
I'd love to hear your thoughts. I do have a planned topic about the specific problems of author websites, so questions on that topic will help me formulate that post.
---