Let's look at the last few years of New York Times Bestsellers for which Ellora's Cave is the publisher. So near as I can tell, the only author that's hit the list with a book published by EC since February 2011 is Laurann Dohner.
| NYT List Date | Book Title | E-Book List Rank |
| --- | --- | --- |
| 1/15/12 | Brawn | 35 |
| 3/25/12 | Wrath | 7 |
| 4/29/12 | Tiger | 9 |
| 5/19/12 | Moon | 5 |
| 9/16/12 | Obsidian | 8 |
| 11/18/12 | Shadow | 9 |
| 12/20/13 | True | 10 |
| 10/12/14 | Darkness | 8 |
| 11/16/14 | Smiley | 10 |
| 9/27/15 | Numbers | 8 |
Note: she's also ranked on the combined print + e-book list multiple times, but the matching print book has not been out at any time she's made the list, so I haven't included those numbers. With only the e-books available, the combined ranking is more of an indicator of how well print vs. e-books did that week than about Ms. Dohner's rankings per se.
"Yeah, well? What's your point?" I hear you say.
I'm glad you asked.
In short, looking at Ms. Dohner's NY Times Bestseller list positions, it doesn't appear that the Dear Author article did any damage to her ability to make the list or her position on the list.
When I thought to look this morning and see how Laurann's newest book was doing, I'm reminded of something Tor editor Patrick Nielsen Hayden said to me at Clarion.
To paraphrase: what you see at writing conferences and workshops and science fiction conventions is only a small part of your readership, and don't overinterpret what's going on in the small groups because they're rarely reflective of one's readership as a whole.
Let's visualize the ranking in a scatter plot, which will make my point clearer. Note that lower numbers are better.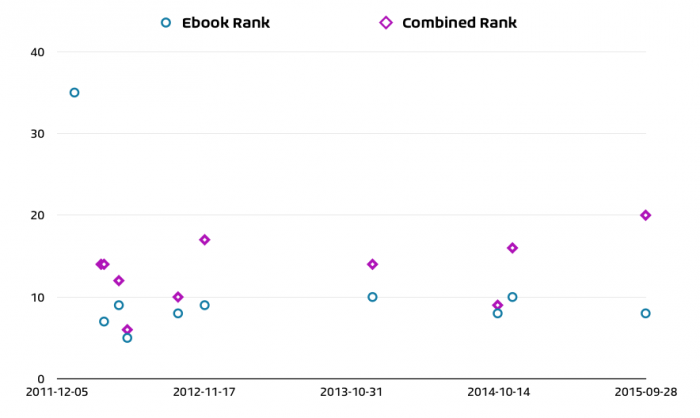 In a nutshell, compared to the e-book market as a whole, Ms. Dohner's e-books are not faring worse after the EC layoffs and Dear Author's Curious article than they were before.
For the last table, I'm not a statistician. That disclosure out of the way…here's what I know.
| Before Layoffs/DA Article | After Layoffs/DA Article | Before & After Combined |   |   |   |
| --- | --- | --- | --- | --- | --- |
|   | E-Book |   | E-Book |   | E-Book |
| Mean | 11.9 | Mean | 8.7 | Mean | 10.9 |
| Median | 9 | Median | 8 | Median | 8.5 |
To translate that into English: on average, Laurann Dohner's e-books rank 3.2 places higher (11.9 before vs. 8.7 after) on the New York Times Bestseller list after the layoffs and Dear Author article than before. The median of is one place higher (9 before vs. 8 after).
None of which means sales are necessarily higher, just that they're strong relative to the other contenders in the market.
Ellora's Cave's Claims About Reversions
In EC's filing objecting to Defense's Motion for Summary Judgment, Ellora's Cave had the following to say:
In the first eight and a half (8 1/2) months of 2014, prior to Lampe's bankruptcy scare, Ellora's Cave had a total of 154 books go out of print for various reasons—mostly sales below threshold for rights reversions. In the twelve days between Lampe's defamatory blog and the filing of this action, Ellora's Cave had requests for reversions of 404 titles, an astronomical increase. Since Lampe's defamatory blog, Ellora's Cave has reverted over 1250 more titles and still has requests that it is working on. In the one year since the defamatory post, Plaintiff has had almost double the number of rights reversions than it has had in its entire 14-year history.
cough
The Bankruptcy "Scare"
Let's look at who created that bankruptcy "scare," shall we?
On August 19th, Dear Author republished the layoff letter Patty Marks had sent to the EC biz list that had previously been published on Absolute Write. It included this choice quotation from Patty Marks:
We are not bankrupt (rumors) and are not in any kind of shape to even file bankruptcy.
Many of us read that as: "we are in too poor a shape to file bankruptcy."
Many of us also saw that article signal boosted onto The Passive Voice, where the commenting got quite spirited. Many of us read and latched onto antares's comment, specifically:
I used to do bankruptcy law.
Based on my experience, if I saw my publisher put out that statement, I would immediately sue to get my rights back.
What do I mean by 'immediately'? I mean today. I want my suit going forward and notice served before they file for bankruptcy. Maybe I can get relief from the stay to litigate in state court. Maybe not and I'll litigate the suit in bankruptcy court. But I bet when I offer to buy back my rights and put money on the table, the trustee will settle.
'[N]ot in any kind of shape to even file bankruptcy.' How do you know unless you have consulted a bankruptcy attorney? And I think this statement is in error (best case) or deliberately misleading (worst case).
Later on, antares clarifies in another comment:
Look, in an earlier comment I wrote that I would file a suit against the publisher immediately. Why?
To get my rights back? No.
Then why?
To improve my position against the other creditors.
Once the publisher files for bankruptcy protection — and the minute a business owner uses the B word I know he's gonna file, it's just a question of when — the writers no longer have rights. Yeah, you got the copyrights, but you licensed some of those rights to the publisher. Those licensed rights are now assets of the estate. The court's duty is to equitably divide the assets among the creditors. If you are due royalties, you are an unsecured creditor. Maybe there is some entity in the bankruptcy food chain lower than an unsecured creditor, but I never saw such.
My suit leaves me still in the unsecured creditor category, but, as Orwell said, some animals are more equal than others.
I know of bankruptcies that paid a hundred cents on the dollar. Never had one myself. I also know of other suits that paid a hundred cents on the dollar to, say, eleven of twelve members of the creditors committee and screwed the twelfth with a 2¢ on the dollar payout.
As for filing bankruptcy only when you are insolvent . . . no. That's the worst time to file.
Bankruptcy is a tool. You can use it to break contracts. To me, it is the start of negotiations.
If you 1) have a contract with EC, 2) are owed money by EC, 3) know two other writers whom EC owes money, and 4) want to get really nasty with EC, ask a bankruptcy attorney about an involuntary bankruptcy.
And yes, antares is exactly right: you want to jockey position against other creditors if you believe there are not enough resources to pay everyone. I believe this is one underlying concern of Ann Jacobs's Motion to Intervene and her counterclaim.
The Reversions Numbers Game
So there are three reversion numbers given in the EC paragraph I quoted:
154 books go out of print in the first 8-1/2 months of 2014, mostly because they were below sales threshholds.
404 books had reversion requests between Jane Litte posting TCCoEC and the lawsuit commencing (12 days).
Since TCCoEC, Ellora's Cave has reverted more than 1250 books, more than in its entire history before TCCoEC. (Note that this probably includes a significant number of the 404 immediately preceding.)
Those 1250 books were reverted for one of the following reasons:
Low sales. Since they weren't selling, I don't see how Ellora's Cave can or should complain about these. I also expect that this is the largest category. These only take people points because they should have been reverted long ago when there wasn't a stampede.
Buyout of contracts, which netted Ellora's Cave an average of several years of expected royalties—thus they cannot reasonably complain about these.
Finesse, by which I mean lawsuit threats, loopholes, and generally being a pain in the ass. I expect this to be the smallest category in number of books, albeit the one that uses the largest amount of people points per book and the highest downside risk.
OMGWTFBBQ? Because one always needs an option like that in a discussion like this.
Option 1 is cash they're not entitled to unless the author leaves it on the table. Given that most of the 154 were in this category, I'm betting most of the 1250+ were, too.
Option 2 is improvement of cash flow.
Option 3 & 4, well that's just business.
None of the above are Dear Author's fault. That's how I see it, anyway.
Ellora's Cave Should Have Chopped the Long Tail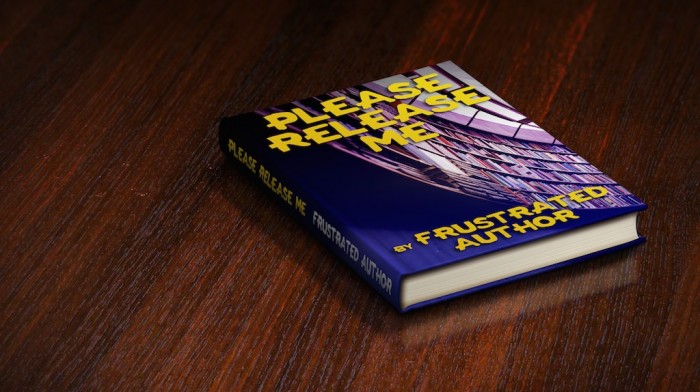 First, a sanity check on the 1250+ number: as of July 9, 2014 (just over a month before the layoffs), Ellora's Cave had 4745 titles according to All Romance E-Books and as of today, 3694 titles according to ARe. In the meantime, Ellora's Cave has published new books, so 1250+ seems perfectly credible to me.
I wrote this piece a year ago about reversion theory, and it included this bit:
As an example, calculate how long it takes to put together all the royalty information, divide by the number of authors. Figure out how much you're paying the people who do that work, including cutting the checks. Triple that cost. For the authors who aren't making, on average, that much for the house over the last year, offer to release their titles (for no fee).
When Ellora's Cave was having difficulty with the new royalty system and (likely) having to do everything twice? Even then was too late for this task. Those books should have been cut long enough before the transition that the work load would have decreased before the royalty system changeover started.
Suppositions for this hypothetical:
Let's say (pulling a random but plausible number out of the air) that cut 50% of the 1400+ books reverted from 2014 onward.
We know that there were 928 authors on 7/4/14 (thank you archive.org) and 808 as of 9/29 (looking on EC's new site). Granted, EC's added authors in the interim, but let's handwave that complication away. Let's say that half the drop in authors (i.e., 60 authors) wrote those 700 books.
Let's say the 154 books were averaged out between Jan and mid-Sep (154 / 8.5 = 18.1), and then since then the other 1246 evenly.
Let's say they added their 349 new books evenly distributed as above.
Let's say that, for books still in EC's fold, each unreverted book has averaged sales from three outlets per month.
Let's assume the early reversions have 5 book sales per month on average from a single outlet, the average sale price is $4.99, and the author earns 37.5% royalty and is paid on a post-mid-2011 contract.
On average, each number entered/uploaded needs to be entered once (into each royalty system) and checked once.
Let's assume the data entry rate (per a GPO estimate) is 5,200 keystrokes an hour, and that each piece of data contains an average of six strokes/digits/letters. So, 1,000 pieces of data x 6 digits / 5,200/hr = 1.15 hours.
Assume a random Akron-area rate I found for skilled data entry/bookkeeping at $13.50.
Using the number of pieces of data for each book per sales outlet here (i.e., 7)…
I'm not assuming any information about those who bought out their contracts, because what I'm looking at is how much it cost to just produce royalty statements, not how much is paid in royalties.
We now have enough information to do this: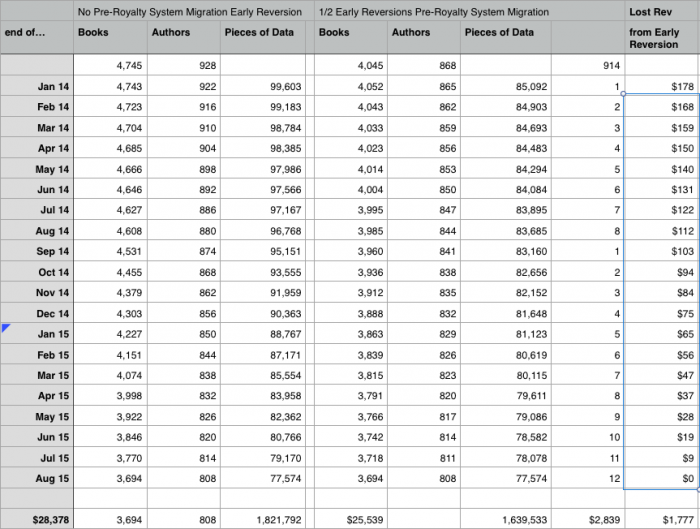 The tl;dr version: It would cost an estimated $28,378 (times two for two royalty systems) in bookkeeper/data entry costs to pay royalties to Ellora's Cave authors since January 2014 to the end of August 2015 (assuming no backlog and assuming all were actually paid).
If EC had instead cut the list early when the accounting system was going in, they would have lost an estimated $1,777 in royalties, but would have saved an estimated $2,839 (times two for two royalty systems) over that period. So, net savings of $3,901.
Like I said, chop the long tail.
While I'm at it, The Kicker
I seriously, seriously underestimated how many pieces of data Ellora's Cave would need in order to prove substantial truth. Why?
I didn't know about the mid-2011 contract change and how it could create accumulating debt coming into 2014.
Therefore this needs to change:
So for each month:
4500 books x 5 stores books sold in that month x 7 other pieces of data = 157,000 pieces of data (or 174 per author). Per. Month.
Times ten months, so 1.57 million.
Consider the legal and accounting billing that would be involved in re-verifying and distilling 1.57 million pieces of data.
Let's assume an average of 4000 books, and we're going to have to look from mid-2011 to the end of the lawsuit. So it's already four years and a quarter.
Let's assume 3 stores per book.
4,000 x 3 stores x 7 pieces of data = 84,000 pieces of data per month. Times 51 months = 4.28 million pieces of data. (Why 51 months? Damages calculation assuming they're able to prove things substantially true.)
4.28 million pieces of data x average of 6 chars / 5,200 entered/checked an hour = 4,943 hours at $13.50 is an absolute minimum of $66,731. Just for the data itself, not for the interpretation of it. Not for the double-checking against vendor (e.g., Amazon) records.
Good luck with that.
---