My point in writing this post: I'm going to document why I believe Jaid Black is primarily a self-published author, and then, at the end, I'm going to let irony kick her ass.
Last year, when I was talking about a small digital-first publisher, Nick Mamatas referred to it as "an extended self-pub play." Which, given what he meant, is true.
That's how Ellora's Cave got its start, too, as documented in this famous Dear Author interview with the awesome "trash can full of rejection letters" quote:
Jane: Tell me a little about how Ellora's Cave was conceived.
Tina Engler aka Jaid Black: I was an unpubbed author with a trash can full of rejection letters. As a writer I had reached an impasse: either I was going to have to conform to NY standards and sex down my manuscripts or I was going to have to start my own publishing company. I chose the latter (doh!) and never regretted it 😉
So, for a publisher, one wants to advertise what's newest and/or what's the biggest expected seller on the top of one's site, right? One wants to make the best business decisions that will increase shareholder value, right?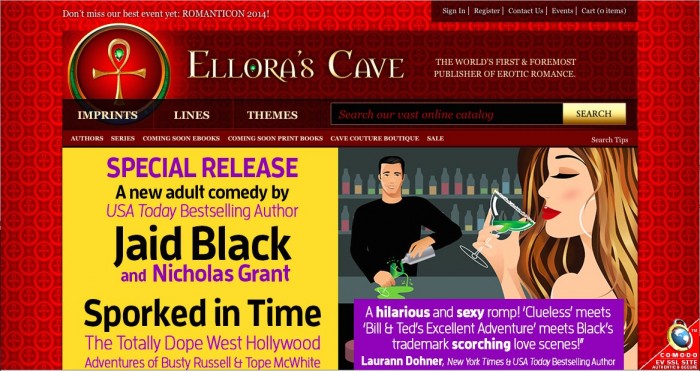 Well, okay, it's Jaid Black's book, and Jaid, aka Tina Engler, is the majority owner of Ellora's Cave. She's sold a lot of books, right? So this one must be doing pretty well.
Right?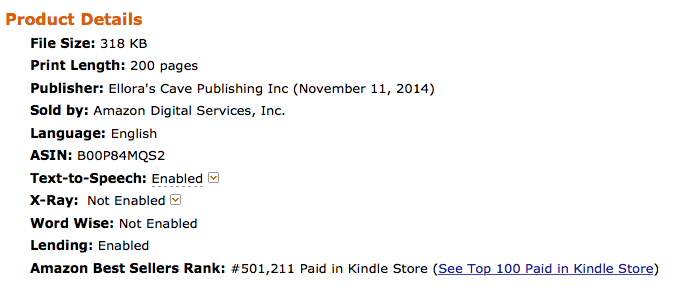 I uploaded that image on Jan 4, two weeks ago. The Amazon ranking has fallen since then to #661,149.
Just two months old and an abysmal sales ranking.
How about the other rankings for her books? Here's the first page. (Note: not all titles pulled; I've had some network hiccups today.)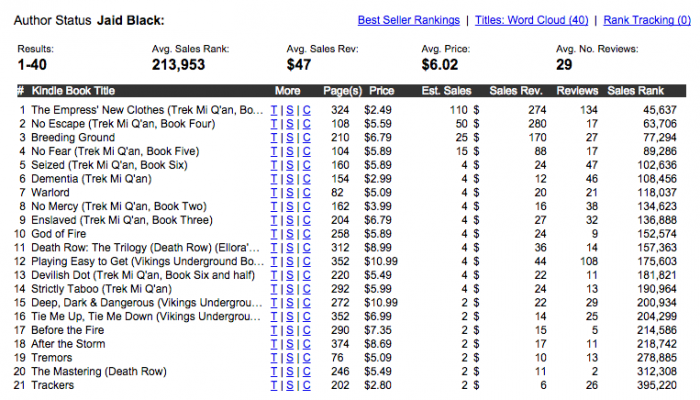 Therefore, the only thing that justifies Sporked's placement at this point is narcissism, though that word seems inadequate.
And Then There's the Other Book (Series) Highlighted
Micah BlackLight's Serpentari series. (Note: not all titles pulled; I've had some network hiccups today.)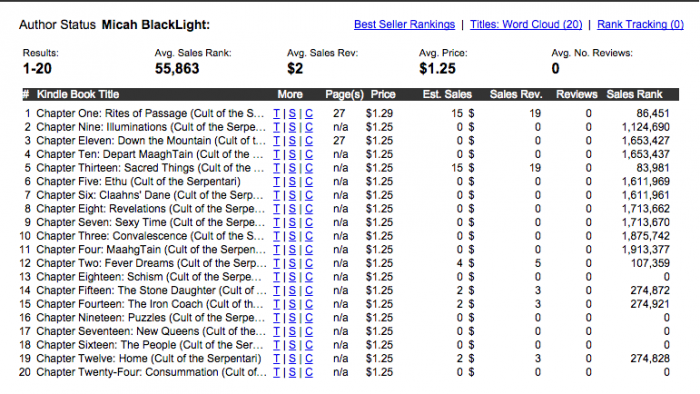 Where there's a zero in the right-hand column? That means no Kindle sales. Any other number means there's been at least one Kindle sale.
I'm sure he's a perfectly nice person, but his sales don't warrant being at the top of the home page.
But Wait, There's More!
Let's see, it's January, 2015, right?
See the upper left? Don't miss our best event yet: ROMANTICON 2014!
Which was almost three months ago. You may recall my virtual visit, as well as the post-Romanticon ebola quarantine for Axl and Taylor.
So, since Romanticon was over before Sporked in Time came out, mere tardiness can't be the justification for the convention notice still being there.
How Other Peers Handle Their Home Pages
I thought I'd highlight how some other presses handle their home pages. Heat map studies show that many people never scroll down on a web page, so I'm just looking at "above the fold."
Samhain's slider features all the week's new books, then past that the last week or two's.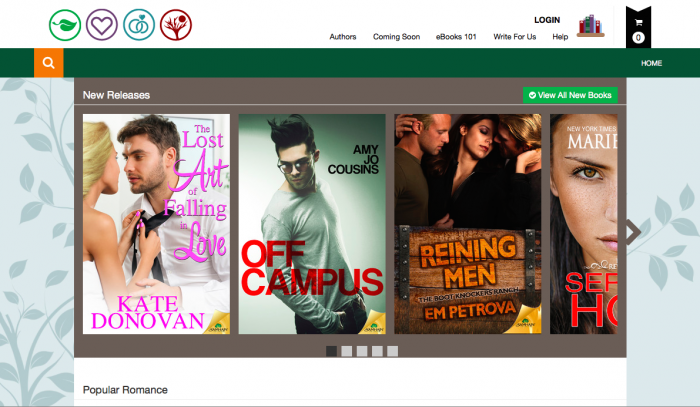 Riptide features a recent release up top, then starts the new items just above the fold (as I browse, anyway). IMHO, they'd be better served shortening the second row of items and moving the first row of new books up.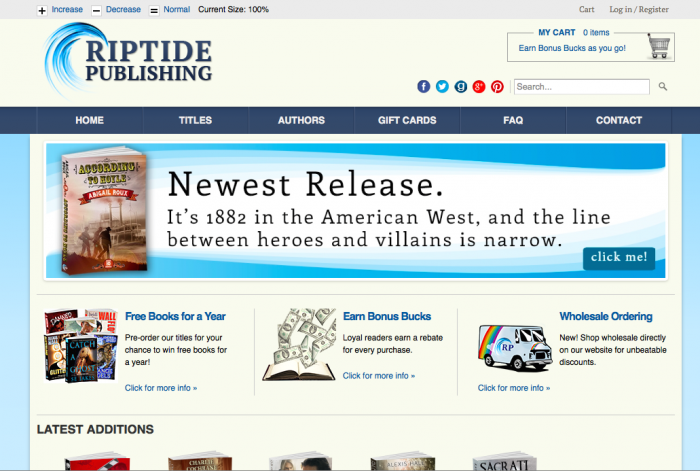 Amber Quill's rather generic home page features a slider with small images of books in various lines, and the most recent books below that.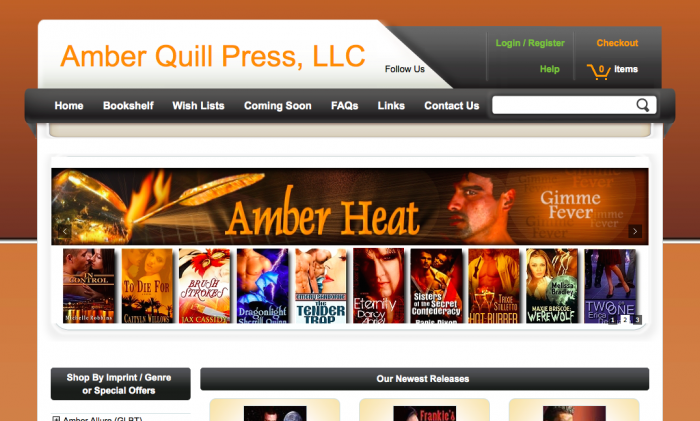 Circlet has a blog format home page, with images of some of their publications.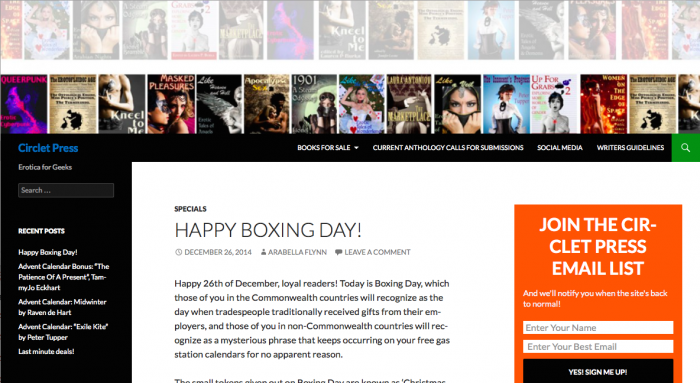 Changeling Press has dated feeling art and border use, but the layout features the newest releases right below the masthead.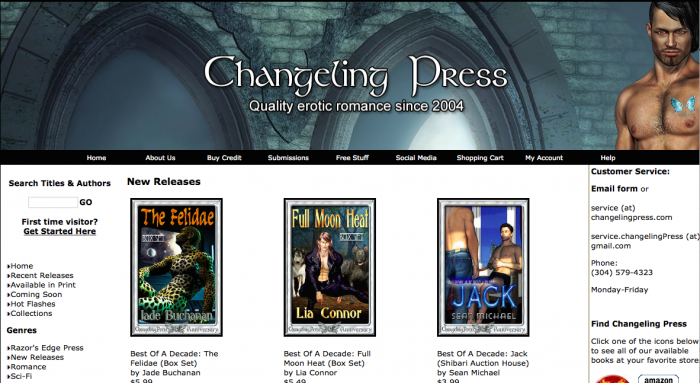 Bold Strokes Books doesn't have a lot of new releases. The shading on their nav bar and behind the new release slider feels a tidge dated, but it's a beautifully functional home page layout. The slider, though, is the best of any of the sites so far.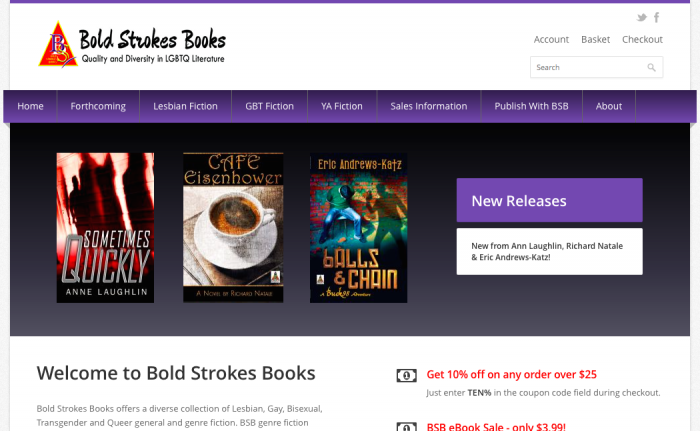 Side note: I haven't read any of their titles. Yet.
Highland Press lacks modern whizzbang, but it does highlight new releases.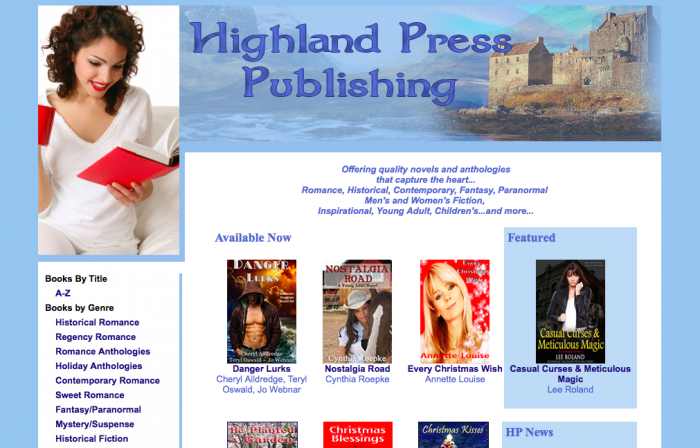 Loose ID's design features a slider with their main categories, and each category highlights new work. Below the slider are all new releases. Their genres are clearly spelled out on the left, offering easy navigation to your books of choice.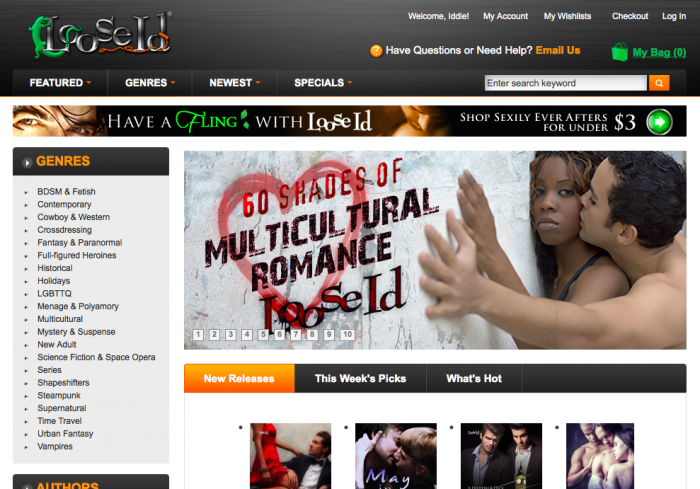 Last, but not least, Entangled, which has a really nice slider that showcases their lines and themes. It definitely has the best artwork of all the sites mentioned.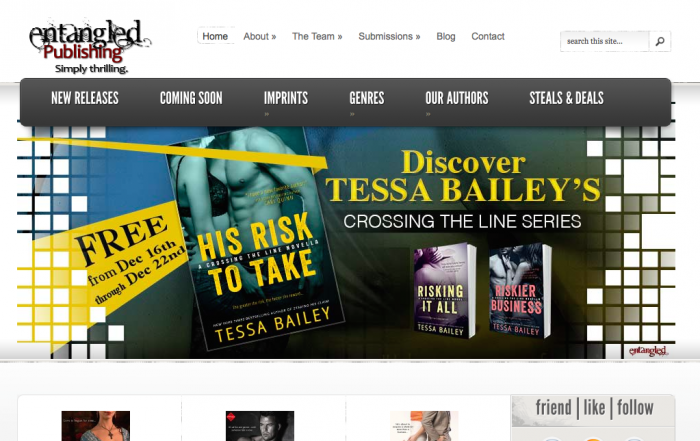 And, while I'm on the subject, I'm fond of how Jackie Ashenden uses a slider on her home page.
So, Now That We've Taken This Long Walk, Let's Return to that Tiny Pier
I wanted to showcase that:
Ellora's Cave does not showcase their authors fairly. As an author, you'd have a better shot at getting a prime home page spot with any of the other publishers.
What's showcased on their home page does not appear, from available data, to be favorable to EC's bottom line.
Meaning: that space could be better used for something that was likely to sell more books, helping both EC's bottom line and that of its authors, rather than to continue to push a book that's failed in the market.
@Jeaniene_Frost @pubnt @CoraCarmack Self-publishing worked well for @hughhowey The Big 5 came to him after that. Trad Pub not always the way

— RoseannCaputo (@RoseannCaputo) January 19, 2015
@RoseannCaputo @Jeaniene_Frost @CoraCarmack Yes. And he did not drop his publisher and go indie afterwards. Still with SS. #notchilled

— Pub Net (@pubnt) January 19, 2015
@katiebabs @pubnt @RoseannCaputo @Jeaniene_Frost @CoraCarmack I enjoyed working with major publishers, but I prefer to self-publish.

— Hugh Howey (@hughhowey) January 19, 2015
@katiebabs @pubnt @RoseannCaputo @Jeaniene_Frost @CoraCarmack I published one book (print only) with S&S. After that, went back to indie.

— Hugh Howey (@hughhowey) January 19, 2015
@hughhowey @katiebabs @RoseannCaputo @Jeaniene_Frost @CoraCarmack Well, I respectfully say that's a bad decision. #notchilled

— Pub Net (@pubnt) January 19, 2015
@hughhowey @Jeaniene_Frost @CoraCarmack And we say that with less respect than when we believed you'd stayed with S&S. #notchilled

— Pub Net (@pubnt) January 19, 2015
@RoseannCaputo @hughhowey @katiebabs @Jeaniene_Frost @CoraCarmack Because we don't respect self publishers. #notchilled

— Pub Net (@pubnt) January 19, 2015
Maybe Tina should stop acting like a self publisher riding on the coattails of other people she's publishing.
And maybe learn to respect self publishers, including herself.
Or maybe she should just, like she thought Hugh Howey should do, return to publishing only through Berkeley.
---