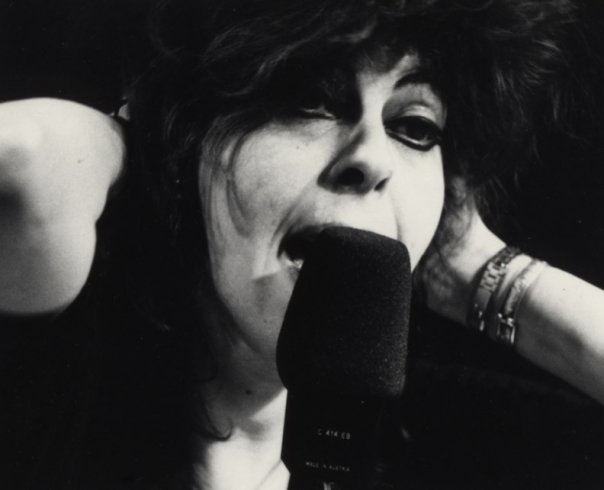 ] Elizabeth Fisher • Photo by Scott Beadle
When this posts, she will be going…or gone.
Earlier, she sent an email that's just…so her. > at 11am zurichtime, whatevertime, your time, give a cheer, hey, cause
off i go and it's all good.
It seems weird to say that someone will be dying at a specified time, but Elizabeth Fischer chose assisted suicide when she found out recently that she had terminal lung cancer.
From that interview:
You've been really open about choosing suicide. How have people responded?
My demise has become a community effort, and that makes me feel pretty good. People in my coop, in my musicians' community, the artists' community, have been really kind and supportive. I'm being love-bombed, and it's kind of overwhelming, because I had no idea they cared so much. [laughs heartily] They all think that I'm being so brave, though I don't think of it that way. I'm just too smart to want to die in a hospital, racked with pain, tied to IVs, utterly humiliated.
I can't remember precisely when I met efish on the EFNet #scientology channel (which, despite its name, was mostly a channel of critics), perhaps even before I became a channel op sometime around 1995 or 1996. I just remember her always being there, usually the cheerful one. Often talking about dancing, singing, writing, art, goulash, Hungarian, or the strange trip she'd taken through life.
Like many people in our lives, even when I no longer hung out with efish on line a lot and wandered away from Scientology criticism for quite a few years, I thought of her a lot.
We saw each others' comments on Marty Rathbun's blog in March 2014—this post, in fact—and reconnected via facebook and, briefly, IRC. Mom and I took a trip up to Vancouver Island this April, but we had to do it at breakneck speed (which turned out to be fortuitous; my mother became very ill almost immediately upon our return), so I sheepishly told Elizabeth I'd be back.
In retrospect, I feel foolish. I'm sorry I wasn't able to carve out the time.
Her Projects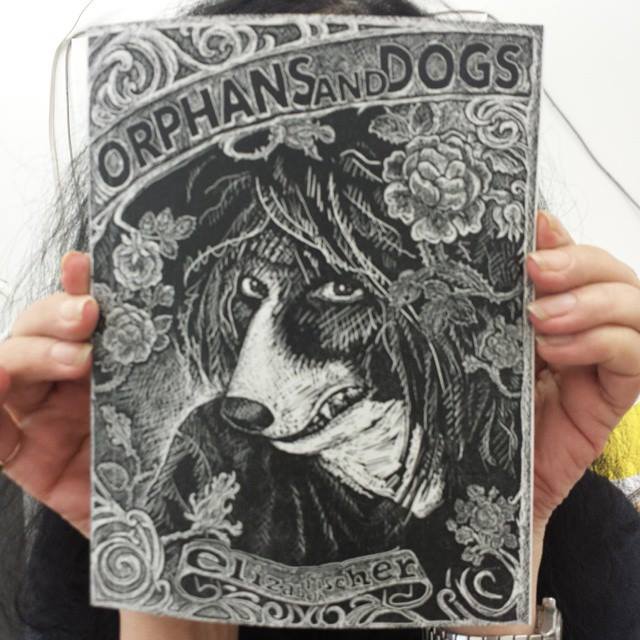 It's obvious there's a hole in the Vancouver arts scene where she used to be.
Leaving Hungary
And now, a prose piece from efish about what it was like to be a refugee from her homeland. Illuminating for those of you who aren't old enough to remember other large refugee crises, here's a primer about the Hungarian Revolution of 1956. The refugee crisis was the first to be televised.
In terms of some since, it was far smaller than Syria (or Vietnam), so it was, relatively speaking, easy to find places to accommodate 200,000 people, 180,000 of whom fled into Austria. But that was by no means easy for those who were displaced…sometimes several times.
In that sense, assisted suicide—choosing the date, time, and place of one's demise—makes a curious sense for someone blown about the globe by the whims of others at the earlier end of her life.
Underwear
Hungary, 1956, mother, father and me don the family underwear and scramble off across the border to Austria. Onto Austria, where every hungarian arrives heroically freedomfighting, and from which one can only be shipped off to Argentina, where – according to mother – far off relatives await with open arms. And there they are the far off relatives but no open arms await cause they see the underwear and it makes them nervous.
There we are then, flowing sewage in front, rendering plant in back. Father works in a factory and amuses himself by teaching everyone how to swear in hungarian. And then comes home and announces okay, but he'd much rather kill himself. So mother stops the nine months long weeping and removes the one family jewel pinned to the family underwear and goes to sell it.
In the meanwhile, I attend school in spanish. A catholic school run by nuns, where during religion classes I get to sit on a bench in the yard and play with the flies.
So mother sells the family jewel and buys a ticket back to Europe, come what may. And we iron the underwear and embark on a french ship. French cockroaches rove our bodies and father states that the french are shits so we will definitely not be going to France. Mother nods and continues to weep.
We arrive back in Austria where everyone is sick of heroes and freedomfighters. So there we sit at the nearest refugee vacation facility, a fuck you gesture in austrian dialect.
A yearlong vacation, twentyfive to a room, the family underwear on a clothesline. Sporting events abound cause with hungarians, arguments are deemed sporting events. Mother weeps, father amuses himself with teaching the camp director choice hungarian obscenities.
Me, I attend school in german. And on holidays I am put on exhibit dancing rustic folk dances with a wine bottle on my head.
In the meanwhile, father's skills in matters of hungarian language become popular. Here comes a swedish red cross rep and says he's interested in higher learning. Okay, says father, but then how about a swedish visa. That's hard, sighs the swede, cause everyone hates hungarians. We for example, only take persons with life threatening illnesses. That'll be just fine, says father, look at mother there in the throes of fatal weeping. Don't you think a rest in a fine swedish sanatorium would do her some good. Well, says the swedish rep, maybe it could be arranged, but then you'll have to teach me something extremely exotic. Cause me, he says, I like to deeply explore foreign cultures. And then father reaches deep indeed and brings forth the most exotic of exotic cultural treasures, hidden gems from within, ancestral bon mots gingerly cradled all the way from his village of birth, exotic Babocsa, population 500, paragon of extreme hungarian cultural endeavours.
Once in Sweden, mother is carted off for a rest cure at a sanatorium. Father and I to a cute little refugeecamp by the sea. We have ourselves a great time cause no more hairbrushings and such, seeing as hygene is also resting with mother. After three weeks, mother is released from the sanatorium and continues where she left off. Weeping, she shakes the sand out of the family underwear and brushes the knots from my hair.
It is very nice in Sweden but fucking dull. Having nowhere else to go, we hang around for four years. No one to teach hungarian to cause the swedes are a very polite people. They quite politely hate all foreigners.
Me, I attend school in swedish. There are no religion classes and also no dancing.
After a while, father has had enough of all this fine innertia. He decides he wants to live in Canada. There are many refused canadian visa applications. Mother weeps. So then he decides to write a letter to the english queen. In the letter he says he has had enough of all this joking around. That he would love to leave the family underwear behind. Please allow him to live in Canada, where he, the hungarian Fischer Pista promises to sell zippers and be perfectly happy doing so, respectfully yours, your future subject, Mr. Steven Fischer. Post Scriptum, hogyha nem enged be akkor maga igazan egy hulye nagy barom es le van szarva.
And she lets him in.
The rest is less interesting. Well, okay, maybe a little bit interesting.
— © elizabeth fischer
Link Roundup
No More Fitting End to This Post Than This
Elizabeth Fischer singing "Learning to Live" with the Animal Slaves.
https://youtu.be/w54pzs-ImG4
---