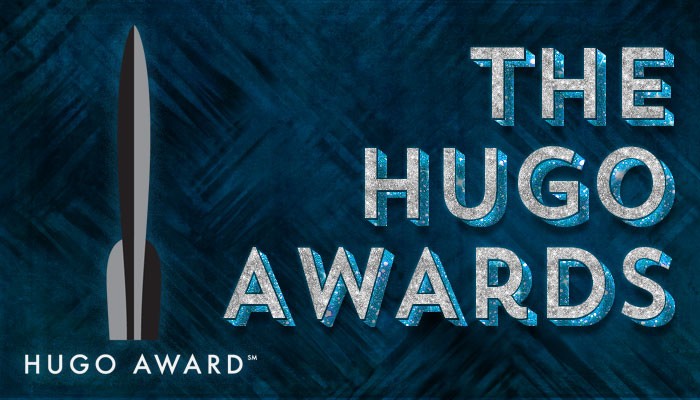 One of the questions when faced with bloc nominating in the Hugo Awards is this: when is something bloc voting/nominating? When isn't it?
There have been statements about the Sad Puppies slate being a slate because it's five items in many categories: conveniently the number of possible nominations. And, while that is a compelling argument, that isn't one I find especially convincing.
A Question Was Posed
In this comment, MC DuQuesne says:
Here's another obvious slate that should be taken into account
http://aidanmoher.com/blog/featured-article/2015/03/final-2015-hugo-awards-ballot-recommendations/
I'm not going to respond to the sealioning in MC's comments here (though I did cover the answers in another recent comment on the post they commented on), but Aidan's post actually is a good compare/contrast to discuss why I believe Aidan's post was not a slate and the Sad Puppies/Rabid Puppies was.
Because, frankly, if you don't think that setting up a sockpuppet site (or a hundred), declaring a slate of "SJW" works, and infesting it with a few pets to write blog comments (perhaps even buying a few fiverr gigs for even more comments) isn't going to happen, well, that's naive.
So, what defines a slate, then?
Well, let's look at a bit of unpleasant second-world history for some actual historic usage, tweets by Rose Lemberg that were storified by Charles A. Tan. Actual gulag tales there.
Clearly, we don't mean anything that dramatic with bloc voting in the Hugos. One hopes.
For starters, there's the obvious results-based approach. Let's look at successful nominations this year:
| Slate/List | Successful Nominations | Failed Nominations |
| --- | --- | --- |
| Rabid Puppies (Slate) | 55 | 12 |
| Sad Puppies (Slate) | 49 | 11 |
| Aidan Moher (List) | 8 | 34 |
Aidan's list includes two Best Novel nominees, one Long Form nominee (shared with the puppies), one Best Pro Editor Short Form nominee, one Best Professional Artist nominee, and three Best Semiprozine nominees. What's particularly interesting—and perhaps most compelling given how much of Aidan's blog is about art—is that his sole Fan Artist nomination wasn't on the final ballot at all. This was the sole puppy-free category, too.
A Better Measure of Influence: the MilliScalzi
Google ranks pages; Alexa ranks sites. Alexa ranks are used by all kinds of companies to measure influence. The ranking (lower is better) means: how many sites are more influential than you are?
In this case, the milliScalzi is defined as:
1000 * (Scalzi's Alexa Rank) / (Your Alexa Rank)
| Name | Alexa Rank | MilliScalzis |
| --- | --- | --- |
| John Scalzi | 84,424 | 1,000 |
| Vox Day | 86,085 | 981 |
| Larry Correia | 124,256 | 679 |
| Brad Torgersen | 199,682 | 423 |
| Sarah Hoyt | 238,721 | 354 |
| John C. Wright | 265,307 | 318 |
| Mike Glyer / File 770 | 296,754 | 284 |
| Aidan Moher | 525,045 | 161 |
| Deirdre Saoirse Moen | 579,880 | 146 |
So, given that Aidan and I hang around in the same milliScalzi hood, I feel I can say about how much influence he had this year. Let's put it this way: it only took 23 nominations to get on the fan artist ballot, and his nomination didn't make it onto the list.
More Compelling Reasons I Don't Consider Aidan's List a Slate
Aidan didn't highlight his own work. Do I need to explain how the puppy slates differed in that regard?
Aidan posted it on March 9th (though he'd posted novel thoughts earlier), and nominations closed less than a week later. The Sad Puppies 3 slate was posted at the beginning of February. While I could also see a case being made for people just nominating without reading, I believe the extra lead time is a significant factor.
A slate with little to no effective conversions (in the marketing sense, by which I mean people taking action) is not a slate. Given that the fan artist influence didn't push his candidate up and over, I think the "slate" argument is truly a non-starter.
Just to put this in perspective, here are my blog stats for that same period: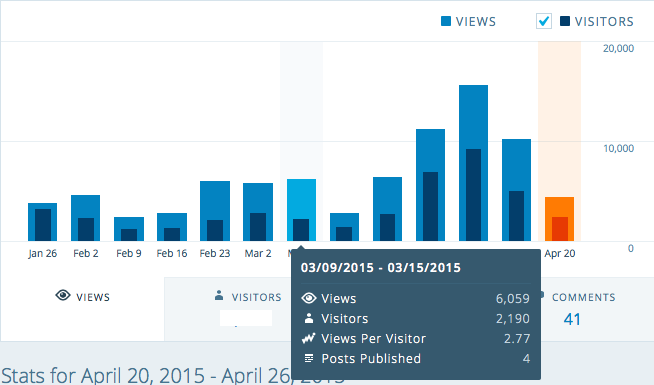 Still, I think it's poor form to post one's full nomination list if one has any significant influence—and Aiden having won a Hugo last year means he has some. There are bound to be hurt feelings about who was left out, even if they'd never say so. (And no, I'm not the least bit offended or hurt. I'm glad I'm not on the final ballot this year. I feel for my friends who are.)
Hugo Awards Nomination Ideas
I kind of like this one because I think it'll take more pressure off people who feel they haven't read the whole field.
One nomination per (some new member type) member per category;
Two nominations (currently 5) per supporting member per category;
Four nominations (currently 5) per attending member per category.
I think only having one or two things would feel less overwhelming for someone who hadn't read as widely.
In Other News
In other news, Worldcon has a new gavel (which Rick suggested be named Grabthar's Hammer), and master filker Tom Smith has a Sad Puppies filk. With a choir.
Puppy nominee Lou Antonelli calls me a Nazi after I tossed him off my blog. (Nazi screencap here.) Protip: when your opening paragraph asserts a position I do not hold and tries to argue with me about it, things will not go well for you.
My honest reaction was amusement: you think you're a legitimately-nominated Hugo Award nominee for Best Short Story (and Best Related Work)—and that's the best you've got? Really?
---