Dear FDA,
Sadly, I can't attend the meeting in College Park, Maryland today regarding public comments in preparation for the International Cooperation on Cosmetics Regulation conference in November, but I'm emailing my input.
Issue 1: Sunscreen Approval
My first issue: the United States treats new sunscreen UV filtering agents as though they are new drugs, where the industry leaders (meaning: EU, Japan, Australia, and Korea) in sunscreen research and development treat them as cosmetics. Therefore, there is a huge burden in bringing new UV filtering agents to market.
Thus, the United States lags almost two decades behind these other countries in sunscreen agents. In the last ~18 years, we've had one UV filtering agent approved for one single SPF 15 (!) sunscreen.
While I can certainly see reason for caution, we're far more permissive in other things that go directly on a consumer's skin which may not provide the results alluded to by the marketing hype.
If a UV agent's already approved in the EU and Japan, how about we allow it to be used in the US?
Issue 2: Allergens
I know the cosmetic industry will never agree to this, but I have to bring it up: it's easy to label cosmetics for things like hydrolyzed wheat protein and hydrolyzed wheat gluten—because they're used in almost zero cosmetics. Though, as a celiac, I do appreciate the labeling even though it's not the limiting factor for me.
What would be hard to do is to label cosmetics for tree nuts, because that would include coconut.
Coconut derivatives are in almost all facets of cosmetic formulations: from the stearic acid that thickens mascara, the sodium laurel and laureth sulfate that comprises one of the first two ingredients of almost all commercial shampoos, and the surfactants, emollients, and emulsifiers that make commercial products look and feel like they do (and stay in solution through several coconut-derived versions of PEG, as well as many that are not coconut-derived).
However, it really would be nice to actually not have to look up ingredients to see if they're likely to be coconut derived. Then I won't have to wonder why I suddenly reacted to this one product, as I might actually know if they changed from a palm source to a coconut one.
A surprisingly large number of people react to coconut-derived sulfates and coconut-derived fatty acids, among other things, and that's not even getting into the palm sources of, say, glycerin.
But please, given how prevalent coconut is, could we possibly consider it an allergen some day? I was married to a soap chemist and had 34 new-to-me brands of shampoo to try (driven in from Canada) to determine what my allergy was. Most people just have the mystery acne, and are given dermatology formulas that, no joke, contain more of the exact same allergens.
Thank you for listening. I'm really looking forward to hearing more of the conference's progress.
Signed,
Deirdre
Why I Wrote In….
Two years ago, I ran out of sunscreen before arriving in the Maldives. I went to the gift shop, where the only thing they had was something they described as a "total block." Which, short of a space suit, seemed rather optimistic and improbable.
I didn't know how to evaluate the ingredients on the label, but I did notice that the two physical sunscreen blocking agents I knew about—zinc dioxide and titanium oxide—were nowhere to be found.
Fortunately, the hotel had another gift shop. I strolled over there, only to find that they had a very reasonable SPF 50 sunscreen.
What I didn't know at that time was how incomplete my understanding of sunscreen was, nor why my lack of knowledge was so important.
A Quick Primer on UVA and UVB
UVB (think "burning") penetrates the epidermis with rays between 290 and 320 nm.
UVA (think "aging") was initially thought not to cause skin cancer. Unfortunately, it's highly associated with cancer. It penetrates down to the bottom of the dermis. Tanning also happens with UVA, so for a long time it was thought that if you blocked UVB, you'd encourage a nice healthy tan while preventing burning and skin cancer. UVA is broken into two wavelength bands: UVA1 (340-400 nm) and UVA2 (320-340 nm).
SPF ratings are only for UVB. There is no rating system, nor any requirement to even mention UVA in American cosmetics. Sure, a product can use the "broad spectrum" phrasing, but there's still no requirement that it be world-class UVA protection.
Japanese and Korean skin care uses a PA rating system with pluses to rank effectiveness of UVA blocking up to a maximum of four pluses. There are also other methods in use outside the US. Some are better than the Japanese/Korean system ## Why US Sunscreen Is So Awful
In the US, sunscreen is considered a drug, thus new blocking agents have to be approved by the FDA. That means a company needs to sponsor the research (which costs millions) and lead the blocking agent through the whole approval process.
Which is fine if you're a company that is patenting a drug where the exclusivity will, one hopes, pay for the approval process.
In the case of sunscreen blocking agents, however, they aren't patentable (they've been in use too long), so one company would be spending a ton of money to allow other companies to profit equally, but without having spent the cost for approval.
So if a sunscreen agent is past the useful life
Hence, there is zero corporate incentive to get new blocking agents through the approval process, and we all suffer as a result. Yay, capitalism.
Worse, there had been at least eight new (to the US) sunscreen ingredients waiting for approval for more than five years. The ironically named Sunscreen Innovation Act, passed in 2014, was supposed to help us catch up with the rest of the world.
Speaking of Capitalism…
Thus, Americans respond to signs of aging after the fact rather than with prevention. This is a big part of the reason the US share of the global botox market is predicted to reach $2 billion annually by 2018.
While botox is used in non-cosmetic procedures such as stroke rehab and migraine prevention, much of the US market is about wanting to reverse aging signs in skin—aging that could have been prevented, in part, by better sunscreens.
Chemistry: Which Agents Are Approved Where
I'm only going to show US ??, Australia ??, EU ??, Japan ??, and Korea ?? since that will cover most of my readers as well as the products I'm talking about. Heavily borrowed from the Wikipedia Sunscreen page and this skincancer.org page; where they disagree, I've used the Skin Cancer site's answer. Note: I'll use the French flag ?? instead of EU flag ?? as there is no emoji support in Mac/iOS yet for this emoji.
Korea ?? information is currently incomplete as I'm only listing agents I've looked up that are included in Korean sunscreens or which were on a 2008 chart. Also, as there are almost a dozen sunscreen agents on that chart approved only in Japan, I've omitted those.
| Ingredient | Other Names | Approved In | Protects Against |
| --- | --- | --- | --- |
| 4-Methylbenzylidene camphor | Enzacamene, Parsol 5000, Eusolex 6300, MBC | ?? ?? ?? ?? (may be endocrine disruptor) | UVB |
| Amiloxate | Isopentyl-4-methoxycinnamate, Isoamyl p-Methoxycinnamate, IMC, Neo Heliopan E1000 | ?? ?? ?? ?? | UVB |
| Avobenzone | 1-(4-methoxyphenyl)-3-(4-tert-butyl phenyl)propane-1,3-dione, Butyl methoxy dibenzoylmethane, BMDBM, Parsol 1789, Eusolex 9020 | ?? ?? ?? ?? ?? | UVA1, UVA2 (some sources say UVA1 only) |
| Cinoxate | 2-Ethoxyethyl p-methoxycinnamate | ?? ?? ?? ?? | UVB |
| DEA Methoxycinnamate |   | ?? ?? | UVB |
| Dihydroxybenzophenone | Benzophenone-1 | ?? ?? | UVA2, UVB |
| Dioxybenzone | Benzophenone-8 | ?? ?? | UVA2, UVB |
| Ecamsule | Mexoryl SX, Terephthalylidene Dicamphor Sulfonic Acid | ?? ?? (limited ?? use via new drug approval, L'Oréal exclusive) | UVA2 only |
| Homosalate | Homomethyl salicylate, HMS | ?? ?? ?? ?? ?? | UVB |
| Menthyl anthranilate | Meradimate | ?? ?? | UVA2 only |
| Mexoryl XL | Drometrizole Trisiloxane | ?? ?? | UVA2 |
| Neo Heliopan AP | Bisdisulizole Disodium, Disodium phenyl dibenzimidazole tetrasulfonate, bisimidazylate, DPDT | ?? ?? ?? | UVA1 |
| Octocrylene | Eusolex OCR, 2-Cyano-3,3-diphenyl acrylic acid, 2-ethylhexylester | ?? ?? ?? ?? ?? (increases ROS) | UVB |
| Octyl methoxycinnamate | Octinoxate, EMC, OMC, Ethylhexyl methoxycinnamate, Escalol 557, 2-Ethylhexyl-paramethoxycinnamate, Parsol MCX | ?? ?? ?? ?? ?? | UVB |
| Octyl salicylate | Octisalate, 2-Ethylhexyl salicylate, Escalol 587 | ?? ?? ?? ?? ?? | UVB |
| Oxybenzone | Benzophenone-3, Eusolex 4360, Escalol 567 | ?? ?? ?? ?? ?? | UVA2, UVB |
| p-Aminobenzoic acid | PABA | ?? ?? ?? ?? (banned in ?? because of DNA damage) | UVB |
| Phenylbenzimidazole sulfonic acid | Ensulizole, Eusolex 232, PBSA, Parsol HS | ?? ?? ?? ?? ?? (genotoxic in bacteria) | UVB |
| Padimate A | Pentyl-dimethyl PABA, Amyl p-Dimetyamino PABA | ?? ?? (withdrawn from ?? in 1989; never approved in ??) | UVB |
| Padimate O | OD-PABA, octyldimethyl-PABA, σ-PABA | ?? ?? ?? ?? (not currently supported in ?? and may be delisted) | UVB |
| Parsol SLX | Dimethico-diethylbenzalmalonate, Polysilicone-15 | ?? ?? ?? | UVB |
| PEG-25 PABA | Uvinul P-25, Ethoxylated ethyl-4-aminobenzoate | ?? ?? | UVA2, UVB |
| Sulisobenzone | 2-Hydroxy-4-Methoxybenzophenone-5-sulfonic acid, 3-Benzoyl-4-hydroxy-6-methoxybenzenesulfonic acid, Benzophenone-4, Escalol 577 | ?? ?? ?? ?? | UVA2, UVB |
| Tinosorb A2B | Tris-Biphenyl Triazine | ?? (very new) | UVA2, UVB, limited UVA1 |
| Tinosorb M | Bisoctrizole, Methylene Bis-Benzotriazolyl Tetramethylbutylphenol, MBBT | ?? ?? ?? | UVA1, UVA2, UVB |
| Tinosorb S | Bemotrizinol, Bis-ethylhexyloxyphenol methoxyphenol triazine, Bemotrizinol, BEMT, anisotriazine | ?? ?? ?? ?? | UVA1, UVA2, UVB |
| Titanium dioxide | CI77891 | ?? ?? ?? ?? (not approved in ?? as a UV filter, but permitted as a colorant) | UVA2, UVB |
| Trolamine salicylate | Triethanolamine salicylate | ?? ?? | UVB |
| Uvasorb HEB | Iscotrizinol, Diethylhexyl butamido triazone, DBT | ?? ?? | UVA1, UVB |
| Uvinul A Plus | Diethylamino Hydroxybenzoyl Hexyl Benzoate | ?? ?? | UVA2 |
| Uvinul T 150 | Octyl triazone, ethylhexyl triazone, EHT | ?? ?? ?? ?? | UVB |
| Zinc Oxide |   | ?? ?? ?? ?? ?? | UVA1, UVA2, UVB |
Even excluding Japan-only sunscreen agents, there are about as many approved only outside the US as approved for the US.
Two Sunscreen Videos
The first video is from British beauty blogger Lisa Eldridge. I mention this because some of what she says is from a very EU-centric viewpoint, specifically when she's talking about approved sunscreen agents.
YouTuber Lisa Eldridge has a rundown on sunscreens, focusing on European brands.
YouTuber faceturtle has a review of 9 Asian sunscreens.
https://youtu.be/JKAXnwoankU
Random Interesting Things I Found While Writing This
Rick brought the Jessica Alba Honest Company Sunscreen backlash to my attention. After looking at the ingredients, I agree with much of this Forbes piece. The real problem is one of user psychology: people don't want to be white all over from their sunscreen. By using only a single physical filter (zinc oxide, famous for lifeguards' white noses), they aren't offering protection to people who spread it too thinly. So, an admirable goal that has issues in the real world.
Also, apparently there was a reformulation, then the reformulation led to unexpected drops in effective SPF due to the product settling out of emulsion (it sounds like from my reading of the article, anyway). How many people obey labels to shake the bottle?
My current sunscreen, The Face Shop Natural Eco Sun Sebum Control Moisture Sun SPF 40 PA+++ uses only chemical sunscreen agents, four of which are UVB (it does have good UVA coverage through the fifth agent). Huh.
What Sunscreens Do I Use?
I have three.
The Face Shop Natural Sun Eco Sebum Control Moisture Sun SPF40 PA+++ is a Korean Sunscreen also available in US Face Shop stores. It only uses chemical filters.
La Roche-Posay Anthelios XL has some of the L'Oreal patent goodness (and nanotechnology research goodness) in it. Not for sale in the US, but you can import it from overseas; it's cheaper to import from Europe, IME.
Bioré UV Aqua Rich Watery Essence SPF 50+ PA++++ is also really awesome.
What sunscreen do you like?
But still, you'd have much better odds at the craps table in Vegas than you would betting me to show up at WorldCon in 2014. Jay Lake, 2009
I found that while I was looking for a post I remembered, probably from 2009, about the depth of his fear that he'd have to go through a second round of chemo (he wound up going through several more than that—five?). I couldn't find it, nor could I stand to look through the archives any longer just now.
I've never been able to say before, on the day someone died, "I had a great time at his wake last year." That's the kind of person Jay was.
I can't remember exactly when I met Jay, but I think it was in 2002. It was definitely at a con, and I remember being in a low-density party room with Jay and Cassie Alexander, the only two people in that room at that time where I knew who they were.
Though I felt invisible, I became something of a fan. Later, when BayCon had invited Frank Wu (or, actually, I extended the invitation in person at Worldcon) for BayCon's guest of honor, I started lobbying for Jay for Writer Guest of Honor. Kathryn Daugherty, who'd gotten to know Jay through the Worldcon circuit, thought that was a good idea, though generally BayCon was looking for higher-profile writers than Jay was at the time. (Specifically, they looked for a Hugo award or NY Times Bestseller. At that time, he'd had a bunch of short stories published, but no novels, though he'd won the Campbell award for Best New Writer.)
The singularly awesome moment, from my perspective, at that BayCon was Jay's participation in "A Shot Rang Out."
I invited my long-time friend Martin Young to speak. I knew he'd be fabulous at ASRO, but I also knew that I couldn't tell Martin in advance what the concept was because he'd overthink it. So, a few minutes prior to the start of the panel, I stood in front of him and told him what it was all about.
"I hate you," Martin said, not meaning it.
From a 2005 BayCon report.
Easily the highlight of Sunday (being one of two panels I got to sit in the audience for) was BayCon's traditional "A Shot Rang Out" panel. It's a simple concept and it depends so much on the people involved. This year, we had Hilary Ayer, Jane Mailander, Martin Young, Writer Guest of Honor Jay Lake, and Lee Martindale.
The concept: The story begins with "A shot rang out." Each panelist must draw a slip out of a box and end their turn with that line. Anything in the middle goes. Jay Lake, when pulling one of his slips, asked, "Does this have to make any sense at all? The other panelists assured him not.
A few moments were especially worth noting.
Once, Martin ended his turn so spectacularly that Jay Lake, master of improv writing, couldn't find a way to follow him. Jay ran across the stage and kissed Martin on the head, saying, "I have come to pledge my love for you, for no man has ever left me in such a hard place."
Later, Martin pulled a slip and said, "Oh, f*, that's a long one!"
Jay quipped, "Are you sure you said those words in the right order?"
For a few moments, no one could continue on, they were laughing so hard. Perfect retort.
He went on to publish Mainspring (which is an example of the kind of book I love but could never have written) and other novels.
Kathryn Daugherty and Jay Lake were diagnosed with stage IV colorectal cancer about the same time. Kathryn and I had never been best friends, but she was very influential in my life.
We'd recently been through a couple of rounds of cancer at the house: my mother had had endometrial cancer in 2006 and our cat Scruffy had a leg amputated after the reappearance of cancer.
It's unusual for anyone with stage IV colorectal cancer to survive as long as Jay did; Kathryn died in 2012. He wanted to be there as long as possible for his daughter and went through hell to try to make that happen. He expressed so so many of his fears and doubts on his blog. If you ever need to know the pains and trials of being a cancer patient, so much of it is laid out in black and white on his blog. I think many of us had no idea what was involved in being a long-time cancer patient, and he blogged it in excruciating (and yet obviously incomplete) detail.
A little over a year ago, he was given his life walking papers in the form of a terminal diagnosis. For the first time, Rick and I made it up to the annual JayCon, then to JayWake.
In his wrapup, Jay said: "I have become medically interesting in two different ways, which is not really something you should aspire to."
Other posts about Jay I've made:
Living vs. Dying
Fuck Cancer: New Art
Look, He Wasn't Perfect
Because I believe OSC was right in telling the entire truth about a person after they pass:
K. Tempest Bradford makes a point.
The Clayton Memorial Medical Fund
Jay has asked for anyone wishing to make a contribution to do so to the Clayton Memorial Medical Fund.
Mary Robinette Kowal talks about having been helped by the fund.
Remember the Living
One thing I've noticed, especially after I was widowed myself, is that people talk a lot about the deceased, but tend to forget about the people still living.
Lisa Costello is an amazing person, and she has been blogging about her own life.
Bronwyn, of course, will miss her daddy.
And Jay left a widow, Susan Lake, whom he sometimes referred to as "The Mother of The Child."
Jay's parents are still alive.
And there are many other family members and friends.
His obituary can be found here.
Zoë Keating's husband has had mysterious ailments for several months. As of two weeks ago, that's no longer mysterious: he has stage 4 lung cancer with mets.
On May 13 an MRI found 20 tumors in my husbands brain. On May 15 he could barely breathe and was in a lot of pain. A CT scan that day revealed he had a softball-sized tumor in his lung, tumors in his other lung, his liver and possibly his bones. On our way home from the imaging center our primary care doc called and told us to turn around and get to the hospital right away. My husband was admitted and they promptly removed more than a pint of fluid from his lungs, which helped him breathe better. We were there for 6 days while they performed a bronchoscopy, did more scans, gave him drugs to stop his brain from swelling and administered emergency chemo.
Anthem Blue Cross has denied coverage.
Hey, @AnthemPR_CA why is the medical reviewer who denied my husband's hospital stay for stage 4 lung cancer an OB-GYN?

— Zoe Keating (@zoecello) May 28, 2014
Zoë's a pretty amazing cellist. If you're so inclined, I'm sure buying her music would help her family out right now. If not, spreading the word about her situation, including aiming the Internet Rage Machine at Anthem Blue Cross.
Or, as Zoë asks:
Please, don't send any condolences. Send strength and love and positive energy, healing vibes, prayers, chants, interpretive dances…all of it.
And since my new album will remain unfinished for a while longer, if you want to help us in ways other than good vibes, you could buy some of my music. Listen to it, give it to a friend and think of us.
Joel Richard tells about seeing her perform.
Wil Wheaton wrote about Anthem's denial here.
"Coverage denied…doesn't meet criteria for medical necessity". I WOULD CALL SAVING MY HUSBAND'S LIFE A MEDICAL NECESSITY YOU FUCKERS

— Zoe Keating (@zoecello) May 28, 2014
Amen.
Recently, I deleted my Flickr account, which meant I deleted the only public repository of my oft-used "Fuck Cancer" graphic. The original is still as free to use as ever and is at the bottom of this post.
Over the weekend, I decided to re-make the graphic to be high enough resolutions for t-shirts and prints.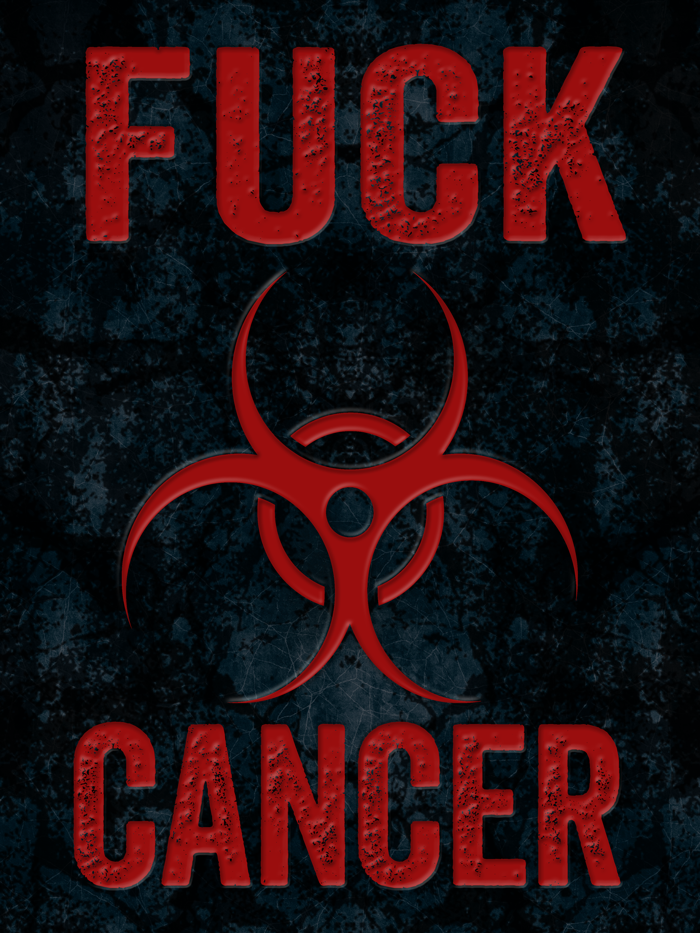 It's on RedBubble in several formats:
T-shirts and hoodies
Stickers
Prints
Small posters
I've made this image so it prints well on both light and dark t-shirts (as it has a background)
Older, Free Image
The above images isn't one I want circulating on its own, but if you'd like me to adapt it to some other need you have, (e.g., a poster or event), contact me.
You can always use the image below for free. Sorry, this is as large as it ever came: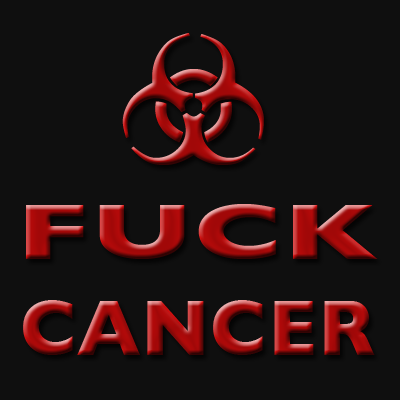 My friend Jay Lake has been blogging about his cancer for several years, and someone made a rather rude point.
I considered the posts that I read and saw nothing in them but anger and suffering. If Jay feels that there is more to his life now than suffering, he should post that more often than complaints about his GI tract, his inability to write or even function cognitively at a level that allows any degree of productivity.
Just because I, or another person, wouldn't choose (from where we're sitting) to make the same choices doesn't mean it's a bad choice.
Once upon a time, I dated a doctor. His father was terminal (in several senses) and wanted to die (I heard the father say so multiple times). Yet, he didn't want his father to go. There were durable powers of attorney and no support for end-of-life decisions other than surviving, and, essentially, he forced his father to live. It was one of the hardest things I've ever had to watch, and it was one of the core issues that destroyed the relationship. I felt that I would never be truly listened to on important issues like that. After we broke up, he went around telling people I was suicidal (not true) simply because we'd had discussions about what end of life meant. And disagreed. I lost friends who believed him instead of me.
As this comment suggests, it's not always easy to know if an expressed desire to die is out of some kind of frustration or hopelessness, or out of a real desire to die. However, in the father's case, it really was that he wanted to move on.
I think it's remarkable that Jay's been so public about the struggle he's had with cancer, and it was very hard reading his recent post about having a couple dozen tumors. We don't get to see into the lives of cancer patients very often, and the stories we do hear tend to be the better ones or ones without the detail Jay provides. I know I posted a particularly good cancer story a few years ago. Most aren't like that, though. Far more stories are like Jay's, with no one listening, with no one understanding, because we'd rather all sweep it under the rug.