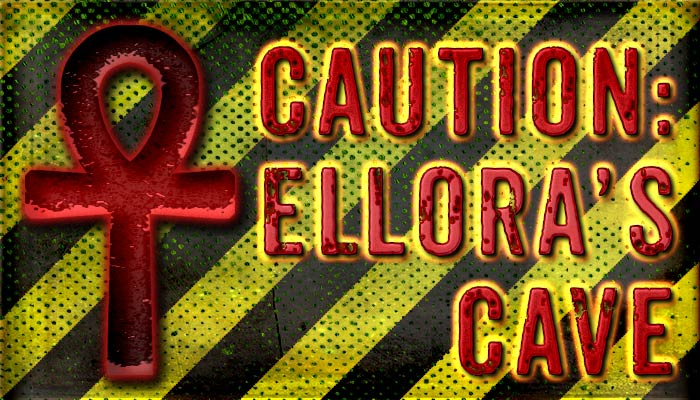 Part of EC's problem is, and has been, distribution.
I've done some spot checks on EC authors and found that they aren't consistently in all possible stores. For many authors, there are enough titles that it can be difficult to demonstrate the issue, but in this case, I've picked very small cases that are easier to see.
When talking on twitter about Axl and Taylor, I happened to search the iBooks store instead of my library. My recollection was that I'd bought one of Taylor's books back when I was taking notes and writing research questions for an ex-stripper character I wanted to write. I'd never read the book (as I'm working on a different book right now), so I was trying to find it in amongst the other billion books I've bought.
I found one book by Taylor in the store. My recollection was that he'd written two. I was wrong; he's written three. Well, co-authored three. I filed that away, then thought I'd use his case as symptomatic of a larger problem that EC has with its book distribution.
|   | Take It Off! | Take It Off! (Again) | Top Guns |
| --- | --- | --- | --- |
| Ellora's Cave site | $5.20 | $5.20 | $5.95 |
| All Romance Ebooks | — | $6.50 | $7.50 1 |
| Amazon | $5.39 | $5.39 | $5.78 |
| Apple iBooks | $5.99 | — | $7.99 2 |
| B&N Nook | $5.99 | $5.99 | $6.99 |
| Kobo | $5.39 | $5.39 | $6.19 |
Huh.
What's really interesting about this is that Apple reports that the seller for Taylor's book on iBooks is All Romance Ebooks, which does not list that title.
EC's Own Site
Two of these are paperbacks. Three e-books.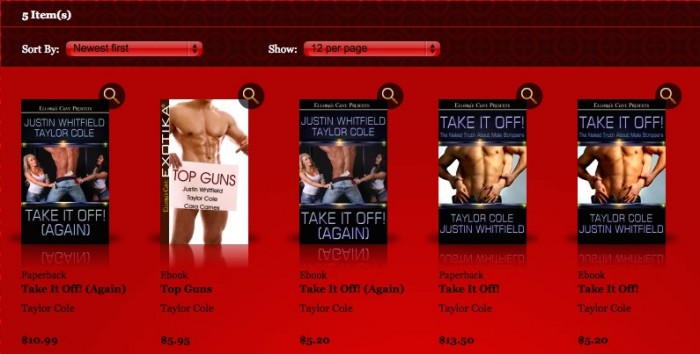 All Romance Ebooks
Amazon
Note that one can cleverly add the publisher in the search.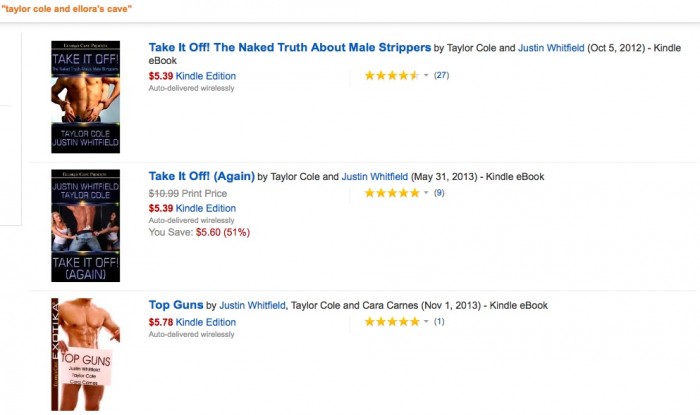 Apple iBooks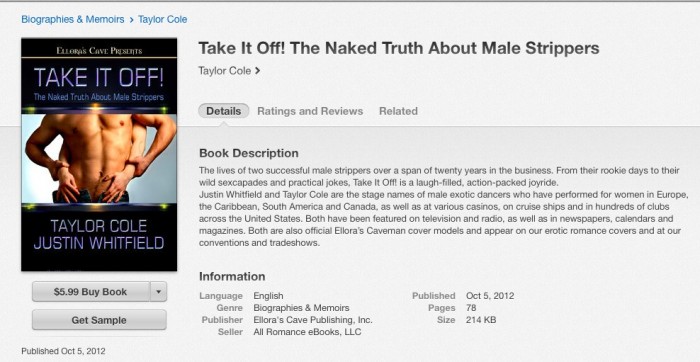 B&N Nook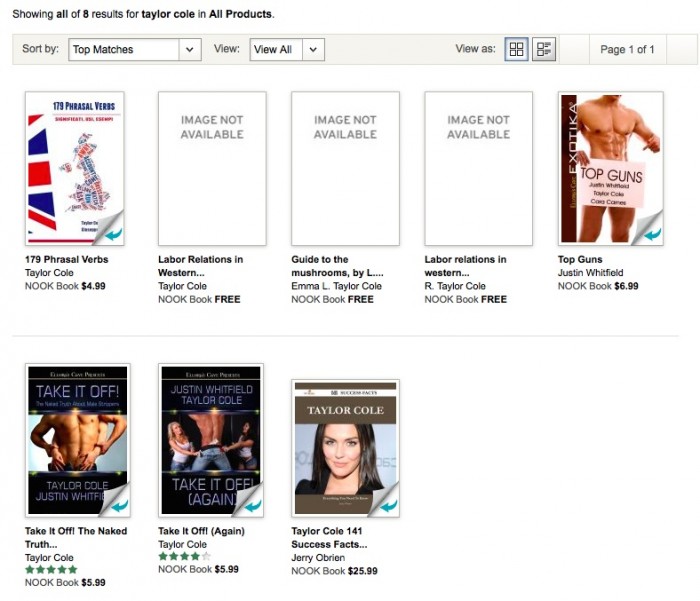 Kobo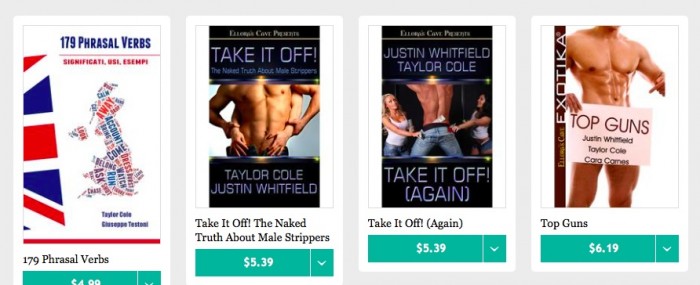 Let's Look at Cat Grant's Titles
You may recall that Cat Grant is trying to buy back her rights from Ellora's Cave to the three titles she has with them (The First Real Thing, Appearing Nightly, and A Fool for You).
EC's site: all three
Amazon: all three (but only two show up with Ellora's Cave in the search)
Apple: no Appearing Nightly
ARe: all three
B&N Nook: all three
Kobo: all three, ranked dead last when sorted by "bestsellers"
Then There Are Books Getting Filtered
Like this tale from Lissa Matthews:
I have one book filtered at Amazon and I don't even have a year's worth of sales numbers on it, but I can tell you it definitely meets the 'sells less than 100 copies in a calendar year'… No one even knows the book exists unless I tell them. And it's filtered because I didn't specify No Nudity for the cover. Okay, I took blame for that, but how was I supposed to know I had to tell Ellora's Cave what their distributors would and wouldn't allow on covers in order for them to be found by readers and not stashed so deep into the abyss? I had never had to specify that before and believe you me, I learned that lesson. Because the next and final book that I submitted specified on the cover art form NO NUDITY!
The cover in question features a nude woman facing away, held by a man in jeans. I think it may be the side boob more than the nudity, though.
I've had rights reverted on an EC book since Dec, but it's still for sale on @iBooks. *sigh* On hold w/iBooks now. #notchilled

— Shoshanna Evers (@ShoshannaEvers) October 24, 2014
@hmweinerman @deirdresm I'm not even looking for any money from EC. I just want my last book back from them. They've put it on sale for 99c.

— Shoshanna Evers (@ShoshannaEvers) October 24, 2014
So—EC's still selling a book they haven't had the rights to since December 2013.
Moral of the Story
You can't just "set and forget" books. Database issues occur. There are nuances of data structures that mean not every vendor will represent titles in the same way.
It's got to be someone's job to comb through and make sure that every single book is at every single vendor. And re-check it periodically.
Paul Krugman wrote this piece about Amazon, which is worth it just to comment only on this one bit:
Book sales depend crucially on buzz and word of mouth (which is why authors are often sent on grueling book tours); you buy a book because you've heard about it, because other people are reading it, because it's a topic of conversation, because it's made the best-seller list. And what Amazon possesses is the power to kill the buzz. It's definitely possible, with some extra effort, to buy a book you've heard about even if Amazon doesn't carry it — but if Amazon doesn't carry that book, you're much less likely to hear about it in the first place.
Well, that's true so far as it goes. Personally, I only look at Amazon if my first-source vendors don't have it. When I worked at an indie bookstore, I wound up making a habit of knowing what books were featured on NPR, as those were the titles more people asked about than any other.
For me, I'm usually searching on a web site for books, so if that search doesn't find the books in question, that's what kills the buzz.
1 The book is listed only under Justin Whitfield even though there are three named authors on the cover. I don't know if this is generally a problem with multi-author titles at ARe as I don't shop there much.
2 Listed only under Justin Whitfield in iBooks, too, but ARe as a vendor may explain that.
For those who aren't following along, Axl Goode and Taylor Cole are cover models and authors for Ellora's Cave and strippers as their other job.
Axl reports on facebook:> UPDATE: After writing this entry I was—finally—issued a mandatory quarantine by the Texas Department of State Health Services.
That update was about two hours ago.
Their Gofundme fundraiser
Photos of the Guys
I just realized I haven't posted photos of them apart from a couple group shots and a blurry one.
Taylor (left), Kathy Wright Johnson, and Axl: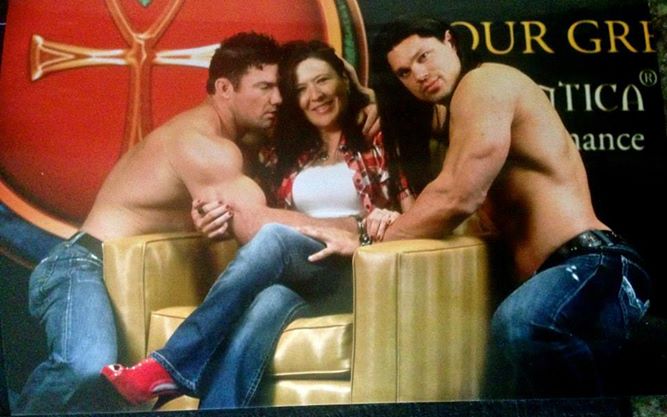 Axl on the Silks: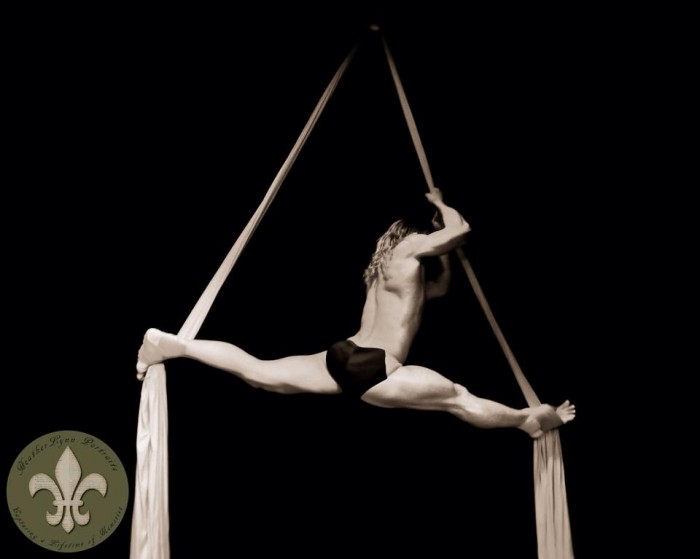 And Taylor: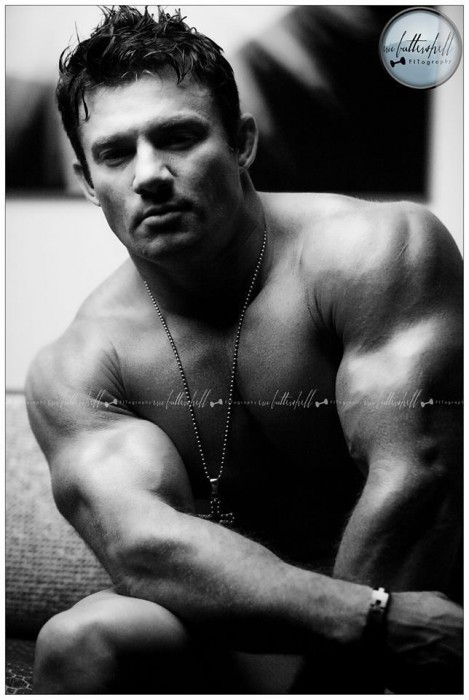 So, there ya go.
Say you're a nurse taking temperatures for a guy who's been potentially exposed to ebola and is quarantined at home.
You'd expect that there would be at least minimal safety precautions, right?
Taylor reports:> Taylor Cole questioned the health protocol of the nurse who visits him. "She didn't have gloves on."
::facepalm::
If you're not supposed to be within three feet of other people, as Taylor and Axl were advised, gloves seem sensible precautions. Every nurse knows how to remove gloves so they don't contaminate their hands.
I get that it's very unlikely that Taylor and Axl have ebola, and some people may feel they're taking precautions to extremes.
I view it this way: they don't want to spread it if they have it and they're ensuring that they can't.
The nurse, on the other hand…. When I went to the ER, the nurse didn't use gloves to take my temperature, but my risk profile was different.
True, I didn't happen to mention having been jumped on by wild Gibraltar Barbary macaques 17 days earlier. (Ebola Reston involved macaques.) None of the Gibraltar macaques were known to be infected, nor had I traveled to Africa. Just to one of the closest points in Europe.
Also, the nurse did use gloves any time direct touch of my skin was involved, e.g., when inserting an IV, when giving me pain meds, etc.
Here's a Great Post
Axl's Oct 16 update.
When asked about who he blamed, he wrote a long post. Here are two quotes:
So in the end, no one is to blame. We can only take responsibility. I for one want to take responsibility for what has happened. Every single passenger that boarded flight 1143 played a part in that moment taking place. Now we get to play our part in trying to minimize the repercussions of possibly being infected. […]
As communities, this is the best thing we can do. Rather than fighting a problem, we're finding a solution. I can only encourage others to do the same. If we as a people weren't so concerned with blame and held solutions as a higher priority our politicians might hold those same priorities. Rather than worrying about covering their backs, they would be looking to create a better future for all.
Dr. Jen Gunter's Post
This is a good post.…but it does overlook a few points.
Mr. Duncan's family was very used to living under the "ebola rules"—no touching, no getting close to people.
We don't know that no one else got ill because Mr. Duncan was sick. We do know no one else in the US did that we don't know about, given the small number of cases here.
We do know that people who treated him during the first hospital visit (when the hospital was doing, as Rick put it, "wallet triage"), didn't fall ill.
21 days is not an absolute number. Paper detailing quarantine periods for ebola. 95% of people who got ebola were symptomatic within 21 days of exposure. I haven't read the paper to see the breakdown of the other 5%, but I suspect some of it may simply be there wasn't a known date or time of transmission because they couldn't trace it back.
The widely-spread story about Mr. Duncan carrying a pregnant woman is false according to Duncan's nephew:

Among the most offensive errors in the media during my uncle's illness are the accusations that he knew he was exposed to Ebola; that is just not true. He lived in a careful manner, as he understood the dangers of living in Liberia amid this outbreak. He limited guests in his home; he did not share drinking cups or eating utensils.
And while the stories of my uncle helping a pregnant woman with Ebola are courageous, Thomas Eric personally told me that never happened. Like hundreds of thousands of West Africans, carefully avoiding Ebola was part of my uncle's daily life.
And I can tell you with 100 percent certainty: Thomas Eric would have never knowingly exposed anyone to this illness.
So, without that narrative, we really don't know how Mr. Duncan was exposed or what happened. We've all lived with the comfort that that can't be us because we "know" what happened.
Dr. Gunter's right: ebola's not easy to catch. However, were I in Axl and Taylor's position, I think I'd be as careful as they are.
I've posted about this on Twitter, but I only amended my Romanticon post to include word of the quarantine.
However, given the fundraiser I just discovered, I'm copying the amendment into this post so it gets more attention and adding the fundraising link below.
Frankly, no one who goes to to any convention should have to fear coming down with something as horrific as ebola. ## First: Quarantine, the Origins Of
Quarantine comes from the Italian word quarantq, meaning 40: the number of days you had to wait before your ship could enter Venice. It was used to prevent spread of the plague. It didn't work so well back then, mostly because disease transmission was so poorly understood, so that's why all the gondolas in Venice are painted black.
Jaid's Message and Axl's Message
Jaid Black posted a notice about potential exposure to ebola. Dallas nurse Amber Vinson, who now is confirmed to have ebola, was in Akron during the same time period that Romanticon was held.
According to news reports, the infected woman, a healthcare worker who treated "Patient Zero," was in Akron visiting family. She did not show signs of infection until already in Akron. The CDC has confirmed that she was definitely symptomatic while traveling from Cleveland to Dallas on October 13 so if you know anyone else on that flight please have them contact the CDC IMMEDIATELY.
Romanticon attendees (other than those on flight 1143) have nothing to worry about… according to the CDC. As they haven't exactly been forthcoming with information, and we have no idea where in Akron this woman was, I am asking EC employees and Romanticon attendees in general, to self-monitor their health for the next 3 weeks. A list of symptoms can be found here: http://www.cdc.gov/vhf/ebola/symptoms/
Further, two of the Cavemen, Axl and Taylor (who are also both EC authors), were on the same flight as Vinson. After consulting with the CDC, they are both in self-imposed quarantine for 21 days.
Here's Axl's story.
Axl and Taylor appear briefly on this GMA segment speaking about their self-quarantine.
My hope is that everyone will be fine, but I'm sure thoughts and prayers are welcome. Axl gives his contact information in his facebook post if you wish to reach out to him.
Facebook links: Axl Goode and Taylor Cole takeitoff
The GoFundMe
Can be found here.
What we do know:
They were apparently sitting very close to nurse Vinson on the same flight. (See Daily Mail link below for pics.)
They feel it is in the safety of all concerned if they are conservative and self-quarantine. I applaud this, but it's not cheap. (As to whether or not I'd contribute, the question is rhetorical, sadly.)
Unlike some of us, they don't have the sort of job where they can work from home.
I think the Daily Mail really has the winning caption here: Ebola Strippers. That's not a disease vector I'd ever want to have happen.
If you're inclined to either contribute or spread the word, please do so.
I know there are reasons to not support GoFundMe because of their policies; I'm sure if you contact Axl there are other means to help if that's an issue for you.
My Own Experience With Quarantining
When I was at Apple, I came down with shingles. One of my colleagues was pregnant, and as shingles/varicella is of particular risk to the unborn, I was asked to work from home until it cleared up.
Now, shingles is not particularly contagious. Truly. When kids have chicken pox, it's the way kids interact with the world more than the contagiousness that's the problem.
But I respected that, and worked from home for about a week. This meant I had to miss the Apple Worldwide Developer Conference that year. Again, it was best for all concerned that I did so.
However, I had a job where I could work at home. Not everyone is so fortunate.
I'd rather not debate the merits of the fundraiser in the comments. Respectful questions are fine.