[![15954811_3065647_pm](/images/2014/12/15954811_3065647_pm.jpg)](/images/2014/12/15954811_3065647_pm.jpg)
Rule 34: "If it exists, there is porn of it. No exceptions."
I was making this sign for a book cover (where it'd appear on the wall as a framed print), then thought: why stop there?
Back when I worked at a backbone ISP, the first day HR training session was interesting.
"If you object to adult material, please do not walk through the art department. We make 2/3 of our revenue from adult content."
Maybe you like the weird stuff. Maybe it just makes you hilariously happy that the weird stuff exists because then you're something approaching normal. Maybe you just need a new shirt and randomly clicked on this page.
Whatever freak flag you fly (or, you know, don't fly :wink:), Rule 34 is there for you.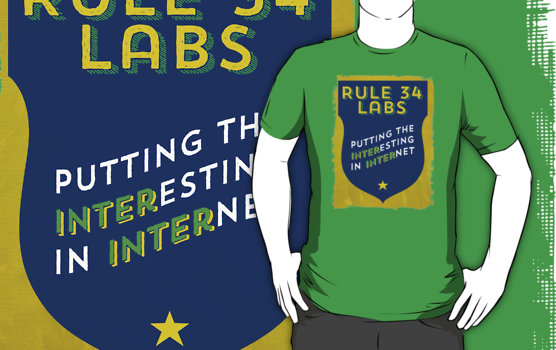 I have various products now available on Redbubble, Society6, and Zazzle.
In addition to the clothing options on all three of the above stores, the design's also available in a bunch of other formats, including:
| | Prints in various forms: Redbubble and Society6, including stickers, posters, art prints, and metal prints. Because metal. |
| --- | --- |
| | Coffee mugs: Society6 |
| | Tech Cases: Society6 |
| | Rugs (for rug burn, obvs): Society6 |
| | Greeting cards (for mailing your tribe): Society6 |
| | Clocks (for temporal fetishists): Society6 |
| | Tote bags: Redbubble and Society6 |
| | Pillows (save those knees!): Redbubble and Society6 |
| | Shower curtains (no comment): Society6 |
| | Duvet covers (because why wouldn't you?): Redbubble and Society6. Redbubble has Twin, Queen, and King, while Society6 has Full, Queen, and King. Note: the Redbubble version requires almost twice the resolution source file, but I don't know if it prints in higher resolution than the Society6 version. Usually, Society6 wants the higher-res file. |
King Duvet Cover (Redbubble):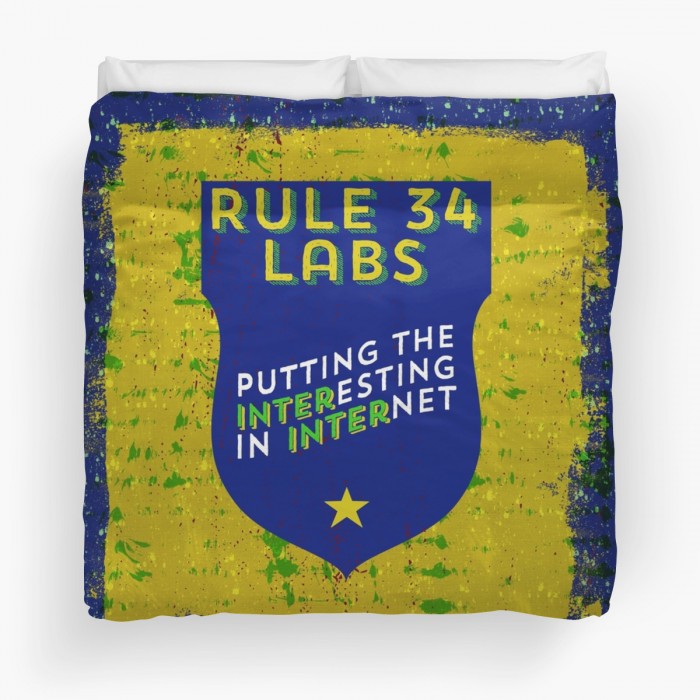 Not enough?
Drop me a line and let me know. My email address is at the bottom of every deirdre.net page. (Hint: deirdre@)
I've had a blog for 10 years, but I've been irregular for periods about posting to it before WordPress had a good spam solution. These days, an average day for me is between 100 and 250 page views and between 70 and 150 unique visitors. Obviously, this excludes people who turn off tracking.
For reasons related to upcoming projects, I'd moved deirdre.net to WP Engine. I'm so glad I did, because they were able to handle the massive sudden spike.



At the peak, in a 24-hour period from June 10-11, I had 28,000 page views, almost entirely unique visitors.
If you need a really great hosting platform for your self-hosted WordPress blog, I've been really impressed with WP Engine.
Slowly becoming less of a fan of HipChat, it's really no better than IRC with a proper client. –Matt Jarjoura
When I first looked at HipChat, I laughed. It looks, well, so 90s. Basically, it's a revamp of IRC, where "revamp" means "we will charge you for it."
The only reason you should pay money to them is one of the following:
You don't know how to set up an IRC server on some spare piece of office equipment and can't be bothered to find anyone to help you.
You need some obscure feature that's not available on IRC or any of its addons.
Yep, that's about it.
Essentially, HipChat and its ilk assume that you've never heard of IRC and are willing to pay to have private-ish conversations. They will never be as private as running your own IRC server.
If you don't need that, you can get a dedicated channel on other servers, mark it private, invite people you want, and ban them if their status ever changes.
Why IRC Rocks
The larger IRC networks are distributed, meaning everyone connects to a server closer to them. This does lead to netsplits, but it means that people can continue on even where one of the servers are down. In that sense, it's designed like the Internet was intended: no single point of failure.
IRC servers can be private. I've used them at several firms.
You can do a seminar-style by making the channel moderated and requiring people to private message questions. Advantage of this format for the listeners is that they can private message each other, which many substitute chat types do not offer.
You can make channels private.
On most IRC networks, you can define a list of who's an op (who has privilege to allow/disallow people on the channel), who can speak when the channel is moderated, and set those privileges so they persist without anyone on the channel. (And then there's classic EFnet, which at least used to do none of these things.)
IRC is extremely low bandwidth and fault tolerant. It assumes bad and slow connections. I have been in situations where no-image web pages wouldn't load, email wouldn't load, but IRC worked just fine. (Especially on ships using satellite internet.)
Every operating system, even those without any graphical interfaces, still in use has at least one IRC client. Got an old Timex Sinclair?
The biggest thing HipChat offers that IRC doesn't typically out of the box is chat history, but there are even approaches for that using channel bots.
For Mac and iOS users, the best IRC software is Colloquy.
No, I'm not going to be less active on Twitter.
Here's the problem: when I wake up in the morning and open my Twitter client, I can see 31 minutes of tweets. A few weeks ago, that was 47 minutes, but then I added a couple of people.
I want to get that back to where I saw all the tweets since I went to bed.
That's going to mean I'm going to unfollow some prolific tweeters. I'm going to follow people whose news I can get elsewhere. Etc.
What this will mean is that I'll be far more likely to read that tweet posted by a friend in a distant time zone.
I get subscribed to an email list by someone using my iCloud account (misremembering their email address). Note that they may have subscribed me under @me.com or @mac.com; it's not always possible to tell which.
I write the offending company, berating them for not confirming email addresses. Only receive an automated response. (I did cc abuse@)
I get more emails from said company.
I write the abuse address at their upstream.
The upstream abuse support agent misspells my email address in the email. In more than one different way. Charming.
Naturally, offending company can't find the email address in their system.
In their delayed response to email I sent directly to them, however, they remove my email address.
Other chatter occurs that I'm cc'ed on.

Here's the kicker. I'm cc'ed on an email from the CTO that says:

Just wanted to follow-up and say that the email says "from: Kim (redacted)" — This indicates to me that we didn't send the email but was probably forwarded by Kim. If Deirdre/Deidre does not know this person, perhaps Kim's account has been hacked or spoofed and sent email unknowingly — Unfortunately, there is nothing we can do about that.

Kim is the author of the recipe in the email offending company sent. Their CTO doesn't even know what email they've been sending out as a part of their brand. Nor has she bothered to check. Proof: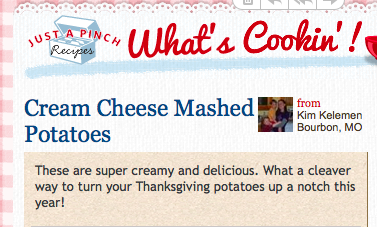 Let's Talk Best Practices
Do not ever ever ever subscribe someone to an email list without their confirmation. Just. Don't.
If you run a hosting company and handle abuse@ complaints, please ensure that you spell the email address very carefully — and not, oh, three different ways that aren't the way the account name is spelled.
If you receive an abuse@ complaint from someone you've subscribed to a list, make sure you have a technological method for adding them to a "hold all promotional email" process. That way, they don't receive further spam from you before you sort things out. In the offending company's case, what they responded to was my fourth complaint.
Always respond to the first complaint.
Do not blame the victim.
Do. Your. Research. Your non-customer should not have to do it for you.
Department of Shame
Offending company: justapinch.com
Upstream hosting provider: peakwebhosting.com
Note that I redacted Kim's surname in text because she's probably innocent here. I added the pic because I'm sending a link to this to the offending company's CTO.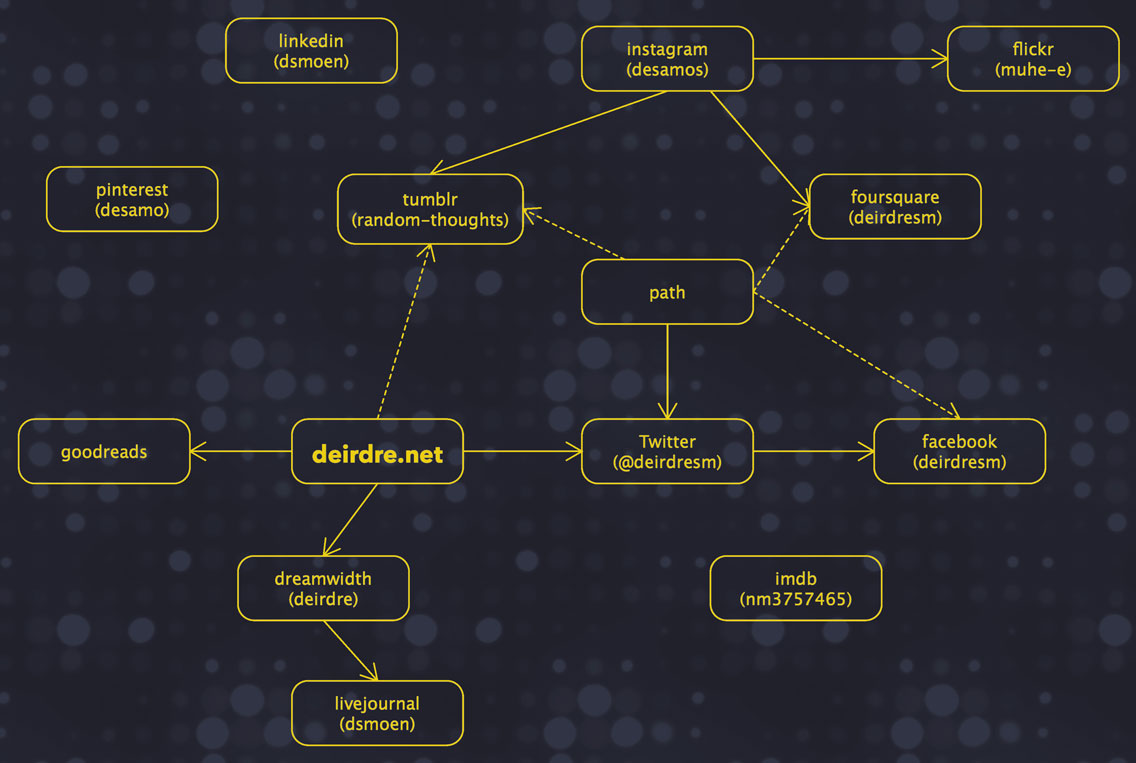 So near as I can tell, all the social media interconnections that I actually use. Dotted lines can be set up, but aren't.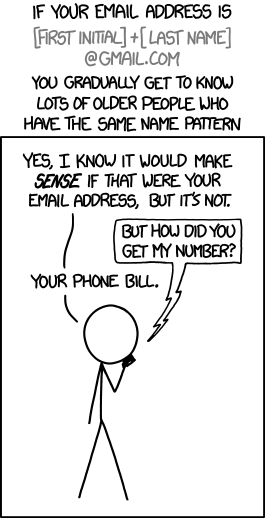 ] As someone whose primary email address is the same as my own domain, I'm less prone to incidents of "Reverse Identity Theft" than the average person.
However my iCloud account is a constant source of annoyance and amusement. Deirdre's not all that common a name, really, but it's astonishing how many of them seem to be using iCloud and mis-remembering their email addresses.
This has led to a number of errant hotel reservations (one for an affair), mailing list subscriptions (like one I got today), an AT&T phone line that took five months to get transferred, a phone unlock service for a Motorola phone (clearly not from me).
My all-time favorite happened earlier this year. I got a FaceTime call from someone I didn't know.
"Hi mum. It's me, Kevin."
He was very embarrassed by it, but that particular one made my day.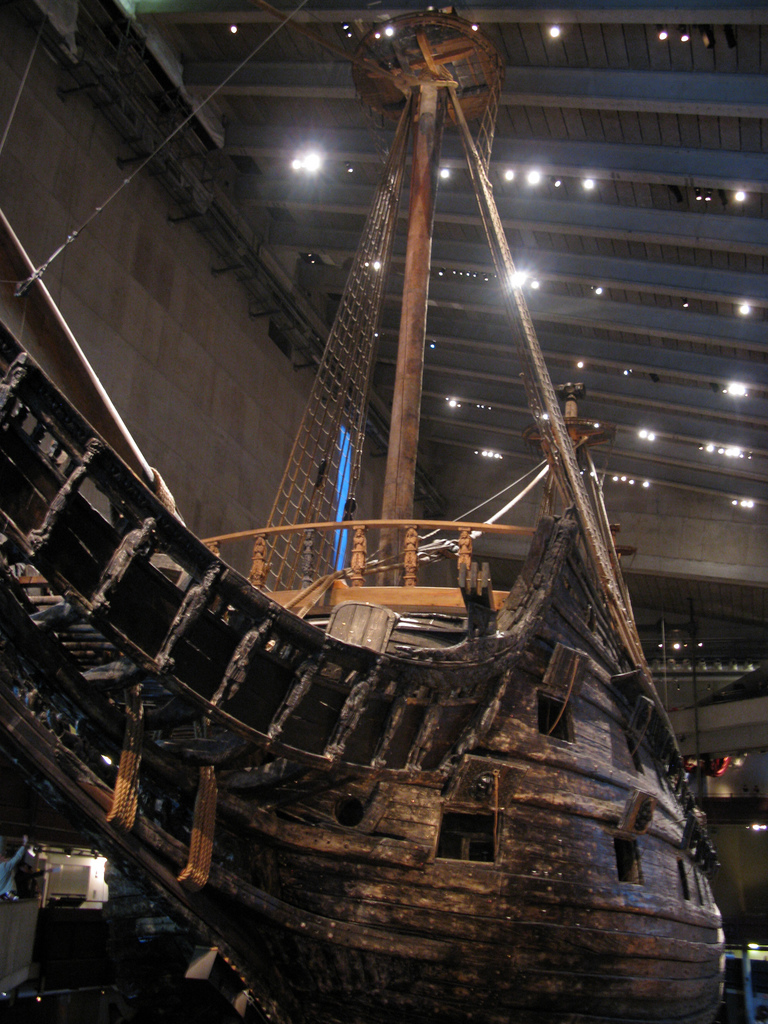 You know what I respect most about Sweden? They had a great engineering disaster. One of the best of all time, frankly.
Did they try to erase it?
No, they built a fucking monument where you can see the order of magnitude of the folly of a bad decision they made in the 17th century. And how people died.
So, About Kickstarter.
They blinked. Or did they?
My opinion: no. They tried to erase what they did and write a small check, and that will be enough for some people.
I woke up this morning. As I often do first thing, I scrolled through my Twitter client.
The overwhelming reaction from the men on my Twitter feed was that Kickstarter had done enough.
The overwhelming reaction from the women on my Twitter feed was that they had not done enough.
They did not do enough.
So here's my guess: while we'd like for them to have paused or canceled the campaign while it was still running, they lacked the infrastructure for that to happen.
However, it doesn't say why they didn't, say, edit a database table that would change when the Kickstarter campaign ended (effectively giving more time to raise money), add a warning they were investigating and that's why they'd changed the end time, and given themselves more time to deal with the problem while the campaign was still running.
Brilliant, right? I know. I'm a fucking genius. But I've been a DBA in a crisis, and that's what my first thought would have been, and it was totally within their ability to do. Maybe not within their policy, but within their technological capability.
The big thing there, and it would have been misinterpreted, was that it would have prevented the Kickstarter from being funded while they decided what to do.
Now, on to what they did do.
One of the motes in American character, especially American business character, is to try to erase what one did that was wrong. You've already admitted you were wrong, why not own up to all of it? Have the stones to go there.
Instead, they e-mailed the bad decision sub rosa to several blogs saying that the campaign was not a violation of Kickstarter policy, and now they do a big official oops on their page, hoping you will forget that they in fact said the project was okay. Because, of course, they didn't say it was okay on their official company page.
That's the typical American chickenshit way of "fixing" a problem. It lacks moral character.
So let's not forget this part, okay?
Update, 6:51 p.m. EST: Kickstarter emailed a statement to The Raw Story regarding both the project and the public response:
Kickstarter reviews projects based on our guidelines and the information creators share on their project pages. It's a process we've refined over four years and continue to refine daily. We strive for fair and thoughtful policies that maintain the health of the Kickstarter ecosystem.
This morning, material that a project creator posted on Reddit earlier this year was brought to our and the public's attention just hours before the project's deadline. Some of this material is abhorrent and inconsistent with our values as people and as an organization. Based on our current guidelines, however, the material on Reddit did not warrant the irreversible action of canceling the project.
As stewards of Kickstarter we sometimes have to make difficult decisions. We followed the discussion around the web today very closely. It led to a lot of internal discussion and will lead to a further review of our policies.
With that in mind….
I'm a rape survivor, so I get to say what would be enough reparations from Kickstarter for me. So, without further ado, here's the list:
$25k of reparations is not enough. How much is enough? I like $163,690 as a number. That's ten times the amount raised in the Kickstarter campaign. It's also obviously symbolic. It also hurts more than $25,000. Hell, you probably pay some of the people involved in these decisions that much per year, right? Maybe the person who made the bad call?

732 hours of off-site sexual assault recognition and crisis training and/or volunteering, paid for by the company. One hour for each person who contributed to the campaign. Given that Kickstarter has 61 employees, that's 1.5 business days per person. Exactly, weirdly enough. When I say everyone, I mean including the CEO. Write a blog post when this is done. It's important to do it off-site so you all are taken out of the context of the office for the experience.

Un-erase the Kickstarter campaign's page. Instead, put a warning on it. Make sure it's a monument to Kickstarter's folly.

Edit the blog post and acknowledge that Kickstarter made an earlier bad decision saying that the campaign was not in violation of Kickstarter's guidelines. Do not erase the mistake.

Admit that you were deleting facebook wall posts like crazy. Look, I get it. Honestly, I don't care about this one, but other people do. At least admit that you did it.

Publicly commit, with a deadline, to building a "Pause this Campaign" infrastructure that has, as a minimum, the following:

Permits linking to a blog post explaining why a Kickstarter is paused.
Has great big old "Paused" wording, preventing any additional monies being contributed to the campaign, but allowing any existing contributor to back out.
Until that is implemented, commit to extending the deadline (for above-stated reasons) on any controversial campaign.
Let's not forget the important part: some asshole has the lion's share of sixteen grand to write a book that includes sexual predator tips, and 732 people funded it and want that book.
All because Kickstarter failed to show moral character in a crisis.
And Kickstarter would love the concerns of those of us sexual assault survivors to be erased just like the campaign page.
No.
Twenty-five grand and an oops (especially reversing a prior decision they won't publicly acknowledge) is not enough.
Erasure? Just pisses me off more.
I was hoping to make some salient points on the whole SFWA matter, especially given that (as with many of us) Resnick's been one of my editors.
However, I've spent the last few days in the Second World, and I'm rather overwhelmed by some of the following:
1. Crossing the battlefields of Balaclava, Ukraine (of The Thin Red Line and Charge of the Light Brigade fame).
2. Visiting Novorossiysk, a city with a population of 24,000, bombed so severely that the only surviving residents were a mother, her two children, and their grandmother.
3. Seeing the famed Potemkin steps in Odessa.
4. Spending time in Romania, where Rick last was during the time of Ceausescu (he visited many of the same sites in 1978), and hearing about then vs. now.
5. What may have hit me the hardest: going to a long-secret Soviet submarine base in Balaclava and walking behind several layers of super-thick blast doors where 1000 people regularly lived — all developed because they were afraid of us. (The USA)
Additionally, we just landed in Istanbul (where there's been a lot of rioting), a person I know has been raped and another person I respect has died, and I just can't work up the energy on an issue that doesn't involve issues as severe as any of the above.
However, I can insert my generic short form internet blow-up thoughts here:
1. There's a reason my license plate is XKCD 386.
2. People are complex, and too often on this issue, I see parties from both/several sides reducing the other to one dimension that is unjust. This doesn't mean there aren't real issues, mind, just that I'm tired of rhetorical bullshit.
3. People feel obligated to be on the "right" side when the cards land, sometimes pressuring other people to shun someone. This is evil. I've been in a cult with shunning and I don't do that. Sure, I may choose not to speak to someone, but it may just be I'm tired of completely different shit. Maybe they talk too much about Ohio. Or Cancun.
4. I'm not the kind of person who holds a grudge. I do think people need to be called on their bullshit, and if you call me on mine respectfully, I will appreciate you more for doing so. Some people will refuse to learn, and some will try to learn but fail. What matters more to me than one blow-up is how people deal with issues in the longer term.
5. I love the Internet and all the weird places it has, even the ones that make me shudder. Maybe even especially those. See #1.