One of the valuable things to learn when you go outside your comfort zone, that it's going to be okay.
Probably.
When I was at the World Domination Summit in Portland recently, speaker Michael Hyatt said this during his talk. It was one of the things he said that I found most profound.
Since then, at difficult moments, I've been able to give myself strength by repeating this.
Hope it helps you.
Available from Redbubble in: t-shirts, tanks, sweatshirts, hoodies, phone and iPad cases, prints, stickers, cards, throw pillows, and tote bags.
A version without the background is available on Redbubble for: t-shirts, tanks, sweatshirts, hoodies, and other clothing items.
Available from Society6 in: t-shirts, tanks, onesies, hoodies, iPhone and iPod cases, coffee mugs, laptop and iPad skins, shower curtains, and duvet covers.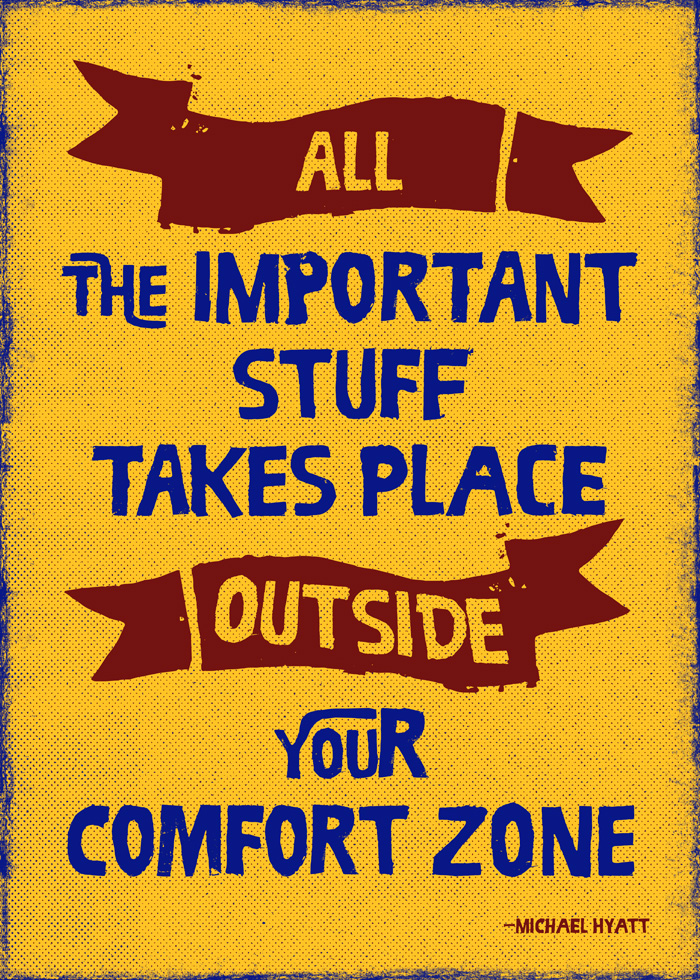 Credits
Thanks to Michael Hyatt for permission to use the quote.
The font is Ruba from RodrigoTypo. (Yes, purchased as a part of a Design Cuts deal.)
The halftone textures are from Rob Brink, purchased as a part of an (expired) My Design Deals bundle. The border edge (not on all products) is from Dustin Lee of Retro Supply. It's from the Standard Issue Texture Brushes package, though I didn't use them in a subtle manner. (Deliberately.) If you're interested in weathered or aged effects, this is worth it just for the video that comes as a part of the package.
---