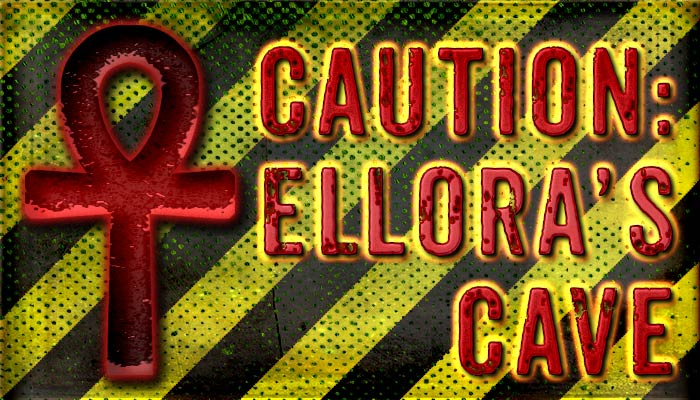 First: New EC-themed Art!
See above.
I've been trying to make a habit of including art with posts so there's always a featured image. It's a tough job. Broken ankh render from The Hairy Man.
Ellora's Cave Lost Its COO?
Behold the current LinkedIn profile of Susan Edwards, who was Ellora's Cave's COO.
Note that it lists "Writer and Editor" as a job from "1980 – Present", but Ellora's Cave from "January 2005 – October 2014", meaning she's no longer there.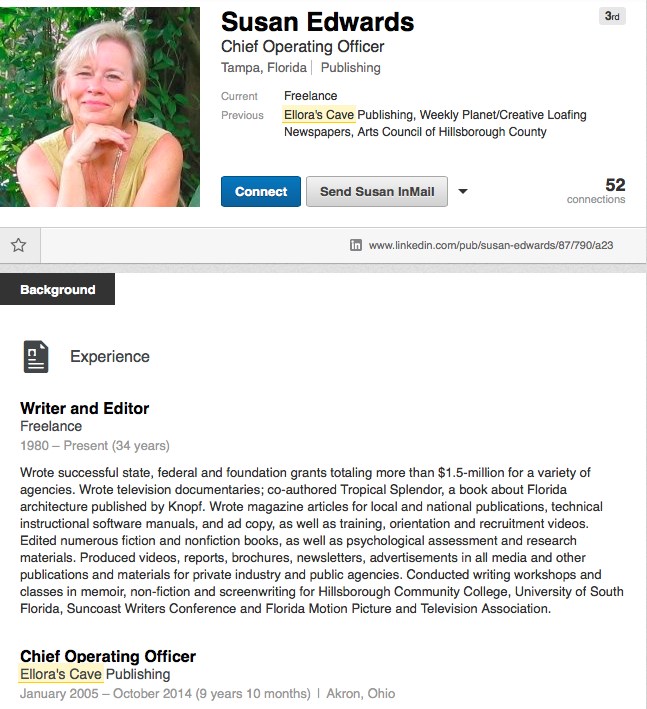 Detail of the Ellora's Cave entry:



Now Dear Author tweeted this last month:
Re Ellora's Cave: Whitney Mihalik, the managing editor, and Susan Edwards, the chief operating officer, have both resigned.

— DearAuthor (@dearauthor) September 15, 2014
…and…
EC trying to retain Susan Edwards, COO, who previously indicated she was leaving.

— DearAuthor (@dearauthor) September 23, 2014
But this is the first I've heard that it was externally verifiable.
Ellora's Cave Allegedly Selling Titles It Doesn't Have the Rights To
Angelia Sparrow posted this morning.
My mail today. Why does a check cut on September 30 have an October 25 postmark?
Why are books that I have had the rights returned still on sale?

"Eight Days Ablaze" was returned in Feb. I am not getting paid for it. Why is it still available at Amazon, iTunes, GooglePlay, and Ellora's Site itself?

"Eight Days Ablaze" is apparently still theirs. I checked my reversion letters, and it is not mentioned. "For Love of Etarin" and "Raising the Dead" however, HAVE reverted.
"For Love of Etarin" is the same way. And yet, it still available on GooglePlay.
Glad Hands and Privateer's Treasure are still up on Amazon, And the rights reverted back August 15.
I can verify that it's still on sale, but obviously I have no personal notice of whether or not the rights are reverted. I'll just point authors to a resource out there for you. If your rights are reverted, then a DMCA takedown notice to the vendor is an appropriate—and probably the fastest—action.
It doesn't give you the correct royalties for any amounts that were due you, though. That has to be addressed separately. Unfortunately.
Previous post of interest from Angelia.
I previously talked about Shoshanna Evers's related story of books being sold after reversion here.
Also, Cat Grant shows her May 2014 royalty statement, received in September, where she states that she was paid for a Nook ebook on a title that, per her, reverted in November 2013.
B&N/Nook pays 60 days after the end of the month. So, if a sale took place in November while EC still had the rights, it should have been in the royalty statement for February or maybe March. May is unreasonable.
Again, I can see what the allegations are, but I don't have personal knowledge of the reversion, just taking the claims at face value. If three authors are correct, how many other authors has EC been selling the works of without the rights to?
The No-Frills EC v. DA Lawsuit Page
Yesterday, out of frustration at the lawsuit documents and the order mine weren't in, I created this simple page that emulates the federal court docket.
For some exhibits, there's a short summary. Each, where applicable, is color-coded based on the lawsuit "thread" as Courtney defined them. And, if there are blog posts relating to them, they're listed below the docket item.
It's a very lightweight page: no images, no Javascript, and very very little CSS.
Lawsuit Update
Yesterday, defense filed their opposition to Ellora's Cave's Motion to Remand (from federal court to state court). Courtney Milan analyzes.
Particularly interesting footnote:
On 7 October, an email was sent to at least one of Ms. Lampe's supervisors. On 14 October that same email was forwarded to the entire department within which Ms. Lampe works. This is consistent with prior actions by directors of Ellora's Cave. Ellora's Cave has also engaged in acts to try and intimidate witnesses in this case. Therefore, sending this subpoena on short notice was of great importance. Since the Defense addressed this with Plaintiff's counsel, these actions have waned.
Wow. Just. Wow.
Let me pull this one line out and bold it.
Ellora's Cave has also engaged in acts to try and intimidate witnesses in this case.
That is not OK.
From the opposition brief itself:
All parties agreed that the matter required needed additional time, and therefore the parties stipulated to a hearing to be held on 27 October. In the intervening period, counsel for the Defense was able to fully evaluate the case, and on 17 October it became 100% clear that removal was appropriate.
I'm just going to put those two together and back away slowly.
What's Next?
Jane Litte's answer is expected soon. The court granted the motion to continue on the TRO and gave EC/JJ 7 days to file a response to defense's objection about the removal. In that way, the removal issue is settled before the TRO hearing, which does make sense.
---