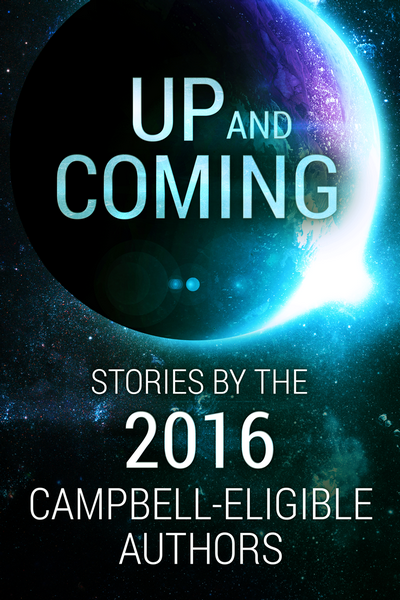 Up and Coming, the 2016 anthology of science fiction and fantasy writers eligible for this year's John W. Campbell Award for Best New Writer, is now available. This award is the only award given at the Hugo Award ceremonies that is voted on by the Hugo Award voters but is not itself a Hugo Award.
Up and Coming contains 1.1 million words of fiction from newly published science fiction qand fantasy authors, and will be available until March 31, 2016.
How to Nominate for the Campbell Award
In order to be a nominator for the Campbell Award, you had to be a member of one of the following by January 31 of this year:
The nomination link is here, and nominations close March 31, 2016.
Complete List of Authors in the Anthology
Charlotte Ashley
John Ayliff
Lucas Bale
Nicolette Barischoff
Sofie Bird
Derrick Boden
Stefan Bolz
David Bruns
Martin Cahill
Aaron Canton
D.K. Cassidy
Zach Chapman
Curtis C. Chen
ZZ Claybourne
Liz Colter
Nik Constantine
Daniel J. Davis
S.B. Divya
Margaret Dunlap
S.K. Dunstall
Jonathan Edelstein
Harlow C. Fallon
Rafaela F. Ferraz
Sam Fleming
Annalee Flower Horne
Ron S. Friedman
David Jón Fuller
Sarah Gailey
Patricia Gilliam
Jaymee Goh
Elad Haber
Auston Habershaw
Philip Brian Hall
John Gregory Hancock
Nin Harris
C.A. Hawksmoor
Sean Patrick Hazlett
Holly Heisey
Michael Patrick Hicks
SL Huang
Kurt Hunt
L.S. Johnson
Cameron Johnston
Rachel K. Jones
Jason Kimble
Paul B. Kohler
Jeanne Kramer-Smyth
Jamie Gilman Kress
Jason LaPier
Fonda Lee
S Lynn
Jack Hollis Marr
Arkady Martine
Kim May
Alison McBain
Rati Mehrotra
Lia Swope Mitchell
Allison Mulder
Ian Muneshwar
Brian Niemeier
Wendy Nikel
George Nikolopoulos
Megan E. O'Keeve
Malka Older
Emma Osborne
Chris Ovenden
Steve Pantazis
Carrie Patel
Sunil Patel
Laura Pearlman
Samuel Peralta
Andrea Phillips
Mark Robert Philps
Monica Enderle Pierce
Ivan Popov
Bill Powell
Stephen S. Power
Rhiannon Rasmussen
Chris Reher
Ethan Reid
Kelly Robson
Andy rogers
Lauren M. Roy
Steve Ruskin
KB Rylander
Hope Erica Schultz
Effie Seiberg
Tahmeed Shafiq
Iona Sharma
Anthea Sharp
Elsa Sjunneson-Henry
Daniel Arthur Smith
Lesley Smith
William Squirrell
Dan Stout
Naru Dames Sundar
Will Swardstrom
Jeremy Szal
Lauren C. Teffeau
Natalia Theodoridou
Joseph Tomaras
Vincent Trigili
P.K. Tyler
Tamara Vardomskaya
Leo Vladimirsky
Nancy SM Waldman
Thomas M. Waldroon
Jo Lindsay Walton
Kim Wells
Alison Wilgus
Nicolas Wilson
Alyssa Wong
Eleanor R. Wood
Frank Wu
Jeff Xilon
JY Yang
Isabel Yap
Jo Zebedee
Jon F. Zeigler
Anna Zumbro
…which is a lot of people, but there are actually more eligible authors than that. Check out this page on Writertopia for who's eligible this year. This year's Campbell eligibles are those who had a first professional sale published in 2014 or 2015.
Note, however, that final eligibility is determined by the Hugo Award administrator. Of note, I think Andy Weir (not in the anthology, but mentioned on the Writertopia page) could be ruled ineligible; while The Martian was initially released as a self-published title in 2011, it wasn't really a professional sale until 2014 when it was re-published by Crown Books. However, the audio book version was published in 2013, and that may be a sticking point. Or not.
I Wasn't a Member, But One of My Favorites Made the Ballot, Now What?
You can become a member of MidAmeriCon II. Voting will begin in early May. I don't know when exactly voting will close, but typically it's some time in July.
The Hugo ceremony will take place at the convention, Wed to Sun, August 17-21, 2016, in Kansas City, Missouri.
---