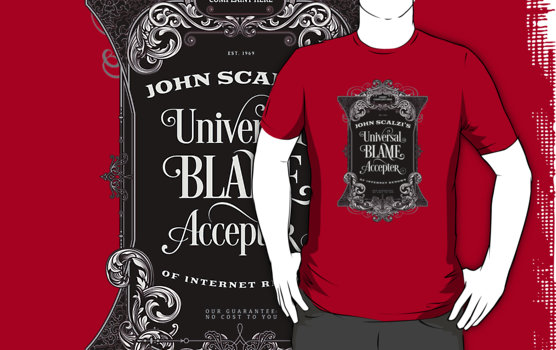 When someone edited John Scalzi's Wikipedia article to include that he was a "universal blame accepter," Scalzi tweeted:
To be clear, I TOTALLY OWN the "Universal Blame Accepter" title. Go on, blame me for anything! I can take it.

— John Scalzi (@scalzi) January 30, 2015
Now you can have your very own. IN ANY COLOR YOU WANT.
Except of course you want the RED SHIRT.
You know who to blame for that one.
Here's the full art:


Buy this shirt at Redbubble.
Note: Redbubble uses American Apparel for their shirts. Available there in Unisex t-shirts, scoop neck, unisex tank tops, women's t-shirt, v-neck, racerback tank, baseball 3/4 sleeve, long sleeve, organic t-shirt, organic women's t-shirt, sweatshirt, pullover hoodie, and zipper hoodie.
Sneak Peak at Another Shirt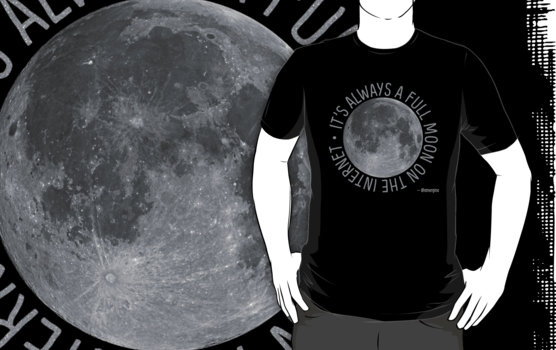 I've had this shirt done for a week, then came down with the flu before I could make all the ancillary art for other products. So, here's the t-shirt.
It's Always a Full Moon on the Internet at Redbubble.
Credits
For the Scalzi shirt (the other being a NASA photo and type only):
Fancy victorian frame from Cruzine Design.
I kept two of the typefaces Peter used in the frame design: the arched text is Goblin and the plainer text is Patua One. The swooshy type in the middle is Desire from Borges Lettering.
---