I'm extremely honored to be a guest on Writing Excuses this week, talking about the author-convention relationship from the convention programming head point of view.
So here are a few tips, in no particular order, to make it easier for programming staff: 1. Have a website. Better: have a website with your own domain name.
When contacting programming staff for a convention, don't assume they know who you are. These are volunteer positions. I've been the third head of programming for a given year, as an example.
What makes you interesting may be a combination of what your writing skills are plus all the other skills you have. Even though I've volunteered for science fiction and fantasy conventions, I've put together panels on things like antique motorbikes. Don't assume you're not interesting, and don't limit your usefulness by saying you're interested in speaking only about writing.
Don't claim that you can speak on any writing topic. That's a warning sign. No one can.
Don't ask to speak on panels with the Guests of Honor unless you know them personally. This is a warning sign that you're being a social climber.
Do offer to speak at the times when a lot of people don't want to be scheduled: early morning, especially after a heavy party night. Late at night. Opposite the masquerade. The more open you are to times when it's hard to find people, the more likely you are to be invited.
Even if you usually speak at a local convention, don't be insulted if you're not asked one year. It can't be the same convention every single year.
Remember: the purpose of speaking at a convention is to entertain the audience at the convention. Side effects like making yourself known and selling more books are not the primary purpose.
Audiobook of the Week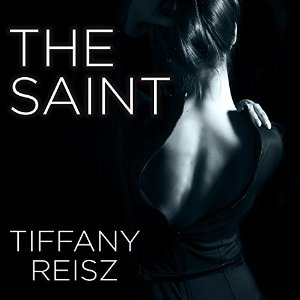 I got to pick the audio book of the week, which is Tiffany Reisz's The Saint. Visit http://AudiblePodcast.com/excuse for a free trial membership.
Before she became Manhattan's most famous dominatrix, Nora Sutherlin was merely a girl called Eleanor…
Rebellious, green-eyed Eleanor never met a rule she didn't want to break. She's sick of her mother's zealotry and the confines of Catholic school, and declares she'll never go to church again. But her first glimpse of beautiful, magnetic Father Marcus Stearns—Søren to her and only her—and his lust-worthy Italian motorcycle is an epiphany. Eleanor is consumed—yet even she knows that being in love with a priest can't be right.
But when one desperate mistake nearly costs Eleanor everything, it is Søren who steps in to save her. When she vows to repay him with complete obedience, a whole world opens before her as he reveals to her his deepest secrets that will change everything.
Danger can be managed—pain, welcomed. Everything is about to begin.
My Comments About the Book
This is the fifth of Tiffany Reisz's books about Nora Sutherlin, but the first in the prequel series. As such, it's not intended to stand alone as the first book. If you haven't read the first series, you may wish to start with The Siren.
Also, as you may gather from the description, this series of books gets all sorts of adult content warnings. Tiffany's also got an interesting HuffPo piece, What's a Writer Gotta Do To Get Banned Around Here?