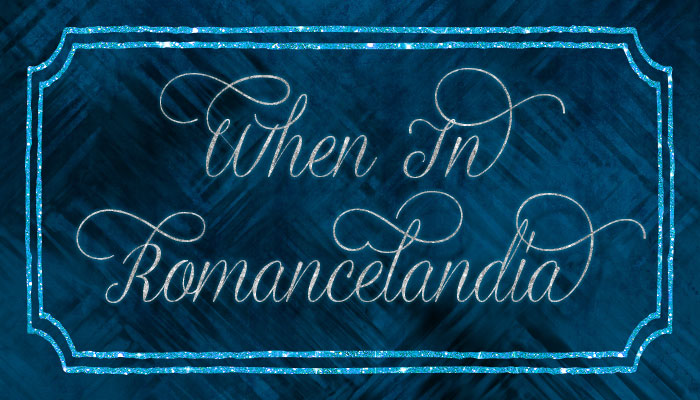 This was supposed to be my first year attending the RT Booklovers convention. I booked my membership and hotel early, Rick decided to come, and we booked our flights.
Naturally with my mother in the ICU, that has to come first. Rick volunteered to stay behind, but I know that I'd be constantly fretting if I'd missed a message, if I were needed for something. Plus, my mom would rather I stay, and that's important.
Of course, I'm sad to miss RT Booklovers.
I've read a few of the winning or nominated books, but there are oh so many I haven't read, too.
RT Booklovers Convention: Crowdsourcing the Fun
If you're going to RT Booklovers, I'd love to hear about or see:
A fun moment you had at the convention.
A new book you're excited about (in any romance/romantic elements genre).
Fun times you had meeting an author.
Or, if you're an author, your best fan story from the convention.
Selfies!
Convention reports and links to same.
Which of the award winners was your personal favorite? Were any of the acceptance speeches particularly funny or good?
You don't have to know me—if you go, I'd love to hear something fun. It's also totally okay to share this post with others.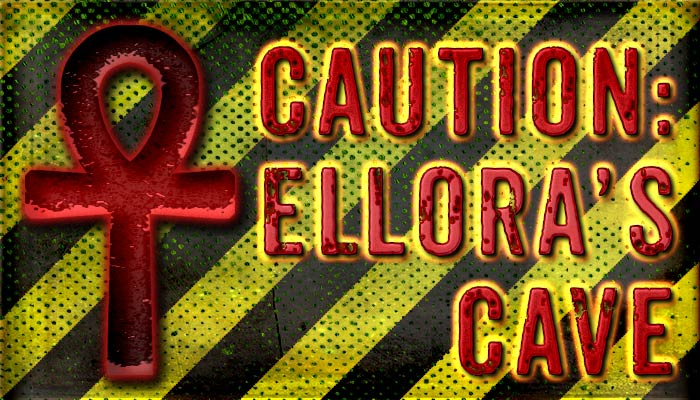 Earlier Documents of Note
Ellora's Cave's lawsuit, complete with the TRO request. (included in removal to federal court document) I analyze the memorandum of law and the request to out anonymous commenters in this post.
The removal to federal court, which I posted the meat of the other day.
Opposition to Plaintiff's Motion for Preliminary Injunction
In the first substantive response to Ellora's Cave's lawsuit, Dear Author's attorney, Marc Randazza, has filed an Opposition to Plaintiff's Motion for Preliminary Injunction, and Courtney Milan has graciously hosted the 25-page PDF and its exhibits. Exhibits: (Exhibit A, from Jane Litte; Exhibit B, from an editor hired in 2003; Exhibit C, from an author first published by EC in 2007; Exhibit D, from an author first published by EC in 2013; Exhibit E, from an editor hired in 2012; Exhibit F, from an editor hired in 2013; Exhibit G is a true copy of tax liens and Workers' Comp liens against EC and Tina Engler/Jaid Black.)
Courtney found it just before retiring for the evening. I've read it and the supporting documents (not included in the 25 pages). Courtney will post her own notes in the morning, but I'm going to write up a few comments about turns of phrase that amused me. Because of the miracle of the internet, I'm going to schedule this post for when I'm asleep. 🙂
Update: Courtney's post is here, and it links to the exhibits not in the original opposition document. Thank you to all the people who provided statements.
Seems Like Old Times
Footnote at the bottom of page 3:
The defendant has gathered what evidence she could, informally. However, should this case continue, and perhaps prior to the hearing on this motion, she intends to depose the management of Ellora's Cave. But, despite the reasonable and exceedingly courteous efforts of counsel for Plaintiffs, Ellora's Cave and its management do not appear willing to provide deposition testimony before the hearing.
So, Ellora's Cave sued Dear Author, right? You'd think, given that they filed suit on September 26th, they'd love to have a quick deposition to ensure they get as much on the record to support their motion for a TRO/preliminary injunction, right?
This footnote basically says that EC's stonewalling their own attorney who has been "reasonable and exceedingly courteous."
If you read the order from the Brashear case, you'll note this is a consistent tactic. Except in the DA case, EC's the plaintiff, not the defendant.
Even if Ellora's Cave were in perfect financial health, these are the symptoms of an ailing company. It is as if a perfectly healthy person were suffering from a severe headache, muscle pain, weakness, diarrhea, vomiting, and abdominal pain. A reasonable person might say, with all candor and right to do so, that the patient appears to have Ebola symptoms. Of course, the subject might counter that they were only suffering from a hangover. But, the First Amendment would permit either observation.
Courtney's right that this could be perceived as party dickishness insofar as two of the Ellora's Cave cover models are currently in mandatory quarantine for ebola after being on Amber Vinson's flight when coming home from the annual Ellora's Cave convention, Romanticon.
However, I think it unlikely that Randazza knew about this issue, and did not intend it thus. Update: Randazza clarifies in comments to Courtney that, indeed, he did not know.
The Goulash Analogy
Ellora's Cave nit picks minor possible factual inconsistencies, as a child might try to remove peas from goulash. However, even if a child despises peas, it does not make the goulash itself poisonous. Analysis of a defamation claim like this is like reasoning with the child who complains that because there are peas in the goulash, the goulash itself is inedible.
The goulash here is savory, even if the plaintiffs would prefer not to eat the peas.
Ohio Provides Better Protection than the First Amendment
While this is the national standard, Ohio law provides for more protection than the First Amendment demands. Under Ohio law, "the plaintiff must demonstrate, with convincing clarity, that the defendant published the defamatory statement either with actual knowledge that the statement was false, or with reckless disregard as to whether it was false."
Failure to Demonstrate Irreparable Harm
Plaintiffs claim that "[i]t is clear that Ellora's will suffer irreparable injury if Defendants are allowed to continue to publish the Blog Publication on the internet." Motion for Preliminary Injunction at 4. However, Plaintiffs provide nothing to support this. Irreparable harm requires a showing that there is an insufficient remedy at law. Furthermore, for the harm to be irreparable, there must be more than monetary damages. "The basis of injunctive relief in the federal courts has always been irreparable harm and inadequacy of legal remedies." Sampson v. Murray, 415 U.S. 61, 88 (1974). "A finding of irreparable harm is necessary before granting a preliminary injunction." Bettcher Indus. v. Bunzl USA, Inc., 692 F.Supp.2d 805, 822 (N.D.Ohio 2010).
This is news to me (remember, I'm not a lawyer), but it's fascinating. I'm guessing this has to do with one being a remedy at law and the other a remedy in equity.
So I looked it up on Wikipedia, and lo, apparently so. I'm a little rusty on this stuff, but at least I have good instincts.
In short: law remedies are things like monetary damages and equity remedies are things like injunctions or specific performance. "Inadequacy of legal remedies" in the quote above means that there isn't money that can make up for the damage that's caused.
In the Bluemile case cited below (which Randazza goes into more than I've quoted here), one company was impersonating another. There's no way the impersonator throwing money at the trademark holder is going to make up for the damage that's done. Therefore, it's irreparable (in the "can't be fixed with $" sense).
But EC presumably can monitor things like sales and royalties and know what's going on with them at every moment. Even if they don't monitor these things this closely, in theory they can. So, presumably, they can say, "well, this article cost $X in lost sales." And then, if defamation were proved to be the cause of those lost sales (which is not easy), then there's a remedy at law, so no remedy at equity is needed.
Now, if there were irreparable harm, that would need to be listed in the memorandum of law along with case law to support that. I have some ideas about what those kinds of things might include for EC, but it's not my job to aid EC's prosecution of its case—and a preliminary injunction wouldn't help in any case.
The Section Every Author Should Read
pp. 16-18 where it talks about the public interest aspects of Dear Author's blog, as well as the link to Author's Rights When a Publisher Files Bankruptcy.
The Bluemile Cite
My first reaction when I read this case was an audible, "What the fuck?!?"
When I wrote up my own response, I wrote:
In my opinion (though, again, IANAL and TINLA), there is no similarity, and the "strikingly similar" made me wonder what quality pharmaceuticals the esteemed esquire had access to. In Bluemile, there was a clear intent to confuse the trademark held by the plaintiff and siphon off their potential customers by the defendant with a confusing domain name (bluemile.net). The defendant's site was intended to be confusing.
Clearly, when someone's trying to siphon off your business by confusing your potential customers, monetary damages aren't enough.
Randazza covers this more deeply:
While Plaintiffs cite to Bluemile Inc. v. Yourcolo, LLC, in support of their Motion for Preliminary Injunction, the facts of that case are starkly different of the facts at hand. The only connection seems to be that a Preliminary Injunction was granted there and Plaintiffs are requesting one here.
Rick and I both laughed at that.
In Bluemile, the Southern District of Ohio confronted an intellectual property case and enjoined the defendant's use of the plaintiff's trademark, enjoined defendants from using a website confusingly similar to plaintiff's name, which then used that website to publish statements that were already determined to be defamatory. That case was premised on Lanham Act violations and trademark infringement, and the defamatory statements were merely an accessory to the Lanham Act violations. Trademark violations are more readily granted injunctive relief because the irreparable harm is presumed in such cases. Too, Inc. v. TJX Cos., 229 F.Supp.2d 825, 838 (S.D.Ohio 2002), Taubman Co. v. Webfeats, 319 F.3d 770, 778 (6th Cir. 2003).
Wait for it….
This is precisely the opposite of the law surrounding defamation.
Did you feel that slam dunk? I did. He goes on for another page and a half, too.
Standing
I remember studying jurisdiction until I was blue in the face, realizing I'd only begun to scratch the surface, but even I knew that the case had a problem with it.
Some of the comments Plaintiffs complain of specifically address Ms. Engler, who is not a party to this case. While Ms.[Litte's] statements regarding Ms. Engler are not defamatory, they are also irrelevant unless and until Plaintiffs bring Ms. Engler into this litigation as a plaintiff. Plaintiffs lack the requisite standing to complain on behalf of Ms. Engler. "Elements of standing are an indispensable part of a plaintiff's case." Bourke v. Carnahan, 163 Ohio App.3d 818 (10th Dist. 2005). The onus is on Plaintiffs to demonstrate that they have suffered an injury, which is causally related to the defendants' actions. Id. Plaintiffs are not entitled to recovery for statements made about individuals other than themselves. Statements about Ms. Engler's personal life are not statements about Ellora's Cave, and therefore, Plaintiffs lack the standing to sue over those statements.
Then, at the end of that section, Randazza adds:
If Ms. Engler wishes to join this case as a plaintiff, then the statements can be at issue. But, she is not here today, and she should not be permitted to litigate by proxy.
Bond, But Not James
Lastly, Plaintiffs have failed to offer up a bond, in violation of Fed. R. Civ. P. 65(C) and Ohio R. Civ. P. 65(C). Rule 65(C) requires the plaintiff post a bond, in order to ensure that damages may be accounted for, in the event the court later determines that the injunction was wrongly issued.
Per Randazza, it'd need to be a bond of at least $150,000.
Popcorn Good
I think the Internet is getting good popcorn value, here.
I've had this post sitting around for six weeks or so since I last modified it. About time to publish it, right? I was talking with a friend at dinner, then realized, "Gosh, if I'd published this post, she'd already know."
I really think New Adult Romance is the killer category for indie publishing. It's certainly one in which I've found a some great books, though several of those have been picked up by mainstream publishers after initial publication.
The basic romance formula is simple: two people (or, sometimes, more than two people) who have various obstacles that prevent them from having the One Great Relationship, who overcome those obstacles because the other person (or people) change them enough.
Not so easy to write, though.
Here's some I've loved.
Sarina Bowen, The Year We Fell Down
Linky link.
I picked this one up based on the DA review.
She's a varsity hockey player who's had a career-ending injury. He's a hockey player who fell off a climbing wall while he was drunk off his ass, and he's taking the year off to recover.
"Instead, we went into the hallway together in silence. But there, my reverie was broken by the sight of a guy hanging up a white board on the wall outside of his door. My first glimpse was of a very tight backside and muscled arms. He was attempting to tap a nail into the wall without letting his crutches fall to the ground. "Damn," he said under his breath as one of them toppled anyway.
And when he turned around, it was as if the sun had come out after a rainy day.
I really felt her frustrations, being that person who's often sitting in a corner at parties because I can't stand for very long. And yet, she doesn't let you feel sorry for her, because she mostly doesn't feel sorry for herself.
Most importantly, she never feels that she's not good enough for the guy in question (which is one of my pet peeve romance tropes). Meanwhile, he's still got this sucktastic relationship with a woman who needs a man with an expense account, and he knows he's not "good enough" for her. In fact, the reverse is true.
This one's still an indie book, and I want to add: it's one of the cleanest (copyediting-wise) I've seen from any publisher. Kudos.
Sarina Bowen, The Understatement of the Year
Linky link.
This is the third novel (fourth book) in the Ivy Years series. I really loved the second book also. The novella's fine, but this book is what really stands out of the later books in the series.
I'll just let her tell it:
Five years ago, Michael Graham betrayed the only person who ever really knew him. Since then, he's made an art of hiding his sexual preference from everyone. Including himself.
So it's a shock when his past strolls right into the Harkness College locker room, sporting a bag of hockey gear and the same slow smile that had always rendered Graham defenseless. For Graham, there is only one possible reaction: total, debilitating panic. With one loose word, the team's new left wing could destroy Graham's life as he knows it.
This book brought back what it was like to be the straight best friend of a young, closeted gay guy who was trying to navigate his sexual preference for the first time.
If I had to pick my favorite book of the year, so far the above two are tied. I've got quite a few on my shortlist, though.
Katy Evans, Real
Linky, link.
This one I found on the iBooks bestseller charts and downloaded a sample, and it's one of those that was picked up by a big publisher.
I don't normally like books about fighters because I'm really seriously not into the alpha men who fight for a living. Except in books, apparently.
"I dare you to look at him and tell me you wouldn't do anything for that man."
"I wouldn't do anything for that man," I instantly repeat, just to win.
"You're not looking!" she squeals. "Look at him. Look."
She grabs my face and swings my gaze in the direction of the ring, but I start laughing instead. Melanie loves men. Loves to sleep with them, stalk them, drool about them, and yet when she catches them, she can never really hold onto them. I, on the other hand, am not interested in getting involved with anyone.
Not when my romantic little sister, Nora, has had enough boyfriends, and drama, for both of us.
I stare up at the stage as the guy whips off the satin red robe with the word RIPTIDE on the back, and the spectators stand screaming and cheering as he slowly turns to acknowledge them all. His face is suddenly before me, illuminated by the lights, and I just stare like an idiot from my place. My god.
My.
God.
Dimples.
Dark scruffy jaw.
Boyish smile. Man's body.
Killer tan.
A shiver shoots down my spine as I helplessly drink in the entire package everyone else seems to be gaping at.
Remy's not neurotypical, and I loved the descriptions of the nuances of his character. I think once she labels it, it feels less real, so I'm glad that is very minimized. It's not "he's got X," it's all in his behavior.
There are aspects of this relationship that are troubling. Sure, she's got her dream job and he's got his, but the relationship is so tightly interwoven that it just feels like it can't help but being unhealthy. And yet, it shifts in the second book, which I'm now reading.
What I love, though, is that no one is giving up their careers. Unlike a lot of other romance books, their particular careers mesh.
After having read all the books now out, I'll add: they all three work, and the book from his POV (Remy) helps fill in the cracks.
Dear Author review.
Jay Crownover, Rule
Linky link.
I loved the first book, not as crazy about the subsequent books. Also wish there were a stronger command of language or, failing that, copyediting. Now that she's got a major publisher, one would hope there'd be a larger budget for that. (Update: I just read the fish book, Rowdy, and it didn't have the same problems.)
The characters, however, are broken in just the right ways. It's told from alternating first POV, which I personally like a lot when it's done well.
She's always been in love with him, but he goes through women the way some women go through Kleenex. He's always been interested in her, but believes she was the girlfriend of his twin who committed suicide—and therefore off limits.
"You're going to get all that junk that's in your hair all over my window." Her voice—all cigarettes and whiskey—didn't match the rest of her, which was all champagne and silk. I had always liked her voice; when we got along I could listen to her talk for hours.
"I'll get it detailed."
She snorted. I closed my eyes and crossed my arms over my chest. I was all set for a silent ride, but apparently she had things to say today, because as soon as she pulled the car onto the highway she turned the radio down and said my name. "Rule."
I turned my head slightly to the side and cracked open an eye. "Shaw." Her name was just as fancy as the rest of her.
Despite the fact that this is weaker in some respects than other books I'm listing, it was my gateway drug into new adult romance.
Kylie Scott, Lick
Linky link.
One of my sweet spots is a reader is rock 'n roll heroes.
It's a variant on the old "secret wedding" theme: in the book's opening, the heroine wakes up married. Hilarity ensues.
"Something winked at me from my left hand, snagging my attention. A ring, but not just any ring. An amazing ring, a stupendous one.
"Holy shit," I whispered.
It couldn't be real. It was so big it bordered on obscene. A stone that size would cost a fortune. I stared, bemused, turning my hand to catch the light. The band beneath was thick, solid, and the rock sure shone and sparkled like the real deal.
As if.
"Ah, yeah. About that …" he said, dark brows drawn down. He looked vaguely embarrassed by the ice rink on my finger. "If you still wanna change it for something smaller, that's okay with me. It is kinda big. I do get your point about that."
I couldn't shake the feeling I knew him from somewhere. Somewhere that wasn't last night or this morning or anything to do with the ridiculous beautiful ring on my finger.
"You bought me this?" I asked.
He nodded. "Last night at Cartier."
"Cartier?" My voice dropped to a whisper. "Huh."
Unlike many of the others, this one started out with a major publisher and was never self-published.
Dear Author review.
H. M. Ward, a metric ton of books
Linky link.
There's no easy way to say this other than be truthful: H. M. Ward writes my kind of crack. She could use a proofreader, though not as much as Crownover.
Ward's best known for the (currently) 16-volume (each novella length) Arrangement series, but there are side series that are related, too.
The Arrangement
Avery's a college student with an impossible work/courseload and too little money whose parents died in a car crash. She only has herself to rely on.
Sean's an incredibly rich (of course) guy who wants a certain kind of relationship. In the opening, someone steals Avery's car as she's trying to spray-start it. He helps her go after the thief, which is how they meet.
"Does your car always do that?" A pair of blue eyes meets mine and the floor of my stomach gives way. Damn, he's cute. No, not cute—he's hot.
"Get jacked? No, not always."
He smiles. There's a dusting of stubble on his cheeks. I can barely see it because of the helmet. He raises an eyebrow at me and asks, "This has happened before, hasn't it?"
More times than you'd think. Criminals are really stupid. "Let's just say, this isn't the first time I had to chase after the car."
Melony, Avery's closest friend, takes her for a job interview. Avery thinks it'll be for something like hotel clerk, but no, it's for becoming a call girl. The interviewer, Miss Black, shows Avery the photo of a new client. It's Sean.
Just one problem: Avery's still got her v-card. Will she? Won't she?
This series takes some incredibly wild-ass turns, and I loved it. Some of them I saw wind up like clockwork, and some surprised me. I can't wait until the whole thing's finished and I can re-read it from scratch.
The Secret Life of Trystan Scott
This is a five-part young adult story of Trystan Scott's high school years. It's set three years before The Arrangement. He has a pretty awful home life, but no one quite understands how broken he is. Fortunately, things improve for him. Eventually.
Trystan isn't a Ferro, but he later becomes a good friend of the family and appears in the later Arrangement books.
There will be a later Trystan Scott series contemporary with The Arrangement; the first volume is due out soon.
Scandalous
Scandalous is a two-volume book that's not Ferro, but is mentioned in the Ferro series. He's an artist who paints nudes. She got away from him and has been a preacher. She becomes his muse. Nice inherent conflict. Really loved it.
The Proposition
After her father dies suddenly, college student Hallie writes a torrid erotic novel about the love she lost: Bryan Ferro, the man she loved, lost, and never told anyone about. Catch is, she's now with Neil, who's just Mr. Blah, and fears that other people will think the novel's about his relationship with Hallie.
The novel has attracted enough buzz that seven-figure offers are coming in, so Neil's tune starts to change.
Bryan, however, hasn't forgotten Hallie, and shows up in her life. Only he's got secrets of his own.
Secrets & Lies
The first of this seven-part series is out.
Kerry's luck is hilariously bad, from accidentally winding up with a school bus to having her possessions shipped accidentally to Guam. She's also wound up suckered into nude modeling, and, well, her one-night stand blows her off.
Until he doesn't.
Nathan is trailing me and smiling that cocky grin that guys wear when a woman shoots them down. He mirrors my pose, which makes his arms look lickable. "Exactly what part of Hell has to freeze over before you give me another try? The foyer? The basement?"
I don't want to laugh, but the idea of Hell having a basement is funny. I get a picture in my head of an old guy burying bodies at the bottom of a staircase, next to a creepy furnace. It amuses me. "Level nine, ya know, the basement."
He presses his hand to his heart. "That's a long ways down."
"Yes, but the fall was fast. I bet you hit your ass on the way down."
Damaged
Sean's younger brother Peter has given up the Ferro family fortune and the strings that attach it, and gone and gotten himself a professorship. Sidney has been a grad student and finally agrees to a blind date set up by a friend, only she sees Peter on the way in and thinks that's her blind date.
Her actual blind date is an amazing jerk, so Sidney dumps him. She heads to the parking lot, and hot guy is out there. His car won't start.
"He watches me as I try to crank the engine. It doesn't start. I look at the little gauges and notice the battery. He's standing next to me now. "So, you're a mechanic?"
I shake my head, "I just pretend to be. It makes for more interesting evenings." I grin at him, not sure what's come over me.
One of the things I like about H. M. Ward's women: they're not stereotypical.
Stripped
Black sheep of the Ferro family Jon—who until now has been known for banging his father's endless series of younger mistresses—discovers that his long-lost love is working in a strip club. The one who got away was Cassie. The story slips between the narrative past, when they met, and the narrative present, when they meet again.
Jonathan trails behind me. "You're the first chick who's shot me down."
"Good, then maybe you'll learn something."
Jonathan stops walking for a second and then races after me. "I'm sorry, I didn't realize you were trying to teach me a lesson." The infuriating smirk on his lips is still there, bright and beautiful. "You see, I was distracted by your perfectly sinful body. My brain actually exploded back there when you said you only use it for good, which isn't good at all, since that makes you off limits."
I'm smiling, and trying to suppress the grin, but I can't help it. I reach into my purse and pull out a Kleenex. I hold it over my shoulder for him. "Here's a tissue, go clean it up."
The Wedding Contract
The rare one-volume piece from Ward. It's a fun read about rival wedding photographers Nick Ferro and Sky, and draws from Ward's time in the trenches in the wedding industry.
Suggested Reading Order for Ferro Books
Courtesy of the Ferroholics on facebook.
SIMPLIFIED READING ORDER
Scandalous 1 & 2 (not Ferro : mentioned in Stripped)
The Secret Life of Trystan Scott 1 – 5 (Not Ferro: becomes character in Ferro books)
The Arrangement 1 – 6
Damaged 1 & 2
The Arrangement 7 – 11
Stripped
The Proposition 1 – 4
The Arrangement 12 – 14
The Proposition 5
The Arrangement 15 -16
The Wedding Contract
Secrets and Lies 1
Second Chances (Not Ferro: there's a brief Ferro cameo)
Secrets
Five-book set that's finished. Anna's a photographer who plans to deliberately blow a job interview with Cole so she can work at a different studio instead. He's cleverer than she is and hires her anyway.
Since my teenage years, I've mostly been a science fiction and fantasy reader. I've made several strafing runs through the romance genre through the years. However, like mystery, I'd historically found that it wasn't a genre I could write.
There are reasons for my issues with romance in particular, many of them having to do with where romance was as a genre at the time. See: The TL;DR Erotic Romance Edition post from Love in the Margins.
After I'd written the first draft of my first (fantasy) novel, though, a project landed on my lap. Would I write porn (meaning the kinds of novels you buy in adult bookstores along with your sex toys) for money?
I'd left Scientology, I was no longer putting up with their puritanical bullshit, and I needed the income. So I pulled out my handy typewriter—yes, you heard me correctly—and wanked out a 35k book every six weeks for eighteen months straight. Well, not entirely straight. 😉
It was good money. I wasn't overly proud of my work, but it was functional. If I ever read those fuckers again, I'd probably take to drinking. Let's put it this way: I've learned a ton about writing in the interim.
I'd tried to read romance before, during, and after this period, but I just couldn't handle the coy sex scenes with "his throbbing member" and that the sex scene had to be all metaphorical and at the end. Plus the endless "cut to black," and the emphasis on pregnancy. Look, pregnancy and I don't get along. Never did.
I discovered that I could enjoy writing sex scenes about bedroom scenes that weren't my thing. And thanks to writers like Mercedes Lackey, I discovered that I could enjoy reading m/m sex scenes though obviously I wasn't going to be having any of that.
In short, I'm more diverse as a reader and writer than I am in personal experience, and that's okay.
So in 2009, I was having a bad time at life. It's not my story to tell, but I wound up seeing the Twilight movie almost every day for a couple of months as a way to decompress from all the awful. I wrote this post about the book vs. the movie because I was interested in the differences as a writer.
Also in that time, I managed to write a vampire comedy erotic novel that I figured had no market anywhere. ## Say What?
I know, right?
Because, you see, I really had no idea what the market for romance was like. I'd never read erotic romance, didn't know it was a thing, didn't know it was my thing, and just had no clue that there was an active and thriving market. Throbbing, even.
Never heard of Ellora's Cave.
To me, it sounded like my book had "too many adjectives" and was in too obscure a subgenre.
I wrote the book longhand in fountain pen, using a different color of ink every day I wrote. I had a lot of fun with it, but I was writing for fun. I wrote it out of order (and I'm a pantser), so it's a hot mess. I have all but one 5k excerpt in Scrivener now, though. That other 5k is in a notebook. Somewhere.
Skip forward a year-ish, I search on "vampire" in Fictionwise (remember Fictionwise?) and found Mary Hughes's book, Biting Me Softly. Which is, I note, vampire erotic comedy.
All the dots lined up in my brain, but other shit was kicking me in life, so I didn't have the mental space to cope. I read the other books in the Biting series, but didn't really venture forth into reading or writing romance.
And then Nanowrimo Came
Fast forward to Nanowrimo 2012. I started a different novel, but then got an idea for a romance fanfic. So I started writing it and posting my first drafts. Which are first drafty, but I enjoyed the hell out of it. I'd post a chapter at night before going to bed and I'd have fan mail in the morning. It's completely awesomesauce.
The other thing: as a new writer, I'd accepted all this bullshit about what writers should and shouldn't do, but a lot of that was science fiction specific. So writing a different genre was like finally getting out of the straightjacket I hadn't realized I was wearing. If you feel stuck, maybe trying a different genre or length will help.
Four months later, I was still having a good time.
So I thought, maybe I should see what the market was like.
Since I'd bought Samhain books before, I stuck with them. I searched through their site a few ways and read some samples. I read a few other authors. (I remember tripping and falling while out on a walk one day because I was reading Maya Banks. I became terrified I'd break my Steve Jobs autographed iPad.)
For those of you who've read her books, I bet you're completely unsurprised to find that Vivi Andrews is one of my favorite writers. Humorous paranormal is one of my sweet spots.
Soon I found I was hunting the forthcoming books from Samhain. Every. Week.
I started keeping track of authors I liked (and didn't like), tropes I did and didn't like (not big on the secret baby trope).
I branched out to other publishers, too. From Samhain's Lauren Gallagher titles, I followed her across to her L. A. Witt titles, discovering Riptide. I started perusing bestseller lists, and found Jay Crownover. A literary agent I like recommended Tiffany Reisz. A fan of my fanfic recommended Jenny Trout.
Still hadn't heard of Ellora's Cave.
It was my branching out, reading further markets, where I first found them, then bought some backlist titles from my favorite authors. In all but the case of a several-book series, I preferred their non-EC titles.
Dear Author
For about the last year, I'd been following Dear Author on Twitter, occasionally reading posts linked from tweets. When Jane Litte posted a review in August for Sarina Bowen's The Year We Fell Down, I immediately went and read the book based on her review.
It's funny how someone recommending a favorite book to you can shift how you feel about them. Right now, that title (or perhaps a later book in the series, The Understatement of the Year) is my favorite book so far this year. Which, Understatement has just been released and it's worth reading. ::plug::
I went to grad school with a lot of romance writers, but I've never felt truly a part of the romance community until now. So, thank you all.
I still read and write science fiction and fantasy, and still feel it's my primary genre.
In other news
I still fucking hate the verb "lave." Just thought you should know.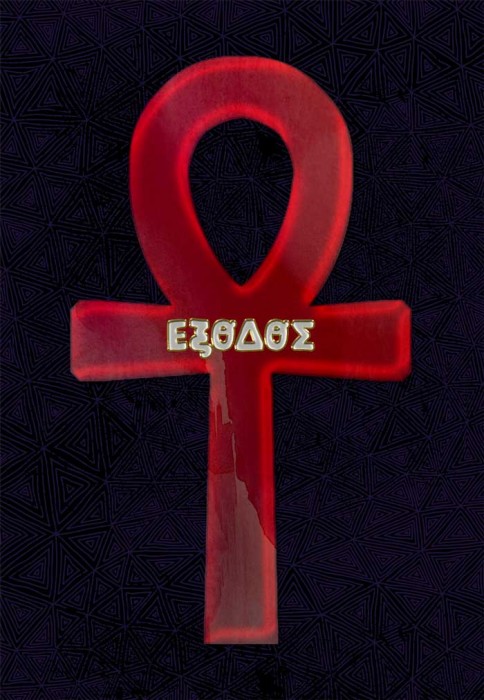 Quite the round of updates this morning. Probably because I slept so late. (Which, given my post yesterday, is a good change.)
Dear Author and the Temporary Injunction Hearing
A TRO was not granted today, but there will be another hearing on it. Jane makes the following request:
Therefore, If you are willing, I need help with the following:
Individual authors, editors, cover artists willing to testify, either in person, via telephone or in an affidavit to payments made/not made.
It would be best if you could testify in person, but a sworn written statement will be adequate.
Additionally, if you have any Screenshots of any public statements regarding Ellora's Cave, those would be helpful too.
You can reach me at jane@dearauthor.com.
Courtney Milan on Confidentiality Clauses
Courtney Milan has a great post on confidentiality clauses here. She's also offered to help find representation for people who wish to speak up but are afraid to because of the confidentiality clause.
But there is one thing that I know for sure–silence breeds fear. And no matter how broad the confidentiality clause is, there are some things that it can't prevent you from saying. So if you're an Ellora's cave author, editor, or cover-artist, and you would speak up but you're afraid, say that much. Go on twitter. Post it on your blog or your Facebook page. "I'm an Ellora's Cave author, and I'm afraid to speak up."
I want to talk about this for a minute. Fifteen years ago, I was in a pre-IPO startup with a culture of silence and fear. Two years ago, I finally wrote about it. I was only able to write about it as a fable, thirteen years after it happened. Here's another side of the story. I am $COLLEAGUE in this telling—and I've never said that publicly before. The stress cost me a hospital stay with a kidney infection.
So: I get it. It's one of the reasons I want to help provide support.
If you are willing to state that you're an EC author afraid to speak out, and have non-EC titles to promote, I'll add you to the Ellora's Cave Author Exodus Support Thread.
The Flush Pile
The advice I was given by a number of senior writers back when I was learning the ropes was: money in hand is important, but reversion clauses are a critical negotiating point that may, in the long run, be even more important.
Carolyn Jewel's post The Flush Pile – An Author's Perspective is one of the single best posts I've ever seen about the business of writing from the school of hard knocks. You should read it, engrave it onto copper plates, and frame that sucker. Okay, I exaggerate. A tidge.
Do not assume a publisher has an interest in your book selling well. They should, but they don't. Their interest is in seeing which books unexpectedly hit. That's it. If it's not you, you're screwed.
Gulp. Welcome to the post-Kindle world of publishing.
Is Your Copyright Registered? Are You an RWA Member? SFWA Member?
I added three important updates to the Ellora's Cave Author Exodus Support Thread. that you may have missed.
First, several EC authors have said their copyrights were not registered. This link allows you to check if yours was.
If you're an RWA member or SFWA member and are having trouble with Ellora's Cave, there are links to grievance processes. I don't know much about RWA's, but in the years I was a SFWA member, I know SFWA's was pretty awesome.
For the EC Authors Who Haven't Had Problems
There's no universal experience with Ellora's Cave. Some have had problems, some have not. Some have questioned their royalty accounting, and others believe it's fine.
In short, some people have had absolutely great experiences with Ellora's Cave, and other's haven't. Please don't assume that others have the same experience you have, and be gentle with the people who can't quite believe what's happening because their own experience is so much more positive.
The people who could wind up being the most hurt—and not just financially—are the ones Ellora's Cave has protected the most: their best-selling authors. They've had incentive to ensure that these authors have had premium experiences, possibly at the expense of those in the long tail. And with (if I counted accurately) 934 active authors, there's quite a long tail.
It's hard to want to ask for reversions when your experience has been strong, even if some of your titles aren't selling well. It's hard to want to go with another publisher for some work when you've had an ongoing relationship. However, this leads to having all your eggs in one basket, which can go fabulously well or fabulously poorly, depending.
So here's what I'd suggest for authors who are in this boat—or, really, any author.
Build your email list. If you don't already have one, start now.
Work on your marketing. If you don't have a strategy, Tim Grahl at Out:think Group has a free 30-day course that may help you.
Best of luck to you. Really.
A Question About Discovery
IANAL and TINLA, but….
As I mentioned before, there are some suspicions of hinky royalty accounting. Others have stated their non-EC titles didn't have the precipitous drop.
So, my question: doesn't the nature of this lawsuit mean that Amazon can be subpoenaed for the royalties for titles?
A Pithy Thought
You can't build trust with your entirely pseudonymous author list by outing the real name of a pseudonymous blogger.
Last, But Not Least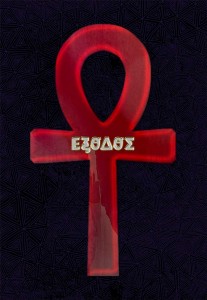 You probably saw the image up at the top. It's free for you to use. There's a smaller version just above, also free for you to use. The characters, ΕΞΟΔΟΣ, literally mean "exit" (or "going out") in Greek. Of course, it's also where the name of the second book of the Bible, Exodus, comes from. I admit I wasn't thinking about the deeper historical meaning of the Israelites leaving slavery in Egypt, and I mean no disrespect in using the term. The ankh, well, that symbol's all over Ellora's Cave's site.
I've made several products on Redbubble, and here's the plan. Several of you may wish to speak out. Several EC authors have said that they are quite poor. Thus, for them, calling in testimony in Dear Author's case may be prohibitively expensive for them.
I'll make 75% of my royalty on these items (10-20%, depending on the item) available for people for whom it would be prohibitively expensive to speak out. Every month when I get my royalty statement, I'll update how much is available below. I don't expect it'll be much, though, based on past experience.
Here's a 100% detail of the background on the non-clothing items: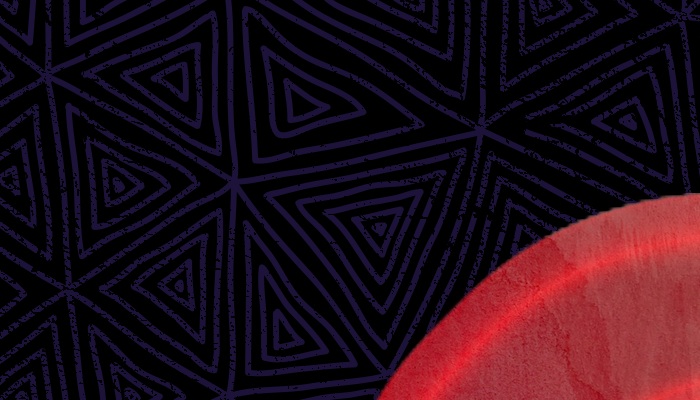 Cat Grant asked troubled erotic romance publisher Ellora's Cave for rights reversion on three titles. She got an answer: two thousand dollars.
Over on Absolute Write, poster junierob said: > That is on the low end of what other authors have been told–by a lot. I wonder if they were more reasonable with her because they knew she'd post it publicly.
After that, Cat thought about it, then decided to give away her three Ellora's Cave titles for free.
No, I'm not kidding. I would rather give these books away than see EC make another penny's worth of profit from them.
I'm tired of being told to "sit down, shut up & do what we say or we'll sue you."
So go ahead, EC. Sue me. I double dog dare you.
Author Tymber Dalton commented:
If they try to sue you, that means they will be forced to go through the discovery process, which is something I sincerely doubt they want made public. If they were smart they'd simply revert your rights.
Exactly so. As I pointed out in my prior post on Ellora's Cave, EC refused to produce documents about their business records when sued by one of the owners of the company for her share of the profits. There's no way they'd open up their books for an author, even in court.
Cat got a lot of support for her move, and speaks out more in a later post:
I don't have a "day job" to fall back on. I'm a disabled widow who's been writing full-time since 2008. I have a back list 30-odd books strong. This year alone I've had six releases, with another two, possibly three, in the pipeline. Not as prolific as some, but I'm not exactly lazing around the house all day doing nothing, either.
I have to admit that, uh, I have several Cat Grant titles, but I haven't yet gotten around to reading them. So I can't personally recommend her work, but I found her through her co-author, L. A. Witt, who happens to be one of my favorite erotic romance writers. I'm just still catching up on Witt's titles, and thus the purchased-but-as-yet-unread co-authored titles with Grant. (It's not personal, I'm about 40 Witt books behind still, having discovered her only last year.)
In addition to Ellora's Cave, Cat Grant is published through Samhain, Riptide, and others, including quite a few self-published titles.
Anyhow, if you've never read any male/male erotic romance, and might be interested, consider giving Cat Grant a try. If the titles she's giving away aren't of interest, please consider at least reading a sample of one of her other books.
Meanwhile, Ellora's Cave owner Jaid Black/Tina Engler posted this classy photo as her facebook profile pic.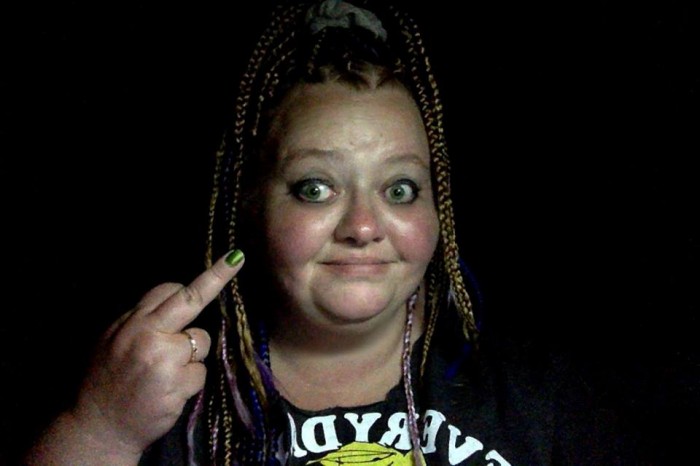 Everyone in science fiction knows romance novel covers are awful, right?
And *Fifty Shades of Grey* is a lurid book that can't possibly have an understated, tasteful cover, right? Because that's not the kind of book it is. Well, okay, it has a tie on the cover, and it's a, well, I don't know what the hell to call it, frankly. [Jenny Trout has a whole bunch of points about why it shouldn't be called a romance novel, nor BDSM, nor whatever](http://jennytrout.com/?page_id=5720), so I'll just link to her site and back away slowly. In terms of marketing categories, though, *erotica* or *erotic romance*. (Yes, they are different, and they are also different from the marketing categories of both *porn* and *sexy romance*.)
[![fsog](/images/2014/02/fsog.png)](/images/2014/02/fsog.png)
[![twilightcover](/images/2014/02/twilightcover.jpg)](/images/2014/02/twilightcover.jpg)
Why, *50 Shades* started out as fanfic of *Twilight*. But the cover on that can't actually be too horribly awful (right?), given that Bella and Edward both retain their v-card throughout the duration of not one, not two, but three volumes of this saga. So it has an apple and vampires don't eat apples. Mmmkay. But it is about temptation, though most of the temptation is on Edward's side, and that's only ever chronicled in a [partially-completed manuscript, *Midnight Sun* told from his POV](http://stepheniemeyer.com/pdf/midnightsun_partial_draft4.pdf), rather than *Twilight*, which is told from Bella's.
So now that I've basically admitted to reading all the *Twilight* books and none of E L James's, how about some other covers? I remember someone recommending *Outlander* once upon a time. I randomly opened it, happened to be on a sex scene, and I backed away slowly. It's one of those where I really kinda wish I cared about it. I've tried to break into it a couple of times and it's never quite caught for me. There sure are a lot of people who love it, though. [Like Pam.](http://instagram.com/p/kP1x29nAKZ/)
[![Outlander-blue-cover-198x300](/images/2014/02/Outlander-blue-cover-198x300.jpg)](/images/2014/02/Outlander-blue-cover-198x300.jpg)
[![the-siren](/images/2014/02/the-siren.jpg)](/images/2014/02/the-siren.jpg)
An oft-recommended book was Tiffany Reisz's *The Siren*, which is a complex series to explain. There are a ton of interrelationships (possibly the only thing more complex than Torchwood as far as who has/had slept with whom), and a ton of plot threads. I read the four-book series over Christmas week. I bring this one up because it is the most overtly sexual cover on her four books. Yet, it's still quite understated, especially given the content of the book. As far as content: Nora's a dominatrix on the side and an erotica writer by day. She's got a difficult relationship with an editor who starts out hating everything she stands for. She's got a live-in assistant who's a 19-year-old virgin. (As Rick put it, "that's just stunt casting.") And then there's the ex, but that would be a spoiler.
Are all romance covers like those above?
No. They are not.
Let's go back to last year, about a claim Mike Resnick made that I'm disappointed that no one called him on.
Here's what Resnick said (click for pic of text, quoted below)
And a lot of it abounded in bare, raw, pulsating flesh, totally naked from the neck to the navel. No question about it. It's there for anyone to see—and of course, since such displays seem to offend some of our members, to picket.
You know where I found it?
In the romance section. I'd say that just about every other cover shows a man's bare torso, lean and muscular, usually with a few more abs than Nature tends to provide. The man's head is rarely portrayed. Clearly these are erotic covers, designed to get a certain readership's pulse pounding.
Personally, I'd love to see pulsating flesh on a book cover—at least the first few times. Never have. That would be science fictional.
Last year, I posted a screencap of 25 (I said 30 yesterday and was wondering why the math didn't add up) covers that was sort of a side commentary to the SFWA Bulletin issue. I don't mind admitting I read erotic romance, nor do I mind admitting that I write the stuff. Part of the reason I've read so much was to get a sense of the market.
I've gone and made a current screencap, too.
In both cases, there's no censorship about what I've read. These are, in order (most recent in upper left, oldest in lower right), the last 25 titles I'd read in the erotic romance genre in both pics. The only thing I've done is filter out the non-romance titles I'd read.
Itemizing Resnick's points:
Covers with men.
Who are totally naked from the neck to the navel.
Man's bare torso […] usually with a few more abs than Nature tends to provide.
The man's head is rarely portrayed. (How many covers without heads?)
How many covers with men who are naked, frontal, and without heads?
Difference is? This new batch of covers is infected with teh gay as several are M/M books or have M/M subplots. More men, therefore more likely to meet Resnick's criteria, right?
So, here's 25 books from last year.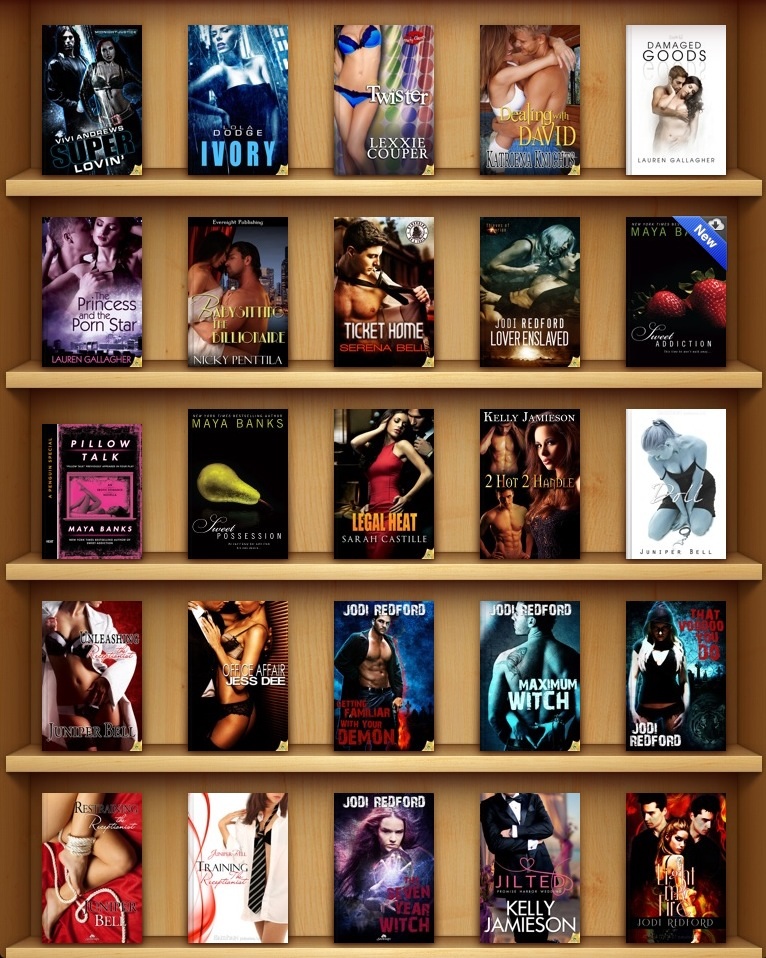 Here's 25 books from this year, ~8 months later. Four of the 25 are solely M/M, and two (Tiffany Reisz's) have M/M subplots with concomitant sex scenes.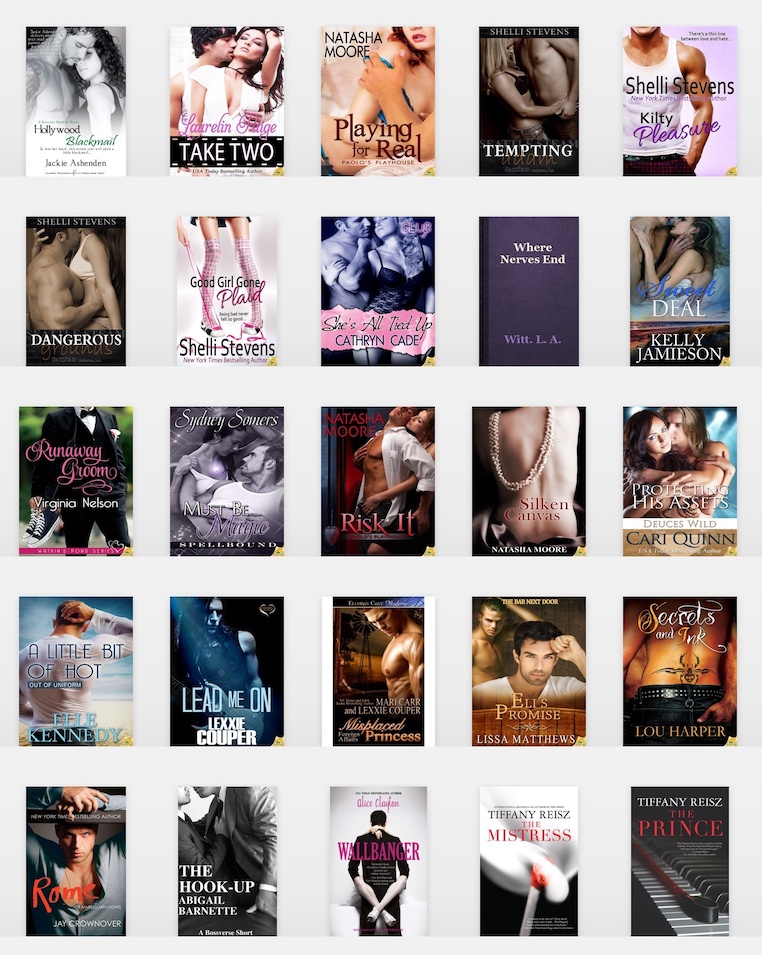 Note: the cover for Where Nerves End got lost somewhere in the ether, but here it is for reference.
Covers with men. 2013: 13 (52%), 2014: 20 (80%)
Who are totally naked from neck to navel. 2013: 4 (16%), 2014: 9 (32%), though 3 of those are M/M.
Frontal enough naked neck-to-navel such that one can see excess abs. 2013: 1, 2014: 1. (Tempting Adam has a frontal cover, but his abs are within the realm of normal.)
Headless men (I counted them as headless if you couldn't see most of the face). 2013: 2, 2014: 8
Frontal headless men. 2013: 0, 2014: 0.
Lest you think my taste is different than the reality of the market as a whole, here's a curated list that's a combination of Amazon sales and Goodreads reviews. Scan down the first 100 covers on the first page and tell me the results are significantly different.
Let's be clear here: several of the books I read (two from Maya Banks, two from Natasha Moore, one from Cathryn Cade) focus around sex clubs, and a sex club forms part of the plot unifying Tiffany Reisz's series.
Even those covers are less lurid than the SFWA Bulletin cover for Issue 200.
Just sayin'.
As if all that weren't enough, this Mary Sue post nails it.
I call bullshit on Resnick's alleged experiment.
Link: Silvia Moreno-Garcia nails it.