Chuck Wendig has the first PSA. Note: much swearing.
What I think annoys me most of all about this whole debacle is the implication that nude photos are okay to steal.
I've seen this link about how women fare in performance reviews going around, and people have been focusing on the fact that women get tone policed.
What I haven't seen mentioned: women score more negatively in performance reviews in all ways.
58.9% of men's reviews contained critical feedback, while an overwhelming 87.9% of the reviews received by women did.
This ties into raises, bonuses, and promotions, obviously.
For what it's worth, I don't recall ever being called abrasive in a performance review.
Delia Derbyshire wrote some of, and played all of, one of the most famous—and earliest widely-known—pieces of electronic music ever. Not only that, she did so before the advent of the first commercially-available synthesizer.
(Brian Hodgson composed the tardis sound.)
She was a kid in Coventry during WW2, hearing all the weird and haunting sounds of air raids and all-clear signals.
Decca Records told her that they did not employ women in their recording studios. So she joined the BBC. Delia said, "I was told in no uncertain terms that the BBC does not employ composers."
Seeing the footage about her contributions to the Doctor Who theme was really the highlight of the Doctor Who Experience. As a Torchwood fan (and not really a Doctor Who fan), I felt left out for the most part.
There's a great page about the history of the theme song.
On first hearing it Grainer was tickled pink: "Did I really write this?" he asked. "Most of it," replied Derbyshire.
Yet, even though Grainer wanted Derbyshire to receive credit and a share of the royalties, it didn't happen that way due to BBC red tape (no doubt assisted by the fact that Delia was female). Thus, she became uncredited and without royalties for something that has been heard by millions of people.
Bitter, she left the industry, became an alcoholic, and later developed breast cancer. Though she did get back into electronic music in the 90s, toward the end of her life, she died of kidney failure in 2001.
I find it curious that the BBC created an exhibit for her in the Doctor Who Experience—but still never managed to correct the credits or royalty situation.
If you'd like to learn more about her, here's a bunch of YouTube links, but you probably want to start with Sculptress of Sound
Her name was Delia Derbyshire, and she loved listening to thunderstorms.
Natalie Luhrs has the linkfest about the fallout from Jim Frenkel's appearance at this year's Wiscon after last year's harassment complaints that went, well, apparently nowhere.
I know a lot of bay area locals go to Wiscon, and that's had quite the ironic problem set, recently. I typically haven't gone because I'd rather go to a local con and spend my travel $ elsewhere.
Here's a review of this year's BayCon by Carrie Sessarego of SBTB. I was delighted to be on panels with her. She's thoughtful and smart, and extremely well-read.
So, just a thought: come to BayCon next year. The theme is Women of Wonder.
Elizabeth Spiers's article about the magazine and its founder Shanley Kane has a great quote relevant to the art vs. artist debate of yore:
But important work gets done every day by flawed people, sometimes even by assholes. No one should be more aware of that than people who work in the tech industry, where many of the vaunted innovators and revolutionaries were not warm, fuzzy people. Ultimately, they're judged by their work.
If you're in tech—or interested in tech or diversity issues in tech—Model View Culture is a superb magazine that has no analog.
It talks about how perks can divide people. Been there, done that. Especially when you're at some doughnut event and they've forgotten to cater to the vegan and the celiac. Again.
Going Beyond Assholes
When I made the Traitor to the Mens t-shirts, I got a note about American Apparel. I'd known about the sexist advertising, but not about how awful the CEO was (he's still awful, he's just gotten resigned). Their shirts being produced in the US was important to me for various reasons, including knowing that labor standards and business practices were, at least in theory, up to US standards.
This human slavery story comes out of Thailand's shrimp industry.
And this story about Scientology's drydock bill also has, at its heart, human slavery. In short, Curaçao's drydock was using slave labor from Cuba, people Cuba sent over to do work to pay down Cuba's drydock bill. They worked under horrific conditions. (The electrocution story reminds me of the tale of Kendrick Moxon, one of Scientology's attorneys, and his Sea Org daughter who died of electrocution.)
One of my concerns is knowing that I'm doing less harm, and that means knowing more about where things come from and how they're produced/delivered. And sometimes, there's a bunch of crappy choices.
You might think that t-shirt made in Nicaragua or Honduras is better because it's not made by American Apparel.
You know what? Nicaragua has an appalling lack of infrastructure. Many Nicaraguans work part of the year in Costa Rica due to lack of opportunity. As our tour guide said:
We cannot even bag plantains.
So imagine, if you will, given that they don't have the factory capability to bag plantains, how it is that they're able to make t-shirts for shirt.woot (among others) but can't even bag plantains, one of their major crops.
Nicaragua's the only country I've been to where the TV's world weather pointedly excludes the US and Canada from its list of world cities. They are angry with us and, frankly, they have good reason to be.
It's not that I don't want to do business with Nicaragua. To the contrary. I've been there twice (short trips, granted). It's just that, given what I know, I don't inherently trust that any business has manufacturing in Nicaragua has Nicaraguan infrastructure interests as a design goal.
As Rick has pointed out more than once, "How do you know the company you're not boycotting isn't worse?"
Like, you know, Nestlé, and its chairman, Peter Brabeck-Letmathe, who doesn't believe human beings have a right to water. Corporations buying up water rights in poor countries is an enormous global human rights issue.
Here, have a list of Nestlé brands for your boycott needs. I'm happy to say that none of my regular brands are on that list. \o/
Sometimes, I think we lose sight of the bigger picture because some bad things in front of us seem like the "worst thing ever." They're bad, but there are worse things, and I think we need to keep perspective on that.
The Response on the Delany/NAMBLA Stuff Wasn't What I Expected
No comments on my post, and few on Will's. None on the LJ repost. None on Tumblr.
Apart from a few people, mostly not in sf/f, being horrified, mostly on facebook.
I get this tweet:
@deirdresm i wish you wouldn't promote WS. he's a doxxer, racist sexist abuser, and has hurt a lot of victims of abuse.

— Ann Somerville (@ann_somerville) July 11, 2014
…which leads to a long conversation ending in…
@Cecily_Kane @deirdresm forget it. she's not interested unless it's her hobby horse. other victims can go fish

— Ann Somerville (@ann_somerville) July 12, 2014
Hobby. Horse.
Let me pull a quote out from Samuel Delany's writing about sex with children:
Finally a composite score is reached, and the "seriousness" of the infraction judged accordingly. The consent of a seven-, eight-, or nine-year old is not the same thing as the consent of a seventeen- or eighteen-year old. And the "consent" of a three, four, and five year old means much less—especially if it's negative. But it must count for something, otherwise you are just saying the child is not human and has no feelings or agency whatsoever—which, in itself, is abusive and counter-intuitive. And, I would maintain, immoral when another possibility presents itself.
Delany's commented on Will's post. He stands by what he wrote.
Is that really okay with everyone?
Because when I said no, I was raped. Conceding to the assault (rather than fighting) kept me out of the hospital. #YesAllWomen

— Deirdre Saoirse Moen (@deirdresm) May 27, 2014
Later, found out my rapist had raped someone else. She fought. I hadn't seen her (before my attack) because of cracked ribs. #YesAllWomen

— Deirdre Saoirse Moen (@deirdresm) May 27, 2014
Being asked in a job interview, "Are you related to Rick Moen?" Froze, because I knew any real answer would cost me the job. #YesAllWomen

— Deirdre Saoirse Moen (@deirdresm) May 27, 2014
Context on that last: they were Daniel J. Bernstein fans, and he has issues with my husband. My relatives should not be factored into whether or not I get a job. It was an illegal question, and I'll call out the company: IronPort.
Re: http://t.co/RpaQ14w81p I did not get the job. Being related (or married) to someone should not be a factor in hiring. #YesAllWomen

— Deirdre Saoirse Moen (@deirdresm) May 27, 2014
Knowing that posting a critique of (likely unintentional) sexism of a company's site would cost me jobs. http://t.co/ugWOe9CEZb #YesAllWomen

— Deirdre Saoirse Moen (@deirdresm) May 27, 2014
As a handicapped female employee, I feared speaking out about Apple while I worked there. http://t.co/piPGnruAEy #YesAllWomen

— Deirdre Saoirse Moen (@deirdresm) May 27, 2014
Being asked in an interview, "How do you feel about working on a team of all men?" Used to it, I'm a programmer. #YesAllWomen

— Deirdre Saoirse Moen (@deirdresm) May 27, 2014
Being offered a lesser job that paid half as much because I'm female. http://t.co/igFR6ABTlX #YesAllWomen

— Deirdre Saoirse Moen (@deirdresm) May 27, 2014
Trying to walk home from a pub at night and being pursued by a guy in a car who wanted sex favors. No cell phones then. #YesAllWomen

— Deirdre Saoirse Moen (@deirdresm) May 27, 2014
Turning down the advances of the too-eager guy in the social group. Later find out he's gotten a criminal record for creeping. #YesAllWomen

— Deirdre Saoirse Moen (@deirdresm) May 27, 2014
Being on a team of 38 people and the only female software engineer (of ~30). #YesAllWomen

— Deirdre Saoirse Moen (@deirdresm) May 27, 2014
Feeling like a software engineering team is overwhelmingly female. After counting, you realize it's still only a third. #YesAllWomen

— Deirdre Saoirse Moen (@deirdresm) May 27, 2014
To be ignored in deference to my husband all around the world (I've visited 91 countries). #YesAllWomen

— Deirdre Saoirse Moen (@deirdresm) May 27, 2014
Seeing a line of women in front of a store in Taroudant, Morocco. Écrivan Publique. Scribe. Insufficient education for women. #YesAllWomen

— Deirdre Saoirse Moen (@deirdresm) May 27, 2014
Enrolling in wood shop & was asked why a woman would want to take shop. I'd already made bushings for fighter aircraft. #YesAllWomen

— Deirdre Saoirse Moen (@deirdresm) May 27, 2014
Being told that women couldn't possibly be good software engineers. I'd already had code (and an experiment) run in space. #YesAllWomen

— Deirdre Saoirse Moen (@deirdresm) May 27, 2014
Best friend was locked out from her apartment when her boyfriend had a hooker in there. #YesAllWomen

— Deirdre Saoirse Moen (@deirdresm) May 27, 2014
Being told I couldn't take more advanced math in school because there was no one to teach the next level next year. #YesAllWomen

— Deirdre Saoirse Moen (@deirdresm) May 27, 2014
Would a boy have gotten the same response?
Being told that I was "too fat" when in fact I had so little body fat that I was anorexic. #YesAllWomen

— Deirdre Saoirse Moen (@deirdresm) May 27, 2014
Because my husband (then bf) felt safe walking around his old neighborhood at night; I didn't. Too many drunk people clubbing. #YesAllWomen

— Deirdre Saoirse Moen (@deirdresm) May 27, 2014
Because someone revealed in an interview that I was interesting because I'd fill a quota. Not because of my skills. #YesAllWomen

— Deirdre Saoirse Moen (@deirdresm) May 27, 2014
Asking about parenting plans are illegal, but being asked interview questions that danced around my plans for time off. #YesAllWomen

— Deirdre Saoirse Moen (@deirdresm) May 27, 2014
Hearing from a recruiter, time and time again, over decades, that a company hired a man instead of you. #YesAllWomen

— Deirdre Saoirse Moen (@deirdresm) May 27, 2014
Forgot the one that's plagued me the most! Told over & over that men don't like smart women. For my safety, I should play dumb. #YesAllWomen

— Deirdre Saoirse Moen (@deirdresm) May 27, 2014
Oh yeah. reporting harassment. I have a story about that, too. http://t.co/13jqUps7pE #YesAllWomen

— Deirdre Saoirse Moen (@deirdresm) May 27, 2014
Rick and I didn't believe that a man we knew slightly killed his wife. Hans Reiser is a murderer. https://t.co/Zp5sRvlCsi #YesAllWomen

— Deirdre Saoirse Moen (@deirdresm) May 27, 2014
Some other tweets I retweeted:
For every rape of a WW, 5 go unreported. For BW, the ratio is 1:15. #YesALLWomen #YesALLWhiteWomen

— Jenn M. Jackson (@JennMJack) May 27, 2014
Because a female driven YA novel will be pushed as blame for a man's murder before his own misogyny. pic.twitter.com/pYpeNLmxbC #YesAllWomen

— Kayleigh Anne (@Ceilidhann) May 24, 2014
Do not. suggest. violent men. see sex workers. We already deal with outrageous levels of violence. We're not your garbage collectors.

— Quirky Adorkable (@LoriAdorable) May 25, 2014
@deirdresm This is exactly why we feel the creating a National Girls in Science Day http://t.co/xgpgbJ8sYy is so important.

— Dr. Faye Abood (@DrFayeAbood) May 27, 2014
#YesAllWomen because when I say I don't want kids, people tell me I will change my mind. You don't hear people saying that to men.

— Lauren Grace Guillot (@LaurenGracy) May 27, 2014
#yesallwomen because the correct answer is actually never and no not okay ever pic.twitter.com/8d89Kck9fw

— Jackie Ball (@Jackierball1) May 27, 2014
#YesAllWomen because when online dating, women are afraid of meeting a rapist or being killed. Men are afraid of meeting someone fat.

— sylvia (@sparklystuff) May 27, 2014
#YesAllWomen Because we don't report sexual harassment in the workplace for fear of being fired.

— Christina Hernandez (@XtinaHernandez) May 27, 2014
Not directly related, but timely:
If you go to bed with a book you're never going to bed alone.

— Pam van Hylckama (@BookaliciousPam) May 27, 2014
Last, this one made me laugh.
"Alpha male" sounds like everyone would be better waiting until the beta and production releases come around.

— Les Orchard (@lmorchard) May 25, 2014
As someone who was a band geek, I have to say that I was one of those who looked down on cheerleaders—and vice-versa. I was envious of how pretty they were, envious of the attention they got, and I thought my own skills on musical instruments were More Important. You know, petty how teenagers are petty.
I was wrong, of course, and I've learned to really respect the very real skills that cheerleaders (and people doing physical things rather than cerebral skills) have.
All the impure thoughts I've had about cheerleaders or cheerleading over the years? I'm sorry. I was reacting in my teens based on my own hatred about society's messages about cultural expectations about women, and not considering that maybe some women really enjoyed cheerleading. It should be fun and joyous.
And paid well.
The working conditions for NFL cheerleaders are horrific, especially when compared with the opportunities for men in the field. > But even as collective bargaining has caused players' salaries to skyrocket, cheerleaders are still treated with the expendability of borrowed college students. Of the 26 teams that employ cheerleaders, only Seattle publicly advertises that it pays its squad an hourly minimum wage.
No one should have to endure such conditions.
What conditions?
"far weirder indignities (including elaborate rules about how to wash their vaginas..)"
The world is stranger—and far more horrible—than I give it credit for sometimes.
What I'd Have Expected Cheerleaders to Be Paid
I know a lot of people who watch games specifically for the halftime segments, who love the cheerleaders, and they're paid how much?
If you'd asked me how much I expected them to be paid, I'd probably have guessed the median full-time salary for women, which translates to $36,380 a year (using the lowest woman median from last year). I'd have considered that a bare minimum, especially given the amount of money teams rake in, and how cheerleaders are used to boost a team's image.
And before you tell me that they only work part of the year, they work just as long (and just as hard) as the star athletes.
We simply don't value their skills as much, mostly because it's a glamour job done by women.
And that is truly unfortunate.
Four months ago, I posted this commentary and critique of Box's "Working at Box" page.
It got back to me that it created quite a stir, but I hadn't checked back on the page recently. I have noticed incoming links to that blog post, so I wondered what was up.
Credit where due, Box has revised the underlying page.
Thank you! Nice improvement.
I'm a (very minor) Baen author. I'm embarrassed by this. Honestly, I couldn't read the whole thing. I got to this pair of sentences and bounced out:
Of course we all read Heinlein and have an opinion about his work. How can you be a fan and not?
Easy peasy. Life is short.
I don't like Heinlein's work, generally speaking.
His female characters were, well, not believable female characters to me. On the other hand, as Rick pointed out when I had wound up to quite a rant one day: Heinlein wrote female main (and major) characters at a point in time when few other people did. So, credit where it's due. He tried. Maybe not very hard, but he tried at a time when few others even bothered.
All the Heinlein stories that I do like are neatly collected into this anthology. "The Man Who Traveled in Elephants" and "And He Built a Crooked House," for example.
What I dislike even more than some of Heinlein's stuff is some Heinlein fans. My least favorite group to interact with in fandom is The Heinlein Society. Why?
Because when I told them that I didn't want to have single-author panels for next year's convention, they went to the chair of a convention I was attending to get her to help them lobby me (in person, live) to change my policy. After that, I never wanted to speak to them again. Never got an apology, either.
I don't believe in single-author panels for two reasons:
Panels should be about conversations that expand the audience's appreciation about a topic. Single-author panels only appeal to big fans of that particular author, and thus have a more-limiting maximum audience than a broader topic.
I consider it disrespectful to the Writer Guest of Honor to have single-author panels that aren't about the WGoH's own work. (In the case of someone like Scalzi, including a discussion of Heinlein influences in Scalzi's work would be a two-author panel, but I'd be okay with that kind of thing, sure.)
One of the things various Heinlein fans have said to me over the years is that Heinlein wrote about his wife Virginia, usually followed by something like therefore he must understand women.
My usual response to that is, "So she married her rapist?" Somehow the topic always drops after that. Mind you, she only married the "good" rapist. IMHO, for a much better book with some Friday-esque themes in it (and without that problematic ending), Paulo Bacigalupi's The Windup Girl is a far better book.
Let's just say there are reasons that BASFA occasionally auctions off a used copy of Friday, someone drives over it or otherwise abuses it, then it gets re-donated to be re-auctioned. Maybe it's time to scour the local used bookstores for a fresh copy.
New word? There are no Google hits for it.
So last year, SFWA Bulletin put out a set of dialogues by Michael Resnick and Barry Malzberg that contained some wanksplaining about the history of women in professional science fiction circles, to wit:
She was competent, unpretentious, and beauty pageant gorgeous … as photographs make quite clear…[S]he was a knockout as a young woman. …
According to Margaret, during its first few years of existence CFG was populated exclusively by men. Then Bea joined. Then the members' wives got a look at Bea in her swimsuit at the 1950 Midwestcon. Then the club's makeup changed to the 50% men and 50% women that has existed ever since.
(I really don't understand the causality link between the last two sentences. Were the women in question all bi?)
Anyhow, Scalzi posted about that, and, rather than having the task of any Bulletin issues fall on the President, it was decided that a review board would be a good idea. You know, like most professional associations have.
Scalzi didn't re-rerun, and Steven Gould became SFWA president (which was already in place when the Bulletin issue occurred). Steven's probably best known as the author of Jumper (later turned into a movie), but he's currently collaborating with James Cameron on forthcoming Avatar universe things.
You know, he's a working writer. Working.
The whole thread of the current uproar, if you can call it that, over the review board is linked here.
What wasn't linked from that page, but was forwarded to me, was the body of an email from Silverberg that included this gem:
A bunch of us, including Messrs Ellison, Spinrad, Gene Wolfe, Resnick, Malzberg, Benford, RS, etc., plus Nancy Kress, CJ Cherryh, Mercedes Lackey, and others, thought that a writers' organization should not be repealing the First Amendment and have put together a petition objecting to this review board.
Ellison.
First name.
That would be Harlan "I did not grab Connie Willis's breast" Ellison. Video here. Note that he's being disingenuous about verbs. (I was in the audience.)
Look, I was head of programming for a convention and we had Harlan for a Special Guest. He groped one of my staff during that con. I heard he groped other people, too, though I didn't speak to them about it. I heard nothing about it until after the con, though.
If Harlan's the first person you put on a list saying you don't want a review board because y'all are fuckwits?
Y'all are fuckwits squared.
I don't care what gets you all off. I don't care about your male gaze. Sure, I like attractive (for my definitions of same) people on covers of things, on posters, in movies, in books, all that kind of thing. But what I consider attractive isn't just about looks. It's about actions, and y'all are being fugly.
So stop your wanksplaning and try being a tiny bit professional for a change. Steven Gould sure has been. If I'd gotten the first email from Truesdale that he'd gotten, I'd probably have just written a reply that said, "Smeg off" and put him in my filters so his name would never darken my internet doorway again. After all, Truesdale isn't a SFWA member.
All SFWA wants is an editorial board, which is a perfectly reasonable thing to have. As C. C. Finlay rightly points out, editing is not censorship.
On the cover specifically….
Last year, I posted a picture with 25 (note: fixed this; it did originally say 30) erotic romance covers. This was in response to Resnick's claim about beefcake on romance covers. Out of those 26, there are men (in any representation) on only 13 of those 25. (There are women on the cover of 19, and 2 have no people on the cover.)
Of the 13, 5 feature only fully-clothed men. One man has bare shoulders, but you can't see further than that. Absolutely zero of them feature bare male thighs (though five have some depiction of bare female thighs). So let's not pretend that the sexualization of men and women is the same because it's not, not even when books are marketed to women and explicitly about sex. Cover I think is the hottest? This one, because men in suits leaning on things are hot.
But — none of the twenty-five covers — none — out of this selection of erotic romances I'd recently read have a woman in as sexualized a pose (or as scantily clad) as the cover of SFWA Bulletin 200.
When I went to a writer's conference last fall, the most valuable single line I heard was this one: "A one-star review means that the wrong reader has found your book."
It's actually quite a profound statement if you think about it.
What a book cover (or magazine cover) is supposed to do is to give you an expectation of what's inside. It's to set the mood for what's within. So how does that cover of SFWA Bulletin 200 work for you now?
See also: You only hate boobs because you hate freedom.
Dear Twelve Rabid Weasels of SFWA, please shut the fuck up. and My very complicated reaction to issue 202 of the Bulletin which has some great commentary in particular. Bennett North on Objectifying Women Is Not a Constitutional Right.
I also love this comment: "The irony about complaining about editing by committee before publication in order to complain about editing by committee before publication seems lost on him." (source)
I happened to be looking at the Geek Feminism Wiki timeline today, partly because I was catching up on Ashe Dryden's site and she links to the geek feminism wiki's timeline.
I was a bit miffed because the "Linux Goth Slut" incident links to a piece by Annalee Newitz that compliments my husband, and I suddenly felt erased.
Then I went back to the original post, and I remembered why I wasn't credited: I posted it anonymously. For good reason, as it turns out (the events in this link not yet having occurred).
The woman, known as "Doris," is (and was) a friend of mine and my husband's (though, at the time of the incident, March 1999, my husband and I had only been dating for a couple of weeks). I remember posting the long screed while at the Coffeenet of olde. I also remember having made a long-time friend from the fallout.
Why did I post it? Because, even though the writer had sent it to several people (from his work email account, during typical working hours), she had received a copy forwarded, through several people. In other words, it was getting around more than her resumé. I was easily able to obtain my own copy.
This was costing her potential jobs due to the ridicule and slut-shaming, and she was really angry about it. I posted it with her blessing.
The text? What you might expect if Mr. Wide-Eyed Vanilla Sexist Dude visited, say, Tiffany Reisz's titular character from The Siren. Only if Nora was a techie instead of an erotica author.
I honestly think my favorite paragraph of his whole letter is this one, though:
So I let her in… she strips down and before you know it, I have a [deleted] goth slut on top of me.. only… she was asking me .. ARRGHH!!! LINUX QUESTIONS!!!! "What's your favorite part of the install?" blah blah.. blah…
Whiner.
It did cost the writer his job, so there's that.
Doris? Don't ever change who you are. You are, as always, a unique and wonderful person. Like me, a bit too industrial strength for some, but it's a feature, not a bug.
Update, April 2014: Box has revised the page.
I've had a chance to look at a lot of company "About Us" pages of late, and many of these for smaller companies show team photos or action shots.
Box.com has a page with a URL of "why-box" and a page title of "Working at Box."
Here's all the photos of women on that page: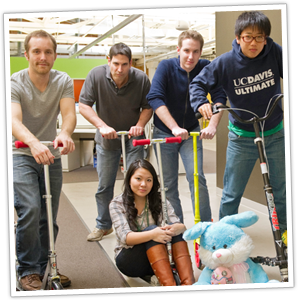 ] Does that photo make me feel like I'll be respected there? No. It does not.
Not only is the woman sitting passively while the men are in more standing and active positions, she's sitting next to a stuffie. I have no idea how Box thought this was at all welcoming to female engineers. I mean, yeah, it's possibly actually her stuffie, but this is the sole representation of women on a page that's talking about why you should work for the company.
As such, it's a fail if you're a woman who doesn't want to sit on the floor while the men stand. Or if you want to be more active. Or if you want to be taken seriously.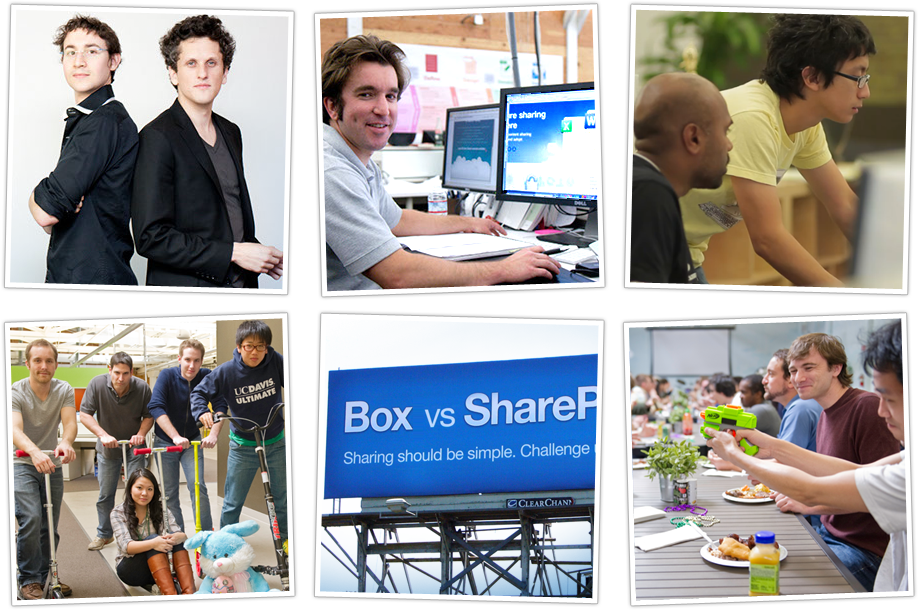 ] Sure, there are better pictures of women elsewhere on the site, though not all of those are unsucky. But if you're gonna have a page about why someone should work for your company, maybe showing that you respect 51% of the population should be part of your design goals.
<
p>Though, in the props department, so many tech companies have zero representation of black people, and they at least do better here, though it might be nice if he were the more active person in the scene.
Tales from the archives.
In 2000-2001, I was an engineer at TiVo, working on the TiVo service. When I started, all TiVos were still using dialup to get schedule updates. One of the things we did during the time I was there was to record an over-the-air broadcast aimed at TiVos, clip it into little bits, and use that for a lot of TiVo content updates.
So there I was, with my engineering machine tethered to a TiVo daughterboard via a serial cable, working away on something. I needed a few minutes' break while I ate my dinner, so I hopped on IRC.
Some kid in some linux-related channel was doing the geek version of the a/s/l check, posting his cat /proc/cpuinfo (from a Celeron, groan) and wanted to know what everyone else had.
Well, my workstation was faster than his, so I ran the command on my work TiVo and pasted it without comment into IRC. It was a 54MHz PowerPC, which was about 1/6 the speed of the server I had at home.
# cat /proc/cpuinfo<br></br>processor : 0<br></br>cpu : IBM 403GCX<br></br>clock : 54MHz<br></br>revision : 20.1<br></br>bogomips : 53.86<br></br>machine : Teleworld Customer Device
(Teleworld is the original name of TiVo, and TiVo machines are called "TCD" internally (for Teleworld Customer Device.))
Kid ridicules my slow machine, then someone else said, "Is that a TiVo?"
Kid's like, "Dude! You hacked your TiVo?"
Suddenly, I became of great interest to everyone on the channel. All I said was, "I'm not a dude, I'm female." (Normally, being from California, dude is an inclusive term and I don't normally comment if someone calls me dude, but I just felt he needed it.)
"No way!" Kid genuinely couldn't believe there were female software engineers. I felt really sorry for him, but wonder how much that changed him over 13 years, if at all.
…specifically some of the economic realities of running a restaurant, why it's hard to get good service, and why US laws about tipping make it very difficult to ensure good service.
Read starting here.
Possibly the most fascinating single post is the fifth in the series, about tipping and sexism.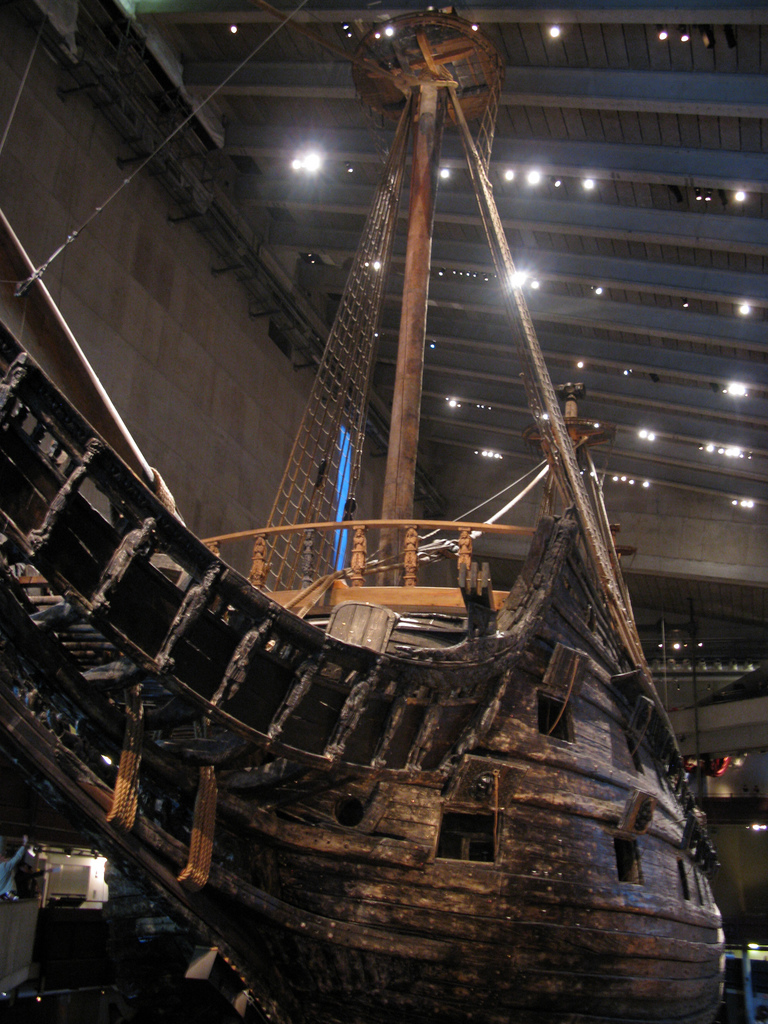 You know what I respect most about Sweden? They had a great engineering disaster. One of the best of all time, frankly.
Did they try to erase it?
No, they built a fucking monument where you can see the order of magnitude of the folly of a bad decision they made in the 17th century. And how people died.
So, About Kickstarter.
They blinked. Or did they?
My opinion: no. They tried to erase what they did and write a small check, and that will be enough for some people.
I woke up this morning. As I often do first thing, I scrolled through my Twitter client.
The overwhelming reaction from the men on my Twitter feed was that Kickstarter had done enough.
The overwhelming reaction from the women on my Twitter feed was that they had not done enough.
They did not do enough.
So here's my guess: while we'd like for them to have paused or canceled the campaign while it was still running, they lacked the infrastructure for that to happen.
However, it doesn't say why they didn't, say, edit a database table that would change when the Kickstarter campaign ended (effectively giving more time to raise money), add a warning they were investigating and that's why they'd changed the end time, and given themselves more time to deal with the problem while the campaign was still running.
Brilliant, right? I know. I'm a fucking genius. But I've been a DBA in a crisis, and that's what my first thought would have been, and it was totally within their ability to do. Maybe not within their policy, but within their technological capability.
The big thing there, and it would have been misinterpreted, was that it would have prevented the Kickstarter from being funded while they decided what to do.
Now, on to what they did do.
One of the motes in American character, especially American business character, is to try to erase what one did that was wrong. You've already admitted you were wrong, why not own up to all of it? Have the stones to go there.
Instead, they e-mailed the bad decision sub rosa to several blogs saying that the campaign was not a violation of Kickstarter policy, and now they do a big official oops on their page, hoping you will forget that they in fact said the project was okay. Because, of course, they didn't say it was okay on their official company page.
That's the typical American chickenshit way of "fixing" a problem. It lacks moral character.
So let's not forget this part, okay?
Update, 6:51 p.m. EST: Kickstarter emailed a statement to The Raw Story regarding both the project and the public response:
Kickstarter reviews projects based on our guidelines and the information creators share on their project pages. It's a process we've refined over four years and continue to refine daily. We strive for fair and thoughtful policies that maintain the health of the Kickstarter ecosystem.
This morning, material that a project creator posted on Reddit earlier this year was brought to our and the public's attention just hours before the project's deadline. Some of this material is abhorrent and inconsistent with our values as people and as an organization. Based on our current guidelines, however, the material on Reddit did not warrant the irreversible action of canceling the project.
As stewards of Kickstarter we sometimes have to make difficult decisions. We followed the discussion around the web today very closely. It led to a lot of internal discussion and will lead to a further review of our policies.
With that in mind….
I'm a rape survivor, so I get to say what would be enough reparations from Kickstarter for me. So, without further ado, here's the list:
$25k of reparations is not enough. How much is enough? I like $163,690 as a number. That's ten times the amount raised in the Kickstarter campaign. It's also obviously symbolic. It also hurts more than $25,000. Hell, you probably pay some of the people involved in these decisions that much per year, right? Maybe the person who made the bad call?

732 hours of off-site sexual assault recognition and crisis training and/or volunteering, paid for by the company. One hour for each person who contributed to the campaign. Given that Kickstarter has 61 employees, that's 1.5 business days per person. Exactly, weirdly enough. When I say everyone, I mean including the CEO. Write a blog post when this is done. It's important to do it off-site so you all are taken out of the context of the office for the experience.

Un-erase the Kickstarter campaign's page. Instead, put a warning on it. Make sure it's a monument to Kickstarter's folly.

Edit the blog post and acknowledge that Kickstarter made an earlier bad decision saying that the campaign was not in violation of Kickstarter's guidelines. Do not erase the mistake.

Admit that you were deleting facebook wall posts like crazy. Look, I get it. Honestly, I don't care about this one, but other people do. At least admit that you did it.

Publicly commit, with a deadline, to building a "Pause this Campaign" infrastructure that has, as a minimum, the following:

Permits linking to a blog post explaining why a Kickstarter is paused.
Has great big old "Paused" wording, preventing any additional monies being contributed to the campaign, but allowing any existing contributor to back out.
Until that is implemented, commit to extending the deadline (for above-stated reasons) on any controversial campaign.
Let's not forget the important part: some asshole has the lion's share of sixteen grand to write a book that includes sexual predator tips, and 732 people funded it and want that book.
All because Kickstarter failed to show moral character in a crisis.
And Kickstarter would love the concerns of those of us sexual assault survivors to be erased just like the campaign page.
No.
Twenty-five grand and an oops (especially reversing a prior decision they won't publicly acknowledge) is not enough.
Erasure? Just pisses me off more.
Trigger warning.
I've been on the Internet a long time. I've seen everything from the first spam onward.
I entered my first internet controversy in 1993. I'm sure you're all shocked. This resulted in attempted (but failed) personal harassment in 1995. That feud is still ongoing and has its own Wikipedia page.
So you might say that I'm no stranger to the long-term consequences of Internet tiffs.
My observation is that there are two basic rules for companies who are primarily Internet-based:
You get one business day for a response. Two at most.
Your first response is critical.
So, about Kickstarter.
Specifically, about the Kickstarter for Above the Game: A Guide to Getting Awesome With Women. (Update: now archived here)
Nothing in the Kickstarter copy specifically says that the guy is promoting rape tips. This is an important point.
However, Casey Malone did more research. He came up with the following quote from his reddits:
Pull out your cock and put her hand on it. Remember, she is letting you do this because you have established yourself as a LEADER. Don't ask for permission, GRAB HER HAND, and put it right on your dick.
That? Is assault. It is also disgusting. It was also, per his implication on the Kickstarter page, part of the content of the book.
So here's Kickstarter's official response:
Update, 6:51 p.m. EST: Kickstarter emailed a statement to The Raw Story regarding both the project and the public response:
Kickstarter reviews projects based on our guidelines and the information creators share on their project pages. It's a process we've refined over four years and continue to refine daily. We strive for fair and thoughtful policies that maintain the health of the Kickstarter ecosystem.
This morning, material that a project creator posted on Reddit earlier this year was brought to our and the public's attention just hours before the project's deadline. Some of this material is abhorrent and inconsistent with our values as people and as an organization. Based on our current guidelines, however, the material on Reddit did not warrant the irreversible action of canceling the project.
As stewards of Kickstarter we sometimes have to make difficult decisions. We followed the discussion around the web today very closely. It led to a lot of internal discussion and will lead to a further review of our policies.
I'm sure you're all sobbing about this decision. I'm sure you'll enjoy it all that much more when you're in the unemployment line kicking yourself for not standing up for the women and men who have been raped. Or cosmic irony, which I do not wish for in this case.
But if you have a company that thinks men forcing women's hands onto men's dicks isn't against company policy, I pity the women, if any, you have at your workplace. (Update: link to list of Kickstarter employees.) And I think your workplace needs to cease to exist.
About rape. I have been raped. I don't generally make a big deal out of it. In fact, I tend to minimize it in the way women pull that bullshit for reasons listed in the post I'm about to link to.
Therefore, I'm going to end this with what I think is the most useful post I've ever read about rape culture and how women respond during and after rape: Harriet's Another Post About Rape.
Brilliant.
There are a number of examples of creeping in "romantic" films, and by creeping, I mean men who do not listen to what women say, taking no to mean yes.
It's the Schrodinger's Rapist problem. In a nutshell, a man who doesn't listen to what you communicate, verbally or otherwise, is unlikely to listen in intimate situations where your consent is more important.
Ever since I read that essay, I hadn't seen a clear film representation of it until last year, when I saw the 2011 film Rockstar on a flight. Thankfully, I was able to turn it off and watch something else.
In short, there are several times Heer, the female lead, gives JJ, the male lead, very very clear "no" responses and he keeps treating them as "yes." When he shows up in her classroom to declare his love for her despite that, I just couldn't watch any more.
I wouldn't recommend the movie (obviously), but that's a pretty clear-cut creeper example if anyone happened to need one.
2014 Update

In the original post, I never said what triggered the EEOC complaint against Problematic Boss. Documentation had been building against his treatment of women, but that's not what finally nailed him.
Coworker, looking at resumé of someone he was about to phone screen, looks at the person's name and asks Problematic Boss, "What kind of name is X?"
Problematic Boss laughs. "Terrorist."
In honor of events of today, I thought I'd share a tale.
Once upon a time, in a city gay and proud, a small firm hired a woman to move up from a city of relentless beige.
One bright person who interviewed the woman warned her about the boss: he didn't like women very much. Before she started, events unfolded, the bright person got into an argument with said boss about hiring practices such that bright person got fired. Everyone was stunned, and everyone wanted to react. The woman said, hold on, if the reports are true, he'll be there less than a month. Don't do anything, keep your jobs.
And they did.
Sure enough, the woman was able to document enough in the first three weeks (observing maltreatment of others) to do something. But what? Reporting internally was always going to lead to the reporter being fired for poor performance. She'd heard of it happening before. So, instead, she filed a complaint with the government department for equal opportunity.
After the first phone call, when a hearing date was set, the woman approached management and had a meeting with the Head Honcho. The next day, the problematic boss was fired.
You'd think that would be the end of the tale. Sadly, it was only round one.
At the same time as the woman was gathering evidence around her, in another department was a young man who was offered a huge sum to work directly under the Head Honcho. In this case, directly under was intended literally. The young man soon found this out, and he filed a sexual harassment complaint. He was let go for, you guessed it, "poor performance" (one wonders how that was measured), signed his exit paperwork, and went and had a nervous breakdown. The woman didn't know this until long after, though.
The new boss (Superproblematic Boss) hired to replace Problematic Boss was worse in every way, but cleverer. He lived in another city, as did his minions, and he flew his minions and his "admin" with him every week. The admin couldn't spell, but then again, she wasn't really the admin, only one on paper. Superproblematic Boss, it was later found out, was given, yes, given, his admin by a client. She came with a boat, kind of like towels come with a hotel room.
Unfortunately, with money powers that be having more of a say with Superproblematic Boss, the woman wasn't able to get him fired. He was too entrenched at the top. Since the stress was making her ill, she engineered getting fired (because quitting would have meant paying back a signing bonus). Stupidly, Superproblematic Boss fell for it, and after she got out of the hospital for a very serious infection, she was able to parlay the firing into more money and more stock. The following day, she was hired for a new job paying 25% more elsewhere.
As a result of the stock, the woman was privy to details of things that came up later, including funding rounds and so forth, and eventually the Initial Public Offering paperwork was signed.
Superproblematic Boss was spending like crazy (something like 27 million was wasted on frivolity) and at least two harassment complaints were filed against him internally. Both reporters were fired for poor performance. Both were about mistreatment of the same person whom the woman had been trying to protect over a year earlier.
After that came to light, the woman wrote the underwriters of the IPO (even though that would mean less money for her should the IPO not happen) and pointed them to the government complaint. She heard nothing back, though later, after the IPO was canceled, she heard from a connection to the underwriters that it was canceled not for financial reasons, but for a reason she'd never heard before: "endemic sexual harassment." Direct quote.
You see, the harassment was far more widespread than the woman realized when she was there, for she had not known about the young man — nor his replacement — nor that the Head Honcho loved to have sex in the office, nor that Superproblematic Boss and his minions loved to hover behind women and make rude gestures behind them or speak in buzzword code about what they wanted to do to them, nor that other people, both male and female, had been harassed over a long period of time. They all believed in the cause that the company represented and downplayed the toxic environment. Of course, they also hoped for a big payout in the event of a successful IPO, and it's amazing what people will put up with for the promise of Big Bucks.
Shortly after the IPO folded, the woman was contacted by the attorney for the young man, finding out his plight for the first time. She had the only documented external report of harassment. The company was saying no other reports existed, as companies are wont to do. So of course she said she'd help. It was too little, too late, for his case, but it was a valuable lesson: reporting internally will likely lead to retaliation.
So when she hears about reports of people saying they've been harassed, then "refuted" with claims of poor performance, this is the saga she remembers.
Oh, that and the stock she had underwent a reverse split a million to one as the company went under and had to be refinanced in a fire sale.
Superproblematic Boss, after three years of making less than the woman, had to file bankruptcy.
Problematic Boss, however, is still spending 1-2 years at companies in the valley of tetravalent metalloids before having to move on to another position. All the people on Linked In who have recommended him are male. Shocking.
I believe you, Kate. (Since someone asked, no Kate isn't any of the people mentioned in the story above. The story is just relevant to hers.)
#322 & #323 "My friend group has a case of the Creepy Dude. How do we clear that up?".
This is the best, clearest post I've ever seen about why rape jokes are a problem.
Hat tip to @KuraFire.
It's not about that female thing, or at least rarely so.
86% of the time when it was diagnosed as menstrual bleeding, the cause of the anemia was actually gastrointestinal bleeding.
Note that taking iron supplements doesn't cure your gastrointestinal lining; it's a bandaid for the wrong problem.
Also, if you're low on ferritin (iron transport protein), you can actually directly supplement it, which is what I do. (For vegetarians and vegans, sorry, it's an animal protein, so there is no animal-free option for that particular supplement.)
I need to speak up about this.
1. Rights between mothers and their unborn are a zero-sum game. Every right you give to the unborn you take away from all women of childbearing age and all girls who will be of childbearing age. Thus, all limitations on abortions, yes all, are inherently anti-woman.
2. If a woman cannot determine who can or cannot be inside her body, that is institutionalized rape. Thus, in my book, there should be no limitation on abortion. Further, if a woman cannot determine who can or cannot be in her body in the third trimester (as an example), why is rape of pregnant women illegal?
3. Mandatory ultrasounds (as an abortion avoidance tactic) are not external, they are internal. That would be, you guessed it, rape.
4. Most rapes are much shorter than 9 months in duration. Until you've had a truly unwanted pregnancy, you really can't imagine what it's like.
5. Unplanned (not just unwanted) pregnancies are far more likely to trigger hyperemesis gravidarum, which can be life threatening. Even normal pregnancy and childbirth are very risky for the long-term health of many women.
6. And yet, every unwanted pregnancy is a tragedy. I volunteered at a family planning center. Most of the women I met were having an abortion because they couldn't afford another child. Very few actually wanted an abortion, it was simply their best option. I have held the hands of women I'd never met before (or since) while they sobbed in the recovery room.
Obviously, I'd prefer more perfect planning for pregnancy or non-pregnancy. However, no method is perfect.
I've been raped. I'm glad I wasn't pregnant as a result, but if I were, I'm glad I could have an abortion. I can't imagine having to see the face of my rapist over and over in the child. I can't imagine the legal wrangling in the case of an adoption — or worse, if I chose to keep the child and was ordered to turn the child over for visitation. I can't imagine possibly continuing any evil in the world.
I can't help but think that Mike Huckabee hates women who've been raped more than he hates rapists.