Rismo made this rather awesome piece and posted it on Deviant Art. Hot Topic started selling the t-shirt.
No one paid Rismo.
Did Hot Topic rip off Rismo?
No, Deviant Art did through a dark pattern.
See below for update.
Here's DA's Submission Policy.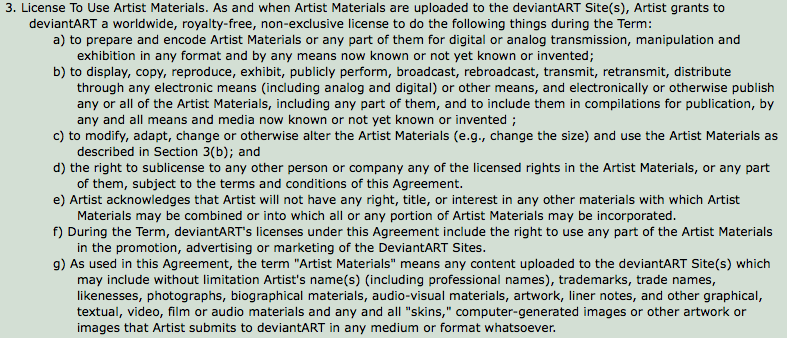 Check out d:
the right to sublicense to any other person or company any of the licensed rights in the Artist Materials, or any part of them, subject to the terms and conditions of this Agreement.
and 6:
6. Payment Unless otherwise agreed between Artist and deviantART in a writing from deviantART, the license granted to deviantART under this Agreement is royalty-free.
Royalty. Free.
In other words, by uploading your artwork to Deviant Art, you allow them to sell to Hot Topic—and anyone else worldwide—and pay you nothing.
And there's no way to opt out, at least not on my account.
Update: Deviant Art's Response
We intend to employ similar methods to allow syndication of art work, like the daily top favorites and even the ability to stream your gallery to your personal website. We couldn't do this and things like this without third party rights because RSS feeders, blogging services and the like are third parties.
So they say that it's just for promotion of your work on DA via normal service-type operations that involve DA.
Fact is, though, they absolutely could do what was originally claimed if I'm reading the submission terms correctly.
Update 2: Deviant Art's Denial of Art Sale to Hot Topic
Text here. Thank you to commenter Kira Spoons for finding it, as I hadn't checked up on this topic today.
Still, 3d of their submissions policy is overly broad and appears to permit that royalty free.
---