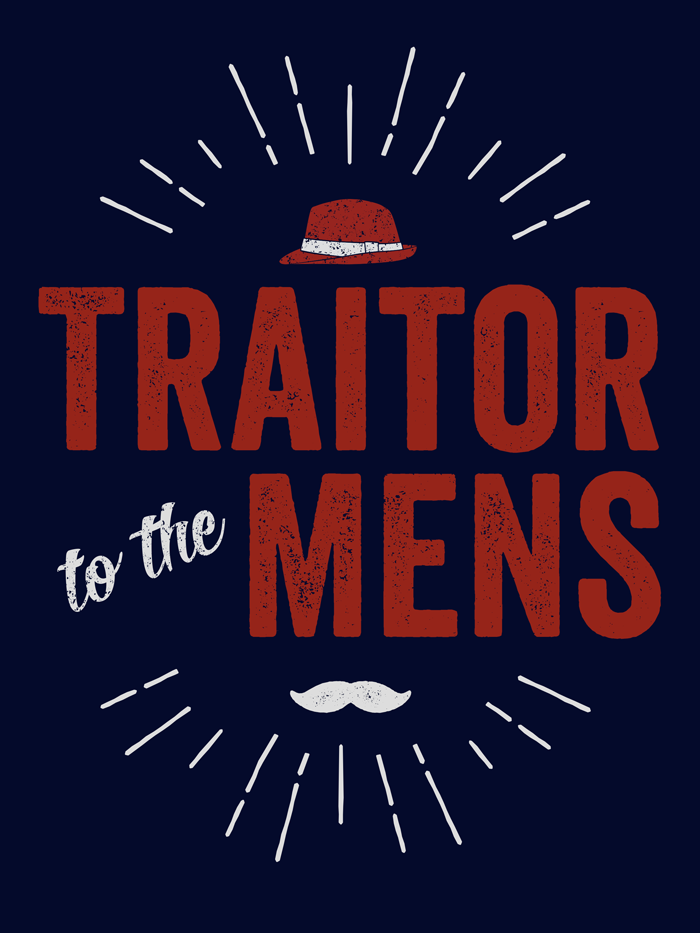 Available now: dark background t-shirt, light background t-shirt, and prints, stickers, posters, and cards.
If you need a size bigger than 3x or don't like American Apparel shirts, then I also put them on Zazzle, which is slightly more expensive than Redbubble. dark background t-shirt, light background t-shirt.
John Scalzi said: I think I'm going to make a t-shirt that says "TRAITOR TO THE MENS" on it.
I offered to do the design.
He replied: DO EEEET
So here we are. Here's John Scalzi's background story for the phrase.
I offered in part because the very night before I was on a graphics site and had skipped over a free mustache graphic element because, and I quote, "I'll never use that."
When Scalzi mentioned the t-shirt idea, of course, it was the first thing that came to mind. As it turns out, I didn't use that one I'd seen, I used one in a font I had.
Plus, thanks to Design Cuts and their awesome graphics bundles, I had—no joke—twelve gigabytes of new graphics toys chomping at the bit waiting to be used. I really wasn't kidding about collecting grunge textures.
I want to give credit to the designers for the elements I've used, top to bottom.
Sunburst, from Outdoor Logos by Ian Barnard of Vintage Design Co. (Purchased as a part of a Design Cuts bundle.) Initially, I just wanted a sunburst as a design element, but then I realized the kind of people who think feminist men are traitors are just, well, puckery assholes. So there you have it.
Fedora, from Shona Dutta's Retro Hats collection. Hey, someone local to me!
Veneer font, from Ryan Martinson of Yellow Design Studios. Purchased as a part of the Design Cuts Monster Creative Font Bundle which is a great deal. While it's a past bundle, if you buy the current bundle, you can also buy this one if it floats your boat. I love this, so I'll talk about it more below.
Roverd font, from Dexsar Harry Fonts. ("to the") Indonesia represent.
Veneer Extras font, also from Yellow Design Studios. (This is the mustache.)
Grunge texture is from Vintage Textures by Ghostly Pixels, used on the fedora and "to the." (Purchased as a part of a Design Cuts bundle.)
(paper goods only) See the chalkboard in there? No? That's the beauty of textures. It doesn't have to be obvious to add to the whole. From Bruno Maioral/BMachina.
(paper goods only) The book-like texture is from Cruzine. (Purchased as a part of a Design Cuts bundle.) I tried a bunch of textures, but I liked the feel of this one.
(paper goods only) The folded paper texture is from Simon Berkey Hartmann/The Shop. (Purchased as a part of a Design Cuts bundle.) Metaphorical nod to the well-worn arguments that follow only a few lines of thought.
Veneer and Why I Love This Kind of Font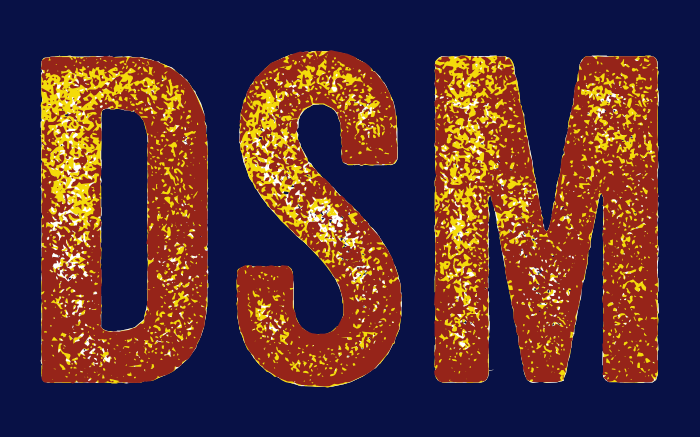 Bottom type layer: Veneer, color white.
Middle type layer: Veneer 2, color yellow.
Top type layer: Veneer 3, color red.
Cool effect, huh? That's just three of the six variations. That said, I didn't think multiple colors worked as well for the t-shirt. Usually, you'd use colors closer together, too, but I was illustrating the concept rather than using it in a larger design.
---