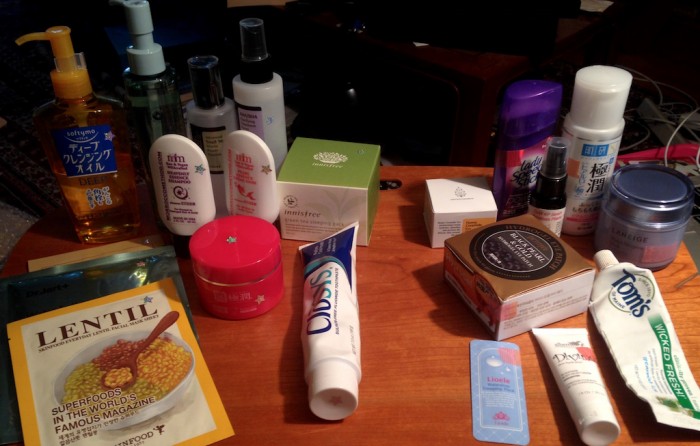 For many years, I've struggled with a coconut-free existence without really being aware coconut itself was the issue. Over the years, I've felt sad for people who've had to live both gluten-free and corn-free, as that's quite difficult. However, it may actually be more difficult to avoid coconut in our modern age.
Part of that's the fault of people like my first husband, so funny story down at the end.
Coconut's in:
Almost all shampoos, face washes (especially the foaming ones), body washes, and toothpastes;
Many conditioners;
Many deodorants and anti-perspirants;
Some cough syrups;
Many makeup products; and
Some dishwashing detergents (and probably laundry detergents, though they're cagier about actual identification of ingredients).
Now, I've eliminated all the coconut ingredients that I knew bothered me over the years. However, coconut's in so many, many things that I had no idea for sure if I wasn't generally feeling worse because of additive exposure. I have a friend who was miserable for two years and got so sick she consulted a cardiologist before it was figured out she was allergic to wheat. I don't want to be that person because I was being silly.
The Great September Experiment (and the Red Washi Tape of Doom)
I decided, naturally after I'd just ordered some items with coconut (grin), that September was a great time for me to run an experiment: no coconut internally or externally. If I feel better, then I have to eliminate all coconut. I've kept track of how I've felt during August. If I consider September insufficiently conclusive, then my plan is to extend the experiment through October. At that point, I'll know whether I can start re-introducing coconut ingredients or not.
If I can, then my plan is to introduce one specific coconut ingredient at a time. Like: Stearic Acid for two weeks (that will probably actually be first because I love Wintergreen Life Savers and they have Stearic Acid in them, as do many hard candies).
I know how I get when I'm tired: I forget things, and make some stupid mistakes. I'm often showering or washing my face at the beginning or ending of my day when I'm at my worst. So, I thought, a simple trip to Staples and less than five bucks should help solve this problem.
To mark the no-coconut things, I got small holographic stars. To mark the coconut things, I got red washi tape. (Not all things in the pic below have been marked yet, and not everything's turned so you can see the star or tape.)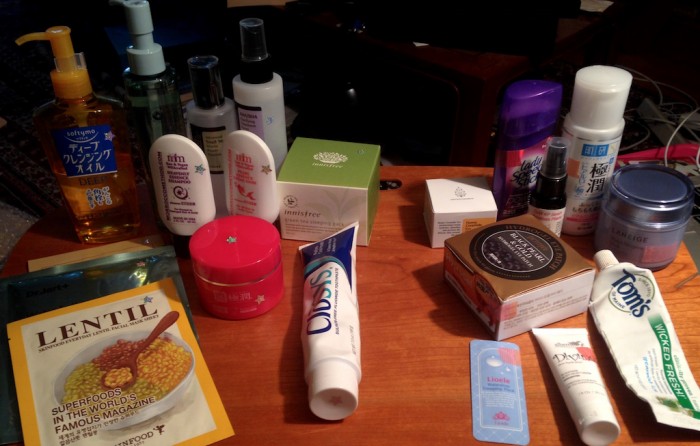 A Korean and Japanese Skin Care Routine That's Coconut-Free
Here are the ones I've used (except where otherwise noted):
Oil cleanser. Many oil cleansers are coconut-free (probably about a third of the ones at your nearest Sephora, for example). Kosé Softymo Deep Cleansing Oil (gold, not the pink Speedy, which is *not* coconut-free) runs around $11 for 230ml. I missed a coconut ingredient. 🙁 Please hold.
Second cleanser. So far, I've only found one, and I stopped looking when I found it: Innisfree Jeju Bija Anti-Trouble Cleansing Gel. This is more like a pool cleanser, so it can be both a first and a second cleanser. More about pool cleansers in this piece on fanserviced-b.
You can basically assume that anything foaming is not coconut free, which will save you a ton of label disappointment and time. I'll create a list after a while, but this category's lower priority than some others.
Exfoliater. Cure Natural Aqua Gel, the most commonly-used exfoliator in Japan, is coconut-free, but many products in this category may be. (Note: I've not used any products in this category.)
Toner. I use a toner every 2-3 nights, and use CosRX's AHA/BHA Clarifying Treatment Toner. For a hydrating toner, I still have a bottle of Elemis's Apricot toner (Elemis is a British brand and quite pricey, but I've got a mostly full bottle, so it's a sunk cost).
Serum, Emulsion, Ampoule. I use CosRX's Advanced Snail 96 Mucin Power Essence alternated with CosRX's Propolis Light Ampule. I hadn't intended to be all animal product at this stage, nor is that a given. It's just the way it happened.

Sheet Masks. Many much-loved sheet masks aren't coconut free. Here are some I've happened upon that are.

Some Skinfood "Beauty in a Food Mask": Strawberry, Jeju Tangerine, and Ginseng for sure.
Some Skinfood Everyday: Olive, Lentil, Beauty Berry, and Green Tea definitely are.
Whamisa Organic Seeds & Rice Fermented Hydrogel Mask with Lactobacillus, so thankfully one company gifted two with an order because I hadn't thought to buy one. I haven't tried it yet.
Benton Snail Bee High Content Mask Pack, also a gift. I haven't tried it yet.
Some Sexylook masks, which thankfully have their ingredients printed in English on the back. The (purple) Intensive Firming Duo 3D Lifting Facial Mask has a first ingredient of rose water. The (pink) Super Hydrating Duo 3D Lifting Facial Mask has a first ingredient of rhodochrosite extract.
Dr. Jart+ hydrogels like the Water-full Hydrogel Mask and Wrinkless Solution, are coconut free and available at Sephora for mind-boggling prices.
Some Dermal masks, including Q10 Collagen Essence Mask and Acerola Collagen Essence Mask.

Eye Creams. I haven't found any yet. This is my next project.
Moisturizer. After loving a non-coconut-free Hada Labo product, I went to a local Japanese grocery (Mitsuwa in San Jose) and picked up Hada Labo 3D Anti-Aging Perfect Gel which Mentholatum imports. Mentholatum's parent company, Rohto, makes Hada Labo. Nature Republic's Aqua Super Aqua Max Combination Watery Cream is another. Most Asian beauty moisturizers aren't coconut free, but it was fairly easy to find one.
Sunscreen. I'm going to recommend this, but it may be a mistake, so let me know if it doesn't work for you. Laur- often translates to coconut or palm origin because they lead to production of long carbon chains. The Biore UV AQUA Rich Watery Essence SPF 50+ PA++++ contains Lauryl Methacrylate/Sodium Methacrylate crosspolymer. Yet, I see nothing in that linked document that indicates specific origin, let alone coconut. In this case, the further removed from the nut, the better as far as I'm concerned. Also available on Amazon as an import.
If you need alcohol free and that's a bigger problem for you than coconut is, Mentholatum Sunplay Super Block Sunscreen SPF 50+ PA++++ is the only thing I've found so far. This is a Japanese import. It has two laur- ingredients that are not listed on other coconut lists (lauryl PEG-9 polydimethylsiloxyethyl dimethicone and vinyl dimethicone/lauryl dimethicone crosspolymer). Amazon link. Currently $9.48 for 30g (a hair over an ounce).

Sleeping Pack. I really love the Too Cool For School Pumpkin Sleeping Pack. Here are some others I haven't tried:

Etude House Collagen Moistfull Sleeping Pack
Etude House Play Therapy SLEEPING PACK #Moist Up
Imselene Birds Nest Aqua Sleeping Mask Pack
Innisfree Aloe Revital Sleeping Pack
Innisfree Green Tea Sleeping Pack
Lioele Bee My Honey Sleeping Pack
Lioele Waterdrop Sleeping Pack (I'd incorrectly marked a sample of this with red washi tape in the photo above, which I've since corrected)
Nature Republic Super Aqua Max Deep Moist Sleeping Pack
Shara Shara The Veiled Beauty Sleeping Mask
SNP Diamond Water Moisturizing Sleeping Pack
Other Things
Toothpaste
Most commercial toothpastes have sodium laurel/eth sulfate, which is coconut derived. Even if you're not avoiding coconut, if you get canker sores, these are correlated with SLS, so you might want to try some SLS-free toothpaste.
I know of two without coconut ingredients that have fluoride: Closys (shown above) and Tom's of Maine Clean & Easy Gentle Care.
Deodorant/Anti-Perspirant
Many of these have some coconut ingredients. I've been using the Mennen stick ones for years, and the non-gel ones all have coconut where the gel ones don't. However, when I happened to be in a small pharmacy in Oregon, they didn't have the gel ones, so I picked up an Old Spice stick instead.
Shampoo
Shampoo is the problem child. I'm convinced that shampoo uses higher amounts of (coconut-derived) surfactants, but I haven't performed the experiment yet.
The only shampoo I know of that's shampoo like and coconut-free is from Gabriel Cosmetics: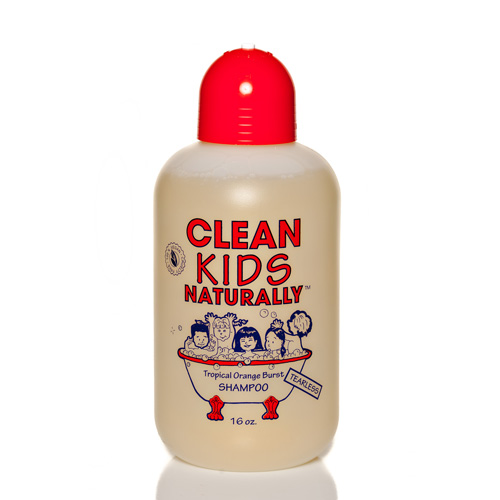 I just got a bottle and it's nice. Not super lathery, but that's to be expected. The detangler and hand soap are also coconut free, as is the bath foam. Gabriel Cosmetics is carried by most health food stores that stock personal care, and Whole Foods. If they don't stock it, as my local store doesn't, they can probably order it for you.
A number of lines designed for the anti-shampoo movement (no-poo, low-poo, or co-washing) are coconut free. Four of the five shampoos from Morocco Method are coconut free (the exception being the Earth Essence). I've only tried a sample of the Heavenly Essence. The Floating Lotus Conditioner and Pearl Essence Creme Rinse are also coconut-free.
A Funny Story and a Book Coming Out
I mentioned in my How I Discovered My Coconut Allergy post, my first husband, Richard Savino, was a soap chemist for Lever Bros (which was what the US division of Unilever was still called until the 90s).
So when I got the shampoo, I obviously couldn't talk to my late husband about it, so I wrote his ex-wife, Beth Kanell, who also was a chemist and is now a mystery writer. She pointed out that Unilever really got its start with importing palm and coconut oils from afar, investing heavily in overseas plantations. In 1930, British soapmaker Lever Brothers merged with Dutch margarine maker Margarine Unie to form Unilever. The merger made sense because importing palm oil was easier on a larger scale.
So one of my questions had been how coconut became so entrentched in detergents and personal care products, and there I was married to a chemist who'd previously been making that future a reality.
Beth also mentioned that coming out soon—coincidentally on the day my experiment was planned to start—is James R. Benn's novel The White Ghost, a historical mystery involving the Pacific theatre of WWII and Unilever machinations.
The Solomon Islands, where the book is set, currently produces in excess of 600 million coconuts a year. Just typing that sentence made me itch all over.
In Closing
Coconut allergies (and contact dermatitis) are pretty rare. Unless you know you're reacting to something that's a coconut ingredient, there's no specific reason to avoid coconut. However, if you're one of the unlucky few, I hope this post helps.
For those of you who suspect a coconut allergy, the last time I checked, there were no specific antigens that allergists had where they could actually test for a coconut allergy. Here is a partial list of coconut ingredients.