One of the valuable things to learn when you go outside your comfort zone, that it's going to be okay.
Probably.
When I was at the World Domination Summit in Portland recently, speaker Michael Hyatt said this during his talk. It was one of the things he said that I found most profound.
Since then, at difficult moments, I've been able to give myself strength by repeating this.
Hope it helps you.
Available from Redbubble in: t-shirts, tanks, sweatshirts, hoodies, phone and iPad cases, prints, stickers, cards, throw pillows, and tote bags.
A version without the background is available on Redbubble for: t-shirts, tanks, sweatshirts, hoodies, and other clothing items.
Available from Society6 in: t-shirts, tanks, onesies, hoodies, iPhone and iPod cases, coffee mugs, laptop and iPad skins, shower curtains, and duvet covers.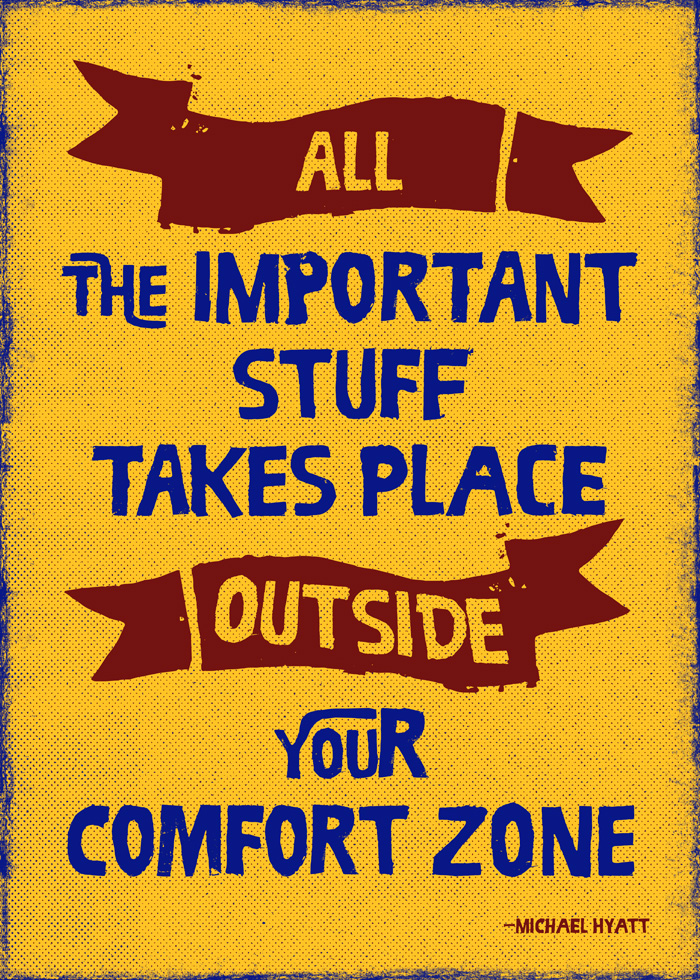 Credits
Thanks to Michael Hyatt for permission to use the quote.
The font is Ruba from RodrigoTypo. (Yes, purchased as a part of a Design Cuts deal.)
The halftone textures are from Rob Brink, purchased as a part of an (expired) My Design Deals bundle. The border edge (not on all products) is from Dustin Lee of Retro Supply. It's from the Standard Issue Texture Brushes package, though I didn't use them in a subtle manner. (Deliberately.) If you're interested in weathered or aged effects, this is worth it just for the video that comes as a part of the package.
I thought I'd go over some of the things I've discovered or loved in the last year, in no particular order.
Johnny B. Truant's essay, The universe doesn't give a flying fuck about you. It's an interesting head trip: by making everything you could possibly do look small, it help reduces fear for the consequences of what you do. Interesting NLP technique there.

If you want to be awesome in this life, do awesome things.

Bats hangin' out on a tree.
Milford. Northern Wales and an amazing workshop.
My whirlwind round-the-world tour featuring a visit with friends in New Zealand, more friends in Australia, even more friends in South Africa, and a play with an actor I like in London.
Overwerk. Especially when used in the Air Tahiti Nui video.
Tiffany Reisz. Bookalicious Pam listed The Siren as one of her favorite novels of the past year. On her recommendation, I inhaled the first four books between Christmas and New Year's. I think her new book, The Saint, is even better.
James Mickens's "The Slow Winter" is one of the few short stories ever where Rick and I have quoted random lines to each other. Most frequently, "This does not lead to rising property values in Tokyo!"
Hard-hat behind-the-scenes tour of the newly-opened part of SFO's Terminal 3. That was pretty sweet, especially the ability to go onto the roof and watch the planes land.
The number of people who search my site for the mongoose joke. (two today!)
All the fun I've been having with Society6, Redbubble, and Zazzle. Thanks, everyone.
Here's a Dihydrogen Monoxide Containment Shield shower curtain.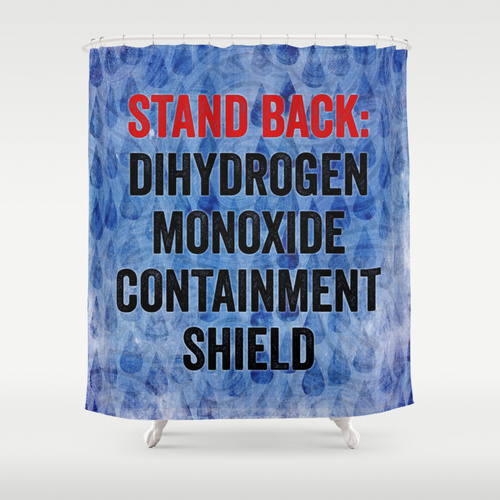 And, you know, related stuff….. (same link set as above)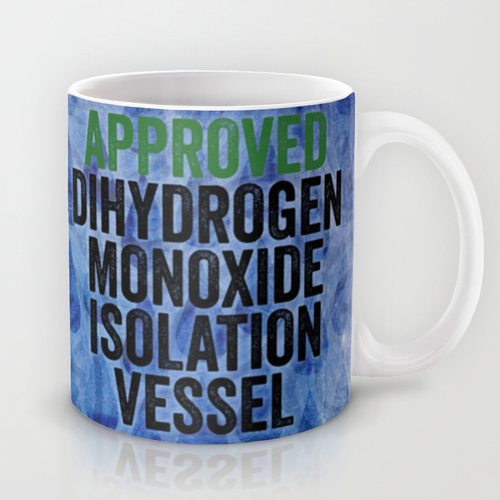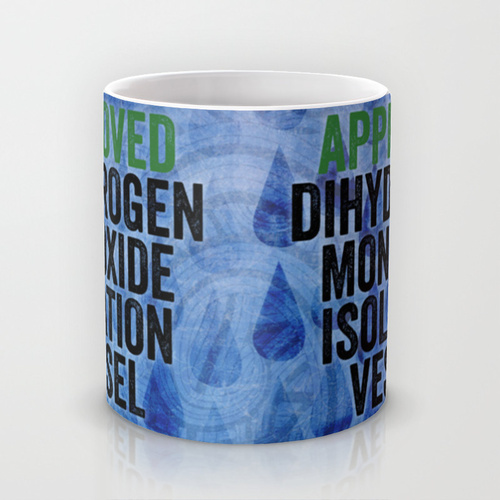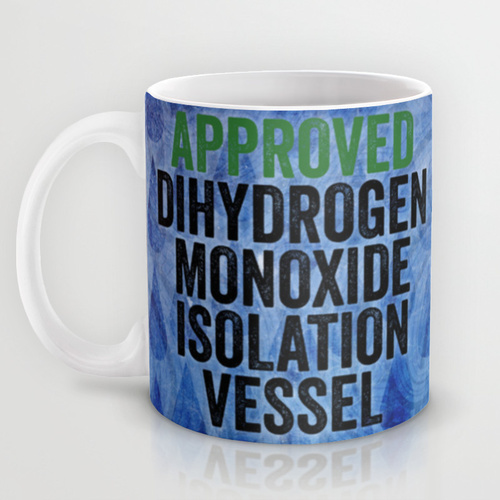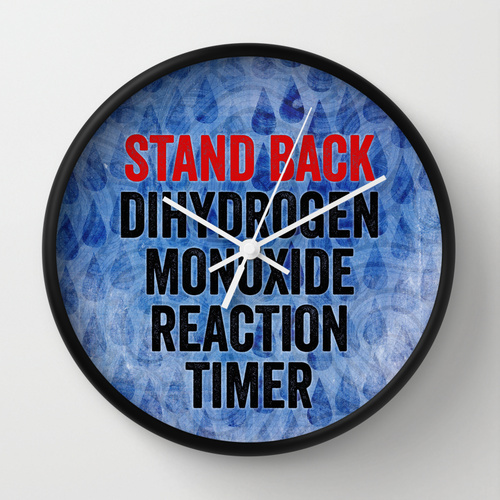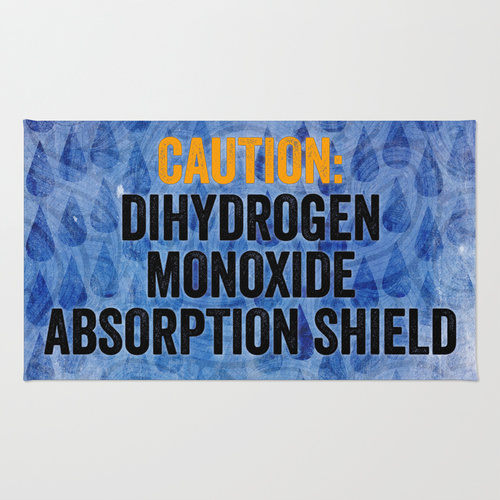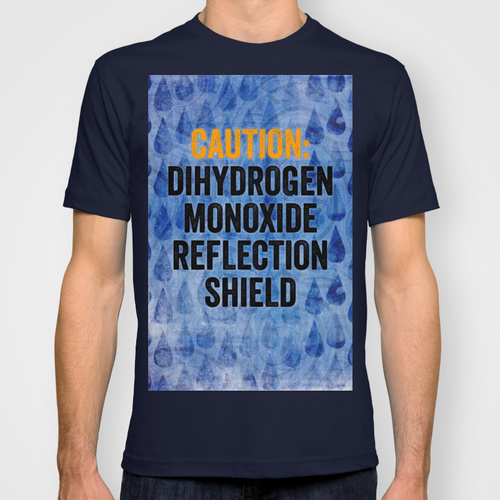 This is a saying of mine. I remember talking to a woman who wanted to go into technology, but felt she had little to offer because there were people with more expertise already. This is what I said to her. I hope it helped.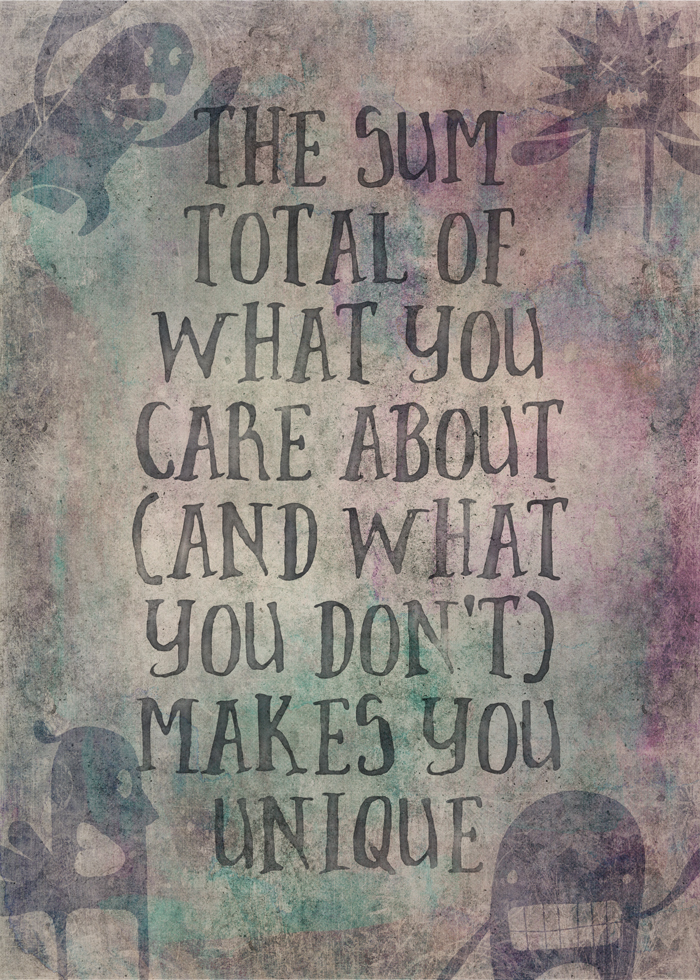 Credits
Main font: Brave by Nicky Laatz, purchased as part of the current Design Cuts font bundle. I also used the stone texture from the bonuses.
Monster font: Monstrinhos by Pintassilgo Prints, also in the same Design Cuts font bundle.
Background textures: Effervescent 16 and 17, by 2 Lil Owls from a previous Design Cuts bundle.
Ubergrunge background texture from Joyful Heart Designs.
Brave font was post-processed with Ian Barnard's Inkwell.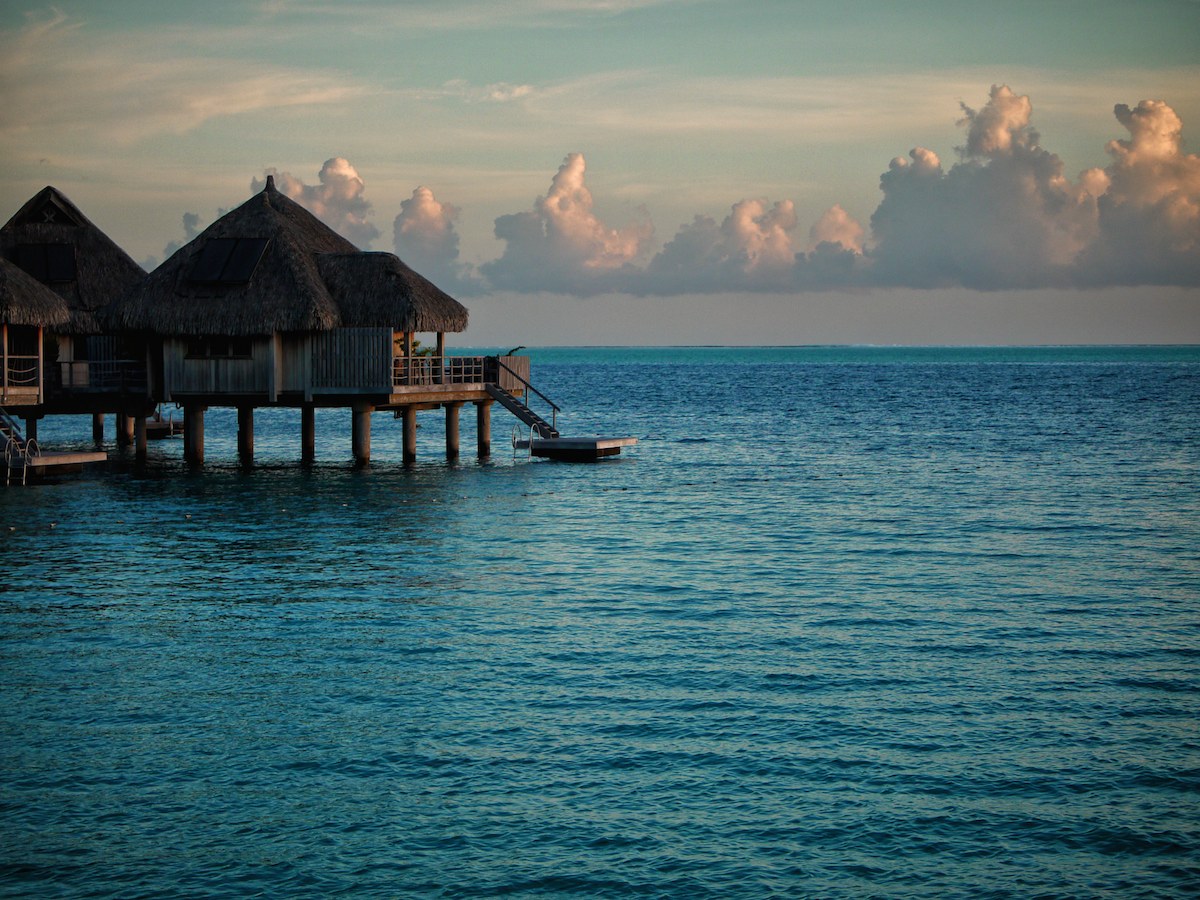 Now on Society6, products including:
Prints
T-shirts (including v-neck), Tank Tops (including biker tanks), and Hoodies
Clocks
Rugs
Shower Curtains
Stationery Cards
Phone, Tablet, and Laptop Covers and Skins
Tote Bags
Throw Pillows
Now available in t-shirts, posters, prints, cards, and stickers from Redbubble.
This is one of those pieces where I sat on it overnight and took an entirely new approach when I did.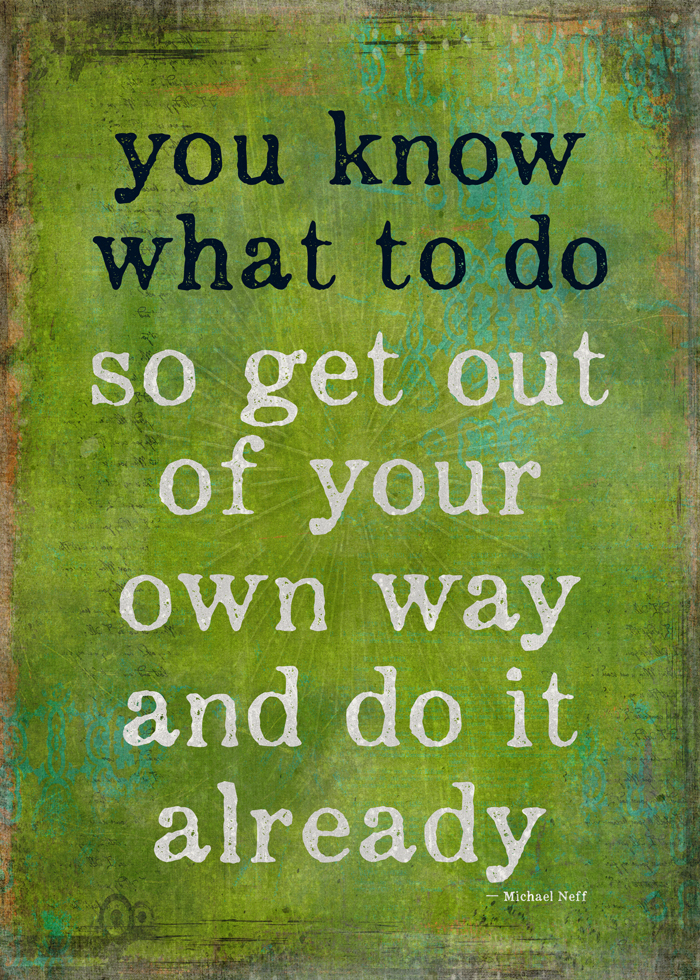 100% detail:


Pretty much everything remained the same except the background, but that's so dramatically different now.
Credits
The background itself is a freebie this week on Creative Market from Joyful Heart Designs.
The font is Appareo from Kimmy Designs, also a Creative Market regular, but I picked it up from a Design Cuts bundle a few weeks ago.
The sunburst, well, I have a lot of them. This particular one is from Thunder Pixels.
There are also brushes in there from another Design Cuts bundle, but I can't point to them, because they are pretty darn subtle.
What's less subtle, though, is the effect of Matt Borchert's Distress Texture Pack, the concrete-like overlay over everything, including the text.
The most important part: thanks to Michael Neff for the verbal kick in the ass.
This is a photo I took in 2010 when I was on the big island of Hawai'i.
Available now from Society6 in prints, cards, pillows, shower curtains, coffee mugs, tote bags, clocks, rugs, and laptop, phone, and iPad skins and cases.
Note that while the coffee cup is available, the flower's center is opposite the handle.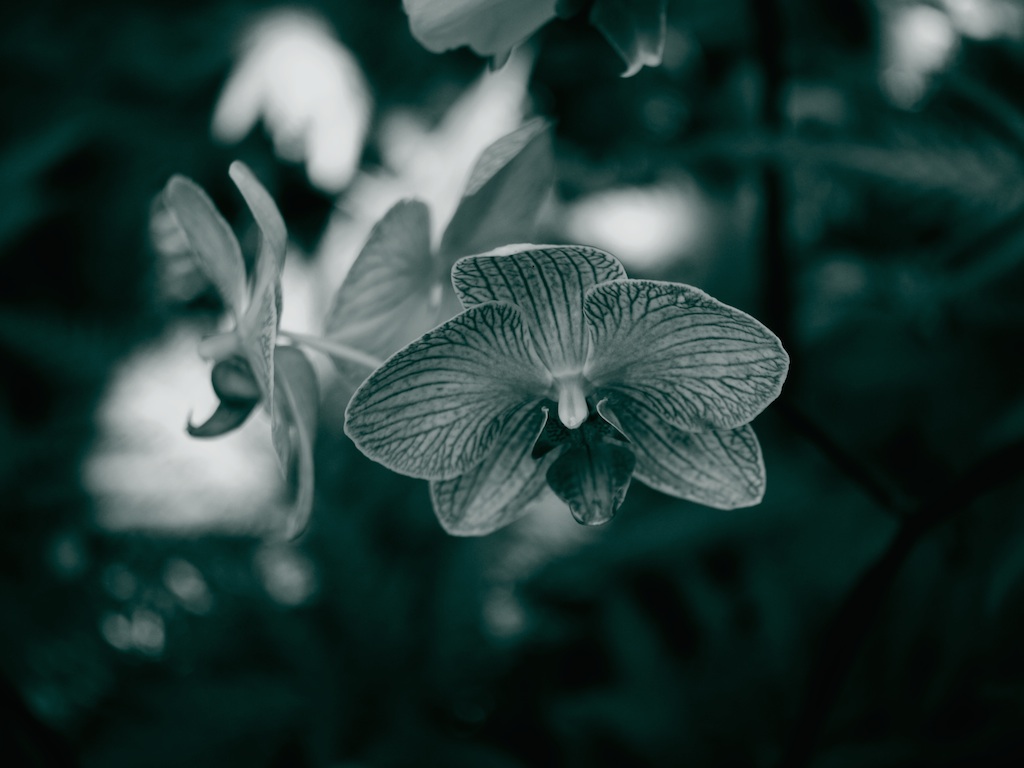 I was talking to Bri the other night, grumbling about why people don't do the right thing when they should, and out of her mouth came these words.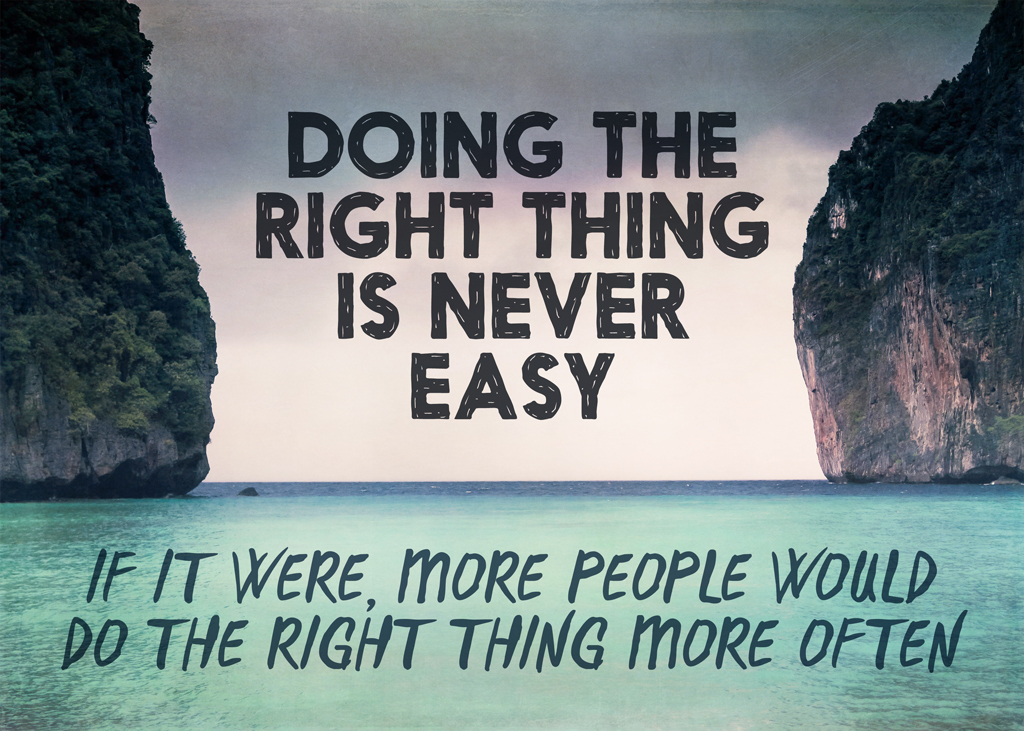 T-Shirt Mockups
Note: trust Redbubble for truer colors, as these are mockups.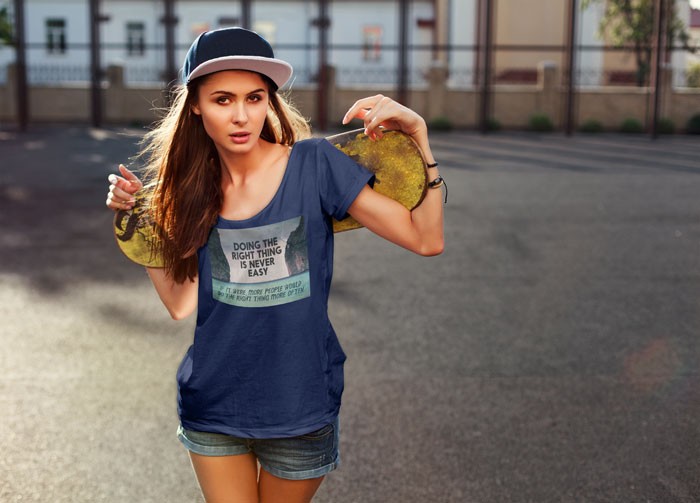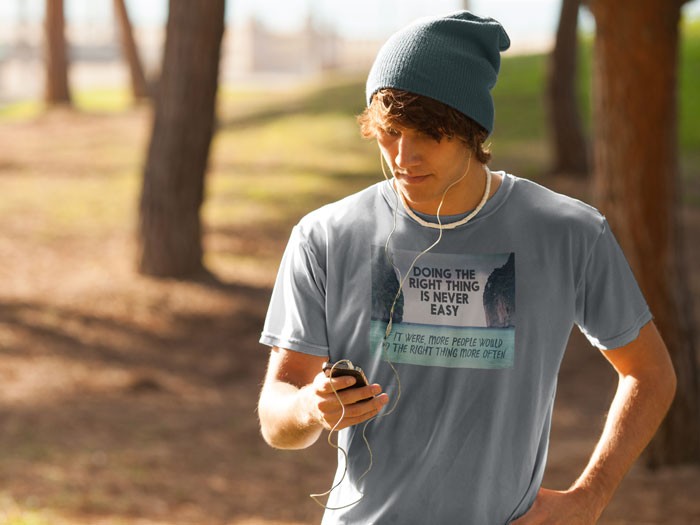 Purchase on Redbubble in shirts, prints, posters, stickers, greeting cards and postcards, and probably a few things I've forgotten.
Credits
The original photo was all gloom at the top, but the 2 Lil Owls textures softened the gloomy part and gave more interest to the light grey sky.
Other Artists
I just picked up this shirt design from Mark Greyland. This looks best on a dark shirt because they're underprinted with white, which isn't true on the light shirts, so the colors are more saturated. I ordered an American Apparel shirt in turquoise, but other colors work really well too. Just remember that you and the space kitty will be wearing the same color shirt. Use code SUMMERSAVING for 15% off through tomorrow.
…which also applies to my designs on Zazzle.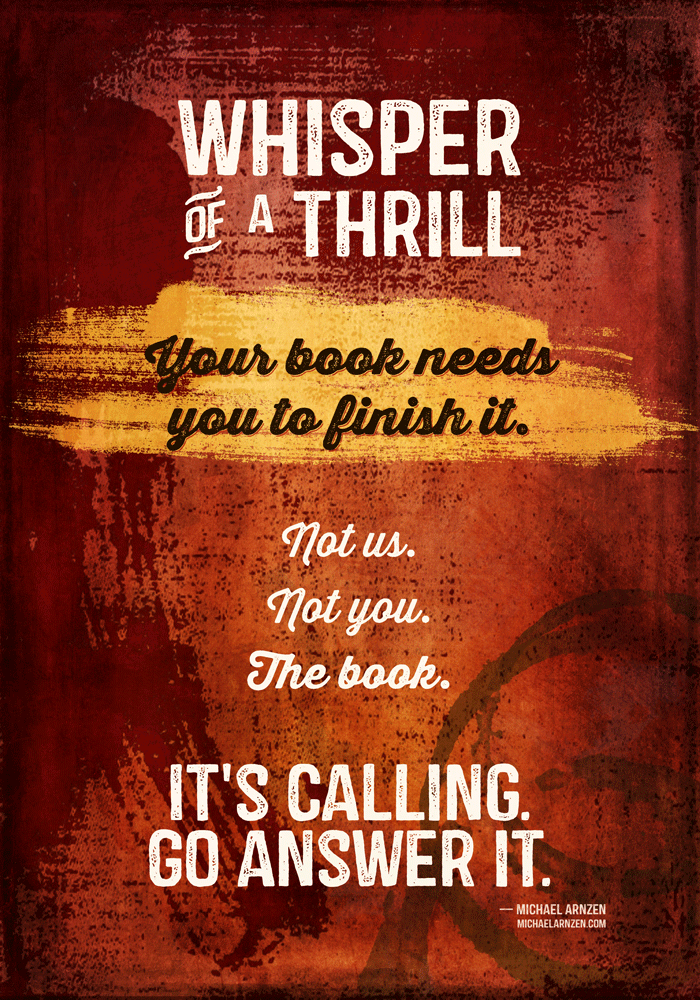 Available from Redbubble in posters, prints, t-shirts and hoodies, greeting cards, and stickers.
I've had this saying around on my hard drive since grad school in 2003, when Seton Hill University professor Michael Arnzen said this. Neither of us can remember the precise context, though.
He is a horror writer, and I can totally hear that evil horror writer cackle at the end, so I went with a red theme, leaving it open to interpretation if that's actual writerly blood running down the left side.
Oh, hey, there's coffee rings in the lower right.
100% detail: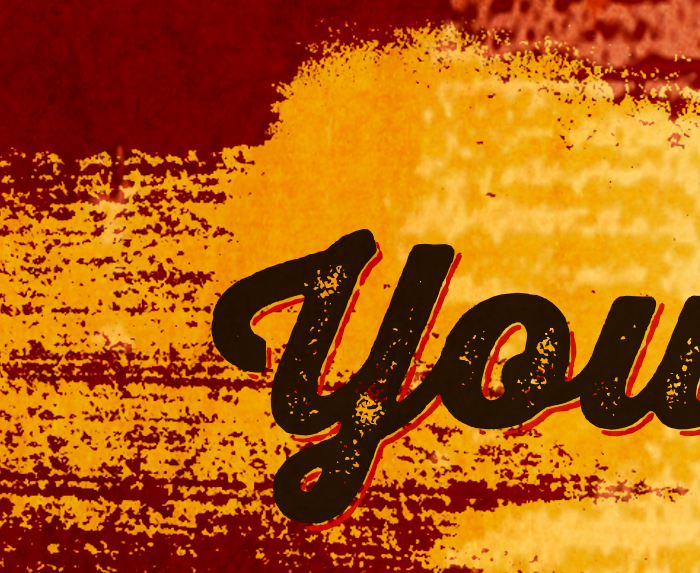 Credits
This time, I decided to use my favorite packager of graphic elements I love, Design Cuts. Every one of these came from one of their bundles; they run a single bundle every other week.
Font: Thirsty Rough from Yellow Design Studio. This is the script font. The detail shows the regular font plus the outline font, which is a really neat look.
Two textures from 2 Lil Owls. One on the very bottom and one on the very top. The bottom one has some subtle text that you can kind of see hints of. As I write this, these are out of the current Design Cuts bundle. One's from the Grandeur pack, and one from the Relic pack.
The yellow swath is from Robyn Gough, who also did a few other brush textures used very lightly in the background.
The red on the top and left is a vector element from Offset's Vector Texture kit.
The coffee rings are a set of Photoshop brushes from FanExtra.
Apart from that, I used one linear gradient and one radial gradient.
That's it!
A week ago, I made and posted this bag mockup.
A couple of people have expressed interest in actually buying one. Sadly, that specific kind of bag is only available for printing in $BIGNUM quantities at $BIGNUM++ prices, which isn't going to happen.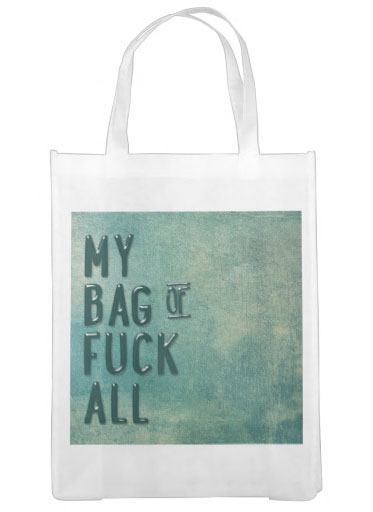 The Zazzle version is a white poly market tote, but has the design front and back.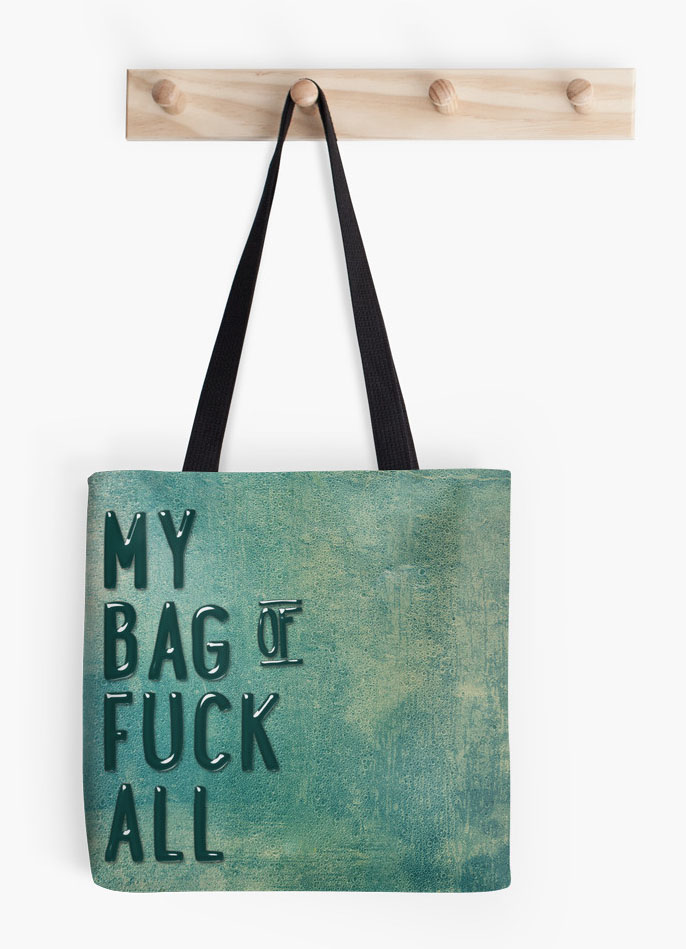 The Redbubble version is an over-the-shoulder tote. (Yes, it also shows as a pillow, which makes no sense, especially with that layout, but they're the same "product" as far as graphic uploads go.)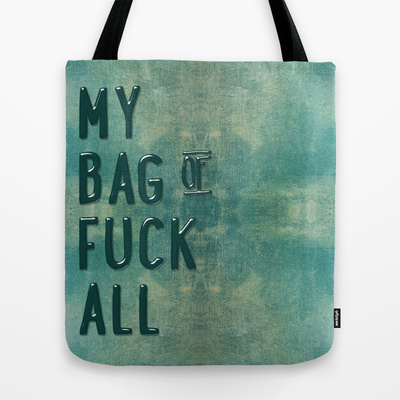 The Society6 version is my personal favorite. It's a shoulder bag available in three sizes. The small size is the same as the Redbubble, but it's also available in two larger sizes. The small size is one penny different in price than Redbubble, but I'll say this: the artwork is much higher resolution. I think the strap placement is probably better. I can't speak to any quality differences between the two, though.
I happened to make it in one of my favorite colors, but I'm open to making it in different colors if you'd like.
Based on seeing a friend's pieces on Society6, I decided to start uploading photos there for sale in various forms. They have prints, iPhone cases, computer cases, pillows, tote bags, and stuff like that.
My first piece (my plan is to upload one per week) is called Iceplant.
I know, I know, it doesn't look like iceplant, right? I prefer to think of it as iceplant in someone's acid trip.
Actually, the photo is really of iceplant. Rick and I were walking around Pigeon Point Lighthouse one day. I had my finger on the shutter button, as you do, and misstepped, setting off the trigger. I got a lovely streaky blurry photo of a patch of iceplant.
Honestly, it really wasn't very fetching, but there was something about it, so I played with it.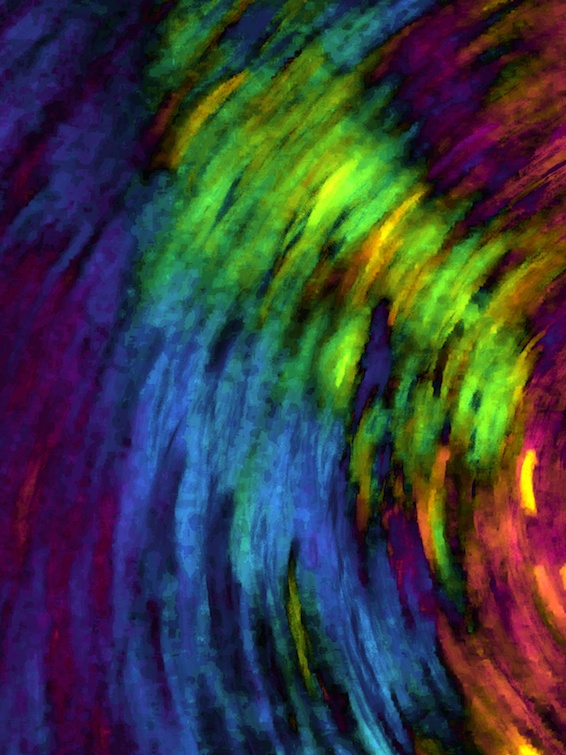 My friend Joe (zeruch) also has a shop on Society6, and I like this piece in particular. Note that some of his figurative work is NSFW, but I've linked to an abstract. I think it looks pretty awesome as a pillow or clock.