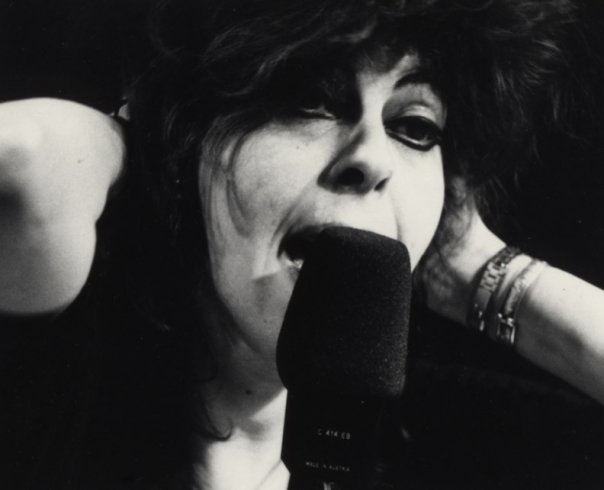 ] Elizabeth Fisher • Photo by Scott Beadle
When this posts, she will be going…or gone.
Earlier, she sent an email that's just…so her. > at 11am zurichtime, whatevertime, your time, give a cheer, hey, cause
off i go and it's all good.
It seems weird to say that someone will be dying at a specified time, but Elizabeth Fischer chose assisted suicide when she found out recently that she had terminal lung cancer.
From that interview:
You've been really open about choosing suicide. How have people responded?
My demise has become a community effort, and that makes me feel pretty good. People in my coop, in my musicians' community, the artists' community, have been really kind and supportive. I'm being love-bombed, and it's kind of overwhelming, because I had no idea they cared so much. [laughs heartily] They all think that I'm being so brave, though I don't think of it that way. I'm just too smart to want to die in a hospital, racked with pain, tied to IVs, utterly humiliated.
I can't remember precisely when I met efish on the EFNet #scientology channel (which, despite its name, was mostly a channel of critics), perhaps even before I became a channel op sometime around 1995 or 1996. I just remember her always being there, usually the cheerful one. Often talking about dancing, singing, writing, art, goulash, Hungarian, or the strange trip she'd taken through life.
Like many people in our lives, even when I no longer hung out with efish on line a lot and wandered away from Scientology criticism for quite a few years, I thought of her a lot.
We saw each others' comments on Marty Rathbun's blog in March 2014—this post, in fact—and reconnected via facebook and, briefly, IRC. Mom and I took a trip up to Vancouver Island this April, but we had to do it at breakneck speed (which turned out to be fortuitous; my mother became very ill almost immediately upon our return), so I sheepishly told Elizabeth I'd be back.
In retrospect, I feel foolish. I'm sorry I wasn't able to carve out the time.
Her Projects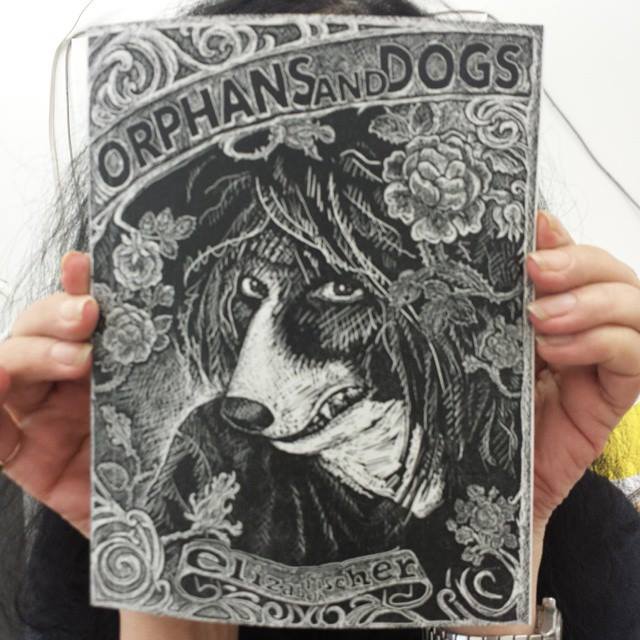 It's obvious there's a hole in the Vancouver arts scene where she used to be.
Leaving Hungary
And now, a prose piece from efish about what it was like to be a refugee from her homeland. Illuminating for those of you who aren't old enough to remember other large refugee crises, here's a primer about the Hungarian Revolution of 1956. The refugee crisis was the first to be televised.
In terms of some since, it was far smaller than Syria (or Vietnam), so it was, relatively speaking, easy to find places to accommodate 200,000 people, 180,000 of whom fled into Austria. But that was by no means easy for those who were displaced…sometimes several times.
In that sense, assisted suicide—choosing the date, time, and place of one's demise—makes a curious sense for someone blown about the globe by the whims of others at the earlier end of her life.
Underwear
Hungary, 1956, mother, father and me don the family underwear and scramble off across the border to Austria. Onto Austria, where every hungarian arrives heroically freedomfighting, and from which one can only be shipped off to Argentina, where – according to mother – far off relatives await with open arms. And there they are the far off relatives but no open arms await cause they see the underwear and it makes them nervous.
There we are then, flowing sewage in front, rendering plant in back. Father works in a factory and amuses himself by teaching everyone how to swear in hungarian. And then comes home and announces okay, but he'd much rather kill himself. So mother stops the nine months long weeping and removes the one family jewel pinned to the family underwear and goes to sell it.
In the meanwhile, I attend school in spanish. A catholic school run by nuns, where during religion classes I get to sit on a bench in the yard and play with the flies.
So mother sells the family jewel and buys a ticket back to Europe, come what may. And we iron the underwear and embark on a french ship. French cockroaches rove our bodies and father states that the french are shits so we will definitely not be going to France. Mother nods and continues to weep.
We arrive back in Austria where everyone is sick of heroes and freedomfighters. So there we sit at the nearest refugee vacation facility, a fuck you gesture in austrian dialect.
A yearlong vacation, twentyfive to a room, the family underwear on a clothesline. Sporting events abound cause with hungarians, arguments are deemed sporting events. Mother weeps, father amuses himself with teaching the camp director choice hungarian obscenities.
Me, I attend school in german. And on holidays I am put on exhibit dancing rustic folk dances with a wine bottle on my head.
In the meanwhile, father's skills in matters of hungarian language become popular. Here comes a swedish red cross rep and says he's interested in higher learning. Okay, says father, but then how about a swedish visa. That's hard, sighs the swede, cause everyone hates hungarians. We for example, only take persons with life threatening illnesses. That'll be just fine, says father, look at mother there in the throes of fatal weeping. Don't you think a rest in a fine swedish sanatorium would do her some good. Well, says the swedish rep, maybe it could be arranged, but then you'll have to teach me something extremely exotic. Cause me, he says, I like to deeply explore foreign cultures. And then father reaches deep indeed and brings forth the most exotic of exotic cultural treasures, hidden gems from within, ancestral bon mots gingerly cradled all the way from his village of birth, exotic Babocsa, population 500, paragon of extreme hungarian cultural endeavours.
Once in Sweden, mother is carted off for a rest cure at a sanatorium. Father and I to a cute little refugeecamp by the sea. We have ourselves a great time cause no more hairbrushings and such, seeing as hygene is also resting with mother. After three weeks, mother is released from the sanatorium and continues where she left off. Weeping, she shakes the sand out of the family underwear and brushes the knots from my hair.
It is very nice in Sweden but fucking dull. Having nowhere else to go, we hang around for four years. No one to teach hungarian to cause the swedes are a very polite people. They quite politely hate all foreigners.
Me, I attend school in swedish. There are no religion classes and also no dancing.
After a while, father has had enough of all this fine innertia. He decides he wants to live in Canada. There are many refused canadian visa applications. Mother weeps. So then he decides to write a letter to the english queen. In the letter he says he has had enough of all this joking around. That he would love to leave the family underwear behind. Please allow him to live in Canada, where he, the hungarian Fischer Pista promises to sell zippers and be perfectly happy doing so, respectfully yours, your future subject, Mr. Steven Fischer. Post Scriptum, hogyha nem enged be akkor maga igazan egy hulye nagy barom es le van szarva.
And she lets him in.
The rest is less interesting. Well, okay, maybe a little bit interesting.
— © elizabeth fischer
Link Roundup
No More Fitting End to This Post Than This
Elizabeth Fischer singing "Learning to Live" with the Animal Slaves.
https://youtu.be/w54pzs-ImG4
Classic Star Trek ran during my formative childhood years, and my favorite character was Spock. I liked Spock's logical approach, and I could relate to Leonard Nimoy's character far better than any of the other Classic Trek characters.
In 1978, unsure of the fate of the forthcoming (first) Star Trek movie, all the major actors were at a convention in Los Angeles. At that point, Paramount genuinely didn't know what they had.
The convention took up half the LA Convention Center. I remember there was a very sparsely attended home and garden show in the other half; I remember seeing a single orchid on a stand with no one nearby.
The Trek convention, however, was an absolute madhouse, with double the maximum capacity. I'm hoping Michael Siladi will chip in about that because he was involved with it as a staff member; I just went as an attendee. I remember getting a claustrophobia attack in the dealer's room. I finally went and sat in the theatre in the back, excited to see William Shatner coming up next.
Yeah, that's embarrassing.
And, for my crimes, I got to see him perform whale songs. ## But I Also Got to See Leonard Nimoy!
Sadly, I don't remember much as I was still too dumbstruck by the horror of whale songs.
I did get to say hello to Mr. Nimoy. I remember stumbling over my words and an ever-so-slight knowing smile on his face.
Speaking of Songs…
I know it's super fashionable not to like this one, but I always have. Sure, the video's embarrassing, but the harmony and subject are kinda fun.
Eric P. Scott was a bay area fan and open source enthusiast who died recently, apparently related to his ongoing heart problems.
One of the peculiarities of Eric P. Scott is the frequency that we'd wind up on the same plane with him. It didn't matter if we were heading to Calgary or Seattle or some other random convention—he'd wind up on the same flight.
True, we usually fly out of SFO, as did he. True, we often fly United, as did he. He became a United million miler when it was far easier to do, then health problems (more the financial complications of same) limited his ability to travel. Still, there were usually enough flights that we could easily have picked different ones from each other. We just didn't happen to.
He'd sometimes show up at our house on a Cabal night, talking about Linux with whomever else happened to show up.
We'd see him at random Linux and open source events, too.
For me, he was always a mixed bag: some days, I'd have incredibly long, cool conversations with him, and other days he would be so frustrating I wanted to scream. Even though those days happened, I always looked forward to seeing him.
It's very weird thinking I'll never get that privilege again.
See also: File 770 and Chaz Boston Baden. His own LJ is here.
Graphics Credits
I'd been meaning to design a banner graphic for memorials. I'd recently gotten a bunch of layer styles, and used the Frozen style from here. I altered the outer glow to be a little darker and half as thick. Somehow, using a text style associated with an sf/f film seems fitting for eps.
Font is Desire from Borges Lettering, corners from Make Media, and the glitter layer on the corners is also from Make Media.
It was just under a year ago that Eugie Foster broke open a dam with her plea for people to buy her work, but not the Norilana editions. She was fighting cancer, an aggressive form.
Unfortunately, the treatments she's gotten, including radiation, several courses of chemo, and stem cell therapy, weren't enough to save her life.
Sadly, she died today.
If you don't know Eugie's work, she was an amazing writer with a Nebula award and a hundred-ish publishing credits to her name. Link below.
Her last published story is, "When it Ends, He Catches Her," published in Daily Science Fiction.
A Note from Her Husband
Matthew M. Foster said:
Eugie Foster, author, editor, wife, died on September 27th of respiratory failure at Emory University in Atlanta.
In her forty-two years, Eugie lived three lifetimes. She won the Nebula award, the highest award for science fiction literature, and had over one hundred of her stories published. She was an editor for the Georgia General Assembly. She was the director of the Daily Dragon at Dragon Con, and was a regular speaker at genre conventions. She was a model, dancer, and psychologist. She also made my life worth living.
Memorial service will be announced soon.
We do not need flowers. In lieu of flowers, please buy her books and read them. Buy them for others to read until everyone on the planet knows how amazing she was.
You can find her fiction linked here on her website.
This has long been the example I give ppl of how much power SFF short fiction can have in audio: Eugie Foster's http://t.co/iubw83GR1A #RIP

— N. K. Jemisin (@nkjemisin) September 27, 2014
We are heartbroken at the loss of our Director/Editor, @eugiefoster. A beautiful soul and steadfast friend. http://t.co/g0UXKzHiy7

— Daily Dragon (@daily_dragon) September 27, 2014
New Post: Saying Goodbye to Eugie Foster http://t.co/du5hz3ymSR

— Jim C. Hines (@jimchines) September 27, 2014
Eugie Foster is one of the writers I think of whenever I wonder if Speculations did any good. (Yes, it did.) http://t.co/ChmEbxvRIu

— Kent Brewster (@kentbrew) September 27, 2014
If you haven't done so, read "When it Ends, He Catches Her" by @EugieFoster in @DailySF. One of the year's best. http://t.co/9eQsTUBMiX

— Jason Sanford (@jasonsanford) September 27, 2014
Wondering why your feeds are exploding with grief over Eugie Foster? She was one of our best writers…and one of our best people.

— Jaym Gates (@jaymgates) September 27, 2014
May she never be forgotten.
Robin Williams died, apparently of suicide. He'd been through a recent rehab program; he struggled with both addiction and depression.
For many years, I didn't realize I struggled with depression. When I became involved in Scientology, the depression got worse, and the costs of admitting I had it rose. I left Scientology in 1989, but I didn't seek help for my depression until 1997. To ask for "psych drugs" or traditional therapy was counter to all my programming.
At that point, I'd been widowed for a few months. I wasn't suffering any obvious big-picture depression problems. I cried occasionally, but didn't go on long crying jags.
I was waiting for my doctor, and read an article about depression. I had many of the secondary problems of depression: total inability to sleep at night (which has plagued me intermittently ever since) being the biggest one. As a secondary effect, my fibromyalgia raged on with the sleep irregularities and never went away.
My doctor prescribed me two antidepressants, one of which was amitriptyline. To this day, I'm still on nortriptyline to help regulate sleep (and thus pain), though I no longer feel depressed. Unless, of course, I go off of it, as I did for a few months. Big mistake.
My doctor told me that when he'd tell depressed people what drugs and/or therapy could do for them, they'd look at him like he was a Martian. My own example: I'd become convinced I'd never write again. It was too painful and too wrapped up in the identities both I and my late husband had.
I started to feel the emotional lift from one of the meds in a few days, and within two weeks I was starting to write again. Medication turned my life around and made it worth living again; I'm unhappy when I can't write.
I'm thankful that I've only been suicidal during one very short period of my life, before my first marriage. I've known other people who've killed themselves (I tell one such story here), and I always feel sad for them and the people left behind.
Susan, I'm so sorry you lost your husband Robin.
If you're reading this and struggling with depression: there are sources of help. What worked for me may not work for you, but please try to find something that helps, even if it doesn't seem immediately effective.
But still, you'd have much better odds at the craps table in Vegas than you would betting me to show up at WorldCon in 2014. Jay Lake, 2009
I found that while I was looking for a post I remembered, probably from 2009, about the depth of his fear that he'd have to go through a second round of chemo (he wound up going through several more than that—five?). I couldn't find it, nor could I stand to look through the archives any longer just now.
I've never been able to say before, on the day someone died, "I had a great time at his wake last year." That's the kind of person Jay was.
I can't remember exactly when I met Jay, but I think it was in 2002. It was definitely at a con, and I remember being in a low-density party room with Jay and Cassie Alexander, the only two people in that room at that time where I knew who they were.
Though I felt invisible, I became something of a fan. Later, when BayCon had invited Frank Wu (or, actually, I extended the invitation in person at Worldcon) for BayCon's guest of honor, I started lobbying for Jay for Writer Guest of Honor. Kathryn Daugherty, who'd gotten to know Jay through the Worldcon circuit, thought that was a good idea, though generally BayCon was looking for higher-profile writers than Jay was at the time. (Specifically, they looked for a Hugo award or NY Times Bestseller. At that time, he'd had a bunch of short stories published, but no novels, though he'd won the Campbell award for Best New Writer.)
The singularly awesome moment, from my perspective, at that BayCon was Jay's participation in "A Shot Rang Out."
I invited my long-time friend Martin Young to speak. I knew he'd be fabulous at ASRO, but I also knew that I couldn't tell Martin in advance what the concept was because he'd overthink it. So, a few minutes prior to the start of the panel, I stood in front of him and told him what it was all about.
"I hate you," Martin said, not meaning it.
From a 2005 BayCon report.
Easily the highlight of Sunday (being one of two panels I got to sit in the audience for) was BayCon's traditional "A Shot Rang Out" panel. It's a simple concept and it depends so much on the people involved. This year, we had Hilary Ayer, Jane Mailander, Martin Young, Writer Guest of Honor Jay Lake, and Lee Martindale.
The concept: The story begins with "A shot rang out." Each panelist must draw a slip out of a box and end their turn with that line. Anything in the middle goes. Jay Lake, when pulling one of his slips, asked, "Does this have to make any sense at all? The other panelists assured him not.
A few moments were especially worth noting.
Once, Martin ended his turn so spectacularly that Jay Lake, master of improv writing, couldn't find a way to follow him. Jay ran across the stage and kissed Martin on the head, saying, "I have come to pledge my love for you, for no man has ever left me in such a hard place."
Later, Martin pulled a slip and said, "Oh, f*, that's a long one!"
Jay quipped, "Are you sure you said those words in the right order?"
For a few moments, no one could continue on, they were laughing so hard. Perfect retort.
He went on to publish Mainspring (which is an example of the kind of book I love but could never have written) and other novels.
Kathryn Daugherty and Jay Lake were diagnosed with stage IV colorectal cancer about the same time. Kathryn and I had never been best friends, but she was very influential in my life.
We'd recently been through a couple of rounds of cancer at the house: my mother had had endometrial cancer in 2006 and our cat Scruffy had a leg amputated after the reappearance of cancer.
It's unusual for anyone with stage IV colorectal cancer to survive as long as Jay did; Kathryn died in 2012. He wanted to be there as long as possible for his daughter and went through hell to try to make that happen. He expressed so so many of his fears and doubts on his blog. If you ever need to know the pains and trials of being a cancer patient, so much of it is laid out in black and white on his blog. I think many of us had no idea what was involved in being a long-time cancer patient, and he blogged it in excruciating (and yet obviously incomplete) detail.
A little over a year ago, he was given his life walking papers in the form of a terminal diagnosis. For the first time, Rick and I made it up to the annual JayCon, then to JayWake.
In his wrapup, Jay said: "I have become medically interesting in two different ways, which is not really something you should aspire to."
Other posts about Jay I've made:
Living vs. Dying
Fuck Cancer: New Art
Look, He Wasn't Perfect
Because I believe OSC was right in telling the entire truth about a person after they pass:
K. Tempest Bradford makes a point.
The Clayton Memorial Medical Fund
Jay has asked for anyone wishing to make a contribution to do so to the Clayton Memorial Medical Fund.
Mary Robinette Kowal talks about having been helped by the fund.
Remember the Living
One thing I've noticed, especially after I was widowed myself, is that people talk a lot about the deceased, but tend to forget about the people still living.
Lisa Costello is an amazing person, and she has been blogging about her own life.
Bronwyn, of course, will miss her daddy.
And Jay left a widow, Susan Lake, whom he sometimes referred to as "The Mother of The Child."
Jay's parents are still alive.
And there are many other family members and friends.
His obituary can be found here.
Recently, I deleted my Flickr account, which meant I deleted the only public repository of my oft-used "Fuck Cancer" graphic. The original is still as free to use as ever and is at the bottom of this post.
Over the weekend, I decided to re-make the graphic to be high enough resolutions for t-shirts and prints.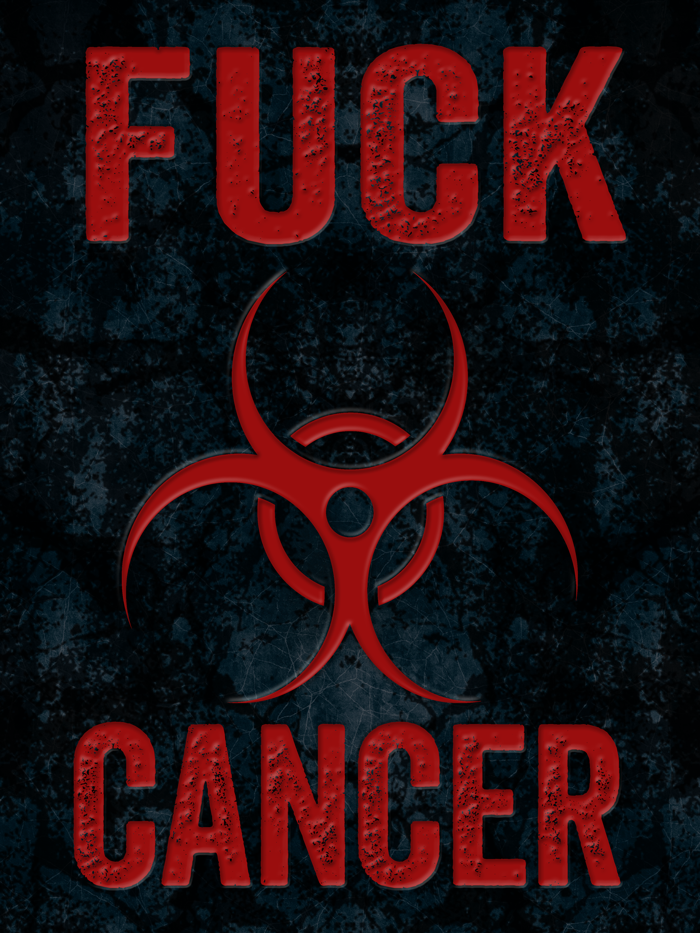 It's on RedBubble in several formats:
T-shirts and hoodies
Stickers
Prints
Small posters
I've made this image so it prints well on both light and dark t-shirts (as it has a background)
Older, Free Image
The above images isn't one I want circulating on its own, but if you'd like me to adapt it to some other need you have, (e.g., a poster or event), contact me.
You can always use the image below for free. Sorry, this is as large as it ever came: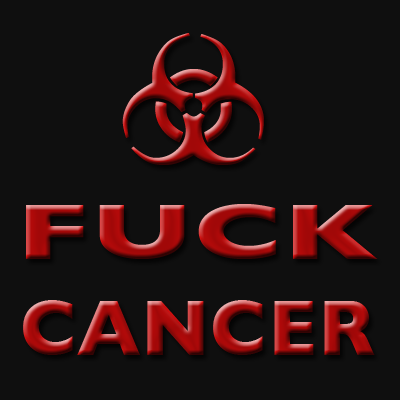 Most of you reading this will have no idea who Jackie Barbosa is. Nor who her son is.
Jackie's a romance writer. Last week, her teenage son was driving to school and struck by an oncoming car. Dear Author mention is here, including link to a fundraiser.
I don't know Jackie, but I do know what it's like to have a husband suddenly die, and it really and truly sucks.
So, what I'm asking: here's her booklist. If any of those are your cuppa, consider reading a sample and see if it's something you want to buy and read the rest of. If you know other people who might like her work, consider telling them about her stuff.
She has a blog about publishing matters (she is a hybrid author, meaning both published traditionally and self-published). You might wish to read that. Like, for example, this post about metadata ownership concerns in publishing contracts. So, even if you don't care about the romance genre, if you write, there may be something of interest to you in there. Maybe even if you don't write.
From my own experience and that of others I've known in grief support groups since my first husband's death, it's going to take 1-1/2 to 2-1/2 years to be fully productive again. I don't know how many of you read the linked Esquire article in my recent MH 370 blog post, but part of what was disturbing about it for me was how the article really communicated how differently people grieve and how that can drive a wedge between family members when someone dies. And in the case of that article, between parents who'd lost a child.
I wish her (and her family) the best.
Update: Kensington has put one of her books on sale until 4/1. Link has details.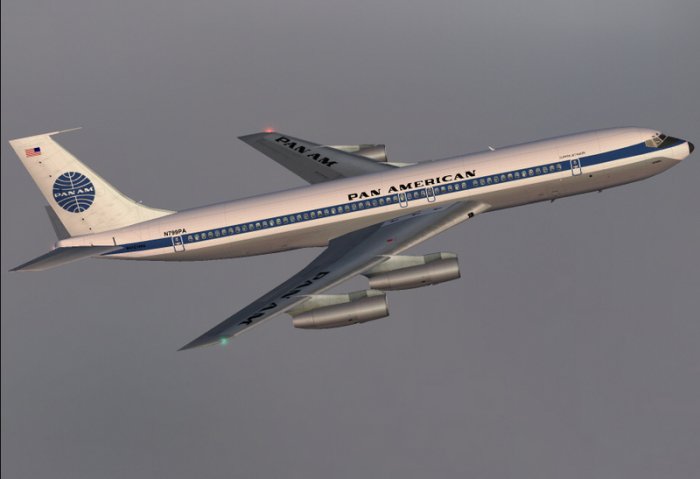 On the ring finger of my left hand, I wear the wedding ring that once belonged to Pan Am Captain Arthur Moen. My late father-in-law, whom I never met.
Anyone who flies a lot fears the worst. Truly, on average, the risks in commercial aviation are low. Not zero, but low. Those of us who flew, say, 160,000 miles last year, some of that over the Indian Ocean, might be a wee bit more stressed about MH 370 than average folks.
This household, though, is a dual-NTSB-report family. A dual-NTSB-fatality-report family.
Rick and I were the same age when tragedy struck our families' lives in very different ways.
My Side O' The Family
My stepfather had a Cessna 182, and it was on a leaseback, meaning other people could pay to fly it when we weren't. One pilot with 1500 hours (quite a lot for a private pilot) decided to fly himself and three passengers to the Reno air show that year.
The pilot blew off the weather briefing that morning and, despite not being instrument rated (and the plane didn't have the right gear for IFR), he took off in weather that required instruments. The fog was all the way to the ground at the place of impact.
The pilot mis-estimated where he was and, well, "struck obscured mntn side" says it all, doesn't it?
Four people died. NTSB report.
Crash victim family members threatened to sue my family. There was an NTSB investigation, but our hands were clean. Still, when you're a kid (or even an adult), it's rather horrifying to think that the plane you flew in not so long ago flew full-speed into a mountain and caught fire.
Rick's Side O' The Family
Rick's father's case is the more famous one, a Pan Am cargo flight to Viet Nam.
The Board determines that the probable cause of this accident was an attempted takeoff with the flaps in a retracted position. This resulted from a combination of factors; (a) inadequate cockpit checklist and procedures; (b) a warning system inadequacy associated with cold weather operations; (c) ineffective control practices regarding manufacturer's Service Bulletins; and (d) stresses imposed upon the crew by their attempts to meet an air traffic control deadline.
On Christmas Day, the flight left San Francisco, bound for Anchorage for refueling. The weather at the commercial airport was unsafe, so they landed at Elmendorf Air Force Base instead. The following morning (which, being Alaska in December, was completely dark), there were a number of irregularities in procedure during takeoff, and the time pressure wasn't helping.
None of the three people survived the resulting crash.
The NTSB report resulted in a number of psychological studies on the relative effectiveness of checklists, though. Overall, checklist procedures at all airlines changed, albeit slowly.
The findings and related research were incorporated into other works. An example would be this dissertation. Or, perhaps strangely, the NTSB's conclusions reached software development books like Model-Driven Development of Advanced User Interfaces.
Perhaps the most relevant book would be The Multitasking Myth (Ashgate Studies in Human Factors for Flight Operations):
However, accumulating scientific evidence now reveals that multitasking increases the probability of human error. This book presents a set of NASA studies that characterize concurrent demands in one work domain, routine airline cockpit operations, in order to illustrate that attempting to manage multiple operational task demands concurrently makes human performance in this, and in any domain, vulnerable to potentially serious errors and to accidents.
These were things that were largely unknown at the time. Pity we found some of them out the hard way.
If a job asks you to multitask? Better hope what you're doing isn't critical.
The Waiting
There's not a day that goes by that I don't wonder if the Asiana 214 report will be ready soon. I double-check to see I haven't missed it.
Three weeks before the Asiana crash at my home airport, SFO, I was returning home from Alaska—my first trip there, and a place Rick understandably doesn't wish to return to—when my United flight missed their approach and did a go-around. It was very strange looking out the window down at the airport from an angle you're not supposed to see it.
While I hadn't had a near miss, let's just say that it rattled me. I didn't tell Rick about the missed approach until the Asiana crash because it involved Alaska.
The only reason my wedding ring exists? Art had left it home to see if it could be adjusted by the local jeweler as it wasn't fitting him right any more. Therefore it wasn't in Alaska when the crash occurred.
So MH 370 —especially as someone who flew the airline last year (Maldives-Malaysia-Myanmar)—has me on tenterhooks.
We want to know what happened. We're realists; we expect that there are no survivors. But we want to understand what happened. To feel reassured that's not going to happen to us. We feel it more deeply than many other people because we've pored over other NTSB reports, become fascinated with tragic failures.
Family history has become part of our culture in gruesome ways. Rick keeps a photo of that particular Pan Am plane (the featured image for this post) at his desk at work. In my office at Apple, I kept a vintage ad for electronics marketing from Pan Am, also featuring that exact plane. Sadly, I don't have the ad showing the tail number, but I have seen a copy. I just saw it minutes after it was sold. The ad I do have, though, was clearly taken in the same photo session.
Rick says that his real nightmare, thanks to SwissAir 111 (and the amazing writing in this Esquire piece), is this scenario. Warning: this is extremely difficult reading and will likely become a nightmare for you, too.
Then he told his wife, and she said, Until they phone us with the news, we have to believe. And the man said, But darling, they're not going to phone with news like that. They'd come to the door —
And before he'd finished his sentence, the doorbell rang.
Two hundred thirty-nine people's families are waiting for their doorbells to ring.
When Rose Lemberg and I ran Vera Nazarian's fundraiser, we each had our own reasons for helping.
I'll link to Rose's below, but here are mine.
In 2003, I befriended another person on a forum where we knew each other anonymously (this forum required pseudonyms). Let's call him Cas. He lived in the Portland, Oregon area. I can't remember exactly when we first met face to face, but I believe it was 2005. Cas was in town for business (he was a mid-level manager in electronics), and he, Rick, and I had dinner.
In 2006, I took a traditional chairmaking workshop in Portland for a week. Cas and I went out for dinner to his favorite Chinese restaurant, which was a very informal place, but very tasty. In 2007, Cas was once again in my area for business, and he, Rick, and I went out for dinner again.
At that time, Cas was at the very end of what would turn out to be his last job.
Look, I'm going to say it, because I think the truth needs to be said when I'm talking this stuff (which is part of why I'm giving you a nick and not his real name): he was not the most ethical person. I don't know the whole story, and I don't care, but he'd done something wrong (and by "wrong," I mean big ticket wrong) in the past where wound up with an IRS bill of over a hundred grand that was not dischargeable in Chapter 7, only Chapter 13. I believe the rules have subsequently changed, but those were the rules in place at the time.
However, in between when he'd incurred that debt and when I met him, he'd straightened up a lot. Not completely, but a lot. (For me, growth is a more important trait than perfection.)
And he'd had a Chapter 7 years and years before, but this IRS bill was weighing around his neck. In 2005, he filed Chapter 13. Even after he'd lost his job, he'd kept paying on the Chapter 13. His wife had to file Chapter 13 also just so they could keep the house (because they could defer other bills and reduce their household expenses). She had chronic illness, so that was yet another complicating factor.
If he'd gotten a job again, it would have been bearable, but he never did. Months turned into a year, and everything started to fall apart. His creditors asked for relief from the bankruptcy stay beginning in March 2008, right as I got my job at Apple.
Cas never told me.
I was so high on having gotten the job I wanted, I wasn't really aware that he was deflecting, something he hadn't done with me before. Only much later, when I looked back, was I able to see that our conversations started shifting at about that point in time.
In August, his bankruptcy was dismissed. He still never told me. Then he started to really withdraw, but I was so busy at work, I honestly barely noticed.
The morning they came to foreclose upon his house late October 2008, he shot and killed himself.
His family called, and I spoke to his brother.
I felt horribly guilty. No, it wasn't my fault, but I feel guilty that I wasn't present enough to call him on his withdrawal. I felt guilty that he'd previously trusted me with stuff, and, for whatever reason, maybe I'd lost his trust at a time when he needed someone most to vent to. I regretted not being there.
Even more horribly, I got why he did it. The house was solely in his name, and, in his own weird way, he was trying to protect his wife in a non-community property state. Undeniably, he was sending a big old "fuck you" to the bank foreclosing on the house, knowing they couldn't sell it as is. That would be a very Cas-like approach. Part of me respects that.
The IRS debt was also solely his and from before marrying his wife, so the innocent spouse rule applied. If he died, she was free from it.
You know what? I miss my friend.
So, when only a few weeks later, someone else I knew sent out a bat signal that they were going to lose their home to foreclosure?
Of course I helped Vera. I felt like I'd failed Cas, but I didn't want to make the same mistake twice. I didn't do it for Vera anywhere near as much as I did it for Cas.
About That Growth Thing
I'd seen Cas grow over the years I'd known him.
What I haven't seen is Vera's growth, and I've known her longer.
Cas never asked to borrow money from me (or manipulated money out of me), even when he desperately needed it.
Vera, on the other hand, is all about other people giving her money by whatever means. I'm not actually sure what verb applies to what Vera did, so I'm not going to go there, especially not when strict liability for libel may apply.
It's not a happy verb, though.
I will say, however, one of the things Teresa Nielsen Hayden said once that has really stuck with me: "the long con is a narrative form."
I'm surprised that I feel such a loss at his death.
He wasn't my favorite actor.
I like to call him: my favorite actor whose choices I mostly hated and mostly couldn't watch. That's because I strongly prefer comedy to drama and he clearly went the other way on that scale. Sometimes I would watch his movies even though I knew I'd hate them, but I stopped doing that after Before the Devil Knows You're Dead.
State & Main is one of my favorite films. A friend said he didn't like it because it "lacked warmth." Well, he's from the south, so I just kinda laughed at that and said, "It's got great warmth for Northern New England. After all, styles of warmth differ." And it did. (And they do.)
So I'll hang onto that and The Big Lebowski, Twister (aka: The Weather Channel with a plot), The Invention of Lying, and Pirate Radio.
And maybe, just maybe, at some point I'll be in a place where I can watch The Master.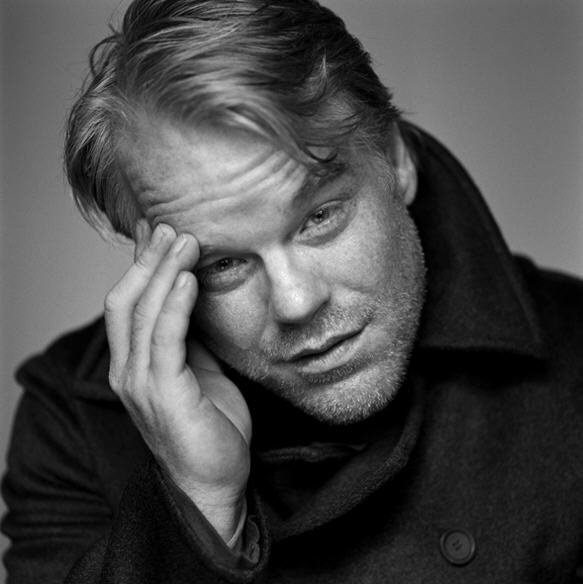 Anyone who thinks grief is something you should get over has never been an inadvertent party to someone's death.
Which I have. (Serious TMI warning)
5 Lies You Were Told About Grief covers a lot of things those of us who've grieved the loss of others have put up with. Or failed to put up with.
"Let's see how you cope with it after accidentally killing someone," I once told a guy who told me I should be over it.
"I'm so sorry," he said, completely clobbered by my usual "Let's just use verbal blunt force trauma, shall we?" approach to rude people.
"I'm not," I replied. I didn't do anything stupid. I couldn't have known. I didn't get what was happening immediately, and I felt guilty about that, but: in the end, it didn't matter. The doctor told me that, even if it had happened in the hospital, he would have died anyway.
I've told myself those things ten thousand times.
It doesn't help.
This is not to say that it doesn't get better. It does get better.
But it will never be the way it used to be.
Once upon a time, I went through such dramatic changes so suddenly that I described my new emotional landscape as "being teleported blindfolded to a new house with lots of pointy-edged modern furniture."
That's what grief is like.
The old house?
Demolished.
The new house ain't so bad once you know it well enough to come to terms with it. Eventually, the blindfold will fade away.
But it's still not the same house you used to have.
---
My mother-in-law died two years (and one day) ago, so I know how difficult holiday seasons can be.
Having a difficult time right now? Please talk to someone. Want to talk to me? You can comment here (on any of the blogs this gets posted to), chat with me on Google (dsmoen@) or iCloud (deirdre@) or Twitter (@deirdresm).
Be safe.
Every year, my body lets me know that it's the annual period of mourning, aka the anniversary of my first husband's death. (Which was Friday, fwiw.)
You know, you'd think that being happily remarried for several times as long as I knew my first husband would make the grief go away. Weirdly, it doesn't.
The only way I can explain it now is that it's like feeling like you've got half a flu. Not so much a dull ache in the chest as it used to be, just something experienced through the entire body like some ordinary pestilence.
Kameron Hurley has quite the health care saga.
It's inspired me to write up my own story.
I'd started a new job in May. Got married in June. Twice, in fact: the legal civil ceremony and a more symbolic one in Ireland.
There was time to do all the rest of the paperwork, right? Before then, I'd been on a large-deductible policy, but couldn't add my partner because he wasn't my husband.
Oh, and I had that policy because I had no health care through my employer. In fact, technically, I didn't have an employer — I was a contractor for a Canadian firm that was illegally avoiding US hiring practices. They had an office in the US, but they paid everyone as though they were a contractor. What could possibly go wrong?
Fast forward to November. Yes. The same year. (He was a lot older; I sometimes joke that we didn't have a May-December relationship, only a June-November one.)
My husband has a stroke. Given the obvious symptoms of hemiplegia and aphasia, I knew it was severe. At the time the EMTs arrive, I'm wondering about things like long-term rehab, fearing I'd have to give up my career in software development.
Instead, he was non-responsive not long after arriving at the hospital. However, as the hospital lacked more sophisticated equipment (no MRI machine, for example), they had to do EEGs over a period of 24 hours in order to declare him dead. Which meant a minimum of 24 hours in the ICU — about as expensive as it gets for a hospital stay sans surgery.
When I agreed to donate his organs, they asked if they could airlift him to the transplant hospital in order to declare him dead sooner (which would preserve transplantability of organs). Which I agreed to.
Indeed, his declaration of death was about 16 hours after the initial stroke.
Then I got the bills from all the care providers. All told, it was over $30,000. Some of that was for line items I shouldn't have been billed for. While technically (and for very good reasons), I owed for his care up until the declaration of death, line items related to preserving his organs or prepping him for transport weren't things I should be billed for. They did indeed have to do heart work in order to keep it pumping.
But, to me, preserving someone else's life was the most important thing.
So it was really a shock to go over those line items, realizing I could have just said no to any additional care that'd keep his heart beating longer — and it would have cost less. But it wouldn't have been right in my book.
I so didn't need the line item call with the organ bank to see what should have been billed to them vs. me.
I recall writing a bunch of checks. About $13,000 or so. The bill had been whittled down. My numbers brain says it was in the neighborhood of $17,185 before my payments. A charity designed to help folks in our situation picked up the rest, and I never received another bill.
I don't know who those lovely people were who contributed, but — thank you.
After he died, I asked for a week off work. (Yeah, that was stupid. Duh. I was in shock.)
After trying to get my act together, I went on temporary disability for three months for the simple reason that I couldn't think. Without the ability to concentrate, I couldn't work. I went on anti-depressants, paid for by the disability.
The tale I tell about anti-depressants is this: before starting them, I was convinced I'd never write again. Within a couple of weeks after starting them, I was writing again. I wasn't writing well, but I was able to put together something of a plot. It took longer for my programming brain to come back (I could write about the pain, but programming needed a clearer head).
Those pills weren't cheap, though amazingly, this was one period when the stupid prescription plan through my credit card company was worth its weight in gold. After spending as much as I had on medical for myself and my late husband, I didn't have enough money to take the three months I needed off. The safety net protected me at a time of crisis. I've paid for that over and over with my tax dollars so that other people will be able to use it in their times of crisis, too.
Unfortunately, end-of-life care is horrifically expensive. It's when hospital bills tend to be disproportionately high, and the bereaved is/are left holding only the bills.
It could have been much, much worse. It didn't have to be that bad. From now on, it won't be, because my late husband would now have an affordable means to get coverage.
Maybe he'd have had those headaches checked out.
Maybe they'd have found the aneurysm before it burst.
Maybe it could have been repaired.
Maybe he'd still be alive today, never having had a stroke.
]
I occasionally hear people saying things like: I had the Worst. Day. Ever.
It's not for me to judge how good or bad your days are, truly it's not. But sometimes I think that people have no perspective on how bad a worst day ever can possibly be. So, for the record, here's mine, as accurately as possible, from November 1996.
I've gotten several condolences from a recent post: I should clarify that Rick is very much alive, thankfully. He's my second husband (my first was named Richard), but some people were confused and thought I was recently widowed. Thankfully, no.
Those of you who know me well know that I have a superpower: I can throw a fragmentation grenade on almost any conversational topic. This one is uncensored, it'll be damn uncomfortable for you to read, but rest assured it was far more uncomfortable for me to experience. I have never before told this story in its entirety, though many people know pieces of it.
It would give me perverse joy if people would share this link when people are being stupidly dramatic about small problems.
The most important part? Not only did I live through this day, I've lived through about 6,000 more days.
A Tidge of Back Story
Richard and I met in 1993 in college. We moved in together in 1994, married in June 1996. He was a lot older than I was. I'd never been married before.
How many times had Richard been married? Good question.
I've decided that the only way to answer that is to say that I was wife n where n >= 4. It does seem n probably was 5 and may have been 6. During the time we were together, though, I was told, and believed, that n = 4.
Two wedding tips I'd like to impart: 1. Never get married on a hill cursed by a saint. No, I didn't know that at the time. 2. Never exchange your vows over the Stone of Destiny if you have a bad one. Probably best to assume that you do.
The Stroke
Some time after midnight, my husband and I went to bed. Now, who did what to whom first was subject to whim, but on this particular night, he got to go first and I never got my turn.
No way to sugar coat this: the stress of the orgasm from the blow job burst an aneurysm, causing a hemorrhagic stroke. What causes the real damage in these kinds of strokes is that the brain will signal it's not getting enough blood, the body will raise the blood pressure, and then the blood just pushes out of the site of the burst, causing more damage by compressing brain structure and depriving part of the brain of oxygen. Lather, rinse repeat.
When he tried to get up, he stumbled and then sat down on the bed. This is where I should have possibly realized something might have been wrong, but I didn't.
I'm not sure how long elapsed between that moment and when I was intending to turn the light off and he urged me not to, his speech suddenly garbled. Probably it was somewhere between two and five minutes, but subjectively it feels like an hour. It couldn't have been that long, though.
I remember the hair standing up on the back of my neck, because I suddenly knew exactly what was wrong: Richard was having a stroke.
I called the ambulance, and they did the quick diagnosis. Blood pressure of 260/160, severely hemiplegic (loss of almost all movement on one side), and complete inability to speak by the time they got there. He could answer questions with a hand squeeze, though.
The Scarily-Appropriate Quote
A week before his death from a blow job, my husband wrote the following post to alt.angst as a followup to someone who said they hated sex.
Maybe, at the end of the day, it really would be best for all concerned if you did go and blow your brains out. I mean, if I hated sex, I would. Guaranteed, iron-clad, no-fooling, take-it-to-the-bank promise.
Getting to the Hospital
To this day, I don't know why I drove instead of riding in the ambulance myself. I had the very practical thought of ensuring I had a ride home, I remember that much. It was snowing lightly, the first snow of the season, and I was drawn in by the patterns of the flakes as I pondered outcomes on the drive to the hospital.
Richard had once said that, should anything happen to him, he didn't want to be taken to the local hospital, but I had vetoed that. He might not survive the trip to another hospital. We lived in rural Vermont, not a place with a high density of hospitals.
But it's what we had, you know? So that's where we were going. Better than trying to get through a mountain pass through the snow to the hospital twice as far west.
I worried. He wasn't someone who could handle stroke recovery well. It was clear to me that it was Very Serious Indeed, and I feared how much our lives would change. Would I have to give up my job? I loved my career.
So, when I arrived at the hospital, they called local clergy for me. They'd asked about denomination, but the truth is, I was a Pagan at that point, and I didn't know any Pagan clergy in the area. They sent a local Christian minister, and she was wonderful. She held my hand much of the night, and was there when the doctor came out to give me the prognosis.
Short version: he was clinically dead, but, because of how they had to manage declarations of death, it would take several tests over a period of 24 hours to declare him so. He was not responding in any way to pain. I actually felt relieved. I had a relatively easy decision to make. I went in to see him, and saw the bruises where they'd tried to provoke a response. Saw that there didn't seem to be anyone "home" as it were.
"Have you considered organ donation?" the doctor asked.
The minister said that her father had always wanted his corneas to be transplanted after his death, "so he could continue to look at pretty women after he died." Sounds like a good reason to me.
Organ Donation, The Process
Now, I personally have always been pro-organ-donation. Most of the ways people die don't permit donation: cancer, heart attack at home, any infectious disease, etc.
The process of organ donation, from the donor family perspective, is done as a phone call with a local medical person, a phone volunteer at the organ bank, and the donor family member.
It is a horrific phone call to be a part of. There's no way to sugar coat the difficult questions about travel history, sexual history, etc, and what the dearly departed's disease risk for the transplant recipient is. The hospital is going to put that organ in that body. You think sex carries disease – think of cutting a person open and dropping someone else's bits in there with only a phone call and a few lab tests to try to make an educated guess about go/no-go. Of course, the alternative is certain death, so possible life sounds pretty good about then.
Because a transplant can kill a recipient right quick. There's no way to screen for everything, so they do as best they can in as little time as humanly possible. Every moment spent, the organs are more and more likely to become unviable.
It's an hour, maybe two hours, I can't remember exactly. It's so many questions and such weird questions. Because I read so much immunology for fun, though, I got that these questions weren't intended to be rude or nosy. They were necessary, but difficult. Tough, but fair. There were just so many of them.
And you couldn't just say you wanted to donate everything. Apart from the major organs, there were requests for other parts for experimental transplant or transplant research that, by law or custom, had to be specifically enumerated separately. I remember discussing saphenous veins, but that is one of the few I recall.
Let's make this clear: I apparently didn't know how many times my late husband had been married, let alone have accurate information about his sexual history. Given that the liver transplant recipient is, apparently, still alive, one hopes that the history I provided was accurate enough.
The Exes and Kids
One of the other things I believe in: Richard's three kids should have the opportunity to say goodbye in person while he was still technically alive.
I called Beth, wife n-2, first. She was the mother of the eldest two, one of whom was an adult and I didn't have contact information with me as he was at college. So I called her, and we reached the eldest, and she brought the middle kid along.
Then I said I was going to call Barbara, wife n-1. It's one of the few things I remember verbatim from that day. Beth asked, "Are you sure you want to do that?"
I replied something along the lines of, "I'm sure I don't, but I feel I should." And she said okay. But I got her point: she knew, and I knew, that I would regret having done it. But, as I said, it wasn't about what I wanted. I wasn't going to deny the youngest son the opportunity to say goodbye, and whether or not he came was up to his mother. Barbara.
I can't really get into all of how difficult that relationship was (nor do I wish to waste any more of my life on it), but let's just say that I never fully appreciated how much my parents tried to act like adults until I met Barbara and saw her tactics. Therefore, I'll pick one incident that kind of encapsulates the sort of relationship we had.
Whenever Richard and I bought presents for the kid, she'd want them sent home with him and then they'd never come back. So she wanted us to basically supply her household, then the kid would have nothing when he came over. Not happening.
Tired of the arguments and knowing how much Barbara hated bugs, I got an idea. I went and bought a Creepy Crawlers set for the kid, and, dutiful stepmother that I was, I sent them home with him.
(evil chuckles)
Yes, the toy came back! Surprise.
So despite the fact that she'd moved out and they'd gotten a divorce, Barbara was frequently trash talking me where other people we knew could hear. I was constantly hit by a barrage of this within a few days of any new event, usually from several different people. She was Richard's one true love, yada yada.
Had it just been her and no kid, I wouldn't have called to suggest that she come to the ICU, trust me. But there was a kid and he had a right to say goodbye, and she was obviously going to accompany him. So she did take him into see Richard, and I sat out there in the waiting room with Beth.
At some point, the kid came out, and she was in there alone. And Beth asked if I was okay with that.
"The beauty of it is, I'm in shock. Let her say her goodbyes. I'll be pissed off about it later. I can't process it now."
I wasn't, however, expecting to hear keening like a Wagnerian soprano come out of the ICU room from the waiting room where I sat. Beth and I both rolled our eyes at Barbara's drama.
Me, I'd been Scandinavian (not obvious from my name, but I'm half Swedish/Norwegian ancestry; my grandfather's first language was Swedish) stoic pretty much all night. I had cried some, but not as much as you might think as I was mostly in shock. "You're taking this really well," the doctor had said. Well, yeah, only insofar as I was glad that Richard wouldn't live a life he'd be miserable with, and also that my choices were pretty clear to me and thus relatively easy. I had to make a metric ton of decisions at a time when I was least capable of doing so, but, weirdly, they were not difficult decisions for me to make because the "right" choice seemed clear at all points.
The weekend before had been one of the kid's visitation weekends. There had been a show about cryogenics on TV, and Richard had watched it while the kid was in the room. "Do you think that's a good idea?" I asked.
"He won't understand it," Richard said confidently.
I gave up on the point. I just didn't want the nine-year-old to have nightmares, you know?
So there we were, about a week later, and the kid sits on my lap and looks up at me. "Are they gonna freeze daddy like they did on TV?"
What do you say to that, you know? So I explained that cryogenics was really theoretical at this point, and I explained about organ donation and that we were going to do that instead.
Meanwhile, the snowstorm had gotten worse, some of Richard's friends had come by to hang and say their goodbyes, and the eldest son was still trying to make it up from Middlebury.
The Helicopter
So I'd been through several rounds of calls with the New England Organ Bank about logistics. Basically, they had to figure out what transplant hospital to transfer Richard to.
Here's where it gets interesting: the process of declaring someone dead depends upon what equipment they have. Essentially, this hospital didn't have either an MRI machine or a CT scanner at the time, so they had to rely on a series of EEGs given over a 24-hour period.
However, the organs would degrade too much by then, so they wanted to know: did I mind if they airlifted him to a different hospital so they could declare him dead sooner?
I can't make this up, really.
Truly, I understood. The entire point was to be able to save someone else's life or health, and that meant doing it as quickly as possible. So I gave all the permissions needed. The helicopter would be coming from Dartmouth, but they were not yet sure if they were going to transfer him to Dartmouth or Burlington, Vermont. They were still working on potential matches for the transplant list and to see who could be contacted and available. Meanwhile, the snowstorm was getting worse and worse.
In the end, the eldest son did make it in time to say his goodbyes before the helicopter came, and I'm glad of that. It wasn't a given, though.
I remember watching the helicopter taking off, wishing I could be on it and could be there with him for those last moments. There would have been no room for me given all the equipment. I knew, given some of what I'd been told and my ability to read between the lines, that he was in far worse shape than they were telling me: his heart was failing, and they'd had to work to keep it pumping enough to keep everything going so the other organs didn't fail. They had to sacrifice one organ to have a chance at the others.
Frankly, that depressed me more than anything else.
Organ Donation, The Result
So, the only major organ I know was donated was his liver. I received a letter from the son of the transplant recipient. His heart was enlarged and was probably gone. They didn't have a match on-list for his lungs. He had early stage kidney disease and a pancreas infection. They were looking for a cornea recipient.
Still, a liver's a big deal, and I'm really truly glad I could help someone.
What Hurt the Most
A friend drove me home and other friends drove my car home for me as I was obviously in no shape to drive after such a stressful night of no sleep. I think I got home around noon.
I sat down at my computer, and, in doing so, saw the yellow stickie I had on the upper left corner of my laptop screen. It had the phone number of the Concord NH police department.
About a year and a half earlier, Richard had left me for someone else for 2-1/2 weeks. I'd asked for him to come back, and he had.
Normally, my view has been this: if a relationship's broken enough that it ends, it should stay ended. However, part of his problem had been that I'd been unwilling to consider getting married, mostly because I wasn't really big on state-licensed relationships as a concept. (As a result of the whole fallout from this day, I have done a one-eighty on this point.)
So he'd left and taken up with someone else, and she was, to put it mildly, crazy. After his return, she kept stalking us. She'd be out drunk at night and call over and over and over. There was the "I'm pregnant" ploy. The "I have a social disease" ploy (I told her to have her county health dept call our health dept). She got thrown in jail for skipping on a hotel bill. She was in the hospital for some neurological thing. I spent one several-hours-long phone call talking with her husband, who was a lawyer in Maine. I really felt for him; he loved her despite the crazy. What I'd seen was only a small fraction of what he had. I felt sad for him. I hope he's found a better situation for himself.
So she'd moved to Concord, New Hampshire and had drunk-dialed enough that I'd practically memorized the phone number for the police department. I knew several of the watch commanders on a first-name basis.
Seeing that yellow stickie, though, brought home the fact that there had been a year and a half of difficult times thanks to her. Times I shouldn't have had to endure.
And, at that moment, I realized that the biggest mistake I'd ever made was taking him back. It shouldn't have been my pain to deal with. Suddenly, I wanted her to feel everything I'd experienced during the day. I wanted her to be the one who'd suffered through all that.
It shouldn't have been me.
But it was.
And that's what hurt the most. Still does.
The Final Guilt
Three weeks after Richard died, I happened to find his wallet in a jacket pocket. I wasn't looking for it at the time, just happened to reach for my jacket and notice the bulge in one of his.
I pulled it out, pulled out his driver's license, and noticed that Richard had elected not to donate his organs.
So now I got to feel guilty over not only accidentally being the proximate cause that killed my husband, I got to feel guilty over unintentionally defying his stated wishes and saving someone else's life.
Bonus.
About that Method of Dying Fantasy
We all die. Sure, some ways are better or worse than others, and whether one is better or worse for a particular person is partly based on who they are and what they fear.
However, I will tell you that death from sex doesn't look very fun at all. Typically, the symptoms of stroke (or heart attack) start before the orgasm is complete, meaning you get all the bad, but not very much of the good. Most of the times, you never quite get there.
Unlike many other forms of death, most people – including myself prior to this event – have never considered what it's like to be the surviving party in this exchange. What it would be like to feel that you'd been the cause of someone else's death, especially if it were a spouse. You can tell yourself ten thousand times (as I have, easily) that it wasn't your fault. Intellectually, you can know this. Emotionally, you will always feel that your intellect is wrong on this point and it really is your fault.
The bigger thing is that sex is no longer safe on a really fundamental level. I'd just watched someone die, and there was no way of not fearing for my own death. I was unable to enjoy many of my favorite movies for about a year. Anything with any kind of steamy sexy scene was completely off the table. It was just unwatchable.
I don't know if you can even imagine what it's like to have no, and I mean zero, sexual fantasies for over a year. That every time your mind started to go there, the image of your spouse dying just slammed in, vetoing everything. Add to that that that's the only image you can recall of him because it is the emotionally strongest moment – that slice of time after you realize what happened but before the paramedics arrived.
And I well and truly wish the phrase "mind-blowing orgasm" would die in a fire.
I have seen one. I never want to see another.
I do seriously want to thank my friend Chris for being the person who, about 18 months later, was the person who was there for me when I needed to break my fast. Because it does take a special person to listen to all that shit and work through it with you, and he was really there for me.
Coda: Getting Through It
About a month before he died, my husband made me promise that, should anything happen to him, that I would marry someone else and be happy.
There were days I couldn't imagine it. Oh so many days.
But there were also many days when the fact that I'd made the promise was the only reason I got out of bed at all.
After I began dating, there was a point when I felt the obligation to marry and Rick wasn't ready yet, and I was afraid that I'd have to move on despite how much I loved him. Because, somehow, the obligation carried more weight. Thankfully, we worked past that.
Overall, though, that promise is what kept me going much of the time. I had to take care of myself enough to make it to that eventual point.
So, overall, I'd urge that those of you in relationships make similar requests. All too many widows and widowers die in the first year after their spouse or SO dies. It's unimaginably hard. Give the person something to fight for and it might help them, as it helped me, get through the darkest times.
I heard earlier this afternoon that science fiction fan and convention runner, Kathryn Daugherty, passed away. She'd had a reoccurrence of colorectal cancer and had recently had surgery and started a second round of chemo. She's been married to James Stanley Daugherty for almost 40 years.
She was a friend and a mentor, and I'll really miss her presence.
She had been the programming head for ConJosé, the World Science Fiction convention in 2002, and I worked for her as her staff, then as her second for BayCon the following year. I also worked as her autographing staff at a later Worldcon.
She loved to read, and kept her Goodreads list up to date, though some of the side effects of cancer had slowed her reading down at times. She loved to collect autographs and literally had a room full of autographed hardbacks. I think she kept Amazon.co.uk afloat in the early years with her love of British SF imports.
Like Rick and me, she had a great love of travel, having lived in several places around the world, including New Zealand and St. Croix. I'd turned her on to the Traveler's Century Club and she and her husband James had planned their trips around attaining membership on the list. I know she passed Rick and I in country count some years ago, but I'm not sure if she ever got to 100. She did get to Million Mile status on United, which is a bit easier when you have multiple houses near United hubs.
Her hobby of love, apart from building or renovating houses, was needlework, and she had a needlework blog.
I'll miss her, and I know others will as well. I know she was also a mentor to Seanan McGuire, who wrote one of Kathryn's favorite books of recent years.
My mother-in-law, Faye Dalton, died Dec. 22 at the age of 87.
Here she is in 1966 with Art, Rick's father.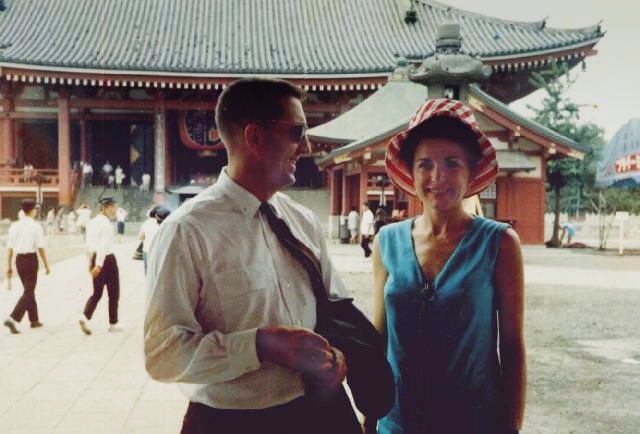 I know most of you have heard by now. Though I've only literally had a nodding acquaintance with Steve over the years — passing him in the quad during a long interview day in 1998, seeing him at Caffé Macs twice, and, of course, nodding at him once or twice at WWDCs or MacWorldExpos past — I never really knew him.
His influence on my life, though, has been palpable.
In January, 1985, I sat down waiting for a computer salesman. I was going to buy a PC, and, while I waited, I played with a Macintosh. I wound up buying a Macintosh. That, as they say, was that.
I wound up being a Macintosh programmer as a result. In 1986, I did some consulting in the same building in Cupertino where I now work.
While I have owned several Linux machines over the years, I've owned 21 Macs:
Mac 512k
Mac Plus
Mac SE
Mac SE/30 x 2
Mac IIcx
Mac IIci
Mac LC
Mac LC II
PowerBook 145
PowerMac 6100
PowerMac G3 (blue "Yosemite")
iMac (Grape)
PowerMac G4 Cube
iBook (barbie make-up case in Blueberry, then another in Cobalt)
iBook (x3)
MacBook Pro (x3, currently a late 2010 unibody)
Then there's the other gadgets: quite a few iPods, two Apple TVs, three iPhones, and one iPad.
My favorite device Apple's made?
The one in the picture: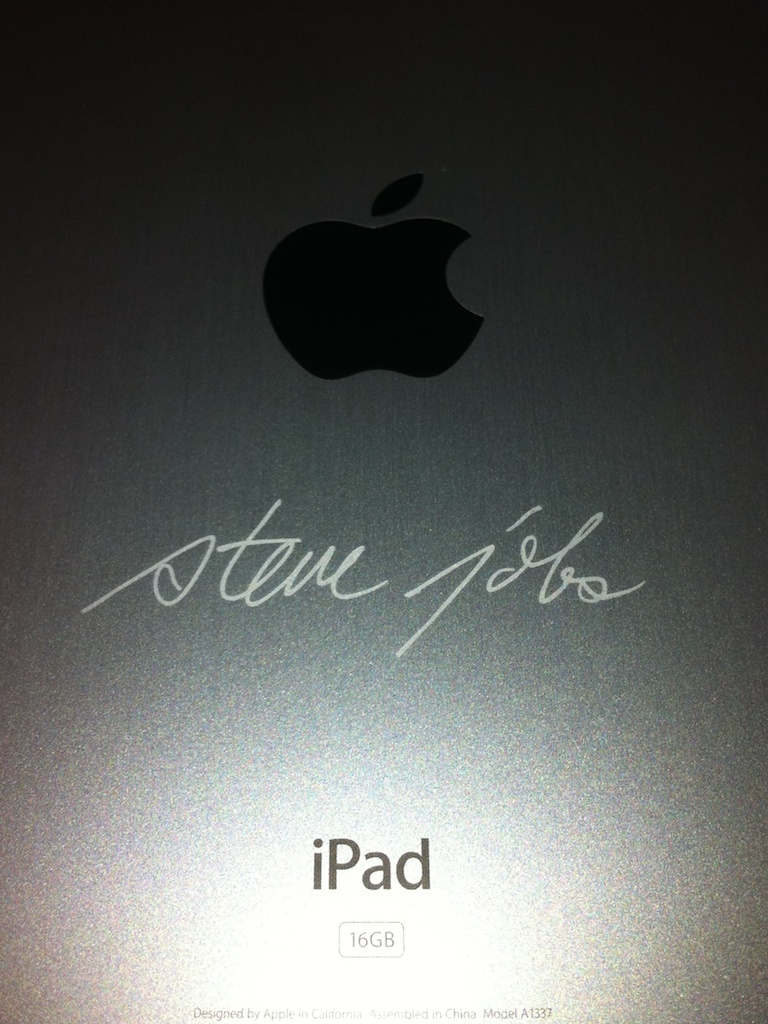 Many people have cited Jobs's Stanford Commencement speech as worthy of note. It's been one of my favorites for years, and I really think it's worth listening to once a year:
I particularly love how he turns the crowd around, but my favorite part is really the underlying message: do what you really care about in your life, what's really important.
"Your work is going to fill a large part of your life, and the only way to be truly satisfied is to do what you believe is great work. And the only way to do great work is to love what you do. If you haven't found it yet, keep looking. Don't settle. As with all matters of the heart, you'll know when you find it. And, like any great relationship, it just gets better and better as the years roll on. So keep looking until you find it. Don't settle."
And he didn't.
In 1996, my first husband (Richard Savino) and I went to Newgrange with my father on our wedding trip.
Today, I got a CD with scans of the photos (some of which I'd taken), including some I'd never seen.
One of those photos was of Richard at Newgrange.
I've got to say, it's incredibly weird to see new photos of someone who's been dead ten years. It's even weirder to tweak them in Photoshop.
Here's the photos with Richard in them. And here's all the Ireland photos. At the moment, the two sets are the same, but I have about 80 more pictures to put up.
Today is the tenth anniversary of my first husband's death. Though I've been remarried more than half that time, there are certain days each year that don't seem to get any easier.
This is one of them.
I woke up early, drank coffee, took vitamins, drank more coffee and soda with lunch, took more vitamins, and I've been yawning all day. The effects aren't emotional so much as physical: the body remembers.
Like Dick Morrell, I was also one of Rob Levin's coworkers at Linuxcare.
How I'd best sum up Rob: he had an idea for what he wanted to do with his life — and he made his life work out so that he could do exactly that. The irc.freenode.org structure he created has been of immense help in getting communication working for numerous free software projects, including Ruby on Rails (though the core team has now moved to Campfire for obvious reasons).
Rob wanted to make open source happen by making communication about open source easier. He did that, and everyone who uses open source has benefited, albeit indirectly, from his work.
I talked to him not so very long ago about some of the changes he'd made in his life since we worked together, including moving from the expensive bay area to much-less-expensive Houston.
I'm sorry he didn't have a longer life. I'm especially sorry Benjamin will have to go through the last ten years of his childhood without his father. And, of course, I'm sorry that Deb won't have the husband she relied on. I didn't get their relationship (they seemed so different), but then again, I didn't have to.
I haven't met many people in my life that had Rob's single-mindedness of purpose. At times, I thought he was nuts. In the end, though, he made it work, and that's not nuts at all.
It's an interesting thing, grief. Bodies don't forget, even when people do. Tuesday (the 15th) was the 9th anniversary of my first husband's death. A lot of people thought I "should be over it" 18 months after his death.
If only.
It's just not that simple. Every year, I get sideswiped by some day: wedding anniversary, his birthday, anniversary of his death, etc., wandering around feeling fuzzy in the head, sometimes ill, but not quite sure why — until I remember what day it is (or almost is). I still remember having to excuse myself from a meeting several years after his death when it suddenly hit me that it was Valentine's day — and that Richard died soon enough after we were married that we were never married on V-day. During the time of that meeting, I had been re-married a few months, approximately the same amount of time Richard and I were married before his sudden death.
I still remember what Richard looked like, what he sounded like, and, most unfortunately, the feeling of abject terror when I realized he was having a stroke and one brain function after another shut down while I watched, helpless. I sincerely hope that will be the scariest thing I ever see (or feel).
This time, I've been in a fog for a week.
The good news is, the fog has lifted. It's nice to have a functioning brain again.
As some of you know, I worked for Be briefly, so I feel some ownership in this even though the BeBoxen were a thing of the past when I was there.
I was just getting down to my evening (yes, I know it's after midnight, but hey) reading of blogs when I read over on whump.com that Kepler's closed today for good.
I'm extremely sad, but I had noticed some of the signs. The other day, mom and I went to Kepler's, where they were having a "buy three books, get one free" sale. I bought two books on software engineering (from their very lean computer section), mom bought an art book of funky Japanese schoolgirl clothes, and we got Rick the latest from Lois McMaster Bujold.
I started working at Kepler's on 9/10/01, which means my second day there was 9/11. I can't think of a more surreal day to work in a bookstore — people came in just wanting to Do Something, to share the fact that they were utterly and completely in shock. Ira Sandperl came and talked to people about peace, as Ira was wont to do. I don't know if he's still alive; he was quite old and frail last I saw him.
Clark Kepler is an extremely cool person. In the rush of Christmas season, he'd be in the store, helping everyone. When I had a long register line, he was right there helping with gift-wrapping. He's another person I'd work for again in a heartbeat (in addition to Marie). I can't imagine what a heartbreak this is for him and his staff.
Few people, even the locals, realize how influential Kepler's was and how much change one small bookstore helped cultivate. Ira taught and influenced many people, Joan Baez among them, about peace. If you really looked hard, he and Roy Kepler were the foundation of a great deal of the anti-Vietnam protests that took place in the sixties.
Also, back when the Grateful Dead lived in Menlo Park (about two blocks from where I now reside), they rehearsed at Keplers, though Roy thought they were a bit too noisy. And, of course, even though he will always be thought of as an Oregon writer, Ken Kesey was living in Menlo Park — and frequenting places such as Kepler's — when his landmark work, One Flew Over the Cuckoo's Nest was written, and for good reason: his experience at the local veteran's hospital was pivotal to the development of the work.
One thing I can say about Kepler's: it was the only place I've ever worked where everything, absolutely everything, I was interested in was useful. Everywhere else I've worked, no matter how cool, there were always things that weren't "relevant" to the job.
May everyone involved land on their feet. I sure know that Clark has some of the best booksellers in the business.
…from the back yard tonight, but it didn't sound like a cat. Nevertheless, it was a cat, as Rick found out when he went out there — our neighbor's older orange-and-white cat, who was yelling out for rescue. A cat that wasn't otherwise moving. Rick thought it had just died after he first saw it, but the silly city boy didn't think to check for breathing.
Neighbors weren't home.
Seeing no obvious injury, illness, or disease and noting that the cat appeared paralyzed, I checked one of its hind legs, which was cold. Not good. After checking it out, I decided that we should move the cat, so I got an appropriately-sized box and an old towel I didn't care about, and we put him in the box. So far, so good.
Once he got in the kitchen (I know, but the old guy is paralyzed, so it's not like it's not a contained threat), his feet warmed up and his breathing improved. Over time his breath got more raspy and sporadic.
Rick and Cheryl went over to see where the neighbor's daughter works. We also called where the neighbor works. So far, it's been an hour, but we haven't heard a peep out of anyone.
But at least the poor guy has some company.
Update: about a half hour after his breathing became sporadic and raspy, his whole body shook, then he died. About fifteen minutes after that, one of the neighbors came over and took the box with their kitty.
No one had seen him at all yesterday, and the day before he'd been refusing food and water, so my initial guess of renal failure may have been correct. My friend Elisa thought he was dying from a series of strokes (the yowling and the paralysis), but it could just as easily have been a series of strokes brought on by the end stages of renal failure, too.
Rest well, old lad.
Jeanne died about the time I wrote the last entry. 🙁
I just didn't know that for a few days.
Time is infinite
You are finite
Motorcycle is wrong tool
So it turns out that if you die at home and aren't on a priority for an autopsy, it can take 2-6 months (!) to get the lab results for your cause of death.
Why does this matter? Because insurance won't pay out until a cause of death is determined. At least, in the case of one of the people I know who died recently, this is the issue. It doesn't even matter if it's "heart attack or stroke," insurance companies need to know specifics.
I can't really blame them, but then the point becomes: should you drop dead suddenly, have some way of supporting your family in the meantime that doesn't rely on insurance or probate, both of which can be quite slow.
Now, for my late husband, who died in a hospital (and had organ donations pending on being declared properly dead), I was able to pick up his death certificate within two weeks. Had he had insurance, it would have paid out very quickly thereafter. But, I find out, that's not necessarily the norm.
This has been a Public Service Announcement.
In 1997, during the darkest, bleakest period of my life (being recently widowed at the time), I did something especially sensible: I bought a brand-new Jeep Cherokee, allowing my late husband's Toyota Camry, called Frankencar (because it was built from the carcasses of three dead Camrys) to go to its final resting place.
Now, despite all the anti-SUV mania around, the Jeep was an immensely practical car for me at the time: I lived in Vermont, where 4 wheel drive is more of a necessity than a luxury. I wanted to believe that I'd be getting back into woodworking, so I wanted something that I could lay plywood flat in. Believe it or not, most SUV openings are less than 48″ wide, even if only by a little bit. Weird, since a lot of people haul 4′ x 8′ sheets of drywall or plywood or something.
While I could have bought a truck, I also wanted something I could haul other people in. Since the Jeep spent a lot of time with three or more people in it, that was probably a very good choice.
At the time I bought the Jeep, I was underemployed and technically homeless, staying at a friend's while in transition. I bought it with the spoils from a client who'd tried to cheat me (such a lovely thing to try to pull on the newly widowed, no?) and as a representation of something in my life that I could depend on. For I had lost everything I cared about. The other thing that came out of that was the money for Odyssey, a fiction writing workshop. This pair of expenditures (and their funding source) was a symbol of my toughness, my refusal to give up despite having lost everything.
Until I sold my Jeep the other day, I didn't realize how much it meant to me. And, ironically, I wouldn't have realized how much it meant to me if I hadn't remarried.
Last week was Valentine's Day and, though I'd been married before, it was the first one I celebrated while married. No fault of my husband's, but it was a lousy day. First of all, I was on edge all day. I knew I was on edge, but I thought it was because I'd been ill, or because I was tired, or because my job was a source of stress. But I'd be wrong about all of those. In fact, it was simply a) that the first time I was married, my husband died before our first V-day as a married couple and b) we'd been married five months when he died. Getting remarried in September, well, guess what day that magic interval fell on? Right. The same time between the first marriage and my husband's sudden death from a stroke was the same interval between the date of my second marriage and V-day.
Or, as I joked with a friend, the first husband hadn't made it to Valentine's day so I'd married later in the year this time.
So, after the end of Valentine's Day, I started feeling a weight lift off of me. Part of me couldn't really LIVE until after "the day" had passed when I'd been married longer than I had the first time. And, during the last six weeks, that "waiting for the other shoe to drop" really took its toll. I knew it was there, I just didn't know what it was. I can only describe it in acoustic terms: it's like some annoying noise, like someone clawing on a chalkboard, has started out so slowly and increased over time so much that you aren't aware of the noise, only the irritation it brings. And then, suddenly, the noise stops and you look around and go, "I put up with that for HOW long?"
It had gotten worse since I got back from my grad school (MA in Writing Popular Fiction) residency. There's a long story to that, but basically my late husband was jealous of my skills as a fiction writer and subtly sabotaged them. He'd make innocent remarks like, "Well, obviously YOU'RE the novelist in the family," but the intonation was clear. Not long after we started living together in 1994, I stopped writing fiction. After he died, I thought I'd never write again. Then I went on anti-depressants and felt differently. I wrote a story and was admitted to Odyssey, a six-week science fiction writing workshop. I did it to prove to myself that I could still write. I wrote while there and proved it to myself, but there was something still missing. I found it really difficult to write fiction, difficult in a way I hadn't before. In September 2000 I wrote a story that I knew was good. Not perfect, but better than others I'd done. I was admitted into grad school, but when I came back from the residency, I was honestly terrified: write a novel in two years?
This is ironic: I used to write trash novels for pay before meeting my late husband—they took me, on average, six to eight weeks. I've also written four technical books. I know how to do it, I know I can do it, but some part of me was afraid I couldn't do it now. I literally sat there and shook over it for a while.
Last night, looking around me, my long-time obsession with knitting suddenly made sense to me: it was something safe to excel at, something that my late husband wouldn't be jealous about. Woodworking was sort of taboo because it was a "guy thing." Computers he hated, though I later found out that was a posture that he hadn't expressed before. I was good at them, thus he had to dislike them. You see how these calculations go. Well, in order to live with them, I sabotaged myself. People do that, often without realizing. I just didn't know how to end the sabotage.
And then I knew that I still had a tie to that bleak period: the car. I'd been planning on getting another car, not for a reason that made sense to me, but suddenly I understood the logic. Well, OK, not suddenly, but I understood it after I actually parted with the car. I needed to cut the tie between the old life and the new in order to really feel like I wasn't just marking time but was actually living. So, Friday night, not actually planning to buy a new car, I came home with one. A nice one, with leather seats even. I'd been to three dealerships that day and finally one of them made me a deal I could live with, one I was actually enthused about.
Then the roof fell in, metaphorically speaking. Everything I'd been holding off came up and sandbagged me. I had a lousy weekend, despite having a nice new car and a wonderful drive with the family. Suddenly, I'm able to concentrate on work, fiction writing, and all sorts of other things. Weird, huh?
So I'm late on my first grad school submission. I was being really hard on myself for being a bit too frozen to write quickly. I've been working on it, just hadn't gotten the word count on what I was supposed to be writing. I did, however, manage to write an out-of-genre short story during the six weeks. However, now that the noise has stopped, I think it'll be a whole lot easier. Not just writing, but living.
The Jeep had a lot of interesting memories: driving with friends to go listen to open mic nights in Vermont in winter; driving around Odyssey, especially going food shopping with my Orthodox roommate Naomi; driving across Flagstaff in an El Nino whiteout with three screaming cats when the only thing I could find on the radio was a Fresh Air interview with Marilyn Manson (the cats having tired of Herb Alpert, the only tape I'd packed); visiting my stepmother in Albuquerque; driving up to San Francisco to visit my now-husband Rick only to find my car vandalized; driving through ice storms; overheating the brakes crossing over Yosemite to visit my dad.
The Jeep was a total champ. In four years and 86,000 miles, the only things I had to do (other than the routine maintenance) were change the tires and have one brake job. During that period of my life when I couldn't even rely on myself, the Jeep was a source of stability in my life. May its next owner appreciate it the way I did.