Dear FDA,
Sadly, I can't attend the meeting in College Park, Maryland today regarding public comments in preparation for the International Cooperation on Cosmetics Regulation conference in November, but I'm emailing my input.
Issue 1: Sunscreen Approval
My first issue: the United States treats new sunscreen UV filtering agents as though they are new drugs, where the industry leaders (meaning: EU, Japan, Australia, and Korea) in sunscreen research and development treat them as cosmetics. Therefore, there is a huge burden in bringing new UV filtering agents to market.
Thus, the United States lags almost two decades behind these other countries in sunscreen agents. In the last ~18 years, we've had one UV filtering agent approved for one single SPF 15 (!) sunscreen.
While I can certainly see reason for caution, we're far more permissive in other things that go directly on a consumer's skin which may not provide the results alluded to by the marketing hype.
If a UV agent's already approved in the EU and Japan, how about we allow it to be used in the US?
Issue 2: Allergens
I know the cosmetic industry will never agree to this, but I have to bring it up: it's easy to label cosmetics for things like hydrolyzed wheat protein and hydrolyzed wheat gluten—because they're used in almost zero cosmetics. Though, as a celiac, I do appreciate the labeling even though it's not the limiting factor for me.
What would be hard to do is to label cosmetics for tree nuts, because that would include coconut.
Coconut derivatives are in almost all facets of cosmetic formulations: from the stearic acid that thickens mascara, the sodium laurel and laureth sulfate that comprises one of the first two ingredients of almost all commercial shampoos, and the surfactants, emollients, and emulsifiers that make commercial products look and feel like they do (and stay in solution through several coconut-derived versions of PEG, as well as many that are not coconut-derived).
However, it really would be nice to actually not have to look up ingredients to see if they're likely to be coconut derived. Then I won't have to wonder why I suddenly reacted to this one product, as I might actually know if they changed from a palm source to a coconut one.
A surprisingly large number of people react to coconut-derived sulfates and coconut-derived fatty acids, among other things, and that's not even getting into the palm sources of, say, glycerin.
But please, given how prevalent coconut is, could we possibly consider it an allergen some day? I was married to a soap chemist and had 34 new-to-me brands of shampoo to try (driven in from Canada) to determine what my allergy was. Most people just have the mystery acne, and are given dermatology formulas that, no joke, contain more of the exact same allergens.
Thank you for listening. I'm really looking forward to hearing more of the conference's progress.
Signed,
Deirdre
Why I Wrote In….
Two years ago, I ran out of sunscreen before arriving in the Maldives. I went to the gift shop, where the only thing they had was something they described as a "total block." Which, short of a space suit, seemed rather optimistic and improbable.
I didn't know how to evaluate the ingredients on the label, but I did notice that the two physical sunscreen blocking agents I knew about—zinc dioxide and titanium oxide—were nowhere to be found.
Fortunately, the hotel had another gift shop. I strolled over there, only to find that they had a very reasonable SPF 50 sunscreen.
What I didn't know at that time was how incomplete my understanding of sunscreen was, nor why my lack of knowledge was so important.
A Quick Primer on UVA and UVB
UVB (think "burning") penetrates the epidermis with rays between 290 and 320 nm.
UVA (think "aging") was initially thought not to cause skin cancer. Unfortunately, it's highly associated with cancer. It penetrates down to the bottom of the dermis. Tanning also happens with UVA, so for a long time it was thought that if you blocked UVB, you'd encourage a nice healthy tan while preventing burning and skin cancer. UVA is broken into two wavelength bands: UVA1 (340-400 nm) and UVA2 (320-340 nm).
SPF ratings are only for UVB. There is no rating system, nor any requirement to even mention UVA in American cosmetics. Sure, a product can use the "broad spectrum" phrasing, but there's still no requirement that it be world-class UVA protection.
Japanese and Korean skin care uses a PA rating system with pluses to rank effectiveness of UVA blocking up to a maximum of four pluses. There are also other methods in use outside the US. Some are better than the Japanese/Korean system ## Why US Sunscreen Is So Awful
In the US, sunscreen is considered a drug, thus new blocking agents have to be approved by the FDA. That means a company needs to sponsor the research (which costs millions) and lead the blocking agent through the whole approval process.
Which is fine if you're a company that is patenting a drug where the exclusivity will, one hopes, pay for the approval process.
In the case of sunscreen blocking agents, however, they aren't patentable (they've been in use too long), so one company would be spending a ton of money to allow other companies to profit equally, but without having spent the cost for approval.
So if a sunscreen agent is past the useful life
Hence, there is zero corporate incentive to get new blocking agents through the approval process, and we all suffer as a result. Yay, capitalism.
Worse, there had been at least eight new (to the US) sunscreen ingredients waiting for approval for more than five years. The ironically named Sunscreen Innovation Act, passed in 2014, was supposed to help us catch up with the rest of the world.
Speaking of Capitalism…
Thus, Americans respond to signs of aging after the fact rather than with prevention. This is a big part of the reason the US share of the global botox market is predicted to reach $2 billion annually by 2018.
While botox is used in non-cosmetic procedures such as stroke rehab and migraine prevention, much of the US market is about wanting to reverse aging signs in skin—aging that could have been prevented, in part, by better sunscreens.
Chemistry: Which Agents Are Approved Where
I'm only going to show US ??, Australia ??, EU ??, Japan ??, and Korea ?? since that will cover most of my readers as well as the products I'm talking about. Heavily borrowed from the Wikipedia Sunscreen page and this skincancer.org page; where they disagree, I've used the Skin Cancer site's answer. Note: I'll use the French flag ?? instead of EU flag ?? as there is no emoji support in Mac/iOS yet for this emoji.
Korea ?? information is currently incomplete as I'm only listing agents I've looked up that are included in Korean sunscreens or which were on a 2008 chart. Also, as there are almost a dozen sunscreen agents on that chart approved only in Japan, I've omitted those.
| Ingredient | Other Names | Approved In | Protects Against |
| --- | --- | --- | --- |
| 4-Methylbenzylidene camphor | Enzacamene, Parsol 5000, Eusolex 6300, MBC | ?? ?? ?? ?? (may be endocrine disruptor) | UVB |
| Amiloxate | Isopentyl-4-methoxycinnamate, Isoamyl p-Methoxycinnamate, IMC, Neo Heliopan E1000 | ?? ?? ?? ?? | UVB |
| Avobenzone | 1-(4-methoxyphenyl)-3-(4-tert-butyl phenyl)propane-1,3-dione, Butyl methoxy dibenzoylmethane, BMDBM, Parsol 1789, Eusolex 9020 | ?? ?? ?? ?? ?? | UVA1, UVA2 (some sources say UVA1 only) |
| Cinoxate | 2-Ethoxyethyl p-methoxycinnamate | ?? ?? ?? ?? | UVB |
| DEA Methoxycinnamate |   | ?? ?? | UVB |
| Dihydroxybenzophenone | Benzophenone-1 | ?? ?? | UVA2, UVB |
| Dioxybenzone | Benzophenone-8 | ?? ?? | UVA2, UVB |
| Ecamsule | Mexoryl SX, Terephthalylidene Dicamphor Sulfonic Acid | ?? ?? (limited ?? use via new drug approval, L'Oréal exclusive) | UVA2 only |
| Homosalate | Homomethyl salicylate, HMS | ?? ?? ?? ?? ?? | UVB |
| Menthyl anthranilate | Meradimate | ?? ?? | UVA2 only |
| Mexoryl XL | Drometrizole Trisiloxane | ?? ?? | UVA2 |
| Neo Heliopan AP | Bisdisulizole Disodium, Disodium phenyl dibenzimidazole tetrasulfonate, bisimidazylate, DPDT | ?? ?? ?? | UVA1 |
| Octocrylene | Eusolex OCR, 2-Cyano-3,3-diphenyl acrylic acid, 2-ethylhexylester | ?? ?? ?? ?? ?? (increases ROS) | UVB |
| Octyl methoxycinnamate | Octinoxate, EMC, OMC, Ethylhexyl methoxycinnamate, Escalol 557, 2-Ethylhexyl-paramethoxycinnamate, Parsol MCX | ?? ?? ?? ?? ?? | UVB |
| Octyl salicylate | Octisalate, 2-Ethylhexyl salicylate, Escalol 587 | ?? ?? ?? ?? ?? | UVB |
| Oxybenzone | Benzophenone-3, Eusolex 4360, Escalol 567 | ?? ?? ?? ?? ?? | UVA2, UVB |
| p-Aminobenzoic acid | PABA | ?? ?? ?? ?? (banned in ?? because of DNA damage) | UVB |
| Phenylbenzimidazole sulfonic acid | Ensulizole, Eusolex 232, PBSA, Parsol HS | ?? ?? ?? ?? ?? (genotoxic in bacteria) | UVB |
| Padimate A | Pentyl-dimethyl PABA, Amyl p-Dimetyamino PABA | ?? ?? (withdrawn from ?? in 1989; never approved in ??) | UVB |
| Padimate O | OD-PABA, octyldimethyl-PABA, σ-PABA | ?? ?? ?? ?? (not currently supported in ?? and may be delisted) | UVB |
| Parsol SLX | Dimethico-diethylbenzalmalonate, Polysilicone-15 | ?? ?? ?? | UVB |
| PEG-25 PABA | Uvinul P-25, Ethoxylated ethyl-4-aminobenzoate | ?? ?? | UVA2, UVB |
| Sulisobenzone | 2-Hydroxy-4-Methoxybenzophenone-5-sulfonic acid, 3-Benzoyl-4-hydroxy-6-methoxybenzenesulfonic acid, Benzophenone-4, Escalol 577 | ?? ?? ?? ?? | UVA2, UVB |
| Tinosorb A2B | Tris-Biphenyl Triazine | ?? (very new) | UVA2, UVB, limited UVA1 |
| Tinosorb M | Bisoctrizole, Methylene Bis-Benzotriazolyl Tetramethylbutylphenol, MBBT | ?? ?? ?? | UVA1, UVA2, UVB |
| Tinosorb S | Bemotrizinol, Bis-ethylhexyloxyphenol methoxyphenol triazine, Bemotrizinol, BEMT, anisotriazine | ?? ?? ?? ?? | UVA1, UVA2, UVB |
| Titanium dioxide | CI77891 | ?? ?? ?? ?? (not approved in ?? as a UV filter, but permitted as a colorant) | UVA2, UVB |
| Trolamine salicylate | Triethanolamine salicylate | ?? ?? | UVB |
| Uvasorb HEB | Iscotrizinol, Diethylhexyl butamido triazone, DBT | ?? ?? | UVA1, UVB |
| Uvinul A Plus | Diethylamino Hydroxybenzoyl Hexyl Benzoate | ?? ?? | UVA2 |
| Uvinul T 150 | Octyl triazone, ethylhexyl triazone, EHT | ?? ?? ?? ?? | UVB |
| Zinc Oxide |   | ?? ?? ?? ?? ?? | UVA1, UVA2, UVB |
Even excluding Japan-only sunscreen agents, there are about as many approved only outside the US as approved for the US.
Two Sunscreen Videos
The first video is from British beauty blogger Lisa Eldridge. I mention this because some of what she says is from a very EU-centric viewpoint, specifically when she's talking about approved sunscreen agents.
YouTuber Lisa Eldridge has a rundown on sunscreens, focusing on European brands.
YouTuber faceturtle has a review of 9 Asian sunscreens.
https://youtu.be/JKAXnwoankU
Random Interesting Things I Found While Writing This
Rick brought the Jessica Alba Honest Company Sunscreen backlash to my attention. After looking at the ingredients, I agree with much of this Forbes piece. The real problem is one of user psychology: people don't want to be white all over from their sunscreen. By using only a single physical filter (zinc oxide, famous for lifeguards' white noses), they aren't offering protection to people who spread it too thinly. So, an admirable goal that has issues in the real world.
Also, apparently there was a reformulation, then the reformulation led to unexpected drops in effective SPF due to the product settling out of emulsion (it sounds like from my reading of the article, anyway). How many people obey labels to shake the bottle?
My current sunscreen, The Face Shop Natural Eco Sun Sebum Control Moisture Sun SPF 40 PA+++ uses only chemical sunscreen agents, four of which are UVB (it does have good UVA coverage through the fifth agent). Huh.
What Sunscreens Do I Use?
I have three.
The Face Shop Natural Sun Eco Sebum Control Moisture Sun SPF40 PA+++ is a Korean Sunscreen also available in US Face Shop stores. It only uses chemical filters.
La Roche-Posay Anthelios XL has some of the L'Oreal patent goodness (and nanotechnology research goodness) in it. Not for sale in the US, but you can import it from overseas; it's cheaper to import from Europe, IME.
Bioré UV Aqua Rich Watery Essence SPF 50+ PA++++ is also really awesome.
What sunscreen do you like?
Mom's finally moved out of the hospital into rehab, which is great. She's there to build up strength so that they can do the hernia surgery safely. They will also have to remove her gall bladder, but that is less of a problem at this point. Unfortunately, they can't do both at once (unless they have to to save pt's life), since the hernia needs a clean field, and the gallbladder's considered a dirty surgery (meaning one with lots of chance for infection).
Our friend is house sitting and cat sitting, and since the cat loves him (and will actually show up when he calls), that's a good thing.
We're on a trip that mom was supposed to join us on, but obviously couldn't. We'll do something later that's more of a "her" trip, since this was definitely a my thing trip. She probably won't be cleared for travel for several months, though.
Mom's moved to a room on a different floor, so she's now out of the ICU.
Also, Rick posted a comment yesterday that clarifies what she's up to: > I was over there yesterday and a couple of times today, and Deirdre's been over there, too. Cheryl started physical therapy this afternoon. Predictably and as I warned her, it was tough sledding for her. I didn't get a full account of what they had her do, but it seems to have included her at least standing up for a while if not walking a bit.
One of the nurses was by, as was a social worker, and both separately talked to me about Cheryl's condition and possible next steps. The nurse seemed to suggest that it'll probably be a couple of more weeks before Cheryl can be released to the outside skilled nursing facility (SNF). The social worker detailed four SNFs in the surrounding cities we're likely to be able to choose among, so I got the names of all of those, so we can visit them. She also speculated that Cheryl may be cleared to be transferred to the regular hospital ward and out of the ICU within a few days. The nurse suggested that Cheryl might need to do some substantial amount of physical therapy before she is cleared for the needed hernia surgery, but this sounded a lot like speculation on his part, and really, as with much else, it's up to the attending physician. Anyway, I do agree it's sadly unlikely that we're getting Cheryl home for quite a few more weeks, but the good news is that she is still getting steadily better.
In other good if belated news, Cheryl is now using a CPAP ( = continuous positive airway pressure) machine, borrowed from the hospital, when she sleeps, so that she isn't continually woken out of REM sleep by brief cessations of breathing (as happens with a small percentage of people). I am told this extra-fancy CPAP machine is technicaly a BiPAP ( = bilevel positive airway pressure) machine, in which both breathing-in and breathing-out pressures are regulated. What I hear is that Cheryl had tried and disliked the regular machine she had at home, and had given up on it and given it to Deirdre after Deirdre had a sleep study concluded that she needed one. Apparently, Cheryl is now sold on (at least) the BiPAP, if not on CPAPs generally, as she now is reporting restful sleep that she'd been unable to get before. So, obviously, she's really needed one all along.
About CPAPs
About 25 years ago, I dated a doctor for a while. One night we spent together, he said, "did you know you have sleep apnea?"
I didn't even know what that was, and treatment options were limited back then (even though the CPAP concept was invented in 1980), so I just filed it away and eventually looked it up.
Finally, I'd gotten enough cash to get a sleep study, and the center had a couple months of backlog. My appointment was for the end of November.
My first husband died on November 15th, and the last I saw of him was on a ventilator. The sleep study? I just couldn't. While a CPAP isn't a ventilator, it was just too close, and I couldn't handle it emotionally.
A couple of years later, my dad wound up getting a CPAP and would wax poetic about how much he liked it, but the mask over the mouth still freaked me out. Then I went to Clarion, and could not stay awake. The mental exhaustion on top of everything else was too much. At that time, I wished I'd gotten a CPAP, but obviously I couldn't in the middle of Clarion.
Then my mom got a CPAP. Tried it. Hated it.
A few months later, our friend Ross mentioned his CPAP, saying he'd been most successful with a nasal interface (aka nasal pillows). That turns out to not hit the same emotional button for me as the mouth interface. I decided to try my mom's CPAP out.
The first night? Slime city. I'd suffered from chronic sinus problems all my life, and it cleaned everything out. Even though I got very little actual sleep, I sure felt better the next day. The next two nights I also struggled with adapting, but I slept better both nights than I had in years.
Went to my doc, told the tale (including both parents having been diagnosed), and I was pushed to the front of Kaiser's queue for an at-home sleep study. The resp doc was on vacation the day after I saw him, but he called me from vacation to let me know that I should go in to get a CPAP as soon as humanly possible.
I've been on a CPAP ever since, and I'm on my third machine. I no longer have chronic sinus problems. Though I never had serious acid reflux problems, those are also rarer and less severe than they were before the CPAP. (Though that is not universal; some have worse problems on CPAP.)
There have been exactly two downsides for me. First, I'm more prone to nosebleeds than I was before, though consistent use of Ayr Nasal Gel prevents that problem. Second, I have to plan when and where I sleep more. I can't just catch a nap and expect to be well rested.
Which is a very long way of saying: I'm glad my mom is finally happy using a CPAP, though technically, they've put her on a BiPAP (which has different pressures for inhale/exhale). It took me a long time to get there, but I'm glad my mom's finally on the same page.
Oh, and a weird thing? When we got tested initially, my father, mother, and I all had the exact same air pressure settings.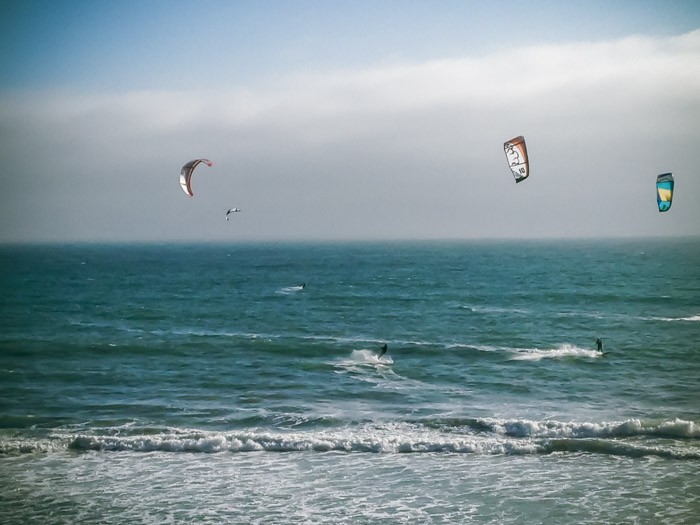 Two weeks and almost two days after the cascade failure, mom is off the ventilator and onto a cannula delivering extra oxygen is all that she's got now.
It was really nice hearing her speak after so long.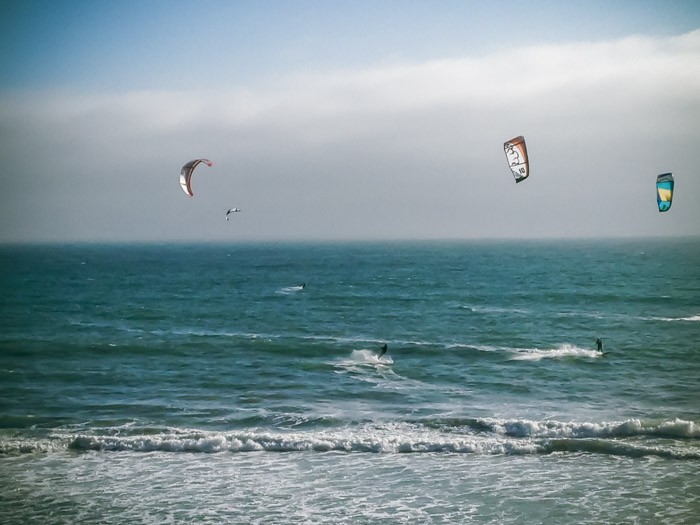 She's down to two IVs: food and pain meds. Still has some of the other meds injected, but they no longer need to be IVs, which is huge progress (she was on at least three heart meds, one of which was pretty toxic but super-critical).
Physically, she was more alert and happily watching HGTV. After several days where she wasn't seeming to want to do anything, that's the best news of all.
Tuesday, 5/19 Update
We had a good talk with the nurse.
She's down to half the dosage she had yesterday on pain meds, so that's good. I had quite the scare this morning when they tried to call and I accidentally hung up when I fumbled answering the phone.
Turns out they just needed to have firm consent on one item, and even though they have her okay, she's on strong enough pain meds they can't assure her consent while she's on a ventilator.
After I thought about it, I realized it was probably almost always dicey to get consent when one's in the ICU. Which begs the question: if you are alone and have no known next of kin, what the heck are they supposed to do? That's a really interesting question.
Anyhow, mom's had five hours on ventilator assist, so she was breathing on her own for five hours. So they're rehabbing her, hoping to get her off the antibiotics in a day or two, and once she's healed from this portion, then they're going to look at getting her hernia repaired.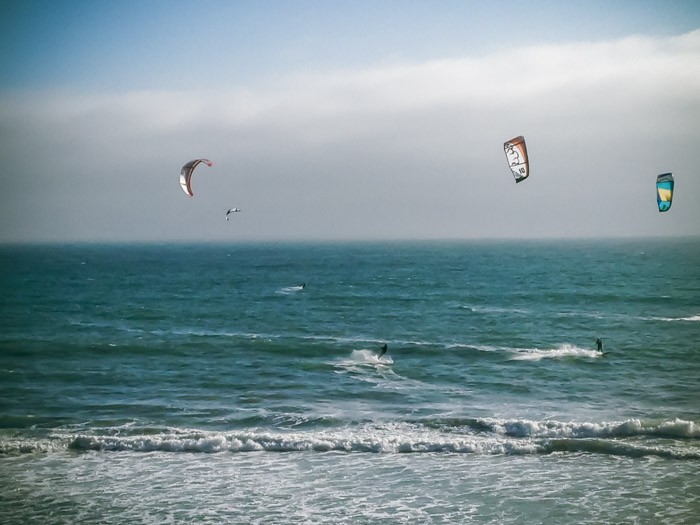 This a continuation of the medical saga that began here.
Where we were as of a couple of hours ago:
Mom's still in the ICU, and probably will be for at least a couple of days more. They've been able to keep her stable without surgery, which is good because then she'll be more likely to survive it.
She still needs surgery (and recovery from same) before she can come home—and will need it before they step her down out of the ICU. Otherwise it can happen all over again.
Most of her numbers are vastly improved. She's able to write almost normal size now, so her motor control's a lot better with the current medication regimen. One of the meds I've been on and it makes you shaky.
I'll add updates to this post rather than to the comments.
How The Cat Is Holding Up
I started writing this post because I wanted to say something about how our cat Tanner is handling it. We got our cat at a local shelter five years ago. Tanner bonded to my mom as her Primary Person, and she's been just distraught since mom's gone. Obviously, we don't smell like mom when we come home, because hospital mom doesn't smell like Tanner expects.
One of Tanner's quirks is that during any period of time (and I mean weeks or months), the cat will have only one "spot" in the house. Or no spots in the house. Sometimes that's my ottoman, but usually it's mom's bed. The other thing is that the cat spends most of her time outdoors, even when it's cold and wet. She doesn't spend time indoors when we're not around, typically.
Rick and I (and our friend Duncan) had just gotten home from the hospital and we were calling the cat to get her to come to the back door and come in. After quite a while of that, she decided to show up from inside the house—she'd been in mom's room all along.
Awwww.
First, for those of you who don't know, my mom's been in the hospital. The short version is that she'd had a gallstone, and that had caused diarrhea and vomiting, and she went to the ER a week ago Tuesday.
They transferred her to a hospital room. A few days ago, it looked like she'd be getting out of the hospital, and they'd do the gallbladder surgery in a few weeks when everything had calmed down.
Then she took a turn for the worse three days ago. Not a huge turn, just a slight detour. She wasn't getting out of the hospital after all. She'd seemed better the day before yesterday, per Rick, and then somewhat more fragile last night. Not hugely so, just somewhat.
One of the things she's complained about over the last few days is pain from a hernia that has needed repair. That, as it turns out, has been a huge factor in the cascading crisis.
I got a call at 4 am from the hospital saying they had to transfer her to the ICU. She'd gone into atrial fibrillation, and they needed to stabilize her.
I got another call at 8:30 in the morning. They had her somewhat stabilized, but there was a bigger problem: the hernia's completely blocked, preventing things draining normally through the gastrointestinal system.
Which means, of course, she vomited up the fluids, got a significant bunch in one lung, which is called aspiration pneumonia. So she's on 100% oxygen to help with that.
As a complication of all this, she's also got sepsis, and they need to go in there to fix the hernia.
Except that she's got one of the classic side effects of atrial fibrillation (and everything else: low blood pressure. They had to put her on two meds to bring her blood pressure up to a workable range.
And anesthesia will lower it. (Okay, this is an oversimplification, but a) I'm not a specialist in this area, and b) I have had two hours of sleep, so that's as complicated as I can be right now.)
They just get her heart rhythm back to normal with defibrillation (but defib increases risk of stroke), and they think they have her stable enough to do the emergency surgery.
There are also renal failure complications and she may need to be on dialysis, but they can't do that now because dialysis also lowers the blood pressure.
It's a big cascade failure and they are doing what they can, but it's pretty touch and go right now. The heart rhythm improvement is the first positive sign we've had since she was admitted to the ICU.
Lessons Learned
My mom had been putting off the hernia repair surgery, and things wouldn't have gone sideways this far if that had already been done. If you or someone you know have been putting hernia repair off, please show them this.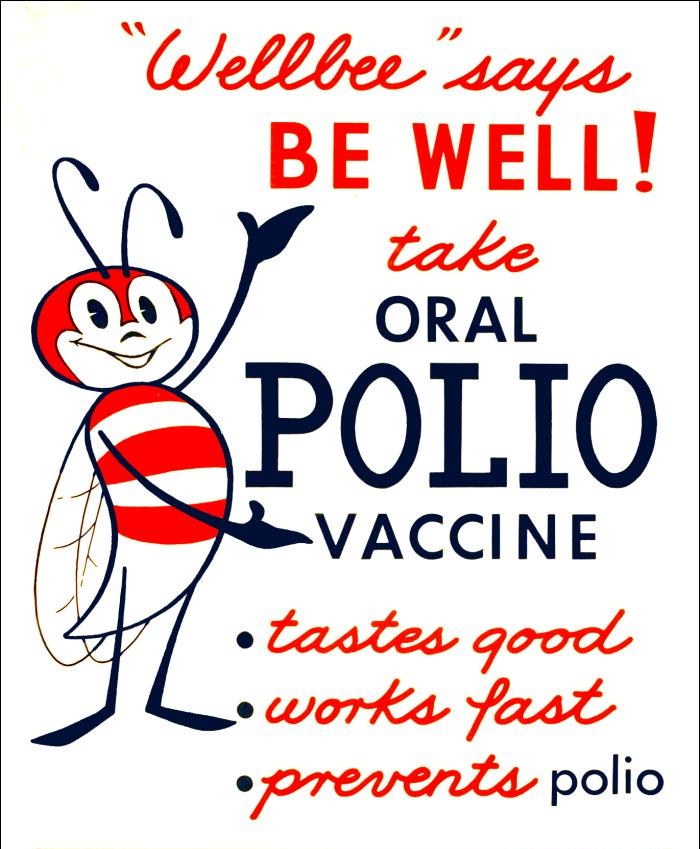 I'm going to talk about vaccinations from the point of view of a person who's older than most of the current vaccines, and what the changes have been like in my life.
My Age, In Practical Terms
If you read up on all of those, a handful of vaccination shots mean we miss the opportunity to suffer a whole lot of misery, and a bunch of truly smart and amazing people have been working hard ensuring that you, me, and that other person over there have the best chances at health possible.
I still remember spending a week absolutely miserable with chicken pox. A few years ago, I had a reoccurrence in the form of shingles. I wouldn't wish that on anyone.
One of My Earliest Childhood Memories
I remember going to CalTech's park areas where I got my Salk vaccination for polio around about 1963. I was three or four years old.
You don't see a lot of people with polio any more, for two good reasons: 1) thanks to Salk, it was eradicated in 1968, 2) the people who did have visible polio symptoms are less numerous as a percentage of the population.
Polio's a horrific disease that not only killed and crippled people in droves, it has the unfortunate habit of cropping up again decades later. It was not uncommon to see people limping with canes or crutches due to polio back when I was a kid. (Granted, it was also not uncommon to see people limping with canes or crutches due to injuries in WW2, the Korean War, or Vietnam. Or even WW1.)
I Hated Shots As a Child
Despite being a child of scientists, I absolutely hated getting shots. They terrified me.
I remember hiding under my doctor's desk in his office, and there were many tears associated with getting shots. But you know what? My parents had not only my best interests at heart, but those of the rest of society, too. Apart from fear, there was no good reason not to get my vaccinations.
When I was in early adulthood, it changed. I was okay getting shots if I saw the shot. Now I can look or not look, it doesn't bother me either way, because I know the purpose of a shot is to kick the ass of something.
I've generally stayed on top of my boosters since then.
Have There Been Problems?
There is in fact a rather horrifying article about the Salk vaccine and SV40 over on SFGate.
Some of the early attempts at vaccines were like trying to tune a car engine with a plastic fork. There wasn't any real way to ensure non-contamination until we got modern tools for sequencing, replicating, and analyzing DNA.
Penn and Teller on Vaccinations
Short but to the point, this is an awesome pro-vaccination video that neatly addresses the "vaccines cause autism" hype.
Vaccination Schedules
Here is a list of vaccination schedules by country.
Note that there are vaccines other than the flu vaccine that you should get, or get a booster of, as an adult.
If it's helpful, the CDC has some tips on keeping (and locating) adult vaccination records.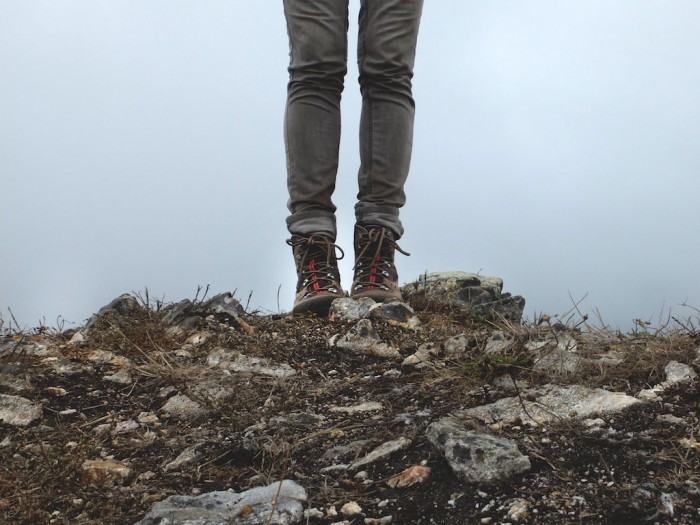 Bree was an Ellora's Cave editor for twelve years before being laid off (along with all other freelance editors) in August.
Here's a quote from the fundraiser:
It's no secret that the EC editors' unexpected layoffs on Aug.18 have adversely affected editors' finances. In the case of one of our colleagues, Bree, her 12-year full-time loyalty to EC has severely compromised her income and she is on the verge of homelessness. She is diligently searching for work and we can't bear to see her sink while she's doing so. Please help if you can. Any amount, no matter how small, is welcome.
Here's the fundraiser link. (Gofundme.)
If you don't like Gofundme and prefer to contribute another way, email me (my email's at the bottom of every deirdre.net page).
Also, Bree's available for editing work. I can forward requests via email.
Please share this if you're so inclined.
Thank you.
In Summer 1995, I picked up a book in a bookstore in Keene, New Hampshire where I worked before heading home for the weekend.
I was enticed by the Stephen King blurb.
I lived nearly 180 miles north in North Troy, Vermont.
Now, I didn't always start books right away, but this one I was really looking forward to. In its own weird way, it changed the course of my life. Two years later, I'd be working as an immunology software engineer, though I ultimately decided not to pursue the additional degree(s) needed for more work in that particular field.
The blurb?
"The first chapter of The Hot Zone is one of the most horrifying things I've read in my whole life—and then it gets worse. That's what I keep marveling over: it keeps getting worse. What a remarkable piece of work." —Stephen King
Richard, then my partner and later my husband (not to be confused with Rick, my husband of 14 years) marveled that I was able to read the book in bed, turn off the light, and go to sleep. And stay asleep.
It's not that I didn't find the book terrifying. I did. It's just that, for me, those horrors were so much worse than what I'd imagined, my own fears began to subside.
Before reading The Hot Zone, The Coming Plague, A Dancing Matrix, and other related works, I was always very fearful and squeamish about things medical. I was the kid who ran and hid under the doctor's desk when it was time to get a shot.
I couldn't watch a surgery scene on TV or in a movie. Just couldn't.
After Richard died, I found myself watching a show about organ transplantation, showing transplant surgery, less than a week after I'd donated his organs. My neighbor wanted to make sure I was really okay with it. I was, which surprised me. I still avoid surgery scenes in movies and TV, but I'm not as horrified by them as I used to be.
I'd taken astronomy and geology rather than biology so I wouldn't have to dissect anything. In Vermont, I finally took biology and the only things they made us dissect that first term were black flies. I hated them so much by that point (nasty, painful welts from bites if you didn't know), I looked forward to stabbing them.
Eventually, I realized it would be a really long time before I could get through a Ph.D. or an M.D./Ph.D. program, so I decided to focus on the Master's degrees I wanted.
But still, that book changed the course of my life.
For those who aren't following along, Axl Goode and Taylor Cole are cover models and authors for Ellora's Cave and strippers as their other job.
Axl reports on facebook:> UPDATE: After writing this entry I was—finally—issued a mandatory quarantine by the Texas Department of State Health Services.
That update was about two hours ago.
Their Gofundme fundraiser
Photos of the Guys
I just realized I haven't posted photos of them apart from a couple group shots and a blurry one.
Taylor (left), Kathy Wright Johnson, and Axl: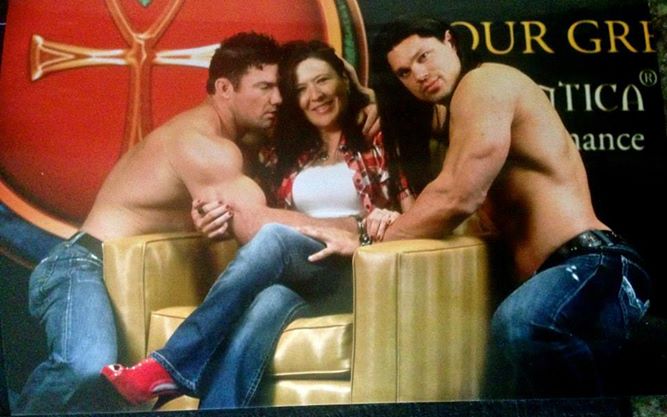 Axl on the Silks: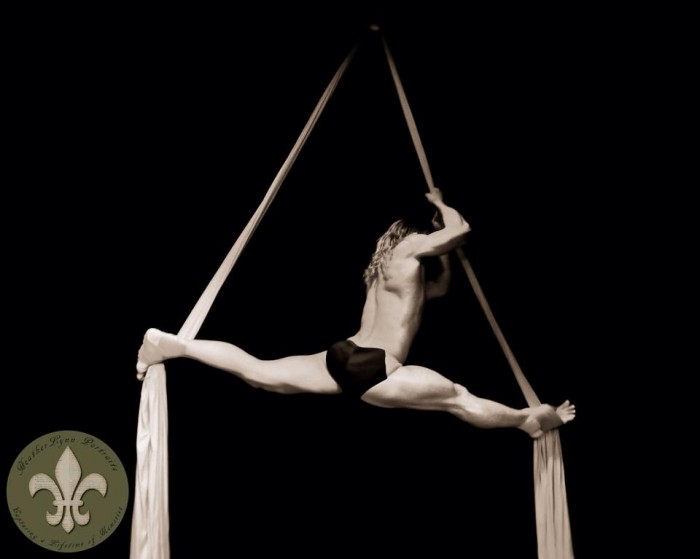 And Taylor: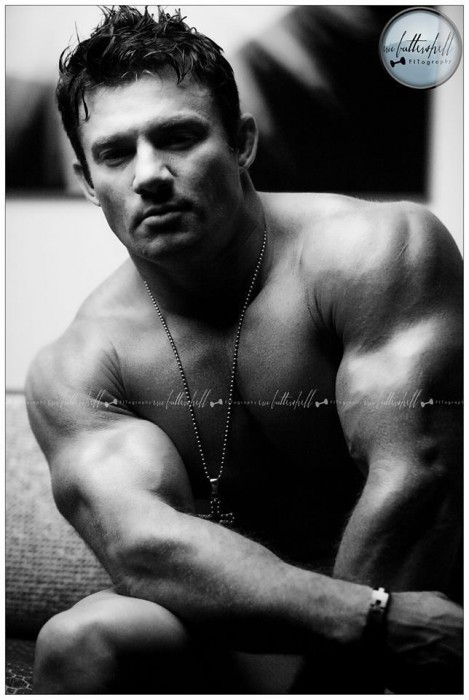 So, there ya go.
Say you're a nurse taking temperatures for a guy who's been potentially exposed to ebola and is quarantined at home.
You'd expect that there would be at least minimal safety precautions, right?
Taylor reports:> Taylor Cole questioned the health protocol of the nurse who visits him. "She didn't have gloves on."
::facepalm::
If you're not supposed to be within three feet of other people, as Taylor and Axl were advised, gloves seem sensible precautions. Every nurse knows how to remove gloves so they don't contaminate their hands.
I get that it's very unlikely that Taylor and Axl have ebola, and some people may feel they're taking precautions to extremes.
I view it this way: they don't want to spread it if they have it and they're ensuring that they can't.
The nurse, on the other hand…. When I went to the ER, the nurse didn't use gloves to take my temperature, but my risk profile was different.
True, I didn't happen to mention having been jumped on by wild Gibraltar Barbary macaques 17 days earlier. (Ebola Reston involved macaques.) None of the Gibraltar macaques were known to be infected, nor had I traveled to Africa. Just to one of the closest points in Europe.
Also, the nurse did use gloves any time direct touch of my skin was involved, e.g., when inserting an IV, when giving me pain meds, etc.
Here's a Great Post
Axl's Oct 16 update.
When asked about who he blamed, he wrote a long post. Here are two quotes:
So in the end, no one is to blame. We can only take responsibility. I for one want to take responsibility for what has happened. Every single passenger that boarded flight 1143 played a part in that moment taking place. Now we get to play our part in trying to minimize the repercussions of possibly being infected. […]
As communities, this is the best thing we can do. Rather than fighting a problem, we're finding a solution. I can only encourage others to do the same. If we as a people weren't so concerned with blame and held solutions as a higher priority our politicians might hold those same priorities. Rather than worrying about covering their backs, they would be looking to create a better future for all.
Dr. Jen Gunter's Post
This is a good post.…but it does overlook a few points.
Mr. Duncan's family was very used to living under the "ebola rules"—no touching, no getting close to people.
We don't know that no one else got ill because Mr. Duncan was sick. We do know no one else in the US did that we don't know about, given the small number of cases here.
We do know that people who treated him during the first hospital visit (when the hospital was doing, as Rick put it, "wallet triage"), didn't fall ill.
21 days is not an absolute number. Paper detailing quarantine periods for ebola. 95% of people who got ebola were symptomatic within 21 days of exposure. I haven't read the paper to see the breakdown of the other 5%, but I suspect some of it may simply be there wasn't a known date or time of transmission because they couldn't trace it back.
The widely-spread story about Mr. Duncan carrying a pregnant woman is false according to Duncan's nephew:

Among the most offensive errors in the media during my uncle's illness are the accusations that he knew he was exposed to Ebola; that is just not true. He lived in a careful manner, as he understood the dangers of living in Liberia amid this outbreak. He limited guests in his home; he did not share drinking cups or eating utensils.
And while the stories of my uncle helping a pregnant woman with Ebola are courageous, Thomas Eric personally told me that never happened. Like hundreds of thousands of West Africans, carefully avoiding Ebola was part of my uncle's daily life.
And I can tell you with 100 percent certainty: Thomas Eric would have never knowingly exposed anyone to this illness.
So, without that narrative, we really don't know how Mr. Duncan was exposed or what happened. We've all lived with the comfort that that can't be us because we "know" what happened.
Dr. Gunter's right: ebola's not easy to catch. However, were I in Axl and Taylor's position, I think I'd be as careful as they are.
I've posted about this on Twitter, but I only amended my Romanticon post to include word of the quarantine.
However, given the fundraiser I just discovered, I'm copying the amendment into this post so it gets more attention and adding the fundraising link below.
Frankly, no one who goes to to any convention should have to fear coming down with something as horrific as ebola. ## First: Quarantine, the Origins Of
Quarantine comes from the Italian word quarantq, meaning 40: the number of days you had to wait before your ship could enter Venice. It was used to prevent spread of the plague. It didn't work so well back then, mostly because disease transmission was so poorly understood, so that's why all the gondolas in Venice are painted black.
Jaid's Message and Axl's Message
Jaid Black posted a notice about potential exposure to ebola. Dallas nurse Amber Vinson, who now is confirmed to have ebola, was in Akron during the same time period that Romanticon was held.
According to news reports, the infected woman, a healthcare worker who treated "Patient Zero," was in Akron visiting family. She did not show signs of infection until already in Akron. The CDC has confirmed that she was definitely symptomatic while traveling from Cleveland to Dallas on October 13 so if you know anyone else on that flight please have them contact the CDC IMMEDIATELY.
Romanticon attendees (other than those on flight 1143) have nothing to worry about… according to the CDC. As they haven't exactly been forthcoming with information, and we have no idea where in Akron this woman was, I am asking EC employees and Romanticon attendees in general, to self-monitor their health for the next 3 weeks. A list of symptoms can be found here: http://www.cdc.gov/vhf/ebola/symptoms/
Further, two of the Cavemen, Axl and Taylor (who are also both EC authors), were on the same flight as Vinson. After consulting with the CDC, they are both in self-imposed quarantine for 21 days.
Here's Axl's story.
Axl and Taylor appear briefly on this GMA segment speaking about their self-quarantine.
My hope is that everyone will be fine, but I'm sure thoughts and prayers are welcome. Axl gives his contact information in his facebook post if you wish to reach out to him.
Facebook links: Axl Goode and Taylor Cole takeitoff
The GoFundMe
Can be found here.
What we do know:
They were apparently sitting very close to nurse Vinson on the same flight. (See Daily Mail link below for pics.)
They feel it is in the safety of all concerned if they are conservative and self-quarantine. I applaud this, but it's not cheap. (As to whether or not I'd contribute, the question is rhetorical, sadly.)
Unlike some of us, they don't have the sort of job where they can work from home.
I think the Daily Mail really has the winning caption here: Ebola Strippers. That's not a disease vector I'd ever want to have happen.
If you're inclined to either contribute or spread the word, please do so.
I know there are reasons to not support GoFundMe because of their policies; I'm sure if you contact Axl there are other means to help if that's an issue for you.
My Own Experience With Quarantining
When I was at Apple, I came down with shingles. One of my colleagues was pregnant, and as shingles/varicella is of particular risk to the unborn, I was asked to work from home until it cleared up.
Now, shingles is not particularly contagious. Truly. When kids have chicken pox, it's the way kids interact with the world more than the contagiousness that's the problem.
But I respected that, and worked from home for about a week. This meant I had to miss the Apple Worldwide Developer Conference that year. Again, it was best for all concerned that I did so.
However, I had a job where I could work at home. Not everyone is so fortunate.
I'd rather not debate the merits of the fundraiser in the comments. Respectful questions are fine.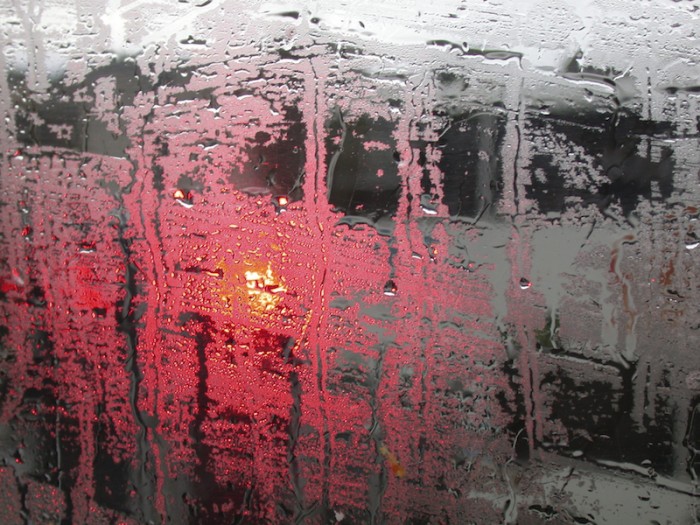 Well, it's been just over a month since I did whatever the hell it was I did to my hip. I suspect transferring between boat and ship or somesuch.
I didn't talk about my experience being injected with IV pain meds. They tried a non-naarcotic first and that made me hurt worse. It had a rolling effect where it would hurt less, and then it'd hurt more. When it hurt more, my pulse would race and set off the alarm, which just stressed me out further until I figured out what was going on. Then I'd just watch it.
I couldn't sit still. I tried lying down, only I kept tossing side to side (they put the railings up, clever people). I tossed the blanket off three times because I was just that uncomfortable. Then I asked for a chair. Then the chair wasn't comfortable. Then I tried to stand. No good. It was brutal.
The poor guy on my right came in for some heart-related thing and the woman on the other side of him was pregnant and far more vocal about her pain. I felt sad for him listening to both of us.
So the second time, they also gave me narcotics. As my doc said yesterday, "I can't believe how much heavy narcotics they gave you." I can. Made me woozy, but didn't knock me flat. It reduced my pain from about 8-9.5 (depending) down to 7-8.5. Progress.
The Fibromyalgia and Myofasical Problems
One of the complicating factors any time I hurt is this: how much of it is real pain vs. how much of what I'm experiencing is altered pain perception because of fibromyalgia or myofascial pain.
For example, if I reach up and run my fingers through my hair and that hurts, that's fibromyalgia. If I reach up and run my fingers through my hair and it doesn't, no fibro. That's a really clear-cut case.
A myo example: once, Rick reached out to touch my upper arm. It sent shooting pains down my arm and I flinched. That's myofascial pain. If it had continued after the touching stopped, it could also be partly fibro pain (since I have both).
Bringing this back to the hip issue: given the nature of the hip:
Some pressure is probably always, or almost always, on muscles that may have myofascial pain issues,
It's impossible to tell, at any given time, what percentage of the pain I'm experiencing is fibro-related. Or myo-related.
One thing I do know, though: if I'm sleeping very well, I'm in a lot less pain. I haven't been sleeping well for a month. Most nights I get a single stretch of 4-6 hours, and that's pretty much it. I need 8.
The Post-ER Doctor Visit
I had my post-ER doctor visit yesterday.
So my doctor's like, well, this isn't really getting better, we need a new approach. I convinced her that probably the best approach was doubling the opioids (tramadol aka Ultram) that work well for my fibro & myo, and halving the opiates (norco) that don't. Point of clarification here: for me, opiates will mask fibro pain, but they don't break the flare cycle. But opioids actually break the flare cycle. For me, nothing else has except good sleep (and tricyclics help with that, but haven't been helping lately).
Right now, I really have zero idea how much of what I'm experiencing is fibro, myo, or neither. It's probably some evil combination that we just haven't thrown the right med combination at to get anywhere. (Assuming we don't have to resort to MRI/CT scan to find some other cause entirely. I'm hoping that's not the case.)
The opiods also last longer (though not 12 hours, sadly, no matter what the docs say) and maybe I'll have a chance of sleeping through the night. That didn't work last night, but we'll see how it goes.
Catch is, I feel a bit more fragile on the opioids. So I felt well enough to try to cook something. Only that had me shaking and ready to collapse in a heap on the floor.
Two steps forward, one step back. If I can manage enough steps, I think I'l get there.
I've been hearing about the freezing eggs benefit, which has made the news, but I've never heard news break about the Stanford Health Navigator benefit that Apple offers.
Worldwide
To its employees
For immediate family
Even if they're not covered by Apple insurance
Medical Referral Anywhere in the World
Need some edge case treatment not available locally? Want to go for some treatment elsewhere?
They'll refer you.
Navigators can also assist with scheduling appointments and coordinating specialist visits at Stanford Hospitals and Clinics and its affiliated network of leading healthcare institutions around the world, including the Mayo Clinic, Massachusetts General, and select institutions in Asia, Europe and Latin America.
Medical Librarian Research
Want research on a medical topic to make better decisions or take it to your doctor? Give them a call and they'll prep it for you.
No request is too large for our staff to address or too small for you to mention. Whatever you need, we will respond as quickly as we can. We are committed to providing you with the highest quality customer service.
NVIDIA also has the same program. (There were several corporations that donated big bucks to Stanford, I believe 6 corporations in all.)
There are few things quite so grueling as having a part of you that hurts a ton go through medical imaging. So far, been there, done that with a wrist, an ankle, a knee, and now a hip.
My x-ray last night led to me collapsing into a sobbing pile. This was after the first round of IV pain meds. The x-ray tech thought it was just not gonna happen, not knowing exactly how stubborn I was. She and I talked briefly about what we could do that would both get a good clean image and make it hurt less for me. A bolster that supported my leg a few inches worked wonders.
Short version: I didn't break my ass, but I apparently did sprain it.
I also have developed some arthritis in that hip since my last imaging three years ago. It's not bad enough to explain the current issue, though.
I was given better pain meds and ushered out.
All told, I spent about six hours in the ER. Rick was wonderful and made an In & Out burger run. I managed to sleep five hours in a single session after getting home last night, so that's better than the four hours the night before.
Probably I'll just need to really really really keep off it for a few weeks. Sadly, this means no rowing this weekend. 🙁
Acupuncture has often helped manage my pain, so I have a session with my long-time acupuncturist later today.
I wasn't able to sleep through the night, so I'm going to the ER. (I did manage to get a single spell of about 4 hours of sleep, but that was after 2 hours of tossing and turning to find a comfortable enough position where I could get to sleep. Every time I want to sleep, same thing.)
Because I have fibromyalgia, that means that I am now at risk for hurting worse for days than I was yesterday. Yesterday was the worst yet. Fibro's kind of a weird feedback loop: your body thinks sensation should hurt rather than be neutral or pleasant.
As an example, Diamox, used to prevent altitude sickness, can cause a shimmery sensation across the skin. My body interprets that as pain. 🙁 That's not normal, though.
Restorative sleep (stages 3 and 4) returns the body's pain levels (and sensation interpretations) to more normal levels. Most of my restorative sleep comes at the end of my sleep cycle.
The pain levels get more normal during the restorative sleep cycle, but I only get that at the end of a night's sleep.
So sleeping through the night undisturbed is key, and I haven't been getting that consistently. Given my pain levels yesterday, it was absolutely necessary to get the pain under control so the sleep cycle returns to normal.
I also have myofascial pain, which means that trigger points (inflamed nodules where nerves enter muscles) send shooting pain down muscle bundles.
I've had a lot of general (fibro) pain and specific (myo) pain and a lot of whimpering nerves. I honestly cannot tell where the pain is coming from, and that's with some significant amount of education on the subject (I just went through a chronic pain management program earlier this year).
Normally, I wouldn't go to the ER unless my pain were actually a 10. For me, that's nausea, vomiting, uncontrolled crying, etc.
A 9 includes inability to get to sleep or stay asleep, which is where I was yesterday, and frankly I've been at a long-term 8 or 9 for three weeks. (Note: these are my definitions of pain levels for me. A lot of people use 10 to mean something less.)
So I'm going to the ER, where they can take specialized measures to make me feel better.
I've been in excruciating pain for the last couple of weeks.
It started innocently enough: I got an awesome Thai massage, which loosened everything up.
Loosened everything up enough that I managed to later torque some muscle in my hip, a rather critical muscle/muscles for balance. This was bad the day we were in Sardinia, meaning I wasn't able to see the rather awesome caves there.
Walking was excruciating. Climbing up and down stairs was excruciating. Rolling over in bed was excruciating.
The last meant I wasn't sleeping, so I had a persistent fibromyalgia flare on top of everything.
We'd picked this cruise because I've always wanted to see Corsica, and one of the places I wanted to see was Bonifacio. The photo above is one of the last pics I managed to take. We were up early that morning (and I'd climbed the stairs to the Top of the Yacht bar) to see the sailing into port. Bonifacio's kind of weird: all the ships have to back in, hence we went in flag first. (The odd flag is actually two flags: Bahamas, for the ship's registry, and Norway, for the Captain's nationality.)
I got off the ship, only to discover that I really couldn't walk more than 100 feet without breaking into tears from the pain. Given that, I declined to go on the day tour I'd hoped to see. Instead, I hobbled down to see the shops, literally going from bench to bench. I spent the rest of day in bed.
The next day, we were using tenders, so I never got off the ship. Rick says I didn't miss much, but it looked to me rather like an awesome place we went in Costa Rica—kind of a small beachy place with a small town, but not too much. I love those places.
I don't need to say how much of an idiot I was for trying to go through all the Vatican museums, but I lasted through two hours of that idiocy. We had a nice hotel in Rome near the Vatican. Except for the slow waitstaff and the three steps up and down to get from one side of the building to the other, I really liked the place.
Had enough emergency meds to last through today, but I'm not better enough to function without more than my usual, so I'm going to the doctor.
I'm still really bummed about missing what I wanted to see in Corsica, and about not being able to see St. Peter's Basilica.
Over the last two months, half a dozen people that I'd spoken with for about fifteen minutes total decided to recommend a book to me: Wheat Belly. They recommended it for two reasons, I'm sure: one, they each knew I was celiac or on a gluten-free diet. Two, they knew I was fat.
The first time someone mentioned it, I downloaded and skimmed the sample of the book. To me, it looked like the typical diet book, full of pseudoscientific claims in addition to some genuine ones. ## On Recommending This Book to a Celicac
Here's what I've wanted to say to everyone who's recommended this book to a celiac:
Dude.
Do you think a celiac, of all people, has no clue how dangerous wheat can be?
Did you know that my intestines bleed when I accidentally eat a sandwich made with regular bread? That a smaller dose can land me in bed with three days of diarrhea and misery? Or that about half a crouton's worth can cause me to run a fever for a couple of days? That my thyroid's mostly shut down (a common co-morbidity) and is now sixteen times normal size? That my supposed "wheat belly" is actually a medication and thyroid side effect?
Did you know that I know people who've needed 16 to 26 units of blood (over a course of one to two years) after their diagnosis? That I know people who've wound up in the ICU because of celiac-induced anemia?
That I know people who were losing so much weight they could have died?
That I know someone who was being evaluated for a heart transplant before they figured out she had a wheat allergy? (Not celiac, a true allergy.)
Did you know that I have met people who get seizures from small amounts of wheat?
It dissolves our intestines. How much worse could it be, really? I don't really know of any other analogous food issue.
On Recommending it as a Diet Book
Look, there are some things I agree with: less sugar, more traditional foods, there are good fats. Except, of course, this diet cuts out swaths of foods that aren't bad for you. Buckwheat, to take an example, isn't a grain, and is one of the best vegetarian complete proteins. Why limit it?
But I'm not open to villifying wheat for the 95% of you for whom it does no apparent damage. I do sincerely thank all of you gluten free people for making more food options available to me, but I've always stated: if it doesn't make you feel better or doesn't improve your medical numbers, I'm not convinced it's worth the bother.
I'm not convinced that the increase in celiac disease expression is related to eating newer forms of wheat, as claimed in the book. If that increase is related to a single food, it may also be corn or soy. Or, you know, the shift from butter to margarine around WWII. It could be canola oil. It could be that we're no longer eating much liver. Or lamb. It could be a different answer for different populations.
Other people have done takedowns of the book.
The Only Diet Advice I've Ever Heard That's Worth Following
The first is from Michael Pollan:
Eat food.
Not too much.
Mostly plants.
The second is one I heard from a friend who's Japanese, though I've never heard it from another Japanese person:
Thirty different foods a day.
One hundred different foods a week.
No, I don't mean ingredients. I mean foods. Spices count.
It's an interesting goal.
But avoiding buckwheat, which isn't a grain, because industrial wheat may be bad for you? That's crazy talk.
Also, because I apparently have to say this: recommending a diet book to a fat person you have just met and barely know is a dick move.
Robin Williams died, apparently of suicide. He'd been through a recent rehab program; he struggled with both addiction and depression.
For many years, I didn't realize I struggled with depression. When I became involved in Scientology, the depression got worse, and the costs of admitting I had it rose. I left Scientology in 1989, but I didn't seek help for my depression until 1997. To ask for "psych drugs" or traditional therapy was counter to all my programming.
At that point, I'd been widowed for a few months. I wasn't suffering any obvious big-picture depression problems. I cried occasionally, but didn't go on long crying jags.
I was waiting for my doctor, and read an article about depression. I had many of the secondary problems of depression: total inability to sleep at night (which has plagued me intermittently ever since) being the biggest one. As a secondary effect, my fibromyalgia raged on with the sleep irregularities and never went away.
My doctor prescribed me two antidepressants, one of which was amitriptyline. To this day, I'm still on nortriptyline to help regulate sleep (and thus pain), though I no longer feel depressed. Unless, of course, I go off of it, as I did for a few months. Big mistake.
My doctor told me that when he'd tell depressed people what drugs and/or therapy could do for them, they'd look at him like he was a Martian. My own example: I'd become convinced I'd never write again. It was too painful and too wrapped up in the identities both I and my late husband had.
I started to feel the emotional lift from one of the meds in a few days, and within two weeks I was starting to write again. Medication turned my life around and made it worth living again; I'm unhappy when I can't write.
I'm thankful that I've only been suicidal during one very short period of my life, before my first marriage. I've known other people who've killed themselves (I tell one such story here), and I always feel sad for them and the people left behind.
Susan, I'm so sorry you lost your husband Robin.
If you're reading this and struggling with depression: there are sources of help. What worked for me may not work for you, but please try to find something that helps, even if it doesn't seem immediately effective.
It's obvious to me that no one who ever suffered from chronic pain ever designed a typical grocery store or drug store.
Some mornings, I have difficulty walking. Most mornings, it's really painful. By really painful I mean: so painful that I have nausea.
Rick and I just went to the grocery store. I spent not ten minutes shopping. By the time we got to the checkout, I was shaking from the pain and overheating (which apparently is a myo symptom).
This is after the pain meds. And by pain meds, I mean tramadol. And gabapentin. And ibuprofen. Just to go to the store.
A couple of weeks ago, I went to Whole Foods. Spent 17 minutes elapsed time. I was shaking, in pain, overheating. Spent a whole day in bed after that.
So, given that kind of thing, I have to ask:
Why is it standard practice to put the pain meds at the back of the store? Or, if not at the back, an equivalently far-from-the-door place?
Especially in a drug store.
If I'm completely out and need ibuprofen now, the one trick I've learned is to go to a 7-11, because they keep their stock where the cashier can see it (small, high-value items, y'know). I can buy a single dose, wait a half an hour for the ibuprofen to kick in, then buy the larger quantity from the store that keeps them in the back.
I'd like to ship the pain to those people who make the store layout decisions. Bah.
Zoë Keating's husband has had mysterious ailments for several months. As of two weeks ago, that's no longer mysterious: he has stage 4 lung cancer with mets.
On May 13 an MRI found 20 tumors in my husbands brain. On May 15 he could barely breathe and was in a lot of pain. A CT scan that day revealed he had a softball-sized tumor in his lung, tumors in his other lung, his liver and possibly his bones. On our way home from the imaging center our primary care doc called and told us to turn around and get to the hospital right away. My husband was admitted and they promptly removed more than a pint of fluid from his lungs, which helped him breathe better. We were there for 6 days while they performed a bronchoscopy, did more scans, gave him drugs to stop his brain from swelling and administered emergency chemo.
Anthem Blue Cross has denied coverage.
Hey, @AnthemPR_CA why is the medical reviewer who denied my husband's hospital stay for stage 4 lung cancer an OB-GYN?

— Zoe Keating (@zoecello) May 28, 2014
Zoë's a pretty amazing cellist. If you're so inclined, I'm sure buying her music would help her family out right now. If not, spreading the word about her situation, including aiming the Internet Rage Machine at Anthem Blue Cross.
Or, as Zoë asks:
Please, don't send any condolences. Send strength and love and positive energy, healing vibes, prayers, chants, interpretive dances…all of it.
And since my new album will remain unfinished for a while longer, if you want to help us in ways other than good vibes, you could buy some of my music. Listen to it, give it to a friend and think of us.
Joel Richard tells about seeing her perform.
Wil Wheaton wrote about Anthem's denial here.
"Coverage denied…doesn't meet criteria for medical necessity". I WOULD CALL SAVING MY HUSBAND'S LIFE A MEDICAL NECESSITY YOU FUCKERS

— Zoe Keating (@zoecello) May 28, 2014
Amen.
Posting this because that occasional random pains you may have may respond to this technique. Myofascial pain is chronic inflammation where a nerve enters a muscle, but you can have acute pain from temporary inflammation. If you have a random sore muscle, it probably wouldn't hurt to look up the trigger point and see if rubbing there would help.
Tuesday, I had an appointment with the pain doc. One of the things I have to do is a pain check, recording all my pain. I happened to gently grab my upper arm—and yelped.
Most of my upper arm, on a line roughly tip-of-shoulder-blade to outer-point-of-elbow, was incredibly sore, and along that line. Not, you know, where I'd normally touch my arm.
Myofascial pain is experienced in a different location from where the source of the pain actually is. The source is, as a general rule, closer to the spine and often closer to the head. I visited triggerpoints.net and found the page that showed where I was experiencing my pain.
The pain maps to the A on that page, which shows several trigger points on the scalene muscles. I feel with my fingers for the inflamed lump of muscle I've learned that corresponds to a trigger point, and pain starts shooting down my arm in the area where I felt the pain earlier. Bingo!
Note that this is one of those places you have to be really careful about: you can use a lot of pressure in some places, but not this one. There's an artery right there, so you can safely use only gentle finger pressure.
Then, because I have fibro and the shooting pains irritated one of my fibro tender points, later I get another reoccurrence of the shooting pain, which kept me awake Tuesday night. 🙁
I woke up with incredibly, unbelievably sore shoulders after sleeping 9 hours, so it must have been good. It's like relieving a bit of tension in that one spot happened to cause all other nearby muscles to have to renegotiate their place in the world.
Fibromyalgia (FM) syndrome is a disabling clinical condition of unknown cause, and only symptomatic treatment with limited benefit is available. Gluten sensitivity that does not fulfill the diagnostic criteria for celiac disease (CD) is increasingly recognized as a frequent and treatable condition with a wide spectrum of manifestations that overlap with the manifestations of FM, including chronic musculoskeletal pain, asthenia, and irritable bowel syndrome. […]
This observation supports the hypothesis that non-celiac gluten sensitivity may be an underlying cause of FM syndrome.
Link to abstract.
I must say, that's interesting, but it doesn't really address the fact that a) I have been diagnosed (and recently re-diagnosed) with fibromyalgia, and b) I've been on a strict gluten-free diet for years.
I have noticed for quite a few years that errors in compliance do lead to whole-body flare pain, so I can definitely see how that could happen for others who weren't on a gluten-free diet.
As always, I'm an outlier.
Hope this helps some of you, though!
The first day I was at Apple (a bit over six years ago), I went to Caffé Macs.
And promptly burst into tears when I saw the menu.
Not, for once, out of sadness or frustration, but out of joy: they had four soups that day, and all four were gluten free.
I hadn't had soup in a restaurant for twelve years.
Being celiac means you have to constantly have the conversation, both with others and with yourself: what's in this? Do I trust that this person understands what gluten is? Are there any possible gotcha ingredients? Am I going to get sick? Am I in a situation where I can risk getting sick?
It's. Fucking. Exhausting.
Some of you may minimize the illness. Here are some reactions of celiacs/gluten sensitive people I know.
Guy winds up in the ICU with extreme anemia. He's lost a ton of weight. His identical twin has not, so they don't immediately think of anything with a genetic component. He's apparently dying, but from no obvious cause. They give him two units of blood for the anemia. Eventually, they figure out he's celiac. They are both now on gluten-free diets.
Woman who is so sensitive to gluten that she has seizures from cross contamination. Like any seizure, they can be permanently disabling due to brain damage.
Friend I know says that his daughter has been losing weight. She's actually seen a gastroenterologist, more than once, but has continued to lose weight and throws up almost everything she eats. Her doctors have written her off as secretly bulemic. She's not, though. I correctly call it: gluten reaction. No one had put her on an elimination diet.
Different celiacs have different reaction times. Some actually have part of their reaction in their stomachs. They will throw up their meals. I'm not that lucky. If it goes in, it stays in, meaning it'll do more damage and I'll be sick longer. Typical onset is 24-72 hours after a meal. (How many of you remember what you ate that long ago? Now you know why, when I eat out at a new place, I take pictures of my food. Timestamps are wonderful.)
My first reaction is usually a slightly elevated temperature, generally 0.3-0.5 degrees F. Then gastrointestinal cramping. In extreme cases, bleeding.
Not fun.
Celiac Disease Really Is More Common Than it Used to Be
Dr. Joseph Murray of the Mayo Clinic explains. (emphasis added)
Dr. Murray's team tested the 50-year-old blood for gluten antibodies, assuming that 1 percent would be positive—the same as today's rate of celiac disease. But the number of positive results was far smaller, indicating that celiac disease was extremely rare among those young airmen. Surprised, the researchers compared those results with two recently collected sets from Olmsted County, Minn. One blood-sample set matched the birth years of the airmen. Those elderly men were four times likelier to have celiac disease than their contemporaries tested 50 years earlier. The second set matched the ages of the airmen at the time their blood was drawn. Today's young men were 4.5 times likelier to have celiac disease than the 1950s recruits.
Why? We don't know yet.
But What About the Non-Celiacs? The Ones Kimmel Was Roasting?
I'd love to see a similar segment roasting Meat Free Mondays. Or any other diet fad where the choice is primarily political.
It'd never happen.
Being gluten-free is an extremely hard choice to make and to continue to make. It's expensive. It lets out whole swaths of comfort foods. Most gluten-free breads suck.
Some days, I'd kill for a real croissant.
Our biochemistry is incredibly complex, and some foods will make us feel better and others will not. If that extremely hard choice makes you feel better, then do it. If not, well, don't feel bad for having tried it.
How I Feel About the Gluten-Free Fad
My feelings on it are complex, but largely positive. Consider:
These days, I can walk into a restaurant, ask if they have gluten-free soups, and probably get the correct answer. That was not true 6 years ago. It definitely wasn't true 18 years ago.
I no longer have to drive 30 miles to buy gluten-free flour like I did 18 years ago.
I can walk into a random restaurant and occasionally get a gluten-free menu. My mom and I went to the Union Street Grill in Courtenay, B.C.—not a big city by any means—and they had a gluten-free menu. Because of that (oh, and they're good, too), we went back two more times. Then we went across the street (practically) to the Atlas Cafe, and they have a gluten-free menu too.
I can find dedicated gluten-free restaurants near me. Do you have any idea what it's like to walk into a restaurant and be able to order anything on the menu after 18 years of not being able to? (Last night, we had dinner at Asian Box in Palo Alto, one of our favorites.)
I can visit entire countries with as good or better availability of gluten-free food than we have here in the United States. It might surprise you to know that Italy is one of the better places for gluten-free options. (Also note that that post was written almost 7 years ago, well before the current fad.) Argentina's working on it. Brazil has pão de queijo as a street food. Yum! But my all-time favorite place for gluten-free food is New Zealand.
So, want to eat gluten free but don't have a medical necessity to? Knock yourself out. Thank you for increasing my options. I really, truly, sincerely am thankful every single day.
That One Thing I Haven't Yet Found
Gluten-free regular old meat lasagne in a restaurant with gobs of cheese in and through it. Please, no vegetables masquerading as noodles need apply here. That's my grail food.
Recently, I deleted my Flickr account, which meant I deleted the only public repository of my oft-used "Fuck Cancer" graphic. The original is still as free to use as ever and is at the bottom of this post.
Over the weekend, I decided to re-make the graphic to be high enough resolutions for t-shirts and prints.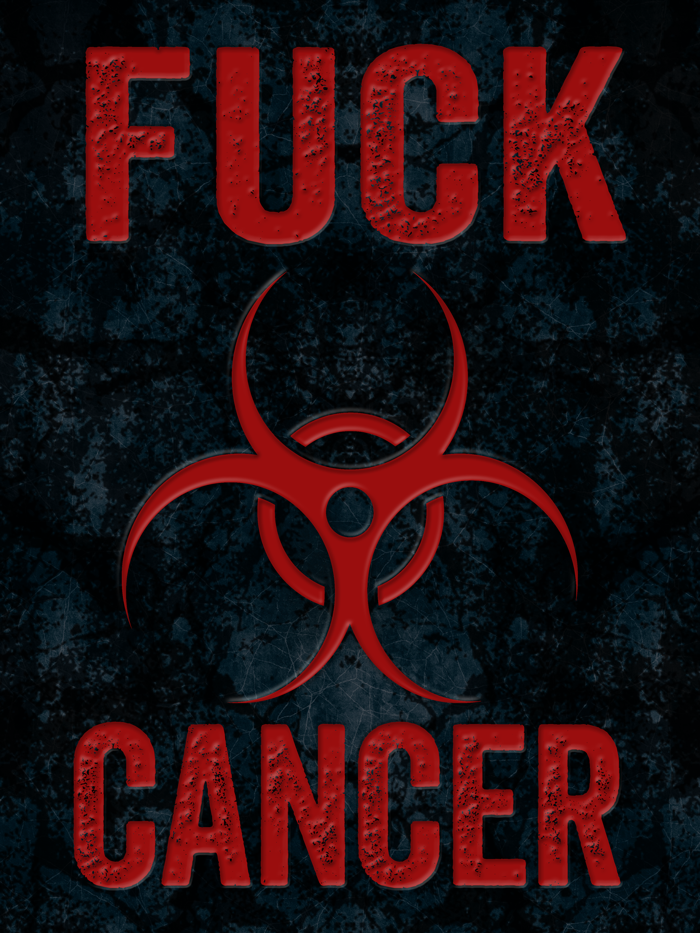 It's on RedBubble in several formats:
T-shirts and hoodies
Stickers
Prints
Small posters
I've made this image so it prints well on both light and dark t-shirts (as it has a background)
Older, Free Image
The above images isn't one I want circulating on its own, but if you'd like me to adapt it to some other need you have, (e.g., a poster or event), contact me.
You can always use the image below for free. Sorry, this is as large as it ever came: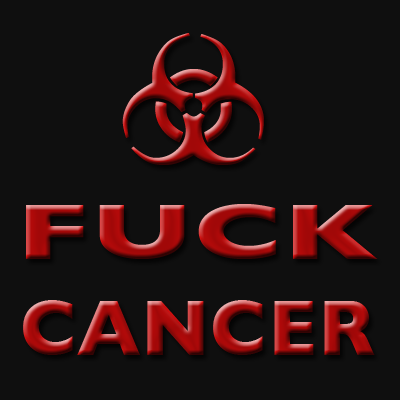 We've left. We've left without the single thing I cared about, possession-wise. We left with almost all the things my mom cared most about.
After that, it was a thousand gnats, each of them annoying.
I got some writing done on the ferry. I also wrote some code on the ferry, which means I broke some code on the ferry. I didn't have time to finish fixing it (as I was re-factoring something), so I was annoyed about that.
Why is it that when you're land crossing the border between US and Canada returning to the US, and you have a Global Entry card, the people with Canada's NEXUS cards get priority going through and you don't? This has annoyed me more than once. Sure, I could get NEXUS, but I started with Global Entry.
Not that that would have affected us today, as it would have been bad form to not have that conversation given the carload of stuff we were bringing back. When we started listing what we had, the guy just wanted to know if we had any food. "A couple of unopened bottles of alcohol, but that's it."
"No food?"
"Nope."
He waved us through. Thank you Mr. Border Guy.
This time, we managed to get to Renton, home of Smoking Monkey Pizza for dinner at same. I love this place. While there, I checked my email. Note from my doctor's office, probably about the refills I requested at the end of day yesterday.
Yeah, so apparently my new doc completely forgot that conversation we had about why this was working the way it was and what the plan was. And said no to the refill.
This…is going to require an ER visit if it doesn't get sorted. The symptoms can be life threatening. I'm hoping he remembers the conversation because I may just go to the ER before I run out. Because reasons.
I am just hellaciously pissed off about the whole thing. Yes, I feel the new doc actually does correctly understand the source of the pain, but that doesn't mean that the other shit that got messed up doesn't need to be fixed. Nor does it mean that my body magically adopts biochemistry compatible with new doc's treatment plan. Don't we wish.
A Couple of Good Things
I fixed the code. It required another 3 minutes. So near to sanity, and yet so far.
We did miss this 6.7 earthquake by leaving Vancouver Island earlier in the day, so there's that.
Also, my wordcount for the last 7 days is higher than the 7 previous days (I keep daily and running-7-day counts), so that's good too.
Note: Fixed link, which was broken initially. Oops!
I don't know how many of you know who Kate is. I've known of her for quite a few years, but it was only a couple of years ago that I realized she was also an ex-Scn.
Here's a long piece in the Village Voice written when her book A Queer and Pleasant Danger came out. Long story short: she's one of the few trans* people to come out about their experiences in Scientology, and the first to be really public about it. She transitioned in the 80s. Unbeknownst to her at the time, she legally changed her name to Kate on the very day that L. Ron Hubbard died.
Kate describes, perhaps better than anyone has before, what it was like to become a dedicated Sea Org member during Scientology's more freewheeling heyday. – Tony Ortega
Of the Sea Org members who've worked directly with L. Ron Hubbard in some capacity, Kate's the third to write and publish their story. (Nancy Many and Jefferson Hawkins are the other two.)
Anyhow, she has lung cancer. Or, more accurately, her lung cancer's back. She's got a fundraiser going on. If you're inclined to donate, here's the link. If not, I recommend her book.
Kate's Twitter, where you can verify that link comes from her.
Kate's blog, which is currently down due to a Typepad DDoS.
Here's a video of Kate reading from her book.
https://www.youtube.com/watch?v=z4781uQv7fE
We're going to be going over mountains, so I take the special meds. I hate it with a burning passion, and you'll understand why in a bit.
I take it because it increases oxygen concentration in the blood, which means less altitude sick. I get altitude sick in a ten story building. Only a slight exaggeration.
Four thousand feet is where I really start to feel it, though. Since I'm doing a lot of the driving, I take the damn meds.
I am not a morning person. I have not truly ever been a morning person (I quite literally lack the gene), but the last few years in particular I have especially not been a morning person. I was saying that to a friend who got run over by a car last year, and she said, "Because the pain meds have worn off!"
Exactly. That is why.
Every single day, it's a challenge. Can I get part of my pain meds down before I make breakfast? Will I throw up my coffee? (Thankfully, that has not actually happened in a long time, but most mornings I'm nauseated from pain.)
I'd set the alarm for 10, wanted to leave by 11. Woke up at a quarter after 9 and packed. We pulled away at 11:11, which I consider close enough for government work.
Let me back up for a minute. When I was coming down the steps on our front porch—typically, doing this in the morning is my biggest physical challenge—in a race with a sloth, the sloth would have won. Honestly.
Fairfield: The Jelly Belly Factory
My mother, long a lover of jelly beans, has never been to the Jelly Belly factory. I'm not sure how that happened, but we decided that we had three places we could stop, and this was one we picked.
Why the able-bodied need to put photo op things and places where people should stand to take photos crossing the line from the handicap parking to the door, I'll never know. I hear an irritated cluck. Look, it's not my fucking fault that the big jelly bean is put in the wrong place, but I'm visibly having difficulty walking today. You think you could be more human and hold on a couple seconds without being irritated at something I have no control over?
Well, okay then. Well, not okay, but whatever. It's on you.
We wander through the jelly beans. I think a grand total of two or three minutes has passed since I shambled (no exaggeration) through the front door and evaded the large group of people standing in line for the tour. Which, frankly, sounds like pure hell to me on a day like today.
My feet are on fire they say. I look down. There is no visible evidence of same.
I feel the weird electrical current that runs along my upper back. Left to right, then right to left.
It's the altitude sickness meds. Diamox. Acetazolamide. There's no good way to put this other than: it cockblocks pain meds. All pain meds, apparently. From personal experience, it blocks 75-100% of the effectiveness of everything I've tried.
Currently, with the myofasical pain, my leg muscles are so incredibly tight, I can barely walk, especially in the morning. Later in the day, I'm almost human, and sometimes my walk can pass for normal. Today is not one of those days.
I move as quickly as I can to the register (about 15 feet), plead with the lady there. Either I need to check out, or I'm dumping my item on the register counter and leaving. I'm not being mean; I desperately need to sit down. By this time, I'm white as a ghost and visibly shaking.
I'm paid up. Trying to leave. A kid darts in front of me. I'm like Gigantor with a bad hip algorithm, shambling with an odd gait I have no control over. When I'm like this, kids terrify me. I have nightmares that I trip over one and crush us both. I can't stop or turn easily, nor can I stand easily. A slow walk is the only thing that keeps me from falling over. Kid's mom pulls the kid back, and I sigh relief. He stares at me with huge brown eyes. I'm just as afraid of him as he is of me.
And—people do not understand. Sites aren't laid out for people who are simply mobility impaired, especially where walking farther is a challenge. As an example, if there's a good railing and four steps or fewer, I'll usually take the steps rather than a handicap ramp simply because it's shorter.
When I open the car door and plop in, I can't do anything for about a minute. Finally, I start the car up.
We skip the second possible stop.
Corning: Olive Pit
Neither of us could remember exactly where the Olive Pit was. Collectively, we got the details right, though I did have a few mixed in from Granzella's, where I'd never been.
I'd been there before, but I also remembered that the last time I'd bounced right back out. Given my experience earlier in the day, I wasn't feeling very confident about it.
Still, it's later in the day, my pain levels are a bit better, so I walk in. I manage to taste a couple of things, but I can't even get to consider what I might want to buy before my feet are on fire again. Mom takes more time picking out her selections, but I head out to the car, once again white as a ghost and shaking. The store clerk brings out her jars of olives. Very nice of them.
By the time she's back, I've recovered.
Dinner in Medford
We couldn't find the place we'd eaten before, so we ate at a Shari's just past most of Medford. I ordered a no-bun burger with their amazing stuffed hash browns, which are gooey and evil and you should only eat them if you like awesome things.
It was only a few more hours (argh) to Eugene, but that's where we're spending the night.
Tomorrow night, we'll be on Vancouver Island.
Thankfully, I don't have to take the evil altitude meds tomorrow, and their effects will have mostly worn off by morning.
Can't. Wait.
For some years, I've been struggling with mis-identified causes of pain. It was believed that I had arthritis and fibromyalgia. Period.
As I'd been arguing, that covers less than half—and probably less than a quarter—of my pain most days. I finally have an accurate diagnosis: most of it is myofascial pain.
Both have sore spots, but the myo ones are where nerve enters muscle, and irritating them usually refers pain to a specific area. Fibro points tend to be near joints; irritating them doesn't refer pain—but can make the whole body hurt non-specifically.
Put them together: irritate a myo trigger point, myo radiates pain to a fibro point and then you feel crappy all over. Win.
The really interesting thing for me is that I've known for years that my pain was inflammatory, and fibro isn't (and myo is). So that answers that question, too.
The good news that now I have a real treatment plan.
I haven't really ever talked about how much pain I'm in publicly. But I'm going to now, because I have just started in a pain management program. For the first time in many years, I think I'm making real progress.
When asked how long I've had chronic pain, it's hard to answer. I remember not doing things because I hurt too much when I was a teenager. Some of that was when I was 13. I remember times when I was so sore I could barely move before tap dancing class.
I remember when I seriously took up ice skating when I was 20 that even putting the boots on my feet hurt incredibly. And it got worse, but I still did it. I remember fracturing my wrist in a fall because someone else was being an idiot on the ice. I put my hand out (sigh) to break the fall, and the friction from that was so intense that it burned the imprint of the knit pattern on the glove into my hand for two weeks. That wrist was sore for years, and the rest of me didn't feel so hot for quite a while, either.
Then there was the time I fell down the staircase at my office. My partner and I were running a partnership then. I landed on my chin, did some horrible things to my jaw, and it was pretty awful. The chiropractor who put my jaw back into whack said, "You're gonna scream." Despite not wanting to, he was right. I did.
I also remember the fall on the ice when I lived in Vermont. The fall from which my knee has never quite been the same. Didn't help that I severely re-injured it a couple of years ago falling outside a church in Norway.
What I can't remember is not having debilitating chronic pain. I've had it since I was a teenager. I hid it the entire time I was in Scientology, because only degraded beings were in chronic pain. You were treated better if you pretended you weren't chronically ill. (I also had other chronic illness things going on then, but that's another story for another time.)
Putting a label on it and developing an effective treatment plan for it, though, that's another problem entirely.
What's been clear to me for years is that I have super-tight muscles. My ginormous calves have no real significant fat on them, just bone and tense muscle. When I was a teenager, I remember finding a painful lump in my thigh muscle, afraid it was cancer or something.
No, it was just a sign of what was to come.
Eighteen years ago, I was diagnosed with fibromyalgia. Painful when poked in the typical places? Check. Over the years, I've become increasingly dissatisfied with the diagnosis because fibromyalgia doesn't actually describe my day-to-day pain very well.
Ever tried to argue with a diagnosis that seemed set in stone? Going to a rheumatologist in 2011 got it firmly entrenched on my chart, which was even more frustrating.
It was like "You have fibro. We are done." And, "I can't prescribe (this medication that helps your pain) because that doesn't work on fibro."
Incredibly. Frustrating.
And yet, I do understand Occam's razor, it's just that Occam's razor suggested it had to be something else because reasons.
That led to rounds of doctor shopping (and firing) until I happened to get the right one in December. The one who told me that Kaiser had a pain clinic and actually referred me to it. Which I went to a week and a half ago.
Joke's on Me
So, guess what?
I do have fibro.
I was right, though, that's not the major source of my pain. What is?
Myofascial pain. From the Wikipedia page:
In fibromyalgia, chronic pain and hyperirritability are pervasive. By contrast, while MPS [Myofascial pain syndrome] pain may affect many parts of the body, it is still limited to trigger points and hot spots of referred pain.
So, I have both pervasive chronic pain (from fibro) and irritable trigger points (from fibro and myo) and referred pain (from myo). I'll tell you right now, that referred pain covers huge swaths of my body.
The myo explains so much. The muscle tension in my neck and head is so severe that it can change my vision (I have gotten diagnostic imaging for this, btw, it really isn't visible on a scan). This led to uncomfortable conversations that basically boiled down to, "Oh, you're fat. Therefore it must be diabetes and therefore macular degeneration." Even though macular degeneration doesn't describe the reported symptoms at all.
Some days I've had shooting pain, and I was wondering if I needed another cardiac look-see. That's apparently not unusual. But you say, "If I stand too long on my feet on a hard surface, I get shooting pains up my body." And a doctor sees you're fat and therefore it must be diabetes (even when your sugar numbers are and have been normal) and the specific symptoms don't describe diabetic neuropathy. Nor could you possibly have had diabetes long enough to get diabetic neuropathy, because if you've been paying attention, you don't get that far that quickly.
In other words, everything was reduced to: 1) you are fat; 2) you have fibro; 3) you must have had diabetes for like a decade to get your nerves in this shape even though the blood tests don't agree; 4) can't see anything on the scans, so it must not be serious.
So I've had all this diagnostic imaging and ignored symptoms for years (including the imaging for both head and heart)—and yet no one picked up what it was. Until now.
What This Means in Practice
On a day-to-day basis, here's the reality I face—and have for years. I wake up with enough pain to be nauseated. I have medication for that, but I can't take it on an empty stomach because it makes it more likely that I'll throw it up. Apart from the not-wanting-to-throw-up part, if you throw up partly digested medication, what's the right dose to take to replace it?
So, I have to take pain meds with food. Coffee works pretty well as an anti-nauseant for me, actually, so long as I drink it with milk. So: coffee first, pain meds with coffee, cook the breakfast, then eat to stabilize the stomach against the meds. Then, and only then, can I do other morning things like taking a shower and getting dressed, because it hurts too much to stand in the shower before the medication starts to kick in. The shower helps reduce pain once I'm to the point where I can handle it.
Only after all of that can I walk like something even vaguely approaching a normal person, though the myofascial muscle tension is typically still a problem. It gives me a strange gait at times. We ruled out MS, but that was one of the things I'd been worried about, given that my capability to walk is so random, even within the same day. Sometimes, even within the same hour.
And Then There's Yesterday
So I've been doing better after a medication change that the pain clinic doc put me on. The other day, I forgot pain meds for the first three hours I was awake.
Yesterday, I took a shower first, then walked (almost like a normal person) to make coffee. Only as I was standing there making coffee did I realize how remarkable that was.
Of course, by the time breakfast was ready, I was shaking. It's still progress, though.
5 Things I Didn't Know About Health Care (Until I Got Sick)
[B]ut people suffering from the condition often spend years shuffling painfully between baffled specialists before getting our necks mercifully slashed open like an Opposite Day episode of Dexter.
Or you'll visit six different psychiatrists who all fail to cure your crippling depression, because none of them ever thought to test to see if it was caused by an asshole thyroid.
Speaking as someone with a differently-assholish thyroid? This. So much this. Especially since I've been advised that I'm going to have to do the Opposite Day Dexter thing at some point in the fairly near future.
So, do you happen to know one thing that can show a thyroid problem? (Lack of it doesn't mean there is one.) Thin or disappearing eyebrows, especially the outer third. I used an eyebrow pencil for this photo shoot, not that you can tell.
I heard someone say they didn't know spoon theory recently, so here's a link to that post also.
Two pull quotes from this National Geographic article by Brian Clark Howard
Carrico said, "It's certainly true that heat kills bacteria, but if you were going to use hot water to kill them it would have to be way too hot for you to tolerate."
In fact, she noted that hot water can often have an adverse effect on hygiene. "Warmer water can irritate the skin and affect the protective layer on the outside, which can cause it to be less resistant to bacteria," said Carrico.
I always knew the climate change aspects of using a lot of hot water (especially waiting for it to heat up), but never really thought about the rest.
I'm still going to take showers in warmer water though.
I can relate to more of this article, originally a study about the underlying history of obese people, than I can easily express.
I don't have a typical build. This has been annoying for most of my life in some weird ways, especially in interactions with men and doctors.
For example, being told, within the same month, by my doctor that I was anorexic (and needed to gain weight) and the Navy that I was overweight (and if I wanted to join, I'd have to lose 17 pounds).
What I took away from that was that weight was confusing. If I felt okay, I was okay, right?
Catch is, of course, that I no longer feel okay. Weight is a part of the problem.
As mentioned in the article, a lot of kinds of harassment (by men) stopped when I reached a certain weight threshold. I stopped getting catcalled. I stopped having men tell me what mood I should be in. It was a relief. It was something I had control over.
Because "beauty" was no longer apparently a primary factor, I started being taken seriously for my technical skills. I still remember the first time I met a pretty woman who wanted to be an engineer. And I wondered why she wanted to become an engineer. Now, I wouldn't wonder, but it was odd back then. I'd known so few female engineers, and none in the field she was interested in (mechanical). Now I wish I'd taken the time to learn more from her.
Then, a few years later, I got a serious marriage proposal from an on-again, off-again relationship I had. Unfortunately, it had strings attached: if I were of a "normal weight." We went out to dinner (there's some irony I never saw before, heh) so I could tell him no.
He still thinks that phrasing was a big mistake in his life, but there was a lot more to it than that. We just weren't a good enough fit overall. It's one of those relationships where his experience of who we were and mine were miles apart.
There were also downsides to the weight, of course. Like the guy you have a crush on who overlooks you, and you feel that weight is a significant factor. And you tell yourself, "What an ass," but part of you wonders if you hadn't been, well, you, if it would have turned out differently. And you hurt.
Despite what I was told, though, fewer men have a problem with it than I'd been led to expect. A lot of the "rules" about how women "should" behave stem from a time when many men were killed during wartime and there was a serious long-term disparity between available men and available women.
It's not because of the poop cruise.
It's not because of the Concordia.
Yet it's indirectly related to both those things.
Here's an example. Seabourn had two small ships, carrying 112 passengers. Seabourn was sold to Carnival, and those small ships were replaced with three larger ships with more than double the tonnage carrying 208 passengers. That's not a bad size.
Except those three ships are now being replaced with 32,000 ton ships that carry 450 passengers. So, a periodic doubling of passenger capacity and a concomitant loss of intimacy.
Seabourn's original two ships are now owned and operated by SeaDream. We love them. Sure, it'd be nice to have something a bit bigger, but their ships are really great, though designed before good wheelchair-friendly designs came out. (As a mobility-impaired person, it's a bit challenging at times, but I manage just fine.)
When we first arrived on SeaDream, they knew our names, knew I needed gluten-free food, and so on. On our second cruise, most of the crew was the same, and they all remembered us. You can't get that kind of intimacy on a large ship, and every time Carnival goes through another iteration, it's to make things bigger.
Another point about gluten-free food and SeaDream: they mark every menu with what is gluten-free and what is not. They are very careful with it; I've never gotten sick from food aboard. Their food is truly world class.
My friend Jay Lake has been blogging about his cancer for several years, and someone made a rather rude point.
I considered the posts that I read and saw nothing in them but anger and suffering. If Jay feels that there is more to his life now than suffering, he should post that more often than complaints about his GI tract, his inability to write or even function cognitively at a level that allows any degree of productivity.
Just because I, or another person, wouldn't choose (from where we're sitting) to make the same choices doesn't mean it's a bad choice.
Once upon a time, I dated a doctor. His father was terminal (in several senses) and wanted to die (I heard the father say so multiple times). Yet, he didn't want his father to go. There were durable powers of attorney and no support for end-of-life decisions other than surviving, and, essentially, he forced his father to live. It was one of the hardest things I've ever had to watch, and it was one of the core issues that destroyed the relationship. I felt that I would never be truly listened to on important issues like that. After we broke up, he went around telling people I was suicidal (not true) simply because we'd had discussions about what end of life meant. And disagreed. I lost friends who believed him instead of me.
As this comment suggests, it's not always easy to know if an expressed desire to die is out of some kind of frustration or hopelessness, or out of a real desire to die. However, in the father's case, it really was that he wanted to move on.
I think it's remarkable that Jay's been so public about the struggle he's had with cancer, and it was very hard reading his recent post about having a couple dozen tumors. We don't get to see into the lives of cancer patients very often, and the stories we do hear tend to be the better ones or ones without the detail Jay provides. I know I posted a particularly good cancer story a few years ago. Most aren't like that, though. Far more stories are like Jay's, with no one listening, with no one understanding, because we'd rather all sweep it under the rug.
I've collected some of Xeni Jardin's tweets over the last couple of weeks about Pinktober and breast cancer. Everything below this sentence are her words. I thought they needed a more findable home.
I might write about why Pinktober is dumb, a bummer, and insulting, but I might not. It's the job of people who don't have the disease. (link)
Because they're the ones marketing, exploiting, cashing in, rolling around in all the maudlin pinkness. Not us. (link)
Pinktober is gross & dehumanizing for breast cancer patients. I'm not Jewish, but think of it this way: sticking a smiley face on Auschwitz. (link)
Pinktober doesn't even square with science. Breast Cancer isn't "boobies disease," it's mutant cells that happen to amass in that area. (link)
Breast cancer isn't even one disease. Ask an oncologist. 16? 17? 20? Dozens of diseases? Hundreds? And it metastasizes, travels far. (link)
Reject Pinktober. Use the month to learn about people living with metastatic breast cancer, and find ways to help them. Fund more science. (link)
Use Pinktober to figure why quacks like Burzynski legally allowed to continue to kill breast cancer pts. Confront non-science-based frauds. (link)
Use Pinktober to figure out why poor breast (& other) cancer pts must choose between food & chemo in America. Demand a more humane system. (link)
Many women with breast cancer go bankrupt in America, due to cost of treatment or job loss. Not one dime of Pink profit until that stops. (link)
---
The correct answer to "Did you beat it?" is, "breast cancer is not a Michael Jackson song." (link)
---
Just FYI, I know women w/& without insurance too broke to afford breast cancer screening, care after diagnosis, or food/shelter during tx. (link)
---
Spent some time with a childhood friend this week who, like me, had/has breast cancer. She was/is uninsured. Is she in remission? Who knows. (link)
How often do you go for checkups, blood tests, scans with your oncologist, I asked. "I kind of don't," she said. "I don't have insurance." (link)
She is single, a creative freelancer type, a long respected career. But no insurance, and lots of medical debt, so poor/no monitoring. (link)
She could have mets, or a new secondary cancer, and not know it. Lack of insurance means more of us die, or live lives you would not want. (link)
Odds of this fellow breast cancer survivor finding an insurance policy she can afford, with her "pre-existing," grim now. This must change. (link)
---
A thing I love about Pinktober: listicles/PSAs implying you can prevent breast cancer by doing "the right things." The Great Kale Swindle. (link)
This "people who are obese/sedentary/smokers/meat eaters/whatever-ers get it" myth made me believe I couldn't possibly have breast cancer. (link)
I love most that we're able to take a horrible, disfiguring, lethal disease and turn it into shopping. Because Yay shoppings. Pinktober! (link)
---
It's time people knew the truth. I got breast cancer from reading Internet comments. Plz RT 2 save lives! #BreastCancerAwareness #pinktober (link)
Kameron Hurley has quite the health care saga.
It's inspired me to write up my own story.
I'd started a new job in May. Got married in June. Twice, in fact: the legal civil ceremony and a more symbolic one in Ireland.
There was time to do all the rest of the paperwork, right? Before then, I'd been on a large-deductible policy, but couldn't add my partner because he wasn't my husband.
Oh, and I had that policy because I had no health care through my employer. In fact, technically, I didn't have an employer — I was a contractor for a Canadian firm that was illegally avoiding US hiring practices. They had an office in the US, but they paid everyone as though they were a contractor. What could possibly go wrong?
Fast forward to November. Yes. The same year. (He was a lot older; I sometimes joke that we didn't have a May-December relationship, only a June-November one.)
My husband has a stroke. Given the obvious symptoms of hemiplegia and aphasia, I knew it was severe. At the time the EMTs arrive, I'm wondering about things like long-term rehab, fearing I'd have to give up my career in software development.
Instead, he was non-responsive not long after arriving at the hospital. However, as the hospital lacked more sophisticated equipment (no MRI machine, for example), they had to do EEGs over a period of 24 hours in order to declare him dead. Which meant a minimum of 24 hours in the ICU — about as expensive as it gets for a hospital stay sans surgery.
When I agreed to donate his organs, they asked if they could airlift him to the transplant hospital in order to declare him dead sooner (which would preserve transplantability of organs). Which I agreed to.
Indeed, his declaration of death was about 16 hours after the initial stroke.
Then I got the bills from all the care providers. All told, it was over $30,000. Some of that was for line items I shouldn't have been billed for. While technically (and for very good reasons), I owed for his care up until the declaration of death, line items related to preserving his organs or prepping him for transport weren't things I should be billed for. They did indeed have to do heart work in order to keep it pumping.
But, to me, preserving someone else's life was the most important thing.
So it was really a shock to go over those line items, realizing I could have just said no to any additional care that'd keep his heart beating longer — and it would have cost less. But it wouldn't have been right in my book.
I so didn't need the line item call with the organ bank to see what should have been billed to them vs. me.
I recall writing a bunch of checks. About $13,000 or so. The bill had been whittled down. My numbers brain says it was in the neighborhood of $17,185 before my payments. A charity designed to help folks in our situation picked up the rest, and I never received another bill.
I don't know who those lovely people were who contributed, but — thank you.
After he died, I asked for a week off work. (Yeah, that was stupid. Duh. I was in shock.)
After trying to get my act together, I went on temporary disability for three months for the simple reason that I couldn't think. Without the ability to concentrate, I couldn't work. I went on anti-depressants, paid for by the disability.
The tale I tell about anti-depressants is this: before starting them, I was convinced I'd never write again. Within a couple of weeks after starting them, I was writing again. I wasn't writing well, but I was able to put together something of a plot. It took longer for my programming brain to come back (I could write about the pain, but programming needed a clearer head).
Those pills weren't cheap, though amazingly, this was one period when the stupid prescription plan through my credit card company was worth its weight in gold. After spending as much as I had on medical for myself and my late husband, I didn't have enough money to take the three months I needed off. The safety net protected me at a time of crisis. I've paid for that over and over with my tax dollars so that other people will be able to use it in their times of crisis, too.
Unfortunately, end-of-life care is horrifically expensive. It's when hospital bills tend to be disproportionately high, and the bereaved is/are left holding only the bills.
It could have been much, much worse. It didn't have to be that bad. From now on, it won't be, because my late husband would now have an affordable means to get coverage.
Maybe he'd have had those headaches checked out.
Maybe they'd have found the aneurysm before it burst.
Maybe it could have been repaired.
Maybe he'd still be alive today, never having had a stroke.
I have a bad SNP. It's not my fault. Genetic analysis has determined that I got this wayward gene from my father.
However, knowing that celiac disease could be very bad, and having only a big major medical coverage at the time (in 1996, with a $5,000 deductible), I didn't want to be "officially" diagnosed as celiac. So my doctor and I did the blood test and I changed my diet to gluten-free. Until I had more stable coverage, this was all I could afford to do.
This meant that I was "off the books" as a presumed celiac, and that meant there was no paper trail to deny me insurance based on a pre-existing condition. And there ain't much more pre-existing than a bum gene, right?
However, this worked against me in the long run. If I were to stay in a hospital, I had nothing to back up a gluten-free meal request — or, worse, gluten-free pill requests. I've been told explicitly I wasn't celiac because I didn't have high enough levels of anti-gliadin antibodies (never mind the fact that not every celiac does) even though I'd been on a gluten-free diet for years. In fact, I still haven't gotten the celiac label to stick at my HMO because it is so difficult to diagnose someone who's been on a gluten-free diet as long as I have, and typically the methods involve making someone very ill. Charming.
In short, I've been trying for years to get accurately labeled, and it's cost time, expense, and quite literal pain and suffering — all because of my fear of being labeled when I had inadequate insurance and could be denied for pre-existing conditions.
In fact, my mother had emigrated to Canada in the 80s, had breast cancer while there, and was afraid to return to the US for fear of not being able to find any coverage at any price. At the time she left, few small US employers offered health care plans, and pre-existing condition exemptions were huge. Over time, that changed, so she returned to the US as a dual citizen in the dot bomb era, now able to find good coverage (partly because the cancer had been long enough ago that pre-existing clauses didn't clawback that far).
Also, as my friend Kate phrased it, "I'm unbelievably happy, not having to plan major life decisions around benefits packages could change my entire career path."
Amen, sister.
I'm someone who's really sensitive to altitude. I start getting sick at around 4,000 feet.
My dad recently had his 80th birthday party (I'll blog about that trip soon), and I was panicking because he lives at around 8,000 feet.
What to do?
Research, along with some checking around, showed there was something better than symptom relief available. There is at least one drug that goes to the next level: symptom prevention. I talked to my doctor, who prescribed the drug acetazolamide, sold under the trade name Diamox for altitude sickness.
Good news first: it worked really well. I had better oxygen capacity and fewer altitude symptoms at 8,000 feet than I'd had at 4,000 the year before. Even better, Rick and I went up to the top of the mountain, 11,000 feet, and I was only about as bad off as I'd been at 4,000 the year before, with an even milder headache.
Acetazolamide works by changing the blood's acidity, which changes the way it stores oxygen. More available oxygen means that you'll suffer less from the oxygen deprivation at altitude.
I mentioned the good. Now the bad.
The wikipedia page mentions that there are taste alterations, "especially for carbonated drinks." Did I have to try this out? Of course I did. I took my first pill with a can of Pepsi. By the third sip (having taken the pill with the first), it tasted vile. You know that foul-smelling stuff used to clear out earwax? Kind of like that. Except, of course, carbonated.
I didn't have blurred vision, I didn't have other serious taste shifts (though I did notice some), but I did experience not only significant tingling in fingers and toes, but it was like all my pain medications suddenly stopped working. So, while I could walk around at altitude, I also couldn't. Paradox that way, but breathing was worth it.
Anyhow, if you're planning a trip to significant elevation — or have ruled such a trip out for fear of side effects — maybe this is something to think about.
I confess: At times over the years, particularly when it came to certain trigger foods, I was a bad celiac. That changed in 2009 when I saw this video. I mention my failings because I'm not the only one out there.
Truth is, I knew I was celiac for at least three years before I was diagnosed, I just didn't want to know it. At that time, in the era before good web searches and tireless wikipedia editors, I didn't know how bad celiac disease really was. Then again, I'm not really sure anyone did.
When I was a kid, people thought celiac disease was something you had as a kid and "got over." I kind of adapted in weird ways: I ate my sandwiches on white bread (less protein and thus less gluten, but also I respond to the bleached protein differently) open-faced (one piece of bread instead of two). I ate lots of pasta sauce with very little noodles. When I made lasagne, I used half the noodles and twice as much other stuff. I preferred corn muffins and oatmeal cookies (but with chocolate chips). I'd use corn tortillas for my tacos. In other words, there were ways I was unaware of that I tried to reduce my gluten consumption. My dad was constantly nagging me to eat more grains, but now he admits he was wrong on that point.
And then there was the time I went vegetarian. I think I lasted a week or two, probably mostly because the wheat germ made me so very ill. It still makes me shudder.
There wasn't a history of celiac disease in my family. My father carries some of the genes; my mother doesn't. My stepmother noticed that I sometimes came back from visits to my mom with stomach cramps. I was sent to a shrink as it was believed to be psychological. It wasn't, it was dietary. (I don't actually remember the symptoms, I just remember the outrage of being sent to a shrink over it.) I was eleven at the time, so I know I was symptomatic then, but I don't know when the symptoms actually started, only when they were noticeable by other people.
Even after I was diagnosed (at the age of 37), I would have moments of weakness. Some celiacs vomit up gluten. Lucky them, as it does less damage that way. Some get cramps within an hour. Lucky them.
And then there's me. My symptoms take two to three days after gluten ingestion, so you can see that would be difficult to correlate food with symptom. Who remembers what they had to eat in detail 2-3 days ago on a regular basis?
There are certain foods I miss a lot.
At the end of the first week I was gluten-free, I missed two things: pizza and chocolate chip cookies. I made a passable pizza from scratch (my first), but the cookies were awful. I didn't know the difference between potato starch and potato flour and made the grittiest, most awful cookies such that a house full of college students wouldn't touch the damn things.
I miss croissants and chocolate cake in particular. Sure, you can make a passable chocolate cake without gluten, and Miglet's bakery does a great job, but it's not really the same thing. Sadly, croissants are simply beyond what non-gluten flours can do. Actually, I did hear a rumor that someone in either Australia or New Zealand made a passable croissant without gluten, but I remain unconvinced until I try one.
So, for years, we'd go out for lingonberry pancakes every once in a while. I'd have my birthday croissant. I'd occasionally eat something else sinful, and it was touch and go whether I'd hit the bread basket in a restaurant if I was really, really hungry. Now I have the strength to push it away from me (they always put it in front of me, it's like being the person in a room who doesn't like cats).
I'm not talking a lot. I'm talking about a slip on average once a month. Later on, it was more like once every two or three months, but it was a significant slip: an entire non-compliant meal in the case of the lingonberries.
Lest I sound like a complete idiot for the above admission — I know of more than one celiac who, when he or she gave up gluten entirely, developed a life-threatening gluten allergy as a side effect. Thus, I thought, maybe it is better to have low occasional doses of gluten.
When I saw Dr. Murphy's video, though, it stopped me cold. I'm still not perfect, but I feel better for the more strident and continued effort. Unfortunately, it meant food felt more like a war zone than it had before.
On my last trip to Hilo, it was really difficult. Everything's got soy sauce or teriyaki (which is derived from soy sauce) or some other form of gluten. This time, I picked more carefully and was able to avoid the land mines, but I nearly had an oops when I saw that McDonald's was serving banana pies. I love hot bananas, and I love pie. One dollar and you can have both. Grrr!
I was thinking about this earlier: I probably need to make a list of foods I associate with gluten that I really, truly love — then figure out a way to work them into my food plan in some gluten-free version. I think I'll just bronze a croissant, though, that's a lost cause.
I also remain unhappy with all my lasagne options thus far.
With that exercise, I'll probably discover that there's some aspect of foods that I like where there's some common thing I haven't thought of.
For example, Rick and I were talking about some foods I didn't really like. I'll eat zucchini, pick at it more like, but I've never been a fan. I love the smell of cucumbers, but not the taste. The common aspect to both of those is simply that I don't like the sharp tang they have to me. I don't like bitter tastes for the most part. So, weirdly, I don't like cucumbers and I don't like vinegar, but I do like the occasional dill pickle, because the taste is more than either cucumber or vinegar or the combination of the two.
I've never really heard anyone else talk about having trouble staying compliant. Maybe they're more like me than they'd like to admit, but it sure seems that most people have much more immediate gluten reactions; I'm not that fortunate. For me, these days, it's more the emotional reaction: it's not fair, and it'll never feel fair. But we forge along anyway.
I was originally scheduled to come to San Diego on Saturday morning so I could go to a work-related event on Friday, but, well, I had an opportunity for yet another medical appointment, so that took precedence and I flew down Thursday morning.
Getting to the bottom of my medical stuff has been something of a nightmare and has been a multi-year process of peeling the onion. In short, the celiac disease seems to have triggered other stuff, and now I think we're getting to the last and possibly most critical bit.
Many years ago, I was given a diagnosis of fibromyalgia without excluding other diseases, and fibro's supposed to be a diagnosis of last resort after everything else is ruled out — and nothing was. I do mean nothing.
For several years, treating it as though it were fibro was enough, but for the last few years, it has not been, and it's been getting worse.
The good news? I think I finally figured it out. I could be wrong, but I've done a lot of reading lately, and I don't think I am.
So, I found a doctor that agrees with me (thus my earlier trip), but isn't "in plan," so it's more of an advisory role, and there are serious concerns about treating the issue (which I knew). On the other hand, it's possible that I could get full remission in a few days.
I also got some work done, though I was limited by my doctor schedule and travel logistics.
The event I was coming for is, of course, World Fantasy. So last night I had the opportunity to participate in the mass signing, and I met a local writer who also happens to be a co-worker, so I introduced him to the other sf/f writer co-worker I know. I got Neil Gaiman's autographs for a friend, too.
Today was my first full con day, and I went to the SFWA meeting at (oh my God) 8 a.m., which went well. As I was leaving, I was just out of it enough that I thought to myself, "Oh, I'm moving well now that the drugs kicked in." Not five seconds later, I didn't see that there was a step and took a rather nasty tumble, and I've been very sore since. A very sweet African-American teen here for another event helped me up and wanted to know if I was okay.
Because of the pain from the fall, I missed a lot of stuff, and spent the con sitting and talking to people for longer periods and not moving around so much (perfectly understandable). It remains to be seen how well I'll be feeling the next two days, when the soreness from a fall is generally at its worst. Fortunately, I don't think I hurt anything seriously.
I have a reading at 10 a.m., and I am now thinking everything I've written is crap, and I'm feeling the pressure; I'm reading right before someone I've always looked up to and it's intimidating. I am not sure what I'll read in the morning yet, but I brought seven things to pick from. I'll probably read two or three.
I spent some of my downtime this trip reading Steve Jobs's biograpy. I hope to finish it by Halloween, which seems fitting given the focus of the holiday for me (the annual honoring of people who've passed on). I'm going to write a longer post about that when I've finished the book. I started reading from the time of Steve's cancer diagnosis forward, finished the book, then started again at the beginning. I think that's actually an interesting way to read the book.
I'm going home tomorrow to a newly-repaired car. I have two follow-ups in-plan medical-wise on Tuesday, then a backup appointment on Wednesday with a different doctor.
It's not about that female thing, or at least rarely so.
86% of the time when it was diagnosed as menstrual bleeding, the cause of the anemia was actually gastrointestinal bleeding.
Note that taking iron supplements doesn't cure your gastrointestinal lining; it's a bandaid for the wrong problem.
Also, if you're low on ferritin (iron transport protein), you can actually directly supplement it, which is what I do. (For vegetarians and vegans, sorry, it's an animal protein, so there is no animal-free option for that particular supplement.)
First, I've been starting to send out rejection letters for BayCon's flash fiction submissions. I've sent out about a quarter of them so far. Sorry for the delay, I wanted to re-read pieces because I wasn't reading them in my best frame of mind with shooting shoulder pains for several weeks. I expect to get the reject/hold notices sent out this week; we're starting to prepare the progress report the story will be in, so I need to get a move on.
Second, filtering words. It's a difficult topic to search for, so here's a good blog post on it. I don't like all of her examples, but it explains why adding that layer of indirection isn't always a great idea.
Third, showers. There I was in the shower this morning thinking it was one of the great wonders of civilization, and I realized I'd never heard (despite reading a lot of Libertarian books in my youth) how either Libertarians or the Tea Party would handle things like sanitation engineering and water management. What changed me from being Libertarian was seeing that public health simply wasn't doable that way, and Laurie Garrett's The Coming Plague was the final nail in the Libertarian coffin for me.
Got that tooth out. The dentist didn't have to use extreme measures, but it wasn't the easiest extraction I've had. Nor was it the worst.
Despite my face being sore from the trauma, I feel so much better, enough so that I took a walk to help reduce the post-lidocaine shakes. That alone says how much better I'm doing.
Jay Lake linked to an article on dieting: "Why Even Resolute Dieters Often Fail."
I've become convinced the issue is deeper than that. In 2005, I wrote about a protein called Zonulin. In short, it determines how permeable your intestines are. My hypothesis (which apparently doesn't apply for celiac disease, and possibly not for most cases of type 1 diabetes, either) is that it is an anti-starvation mechanism.
Catch is, letting in more stuff from the gut lets in a whole bunch of badness — the so-called leaky gut syndrome is, in fact, real. Elevated zonulin levels are also associated with some nasty autoimmune diseases other than celiac disease, including type 1 diabetes, multiple sclerosis, and rheumatoid arthritis.
I didn't really spell out my hypothesis in detail before, so here goes:
1) You think you're overweight (whether you are or not may not be important in this scenario).
2) You diet.
3) You trigger your body's starvation reflex.
4) To avoid starvation, your body produces more zonulin to gather all the nutrients out of your gut.
5) This lets bacterial toxins in, as well as, well, crap, including stuff your liver's already ejected.
6) Said toxins, after entering your blood stream, wreak havoc in your immune system.
7) You could eventually wind up with an autoimmune disease as a consequence. Which one is a matter of which toxins trigger which genetic expressions.
If there's any truth to my hypothesis, dieting may be a Really Bad Idea. In my own experience, when I've been successful, it's been careful control of exercise as well as portions.
Given that women seem more prone to dieting (Goddess knows I went on my fair share of diet fads as a teen), it might even partly explain why women are more prone to autoimmune diseases like MS.
One correction I need to make on my earlier hypothesis: the anti-equatorial factor in MS prevalence seems to be related to Vitamin D rather than starvation.
The clinical trials for larazotide acetate, a Zonulin inhibitor, have reached stage 2b, and there's been some speculation that it could go on the market as early as next year. I know what I will be lobbying for the moment it comes out.
So there you are galumphing lopsided down the hallway in search of ibuprofen as is your usual wont when you notice that your legs feel weird today. They felt a bit odd yesterday, too. In fact, it feels a bit like the odd you felt in June when you suddenly wound up with a bad case of shingles and they shoved prednisone down your throat along with some antivirals.
And, for a few days, everything stopped hurting, though the legs had this oddly pliable feel that was disconcerting, to say the least, given your usual stiffness. You felt it particularly when you went up and down stairs, wondering if your legs would collapse underneath you. They didn't. When you were near the end of your course and the shingles was on the mend, you started taking walks because, hallelujah, you didn't hurt.
Then you went to the doctor saying that you think you don't have fibromyalgia after all — gotta be something related to inflammation, at which point the rheumy consult thought you were bonkers, saying that if you had MS or Crohn's, you'd know it. Your main doctor gets the point, though: fibro's not an inflammatory disease. She orders an inflammatory panel and advises you to wait a few weeks to get the blood draw for so your system will return to its normal state after all the drugs she's just pumped in. Also, you've had this strange low-grade fever that comes and goes for a few days at a time, but this problem's been going on for years.
Last Friday, you had your teeth cleaned, and you apparently have a bad dental abscess from that root canal you had ten years ago, one root of which was never able to be killed off and is apparently flailing in a great pile of painless unhappiness, so the dentist makes endodontist invocations and materializes a scrip for antibiotics. So you haul yourself down to the HMO and wait in their never-ending line so you can pay less for the stupid amoxy, and then you're about to ask for the blood draw — and you realize, huh, what if this really is the same issue? Better wait until after the antibiotics work and have cleared the system.
Today you feel almost as good, whole-body wise, as you did under the prednisone, though, so that makes you wonder: was it a frakkin' low-grade dental infection all along? Could this whole ten years have been better if you'd done the dental thing differently?
My mother recently discovered she had cancer.
It went like this:
October 19, she called the Kaiser advice nurse.
October 20, she had an appointment to see her Ob-Gyn.
October 26 (her birthday, unfortunately), she gets the news she's got endometrial cancer.
Nov 1, she has an appointment with the gynecologic oncologist.
Nov 7, she has surgery.
Later that week, it's confirmed by the pathologist that they got all the cancer.
Nov 20, she returns to work.
There's so many bad stories about cancer out there, I figured someone could use a good one.
I was going to post this as another comment under the original entry, but figured it might be lost.
For those of you who don't know, CPAP machines are used to prevent sleep apnea and certain other problems (excessive snoring that's not apnea as well as some extreme cases of acid reflux).
Briana,
Sorry it took a couple of days to approve your comment; for some reason my blog is thinking all comments are spam — even mine! I only go through twice a week to catch any strays.
I bought mine from the DME (durable medical equipment provider) my HMO recommended. Right now, the pricing on the web is a bit higher than when I first got my machine because of the lousy foreign exchange rates we've got.
I don't know of the site you asked about, but I do know that many people have been happy with cpapman.com.
Fundamentally, though, you need to know what you need — especially in the mask department. So, while I'd happily buy a second machine online, it wouldn't be the place I'd go for a first machine. If you don't have good DME coverage, though, online will be a much better pricepoint than a new machine.
However, a tip: My DME said that they had used machines (ones returned by people who didn't tolerate CPAP well, or ones used for loaners) that they sold for much lower than retail to people who didn't have DME coverage. So you might want to check a local place, because they might surprise you.
Either way, you'll need a prescription; how you get that depends on the process of your sleep study, physician, and durable medical equipment provider. I received the physical copy of my prescription while at the DME's office after my titration.
As far as travel: I've traveled so much with my CPAP now, it's like second nature. I no longer carry a special bag for my CPAP: I simply wrap it up in a light, padded jacket or other piece of clothing, put it in my laptop backpack (with the hose, cord, and mask separate) and just carry it on. If I travel with my heated humidifier (and I always do if the trip is longer than 2 days), I generally put it in my checked luggage.
After Amtrak lost it for a month (that was the last time I carried it in a separate bag, you see), I now have taped business cards to all the parts in a display of Excessive Paranoia.
<
p>Oh, and while in the UK, I only needed a plug adapter for my CPAP, which was a great discovery. If you plan to travel a lot, try to get a model that works both on 110 and 220 power.